Wooden Playhouses For Kids
WholeWoodPlayhouses is a family- owned company that develops and produces handcrafted, quick to assemble kids playhouses for the garden or backyard. The wooden playhouses have been designed, handcrafted and painted by a designer and are delivered in panels so that they can be set up within an hour without special prior-knowledge. The playhouses are made of solid wood and painted only with selected nature-friendly wood colors. Various loving details are incorporated into the playhouses, the fine craftsmanship can be seen in all of them. The kids playhouses are weatherproof thanks to their workmanship and the choice of material. The windows are made of safety glass and can be opened. In order to preserve the distinctiveness of the playhouses, all variants are only produced in small numbers. The kids playhouses can also be ordered without paint so that parents, relatives or friends can paint the houses together with their children. Customer-specific wishes are gladly taken into account.
Where the Playhouse Idea Came From
The idea for fully finished panels, quick to assemble playhouse came from a father with a time-consuming job who wanted to build a playhouse for his daughter. Years passed by and the dad worked himself up the career ladder, but all without the time to build a playhouse for his daughter. Now the dad finally has time, but it is too late to fulfill his daughter's childhood dreams. He decided to give other parents the chance to buy a quick-assembly playhouse to fulfill their kids dreams and not to miss out on the chance as he has. Therefore, the dad looked for a skilled carpenter and designer who could help him make his wish come true. Having done so, we can provide fully wooden inside or outside playhouses, a place to play and develop, with the guarantee of bringing smiles to your kids faces.
Play is the highest form of research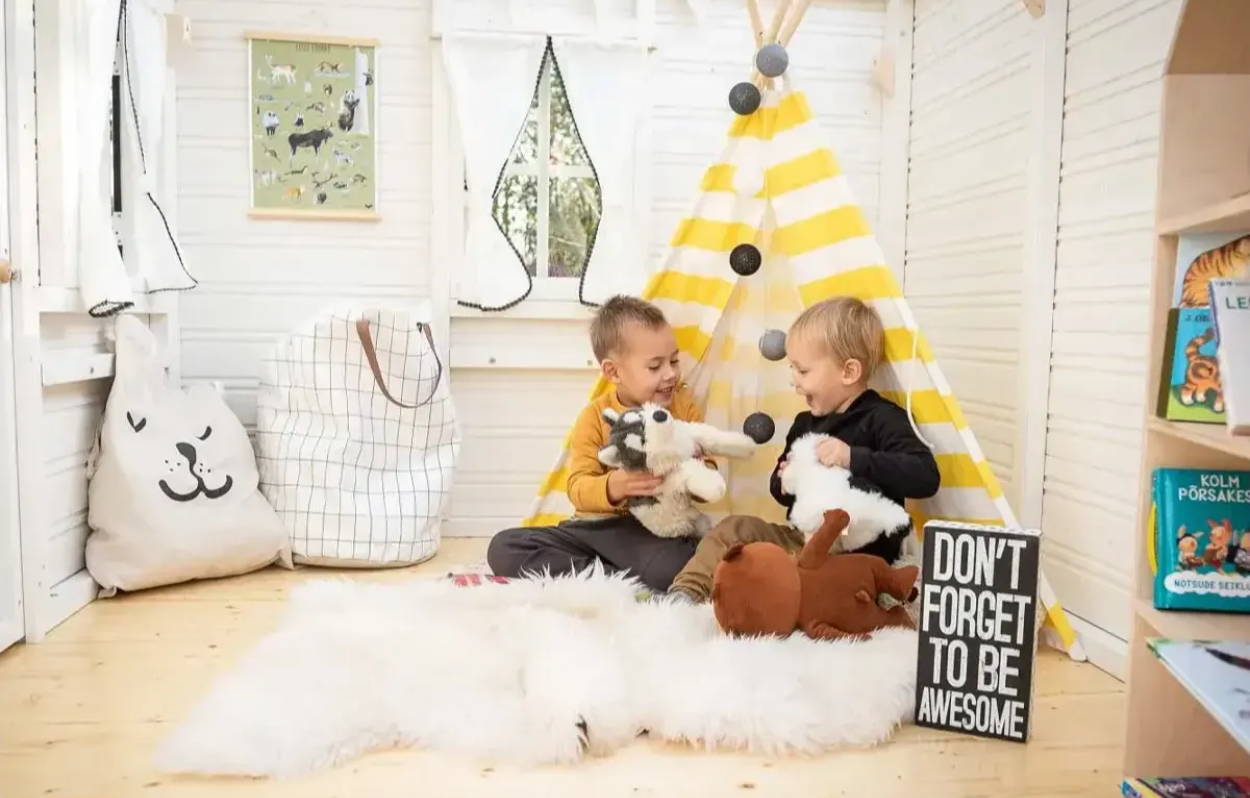 What makes Our Playhouses Special
Fine craftsmanship can be seen in all our handcrafted kids playhomes details. Our entire collection of playhouses is made by hand. All our outdoor playhouses are made 100% of wood and are finished with very durable wood preservatives and paints, which will keep you and your kids happy for years. The color we use is water based without any harmful chemicals, providing a safe place playground for your kids. The houses are produced in clean and dry conditions, increasing the durability of the wood. The handcrafted feel is also evident in the hand-painted details. The design has been carefully selected by our team so that it is not just enjoyable for kids, but is also a beautiful feature for your garden or backyard.
We have developed a quick-assembly system for all of our playhouses, which allows you to assemble and dissemble the playhouse in two hours. This makes transportation and storage of the wooden playhomes particularly convenient and allows for a great surprise for your kids. And the best is – you do not need any prior-knowledge for the assembly!