How to Paint Your Wooden Playhouse
If you purchased and set up your wooden playhouse Natural Wonder or one of the DIY playhouse kits in the yard, that's great! But did you know you could take it one step further by giving your wooden playhouse a total makeover? Decorating your playhouse unlocks a ton of new activities for you and your family so you could spend more quality time together.
Here are a few things you should consider when thinking about painting your wooden playhouse with your loved ones.
TOOLS FOR THE PLAYHOUSE PAINT PROJECT
Painter's tape is the best solution for precision – to avoid painting or getting splashes on areas that you want to keep clean. Place the tape over the edge of the area not to be painted or to be painted with a different color, and prevent paint from bleeding into the unwanted areas. 
A brush is a must. Areas that require precision, like the edges of the windows, are best covered with a brush. Furthermore, a brush can be used to cover the siding of the playhouse. Here it can be used to add some refreshing texture to the wooden playhouse for example by using defined strokes. 
A roller is great to paint the sides of the outdoor playhouse - it covers are large area quickly if you don't want to dedicate too much time painting. Furthermore, the roller ensures that a nice even second coat is applied, giving the playhouse a complete finished look and it is very easy to handle. 
Using paint trays it is easy to refill your brush or roller with paint. Paint trays also prevent the can of paint from drying out. They aren't only cheap, but also easy to find. Grab a few paint trays so multiple people could paint at once at the same time. 
PAINTING VS STAINING A PLAYHOUSE
Once you have the required basic supplies, the first question is whether you want to paint or stain your outdoor playhouse. Both will provide a fantastic finish to your playhouse and mostly depend on what you want to achieve. Staining tends to have a more textured look, keeping the wooden style of the playhouse. The result is a matte appearance with a lovely transparent wooden look.
Paint on the other hand, smooths over the wood grain. Paint also has a sharper, more eye-popping look because of the several coats applied and results in stronger colors of the playhouse.
Painting a Wooden Playhouse
Pros:
- Stronger look on top of wood surface

- Keeps the finished look durable

- Sharp and smooth look

 
Cons:
- Peels after very long periods of time

- Takes more time and effort to finish
Staining a Wooden Playhouse
Pros:
- Stain soaks into the wood (looks natural)

- Leaves room for moisture absorption

- Keeps wood flexible

 
Cons:
- Fades after very long periods of time

- Less durable than paint
CHOOSING PAINT FOR YOUR PLAYHOUSE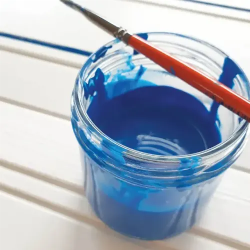 When it comes to choosing your paint type, make sure that you apply only exterior paints on the outside of your outdoor playhouse. Exterior paints are made to last in different weather conditions and therefore protect your kids playhouse longer from sun and rain.
Paints can be made from different components. We advise and use ourselves only water based colors on our playhouses - this way we do not expose kids to unnecessary chemicals. Further, different paints have different requirements and drying times - in order to avoid any surprises, always check the paint can information label before applying it on your outdoor playhouse.

An important decision to make is if you wish to paint your playhouse with matte, semigloss or high gloss paint. Matte is the same as flat paint and will give your kids playhouse a beautiful non-reflective finish that hides all bumps and imperfections. Gloss paints (semigloss with medium reflection and high gloss with high reflection) provide your outdoor playhouse with glossy and bright finish. Besides the difference in brightness and shine of the playhouse, gloss paints are in general more durable than matte paints. To learn more before deciding which will be best for your new playhouse, read the chapters below.

Matte paint is also known as a "flat" paint because of its low reflectiveness. Matte paint isn't reflective against light, but has a special rough smoothness to it that has made it fashionable in the last years. Surface imperfections like holes, bumps, and patches are hidden well by matte paint. It's very forgiving for inexperienced painters who have poor brush strokes and roller marks. Usually only one coat is necessary, which makes it a good option for playhouse owners who don't want to spend a lot of time and effort painting.
Matte paint does have a few minor cons as a playhouse paint. Because of how delicate matte is, fingerprints and scuffs are more visible on the kids playhouse. The paint is also hard to clean without wearing it out. The good news is, matte is easy to reapply on your wooden playhouse or fix overtime.
Gloss paint is for owners who really want their playhouse colors to pop. It's long-lasting and gives off a glassy appearance which makes it a high reflective paint. Since an outdoor playhouse will be outdoors, consider gloss paint to increase the durability against gusting winds, rain, and other bad weather conditions. Also, as kids will be playing around the wooden playhouse and running in and out of the playhouse doors, fingerprints and football marks will end up on the walls. Gloss paint will allow you to easily wash your playhouse, keeping it always bright and beautiful!
However, gloss does have a drawback as well. Small painting imperfections such as bumps are highlighted due to the high reflectiveness of gloss. Usually an extra coat is needed which may take more time to complete your playhouse project.

Before starting painting your playhouse, it is good to prepare the playhouse to make sure that the painting process goes smoothly and that the playhouse will be colored exactly as you envisioned.
Start by taking a damp cloth and rubbing the entire outer surface of the playhouse. This ensures that there is no dirt, dust, and sand on the playhouse. Don't forget to include the playhouse windows and edges which may have a layer of dust settling on them. If you come across any grains or dust while painting your wooden playhouse, make sure to clean the spot again. Otherwise, the grains will end up in your brush and in the paint layer.
If the playhouse was painted previously, a light sanding will smooth out any bumps or chips from the old paint. Having a clean surface will have your paint looking great while holding up for many years in any outdoor weather.
Do not forget to place painters tape on areas which you don't intend to paint or wish to later paint in different color. Cover the floor of the playhouse terrace with old news papers to make sure no paint drops on it.
HOW TO PAINT THE PLAYHOUSE
After applying painters tape on all edges, distribute your new playhouse paint into paint trays and close the can. Using paint trays prolongs the paint can life and allows one can to be shared between multiple playhouse painters at the same time. This is a fun opportunity to include your kids in the wooden playhouse painting project - enhancing creativity and responsibility at the same time!
Start by brushing cautiously near the perimeter of playhouse window frames and edges using a tiny brush in hand. After completing the edges, take a larger brush and paint the middle larger playhouse wall areas - this will save time and make sure that the end result is nice and clean. Smaller brush and painter tape are also good for playhouse areas where you want to change from one color to the other or to paint special shapes on your kids playhouse.
Equip a larger flat brush. Paint the bigger areas while following the grain of the wood. If you do not follow the grain of the wood, your paint will look rough and unfinished. Keep your eye out for the age lines of the wood to find the grain direction. It should feel smooth when you're brushing with the grain rather than rough while going against it.
Repeat the whole process when you apply a second coat to the wooden playhouse.
When you have painted the walls of the playhouse, you can use a smaller brush to paint any trims or features you'd like in a different color. The perfect moment for kids to make their unique mark or design on their new outdoor playhouse! To make the paint color look sharp, smooth, and eye-popping, also paint the decorations with two layers.
We hope to have helped you with deciding which paint to choose for your new wooden playhouse and how you can do it as a fun family project. Designing, planning and painting the outdoor playhouse with your kids allows for enjoyable family time and is sure to make long-lasting memories. It is also the surest way to make sure that your kids have a unique and the coolest playhouse on the block!
If painting a wooden playhouse does not sound like something you or your kids dream about doing and you would rather kick-start the fun of playing in and around the playhouse, then check out our painted playhouses below. Each of the outdoor playhouses have their own character and are painted exclusively with eco-friendly water-based long-durable paints to keep the colors fresh for a long time while not exposing your kids to unnecessary chemicals. If your dream color is not yet in our outdoor playhouse selection, do not hesitate to contact us - we are here to bring your kids dreams true!
PAINTING IS TOO MUCH HUSTLE? CHECK OUT OUR PAINTED PLAYHOUSES