DIY Playhouse - What to Consider When Buying a DIY Wooden Playhouse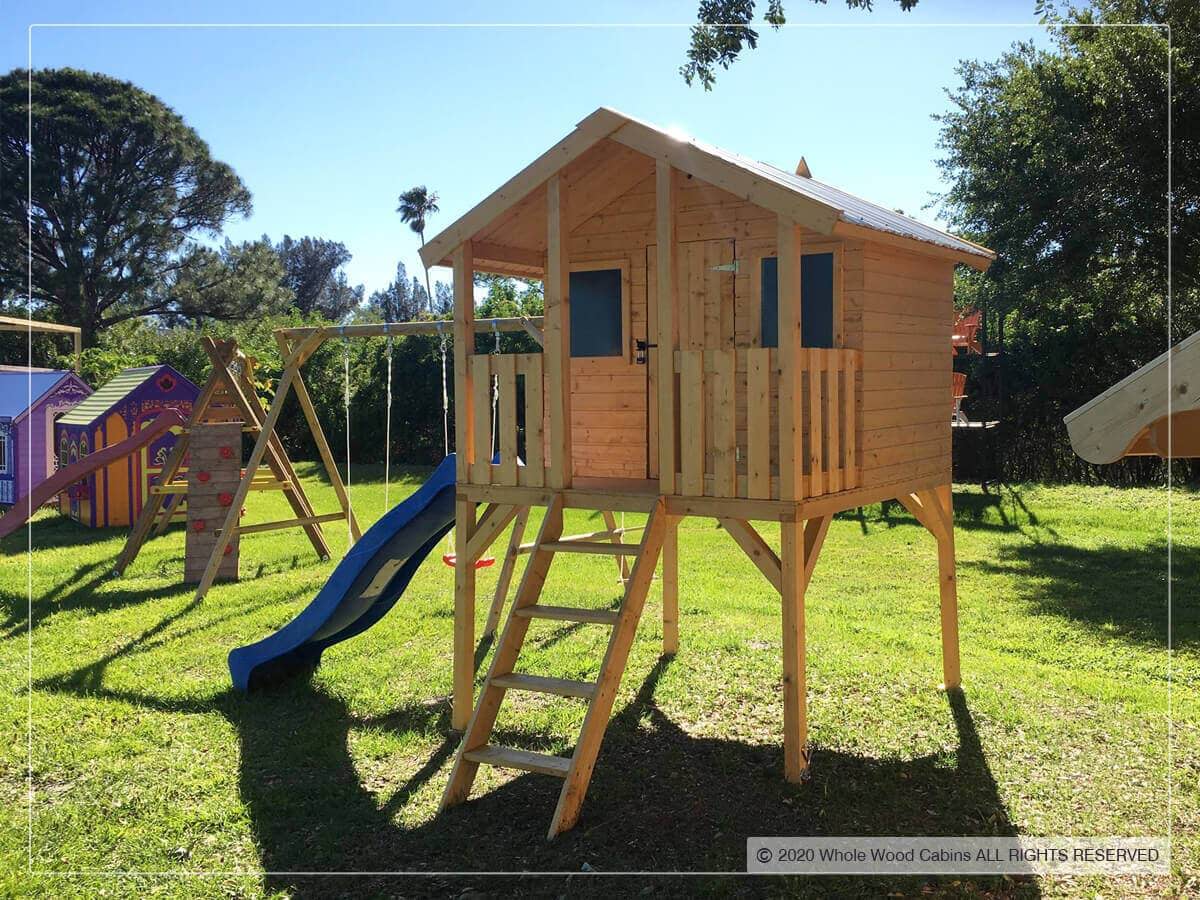 DIY Playhouse Can Be Built Without Prior Woodwork Skills
There is nothing quite like grabbing some tools, laying out all of the DIY playhouse parts like a puzzle, and getting to work on a new playhouse project. Buying a wooden DIY playhouse kit in this case, is a wonderful way of capturing the same excitement that our kids feel along the journey to completion. Many parents however, may feel intimidated to build a wooden playhouse from scratch because not all of us have seasoned woodworking expertise. Luckily, our DIY playhouse kits are easy to assemble, and give us the joy of building for the enjoyment of our loved ones!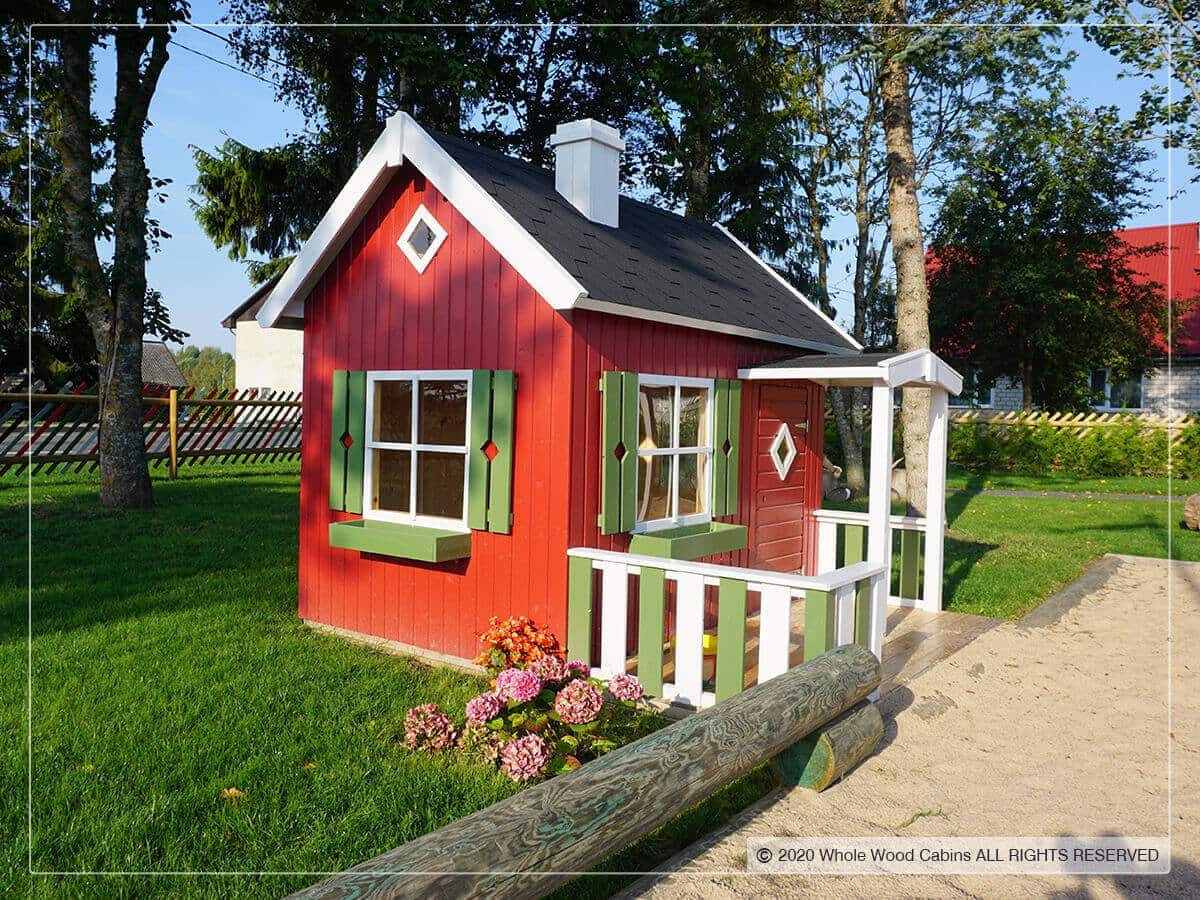 DIY Playhouses Have Plenty of Options
Trying your hand at building a wooden playhouse for the kids has a bunch of options to choose from. From different styles and sizes, to all kinds of unique extra features, we have all sorts of wooden playhouses meant to fit within your budget. Let's look at the various options DIY playhouses offer and what you should consider to find your perfect fit.
"It is easy to make good decisions when there are no bad options"
The size of your DIY playhouse kit is a tricky choice that you'll have to make before purchase. Smaller houses (such as a 6'x4' tower model) are better fitting for a young child since they are less likely to be intimidated by a spacious large playhouse. Tiny playhouses are also great for younger children (2-6 years old) and allow them to feel comfortable within the playhouse. Not to mention, small playhouses still have enough space inside to decorate for a bonus project with your kids. However, it's always a good idea to buy something with extra space, so your children can grow into the wooden playhouse overtime.
Some larger-sized wooden playhouses offer multiple levels which is a wonderful option for not only several children, but older kids (ages 8-12) as well. Plenty of larger houses have full working doors and windows that make your children feel like they are in an actual clubhouse. Large playhouses may typically cost more, but definitely offer extra years of entertainment for your kids. A large DIY playhouse a great way to go if you have the space for it outside and want something with extra visibility from supervising.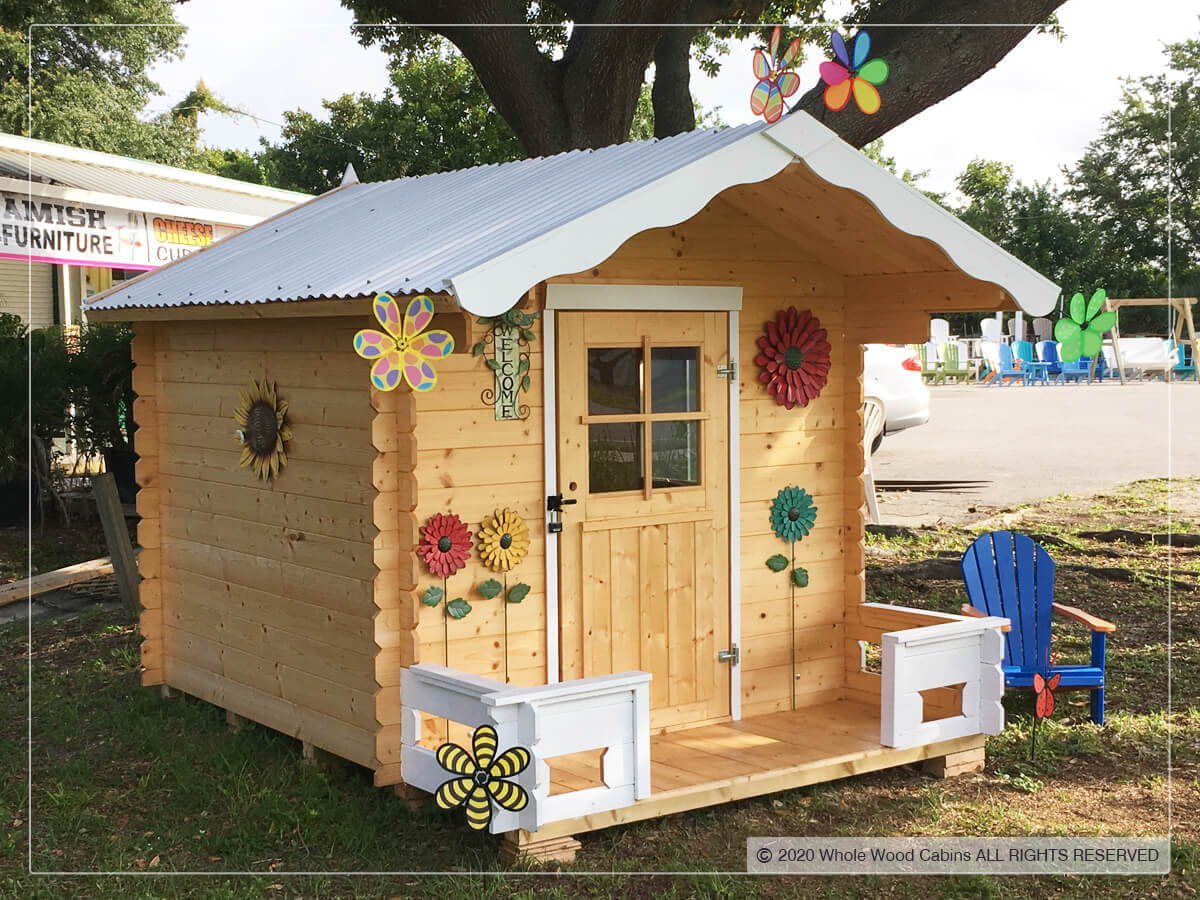 CHECK OUT OUR DIY PLAYHOUSE KITS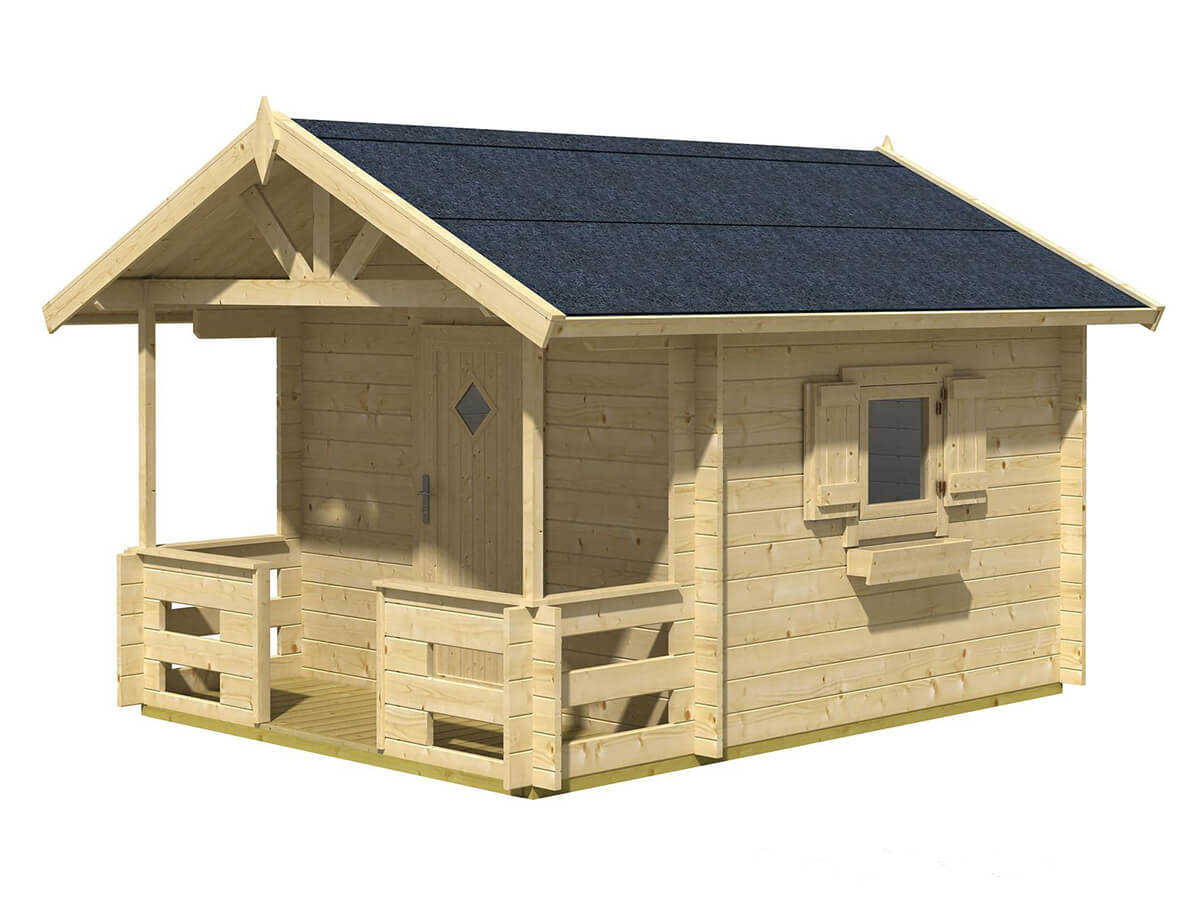 DIY Playhouse Kit Little Lodge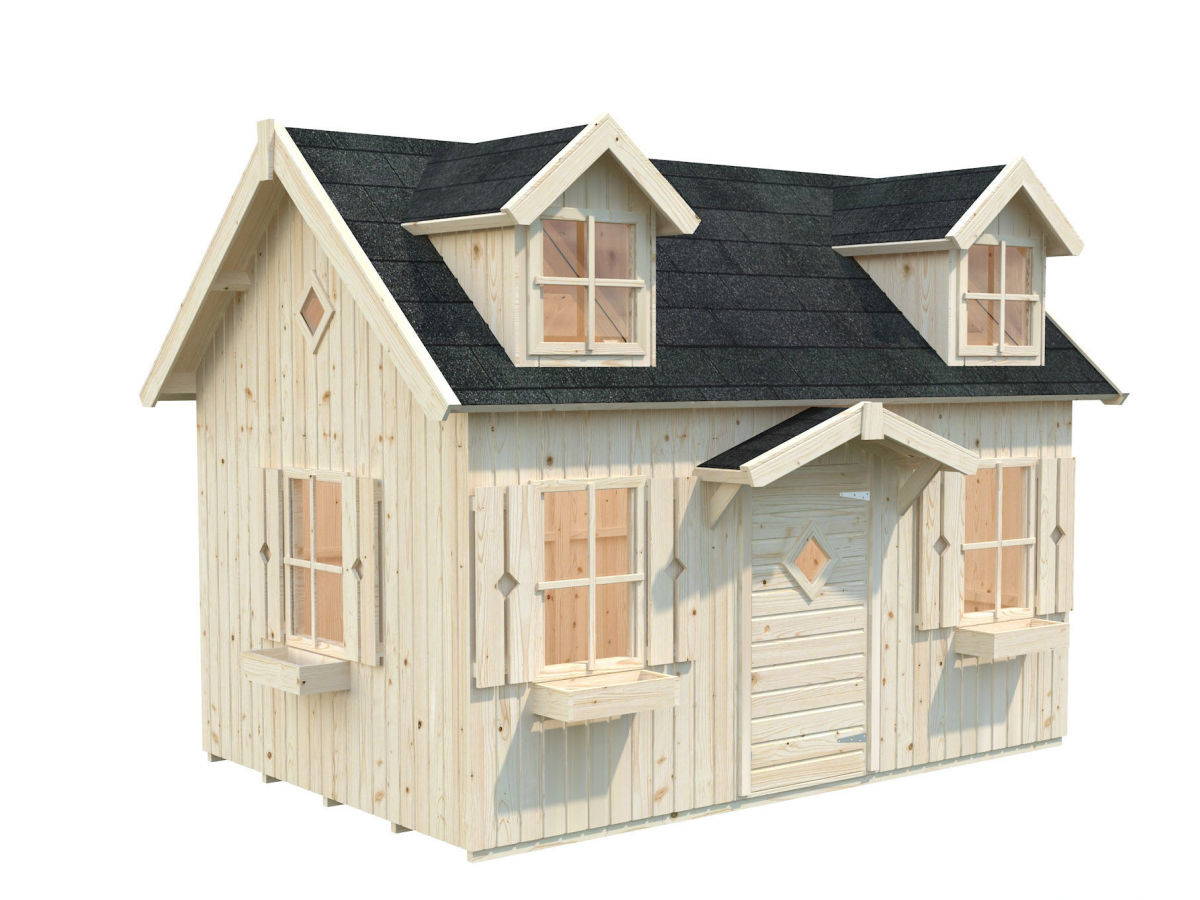 DIY Playhouse Kit Little Farmhouse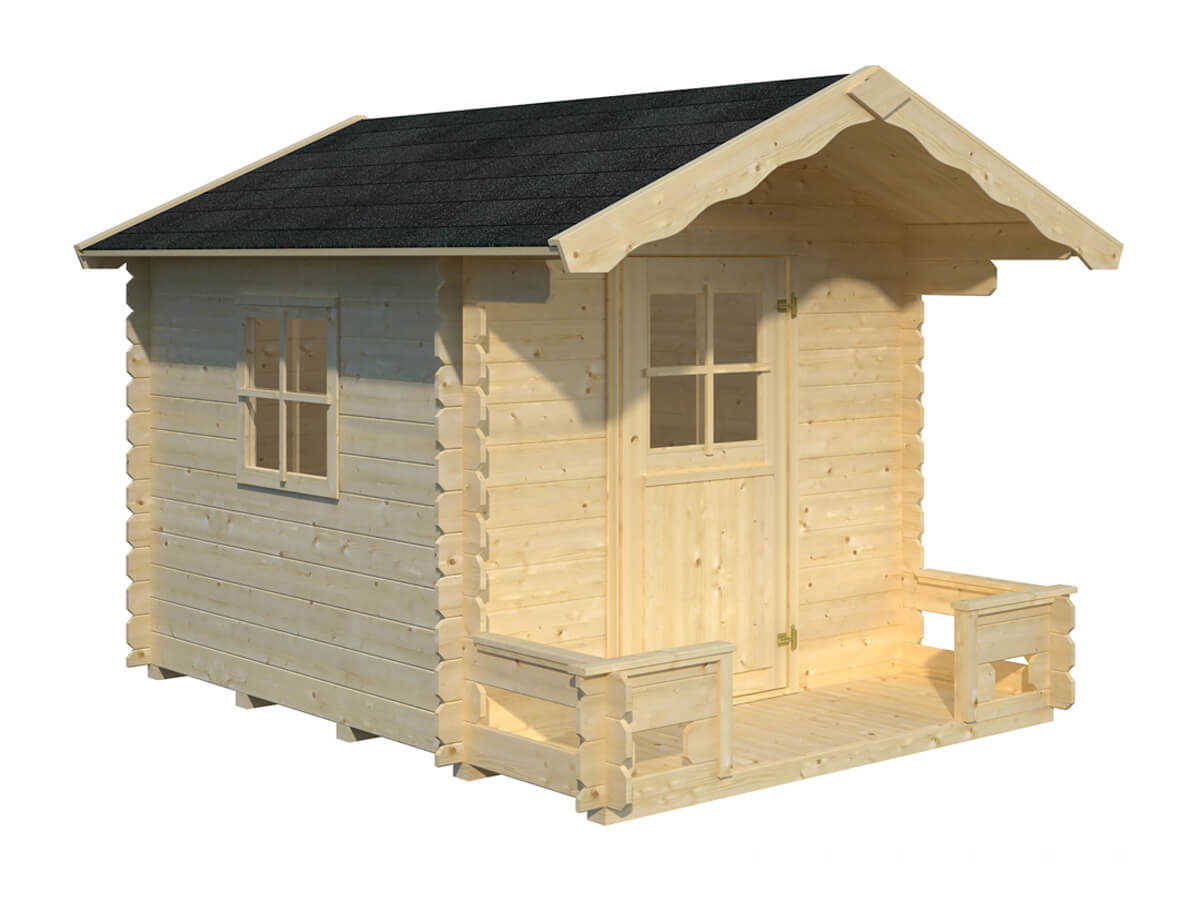 DIY Playhouse Kit Little Chalet
A DIY playhouse kit could cost anywhere from $1500 to $2500. Whether you choose to paint the wooden playhouse or add extras such as floor kits, shingles, or slides, it may cost additional money depending on how much you customize it. DIY playhouse kit sellers that offer free delivery, and financing options will provide you with more affordability.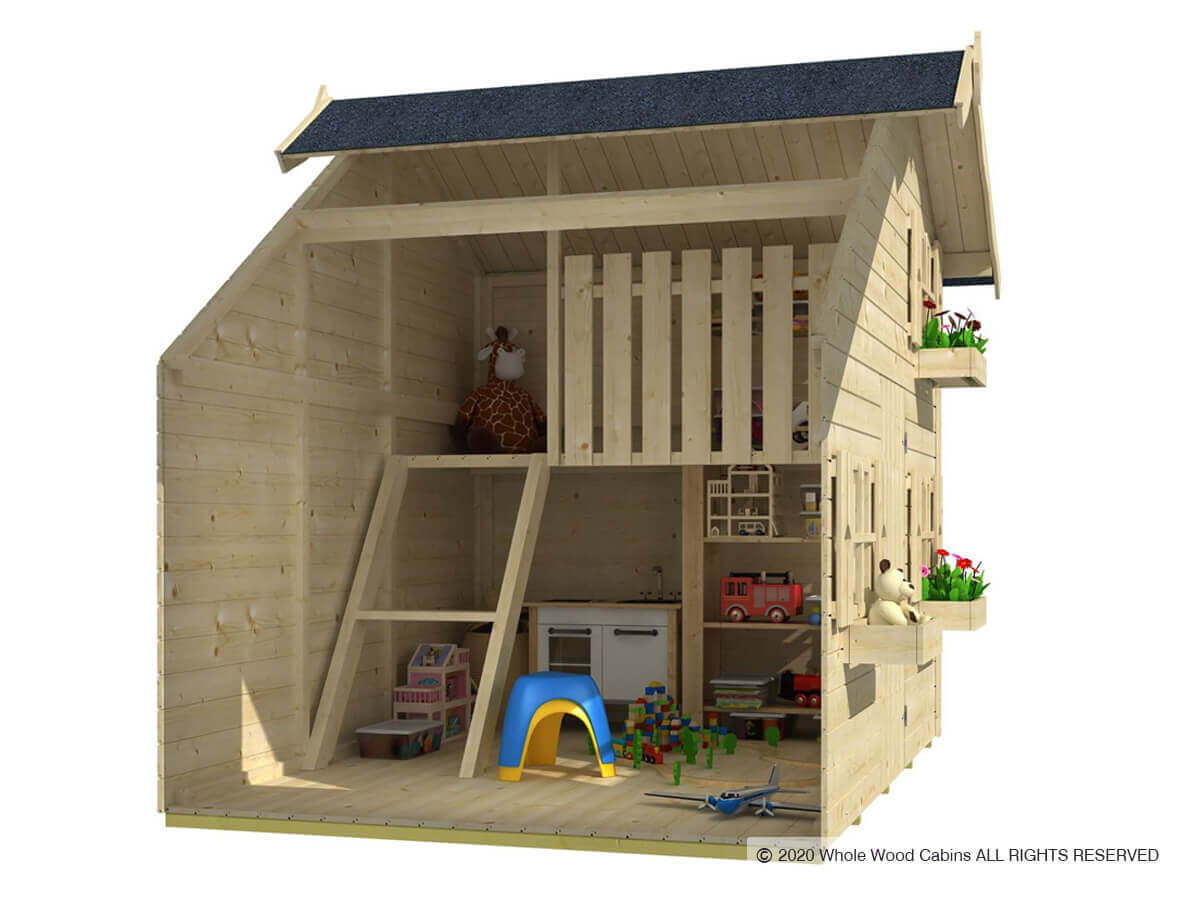 DIY Playhouse Shapes & Styles
Wooden playhouses have various styles you and your kids could choose from. Certainly, there's a wooden playhouse for every kid out there! For example, the DIY Playhouse Kit Tiny Tower features a four-step ladder, a slide, lookout area, and a small indoor area which is great for two children under 8 years old.
DIY Playhouse Little Cottage on the other hand, is a charming wooden playhouse with decorated windows and a terrace. It's more spacious and has an open area on the inside meant for further customization for multiple children that they can grow into.
Or are you perhaps looking for a wooden playhouse on stilts? A range of DIY playhouses come on wooden legs that raise the playhouse higher – creating the possibility to customize your kids wooden playhouse into a lookout tower, treehouse, lighthouse or a ship that sails the seven seas!
Some gardens are large enough for a wooden playhouse and a playset, fulfilling all backyards dreams that kids have. That is really the ideal scenario, but what if the garden is not large enough or the parents also want a bit of room in the garden for themselves? In that case, a DIY playhouse with extras such as a slide, ladder or a climbing wall are the perfect fit. Not only have the kids all the room they need in the wooden playhouse, but also the possibility to spend all their energy sliding and running up and down.
DIY Playhouse - What to Consider Before Buying?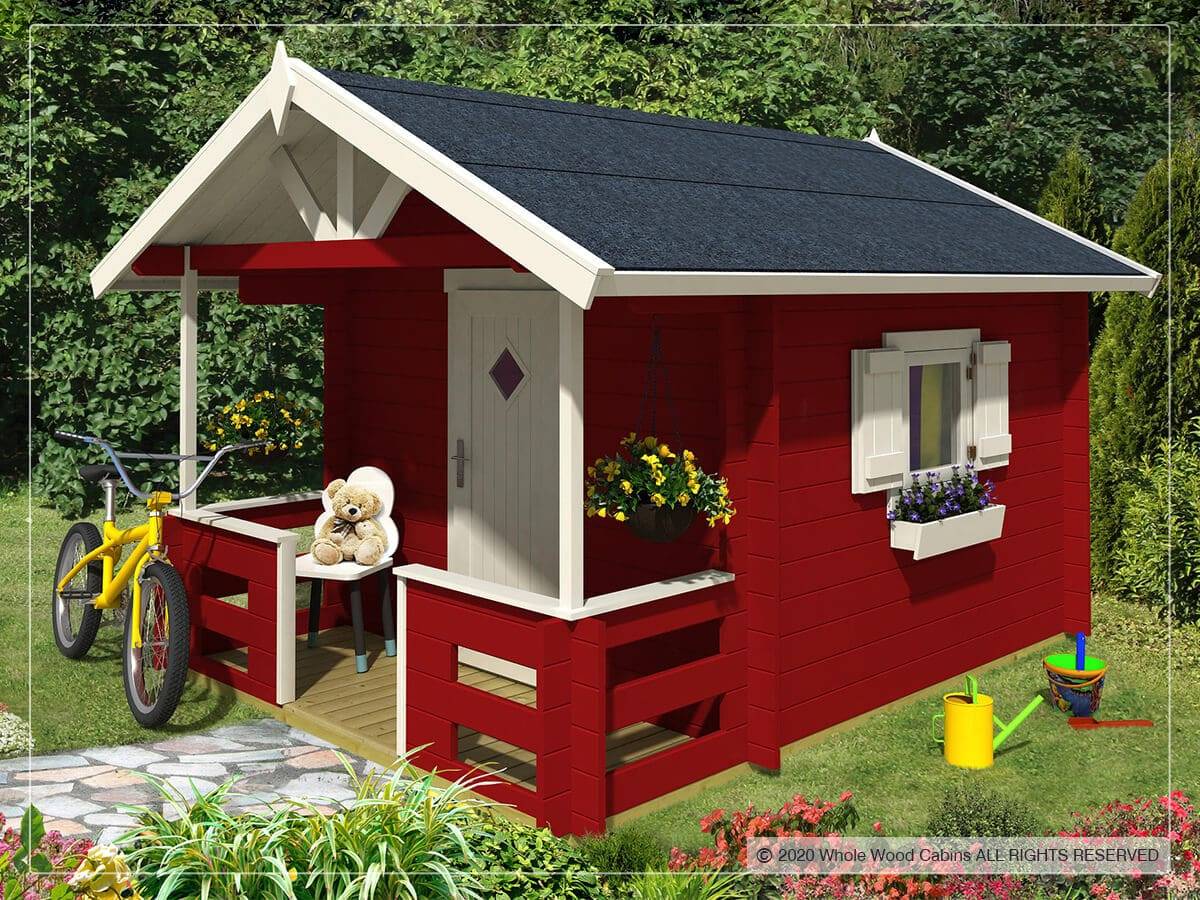 There's always plenty that you should consider if buying a DIY wooden playhouse is something that you are interested in taking on. For instance, make sure you set aside at least one full day for proper assembly. Our DIY playhouse kits are designed for quick assembly as a family project. However, if you feel comfortable completing the project on your own, feel free to try your hand at it. On average it takes about 6 hours to complete assembly for a DIY playhouse kit.
DIY Playhouse Assembly & Skills Required for It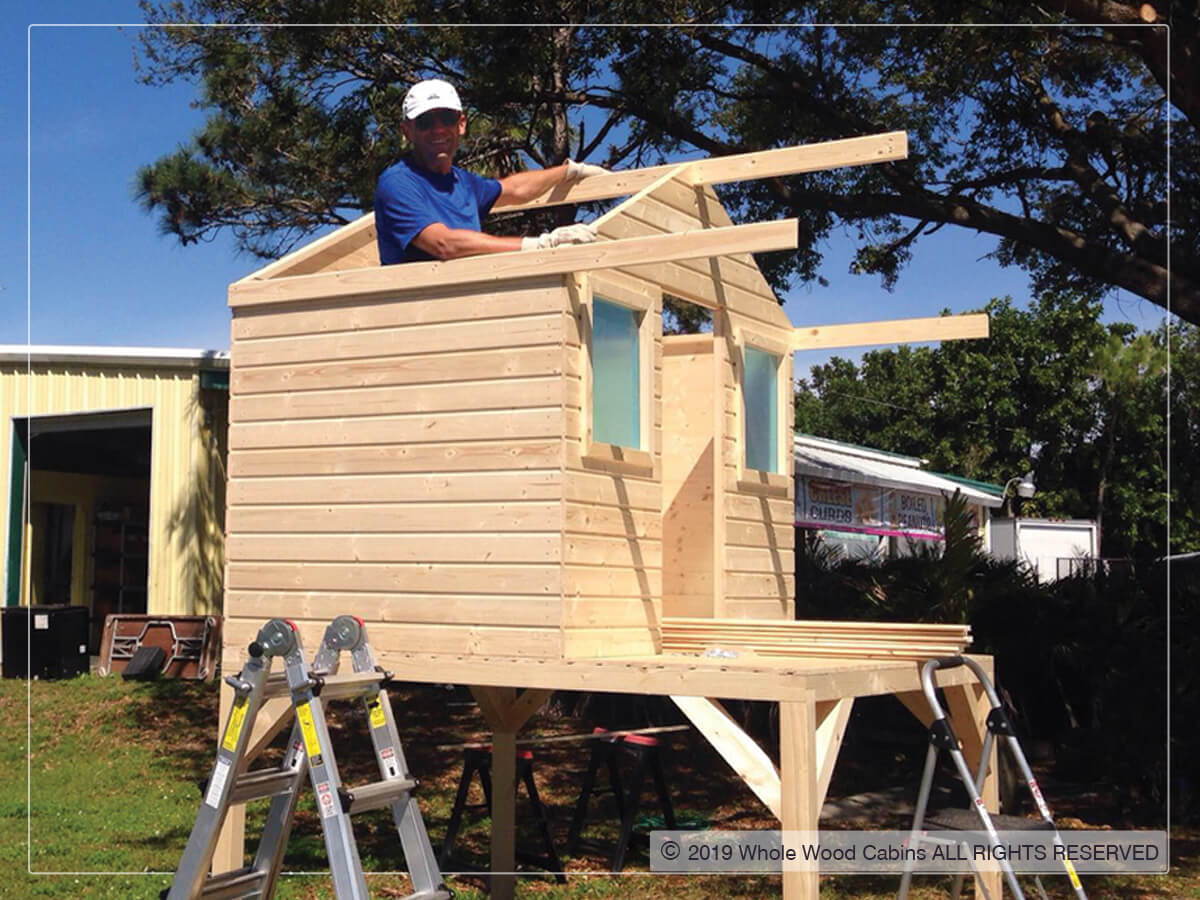 Our DIY playhouse kits aren't made for just the woodworking masters out there. As long as you have basic knowledge with tools made for screws, wood, and nails, you should have no problem with the wooden playhouse assembly. We also include a step-by-step manual, and all of the parts required (such as nails, screws, and fixings) so you can build with ease. Parents should feel no pressure when opting to build DIY playhouse kits rather than purchasing a pre-assembled house. If you are still not quite sure if you have the time or the wish to assemble and treat a DIY playhouse, then our outdoor wooden playhouses might be a better fit for you – these wooden playhouses come completely finished and can be assembled in a couple of hours by just putting all sides of the playhouse together.
CHECK OUT OUR OUTDOOR WOODEN PLAYHOUSES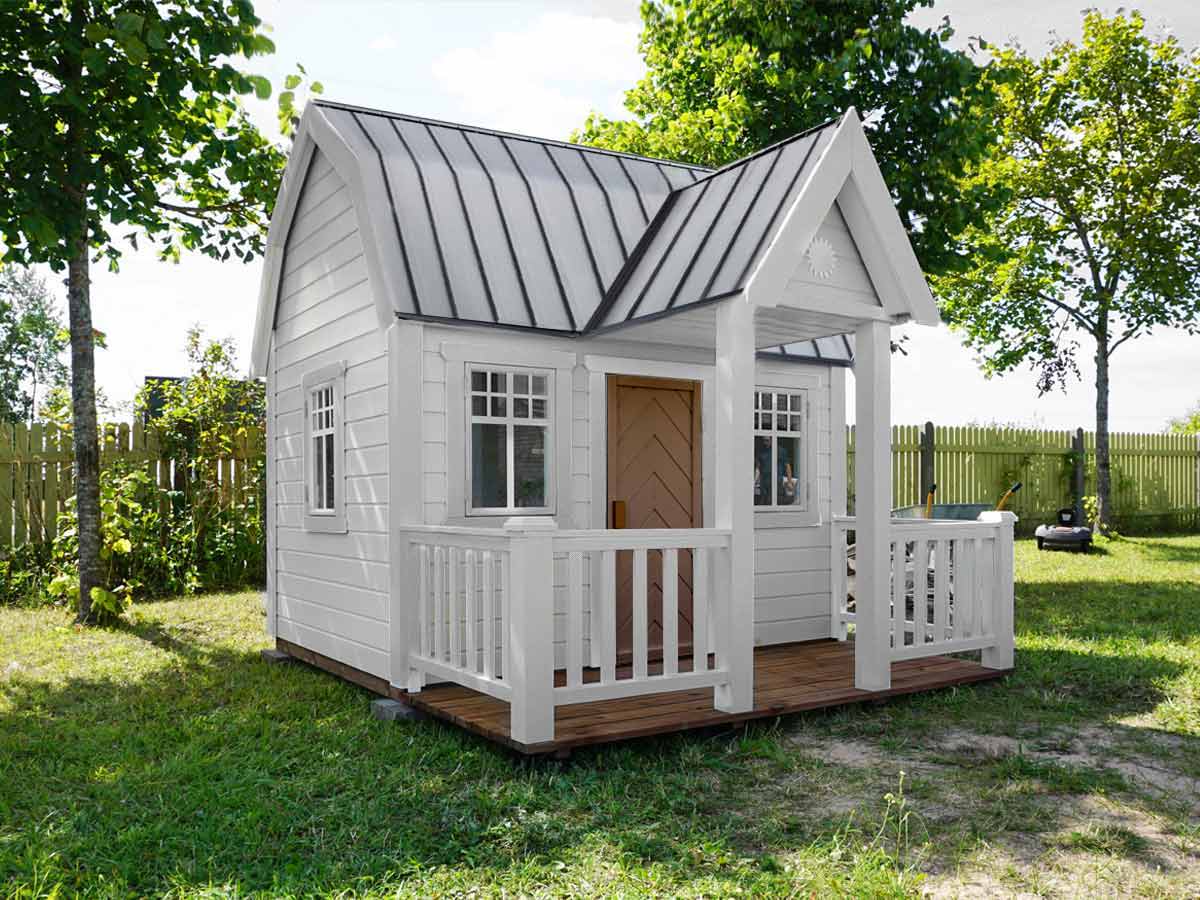 Playhouse Grand Farmhouse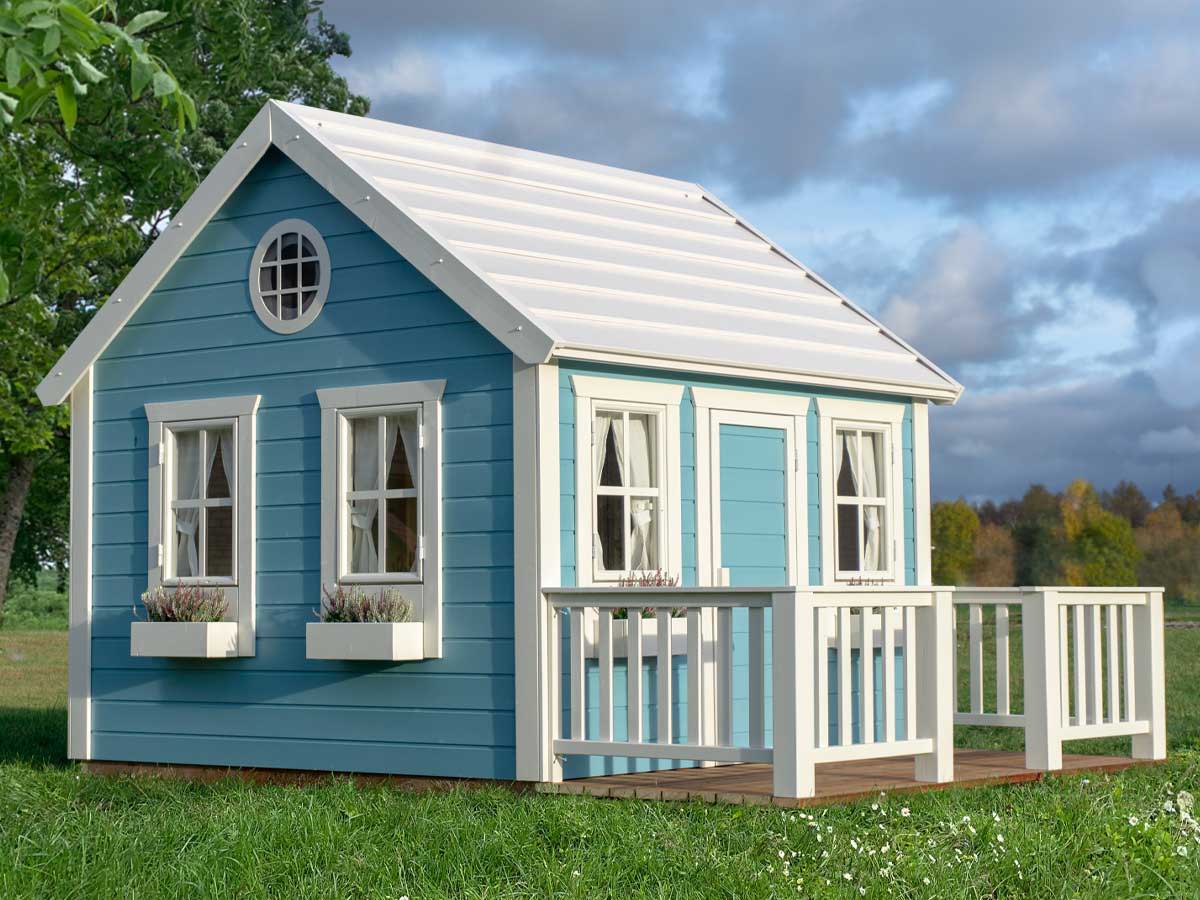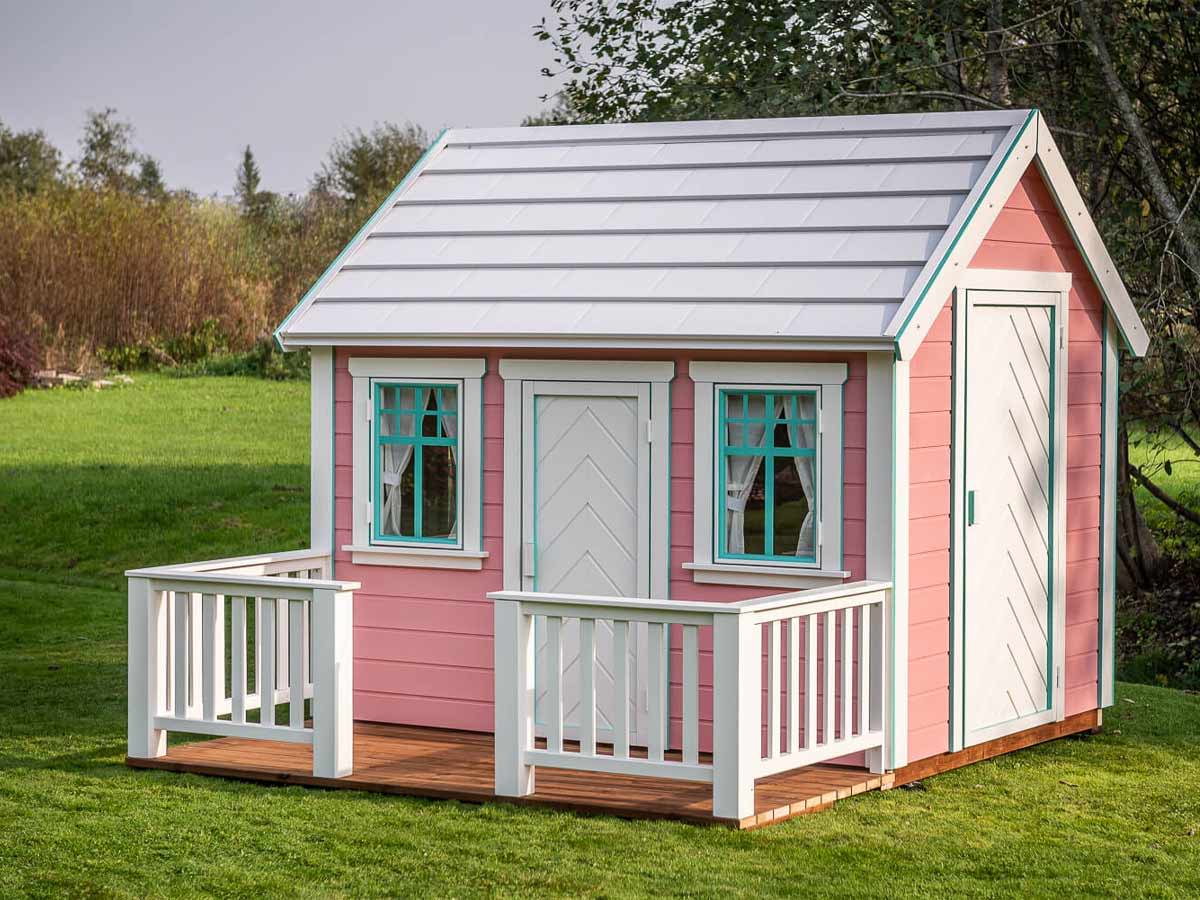 DIY Playhouse Location Selection
You should carefully consider where you place your wooden playhouse for both safety and durability reasons. First of all, make sure that your kids playhouse is on level ground that is also larger than your dimensions of the actual playhouse. The playhouse should be placed at least 6 feet apart from obstructions which will give you visibility for supervision and offer your kid ease of access.
Steer clear of weeds and trees when placing your playhouse. After a rainy day, trees may continue to drip on the playhouse roof, and shade means that it will keep your playhouse damp for longer periods of time. Consider placing your DIY playhouse in a partly sunny, partly shaded area so that the wooden playhouse can dry quickly after long periods of rain and that it does not get too hot after long periods of scorching summer sun.
Before building your wooden playhouse, check for a spot with good drainage which will prevent waterlogged areas from building up water underneath the house. This will maximize the durability of the wooden playhouse.
DIY Playhouse Assembly & Tools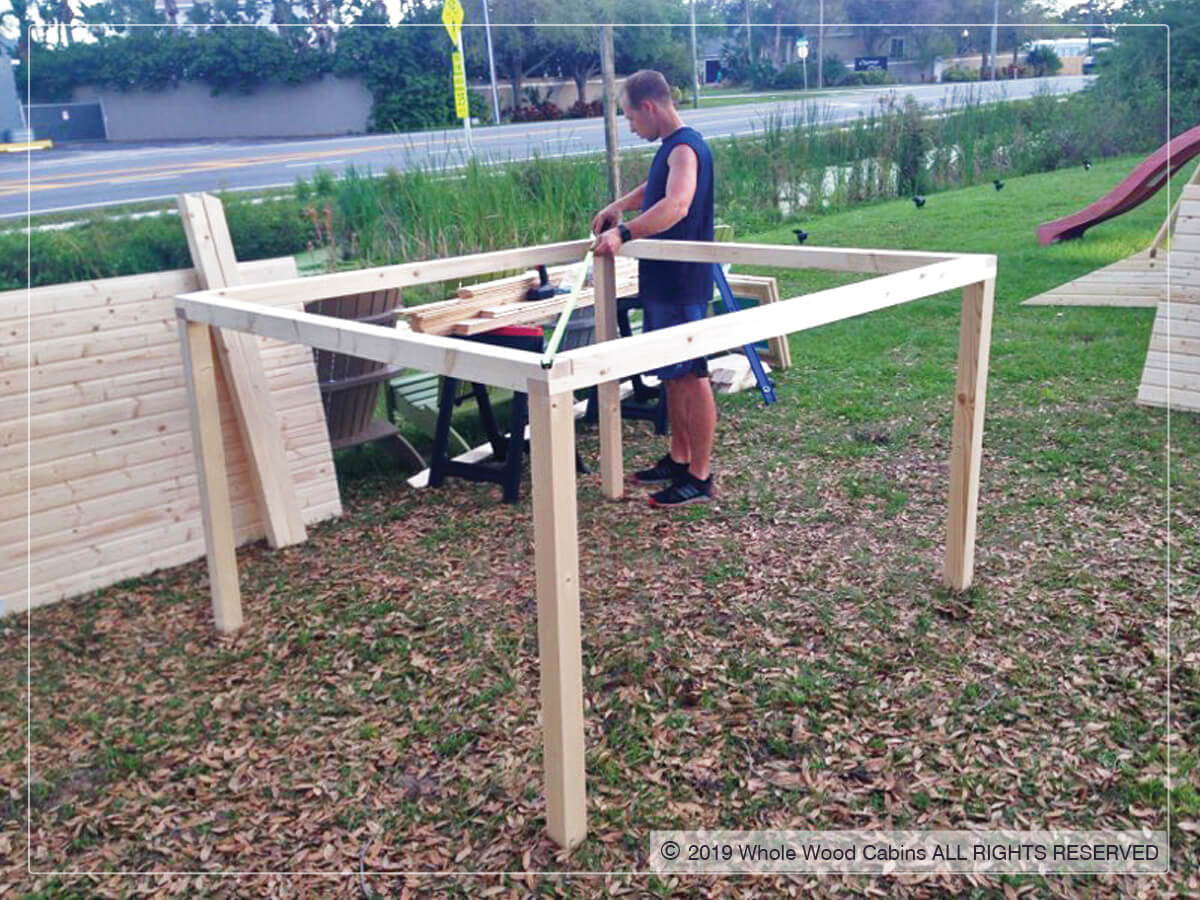 There's no need to sweat when thinking about which tools you will need to complete your DIY playhouse. We've compiled this list of recommended tools you should have before purchasing your new DIY playhouse kit.
Tape measure
Pencil
Level
Hammer
Drill Kit
Power Sander (for further customization)
Saw
Knife
Ladder
DIY Playhouse Kit & Its Benefits
Our DIY playhouse kits are made with high quality Nordic spruce wood. Not only is this an eco-friendly choice rather than using plastic, but Nordic spruce wood is extremely durable which provides added safety for your children. The windows of our DIY playhouse kits are all made out of plexiglass which is both strong and safe against tough weather like heavy wind or snow. Nordic spruce wood is overall meant for any climate weather and your new wooden playhouse is built to last for entire childhoods.
While durability is on the mind of most parents when choosing a DIY playhouse kit, aesthetics usually is too. Nordic spruce wood is beautiful and smooth, which makes it easy to treat, customize, and paint! DIY playhouse kits are light for easy assembly and made for personalization. Once the playhouse is assembled, you can paint it with your kid or add extras such as slides or greenery which look great.
We provide plenty of affordable options to make it easier for you to choose between DIY playhouses. All our wooden playhouses have free delivery in the U.S. and have financing options available if you don't want to pay all at once. You could feel comfortable choosing whichever financing plan works best for you.
The greatest benefit of all the DIY playhouse kits of course, is that it allows you to spend quality time with your kids and you can all have loads of fun doing it together! DIY playhouse kits help teach your kids awesome experiences of working with your hands, and working towards an ultimate goal. DIY playhouse kits teach kids about patience and give everybody a sense of pride once your new wooden playhouse standing tall.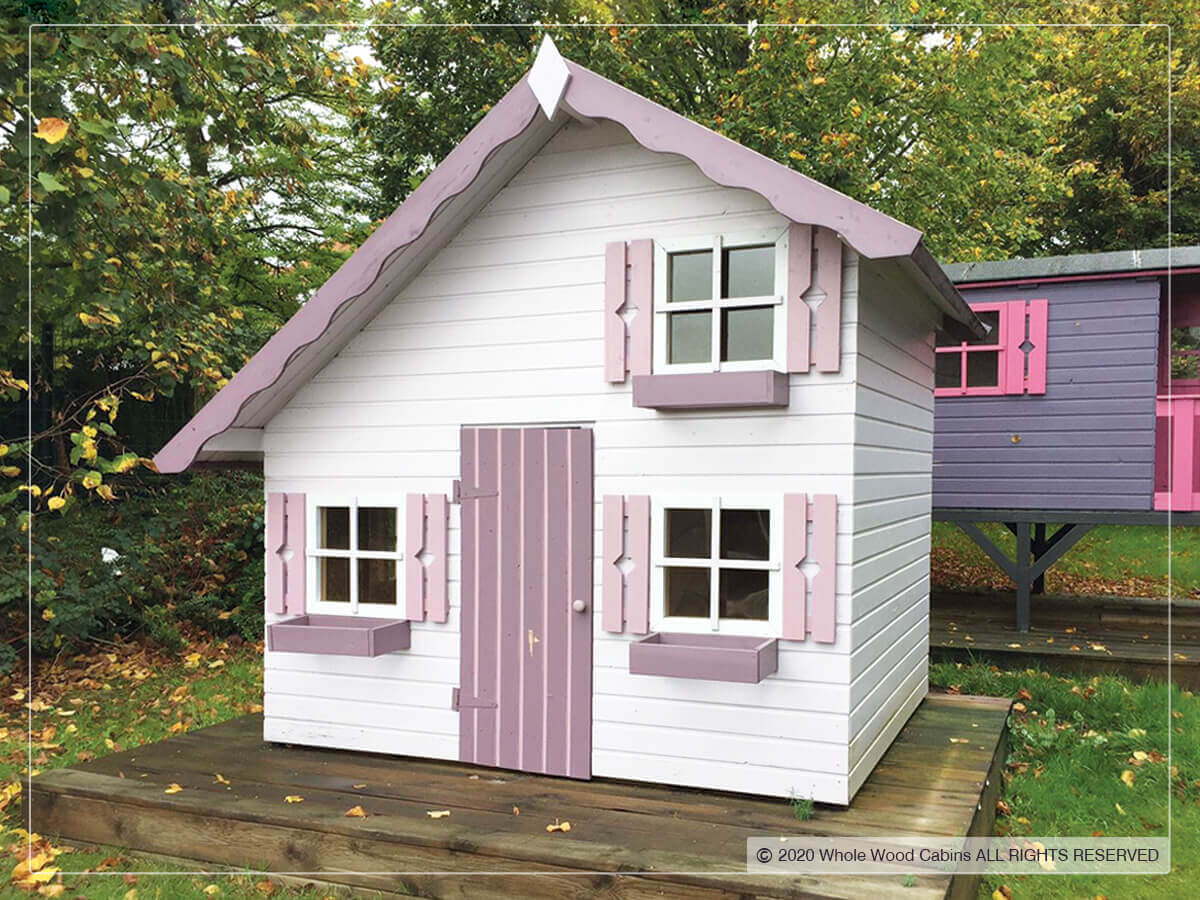 "We shape our buildings; thereafter, our buildings shape us "
Want to read more about Playhouses?
Written by WholeWoodPlayhouses
CHECK OUT OUR DIY PLAYHOUSE KITS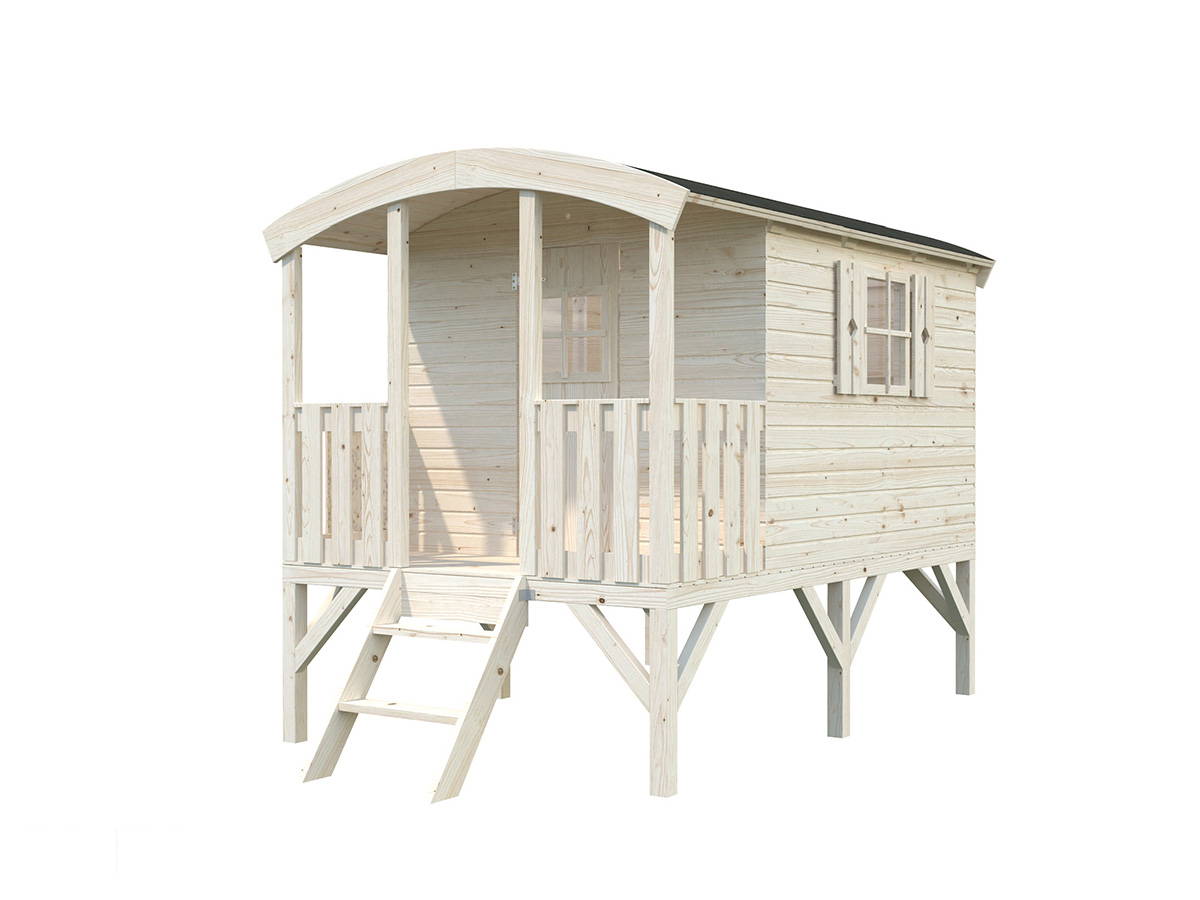 DIY Playhouse Kit Little Bungalow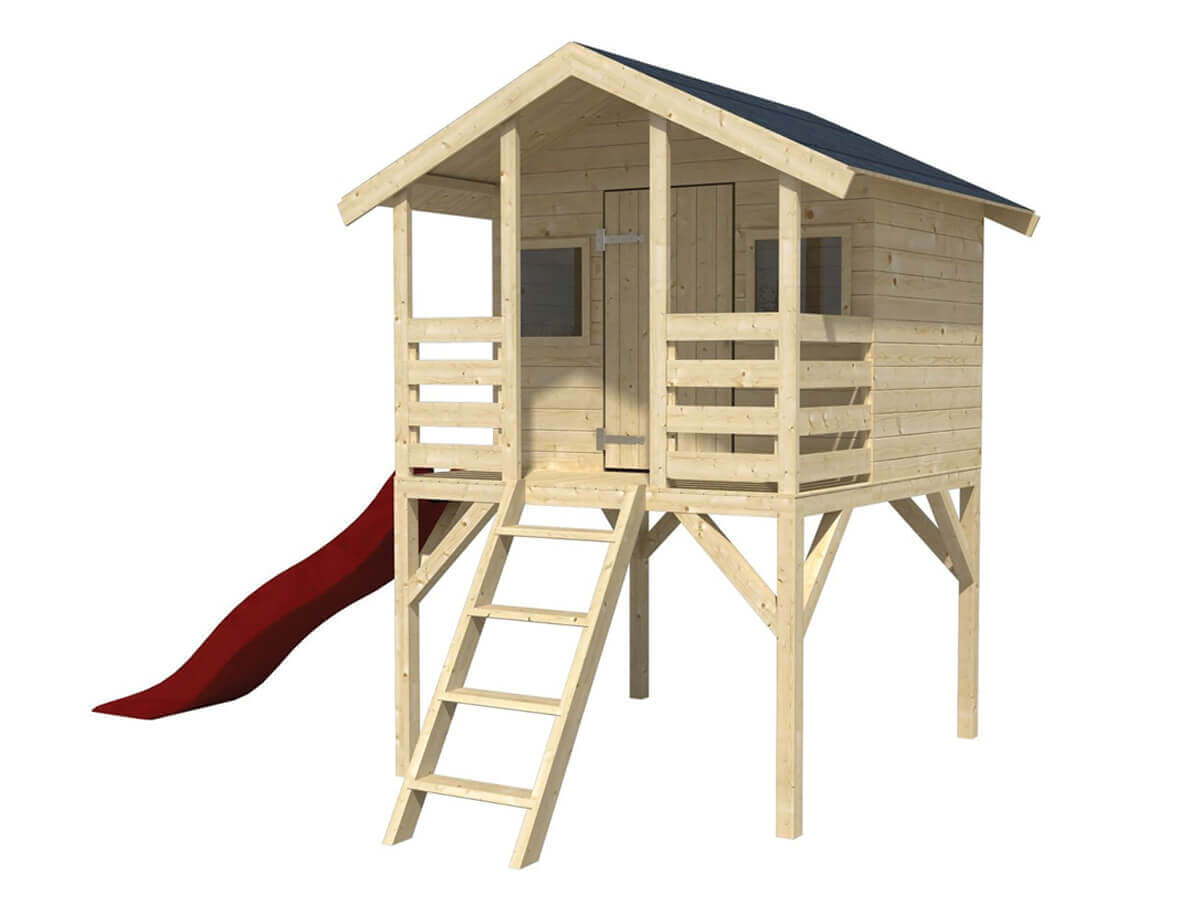 DIY Playhouse Kit Little Tower
DIY Playhouse Kit Little Cottage