Is My Backyard Suitable for a Playhouse? Five Things to Consider Before Getting Your Outdoor Playhouse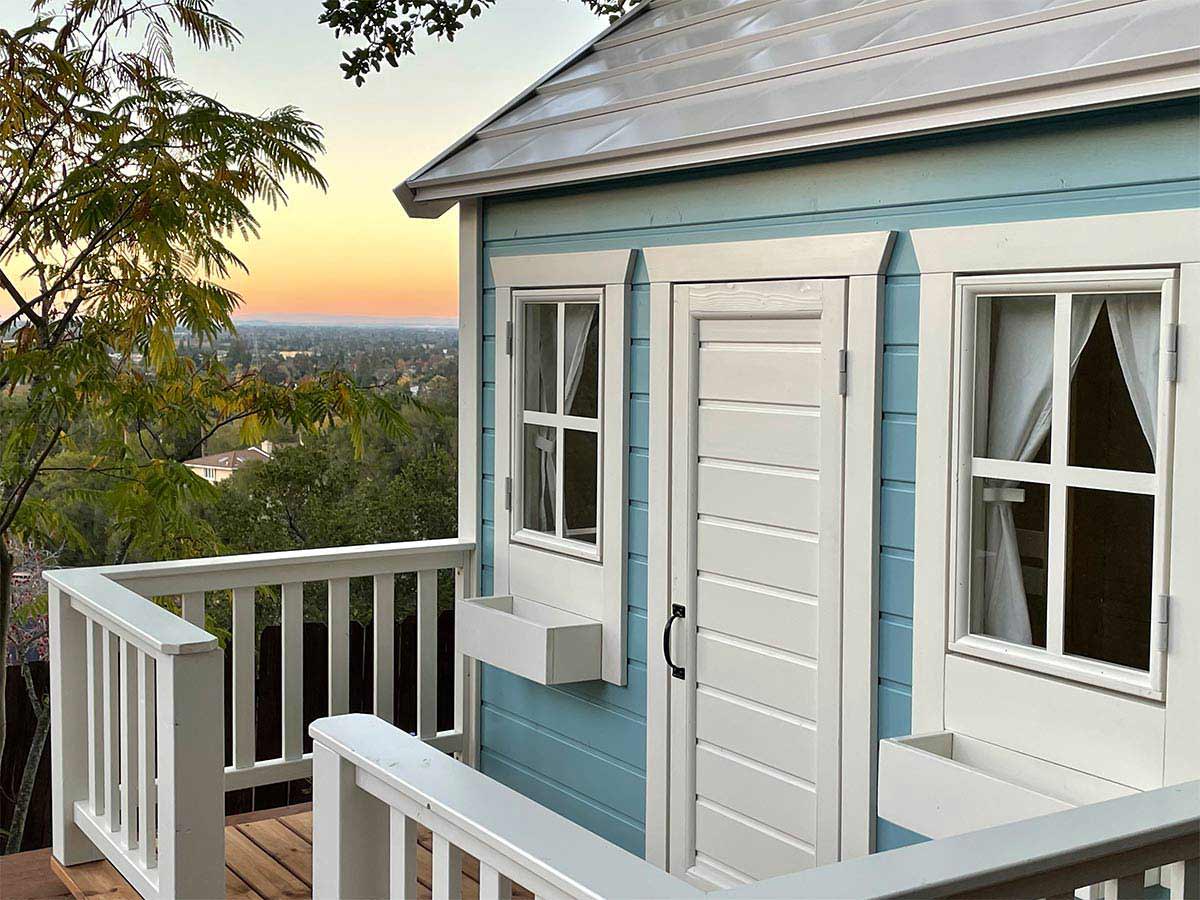 An outdoor playhouse will definitely be a perfect addition to any backyard. Primarily, it is a guarantee that your kids will spend more time outdoors, set their imagination free decorating their own space, and get a chance to host epic sleepovers and parties.
Also, you can choose from different variations of wooden playhouses with endless customization and personalization options. Eventually, a kids playhouse can fit any backyard, becoming an original decoration for your property.
However, people often wonder whether their backyards are suitable for an outdoor playhouse. Indeed, just like a summer kitchen, a shed, a deck, or a swimming pool, a kids playhouse is technically an outdoor construction.
To make sure that your kids will enjoy their hours (and years) of fun in their outdoor playhouse, it is essential that you consider all safety measures, installation requirements, as well as the local legislation and planning permissions. This sounds a lot more serious than it actually is!
In this article, we explain how to make sure that your backyard is suitable for an outdoor playhouse and provide a comprehensive preparation guide with five main things you need to consider before getting a kids playhouse for your property.
DIFFERENT STYLES, SIZES & PRICES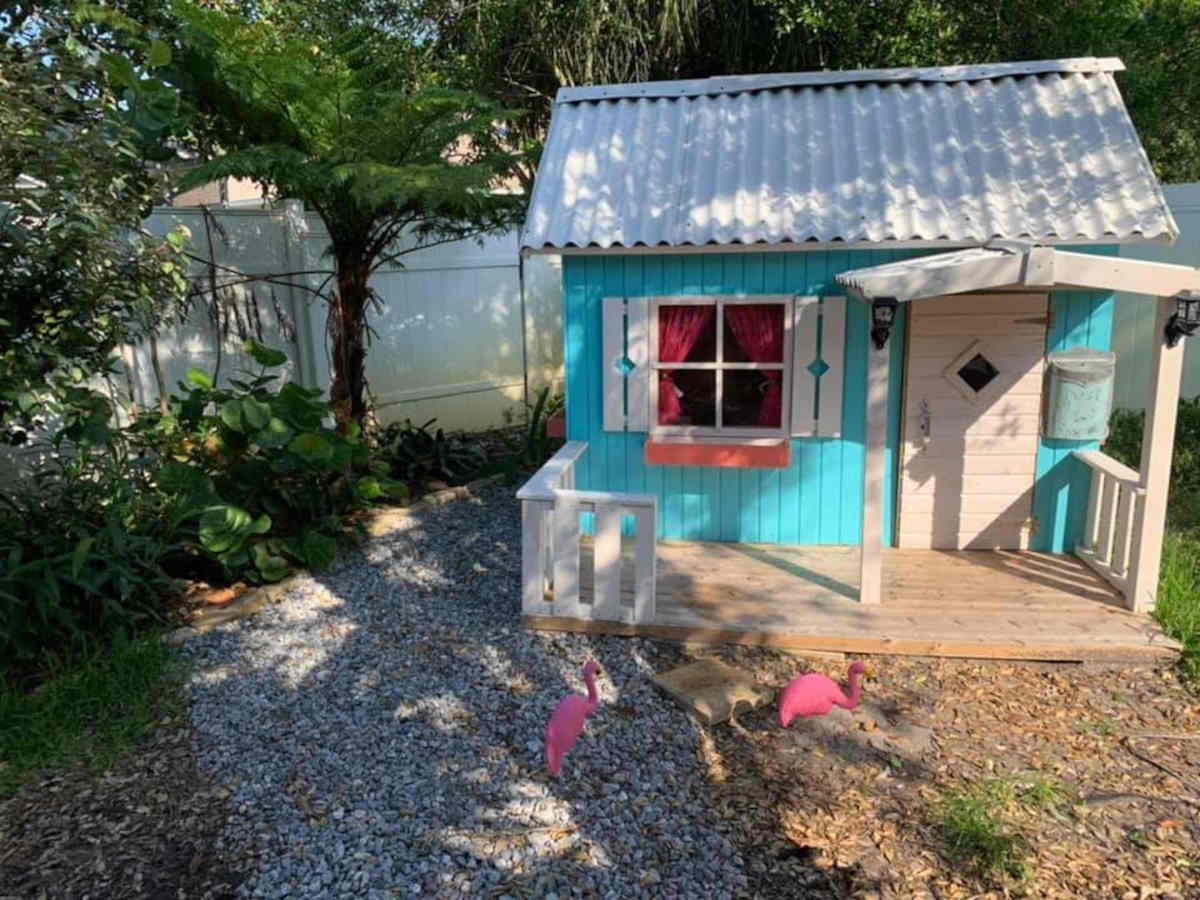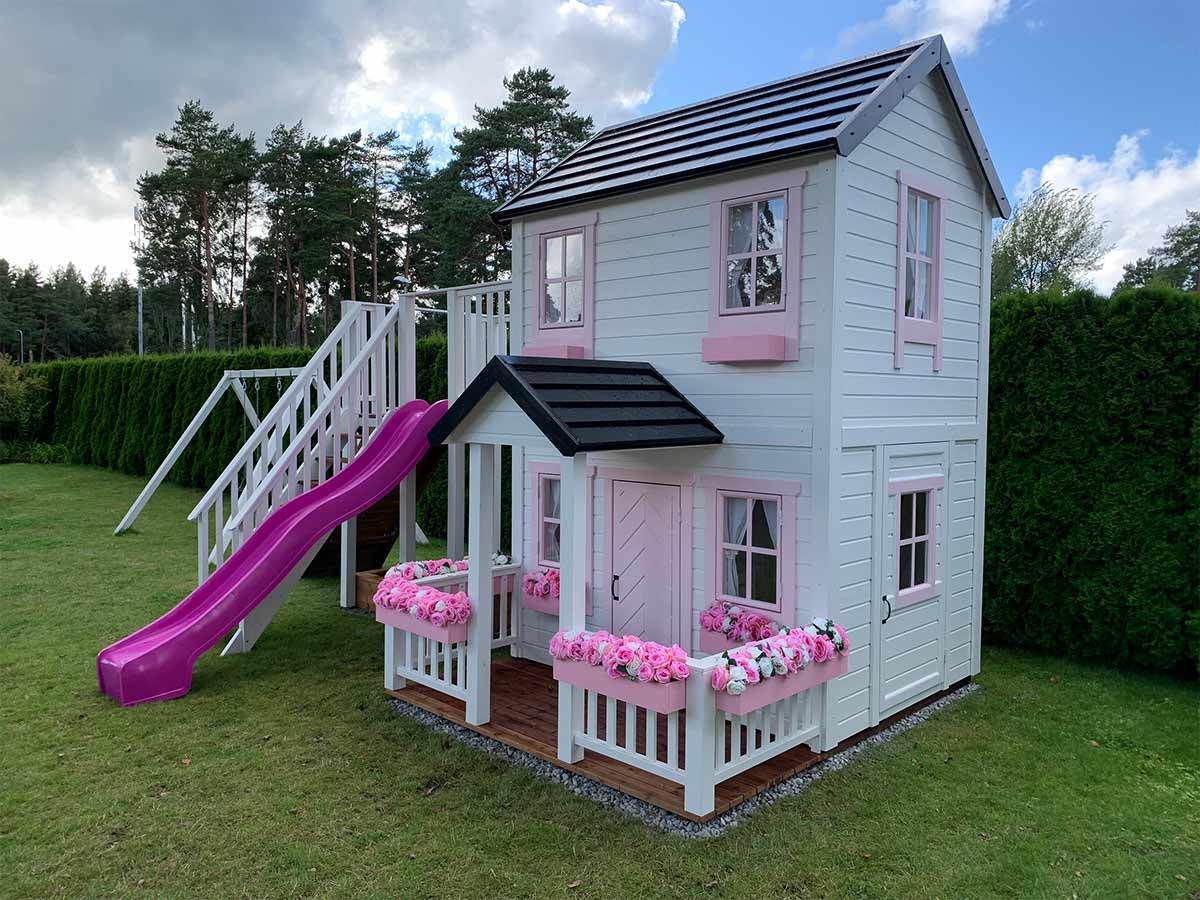 A Perfect Place for an Outdoor Playhouse
Just like with any other outdoor construction, it is essential to find a nice site on your property for your kids playhouse. This step will determine how the playhouse will fit your property landscape and how comfortable it will be for your kids to use their wooden playhouse.
A perfect site for an outdoor playhouse is:
accessible from any point of the backyard for easy maintenance;
leveled and has a firm base;
located away from old trees, poles, and other old or weak constructions that risk to fall and cause damage in case of strong wind, flooding, etc.;
perfectly visible from most points at the backyard or from inside your house so you could keep an eye on kids while they play independently;
not obtrusive to your neighbors' views.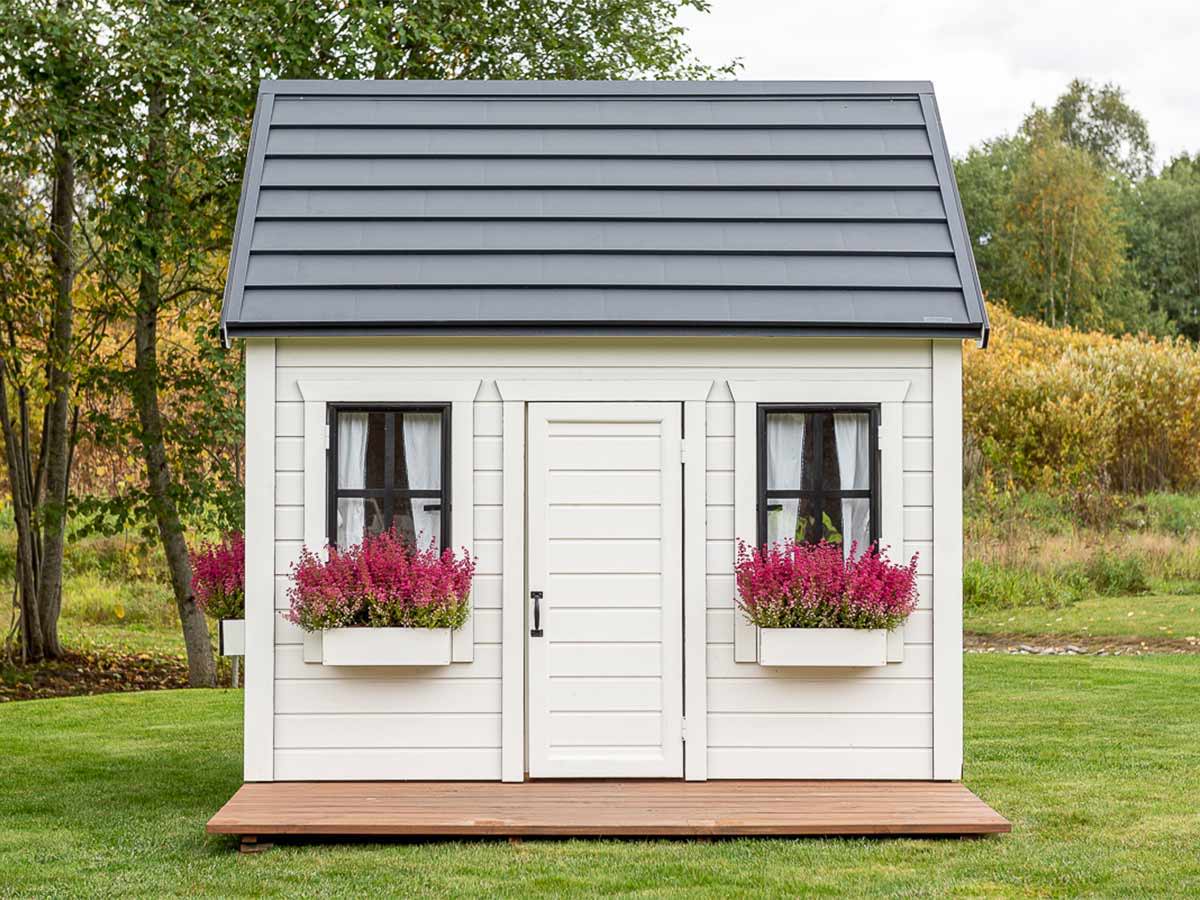 It is also essential to consider the local climate and place a wooden playhouse in the area, where it won't get under direct sunlight (if you live in very hot climate) or won't get flooded regularly (if you live in very wet climate). You may want to clear fallen leaves and debris from the playhouse's roof to prevent rotting or damage to the structure.
All those parameters are essential if you have a large backyard will several options to place the outdoor playhouse. In case your property is not so versatile, the points mentioned above will instantly help you understand whether your backyard is suitable for a wooden playhouse and which preparations should be made before you get one. If you are not sure, contact us and we will let you know which (if any) preparations are necessary before your playhouse arrives!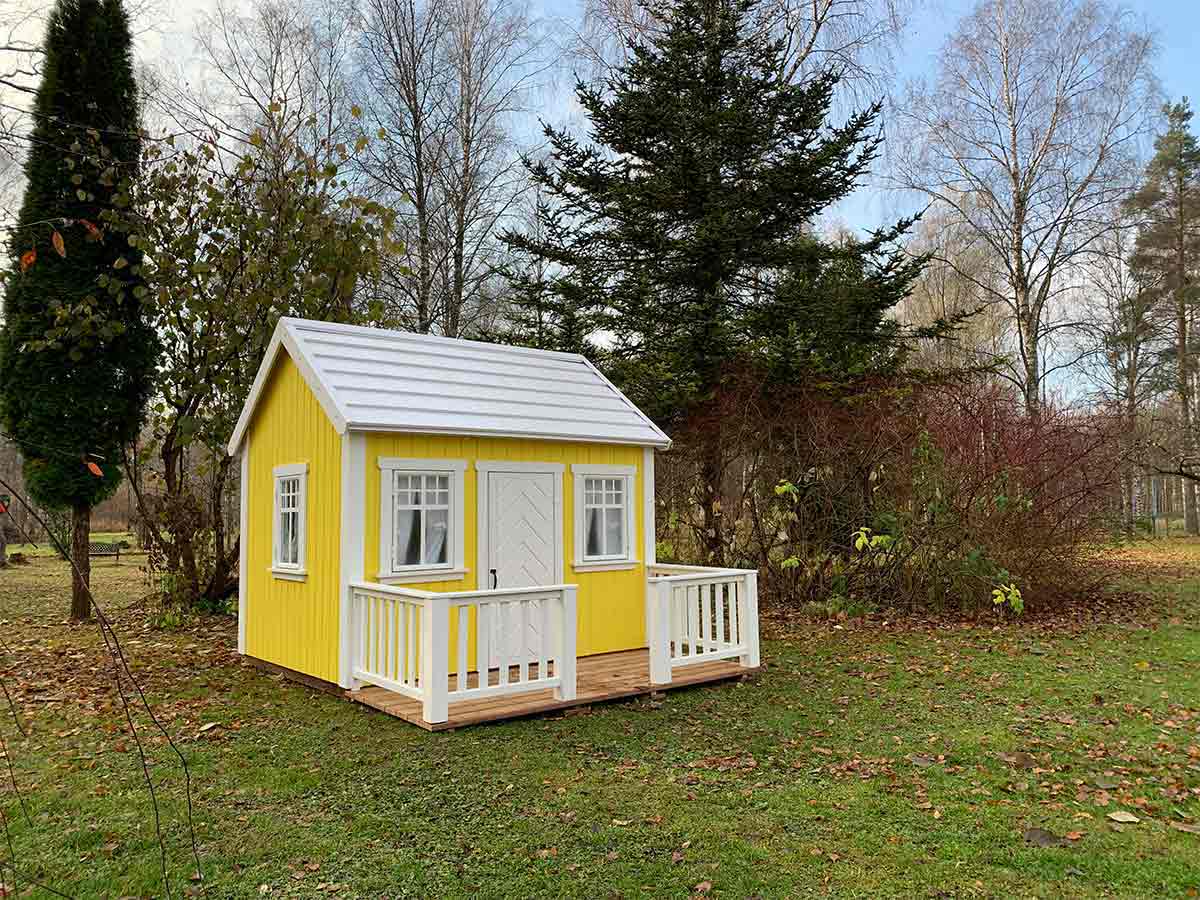 Do I Need Planning Permission to Build an Outdoor Playhouse in My Backyard?
Naturally, it is better to consider all possible legal regulations and requirements regarding any outdoor construction before you start investing any money, time, and effort into it.
Technically, most outbuildings are considered as developments of your property. That is why in many cases, they do not require any special permissions.
However, the necessity of a planning permit for an outdoor playhouse in your property may depend on many factors such as:
local legislation;
size of the outdoor playhouse;
size of the backyard.
To avoid possible legal complications and loss of time and money, it is always better to know it before you buy or build an outdoor playhouse. If your kids have chosen one of our wooden playhouses and you need an approval, for example from your housing association, we are happy to provide technical drawings of the playhouse.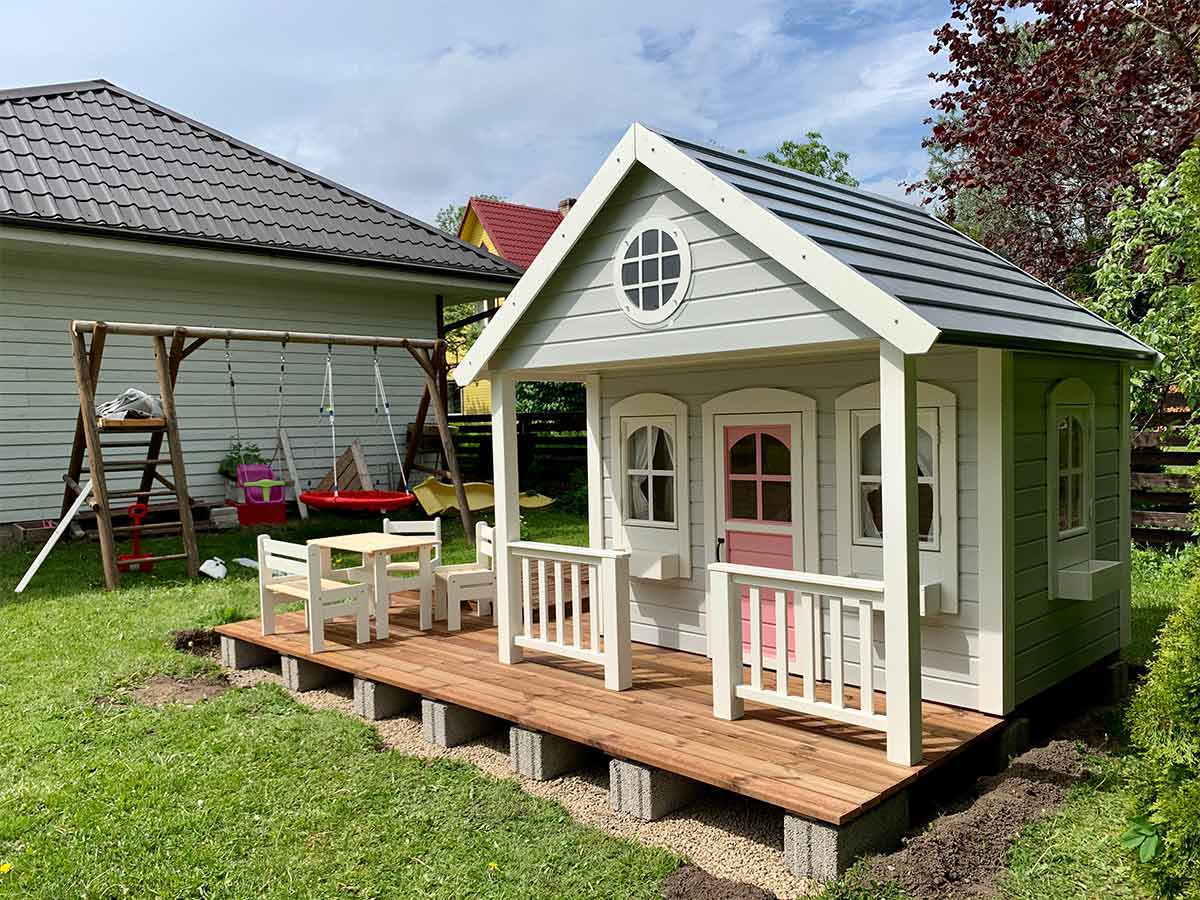 "I grew up playing music and enjoying good food, friends and family in my own backyard."
How to Prepare a Backyard for an Outdoor Playhouse?
Although most of us see kids playhouses as toys, a wooden playhouse is a fully-fledged outdoor construction. Moreover, it is a place where your kids will spend a great deal of their time. Therefore you definitely want to make sure that your outdoor playhouse is safe, stable and will serve you and your kids for many years.
Therefore, once you have determined the perfect placement of your future playhouse, it is essential to make sure that the ground there is able to sustain this construction.
If your backyard has quite level and dry ground, then just gravel to make the ground perfectly level can be enough. But if your garden is at an angle or has soft ground, the following options help you create a perfectly stable and safe foundation for your kids future outdoor playhouse:
Concrete – it is a preferable variant for most outdoor constructions, including sheds, summer kitchens, etc. Indeed, a concrete base is stable, durable, and easy to maintain. You may want some expert to advise or professional assistance for proper concrete layering, but most homeowners claim that it is the most straightforward and reliable option for an outdoor playhouse;
A deck – building a deck for your outdoor playhouse has several obvious benefits. First of all, it will definitely fit the aesthetics of a wooden playhouse. Decks can be easily adjusted and customized to become an integral part of the whole structure while being a reliable and durable foundation for it. You can choose between natural wood, mixed materials, or entirely artificial PVC for maximum durability and protection from flooding and its consequences like mold, fungus, etc. Choosing a deck base for your outdoor playhouse may mean that you will have to put some extra effort into the annual maintenance, staining, painting, etc. However, the amount of effort will entirely depend on the local climate and decking materials you choose;
Paving – it is another popular variant for an outdoor playhouse base. Today you can find lots of variants. Paving slabs come in various shapes, colors, and textures, creating a pattern that may fit any garden's aesthetics.
Choosing the base for your wooden playhouse for outdoors depends always on where you live, the climate and changes that can occur in temperature throughout the year. There is no better man for giving you the advice regarding your outdoor playhouse than your local contractor, building professional or hardware store consultant. They know the area and have experience to share. A kids playhouse is not very different from any other outdoor construction and therefore has the same requirements for the foundation as well as maintenance.
CHECK OUT OUR OUTDOOR PLAYHOUSES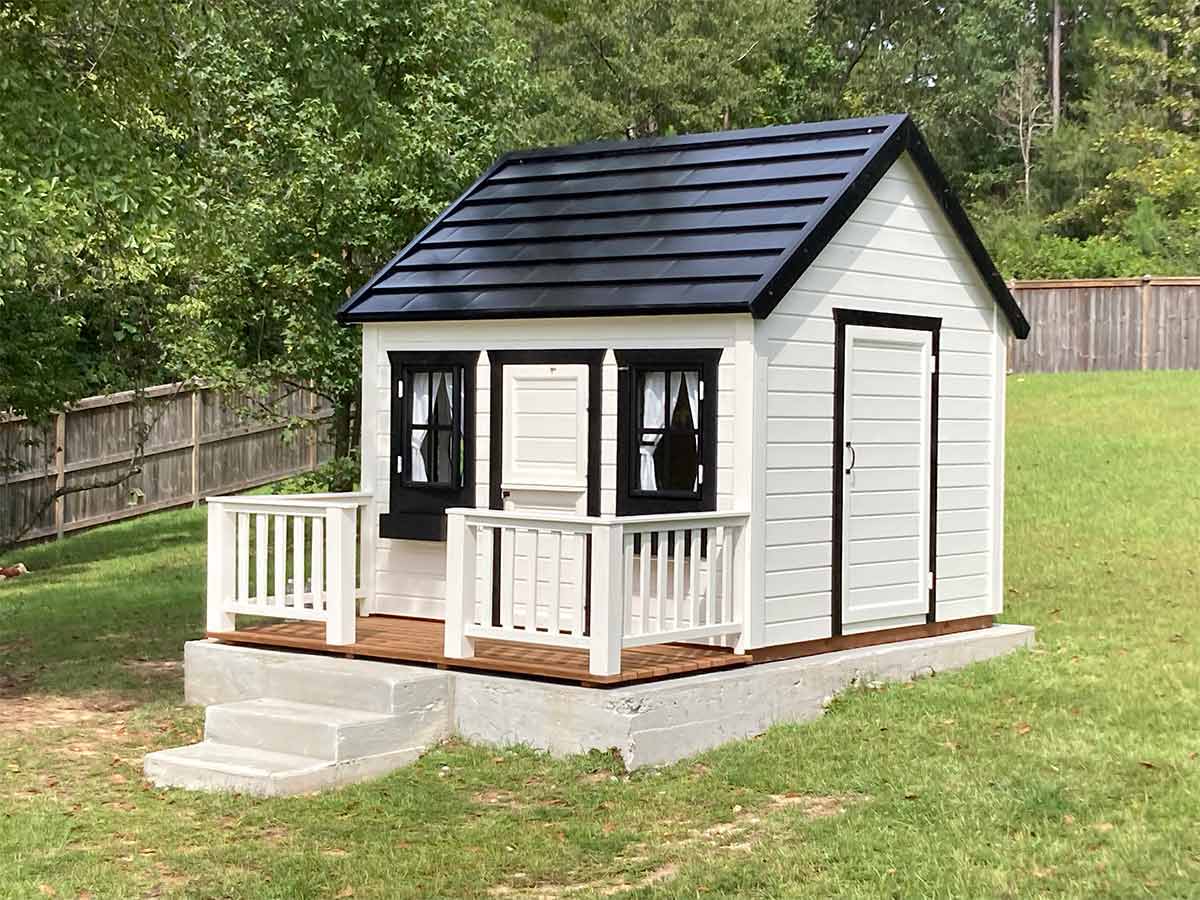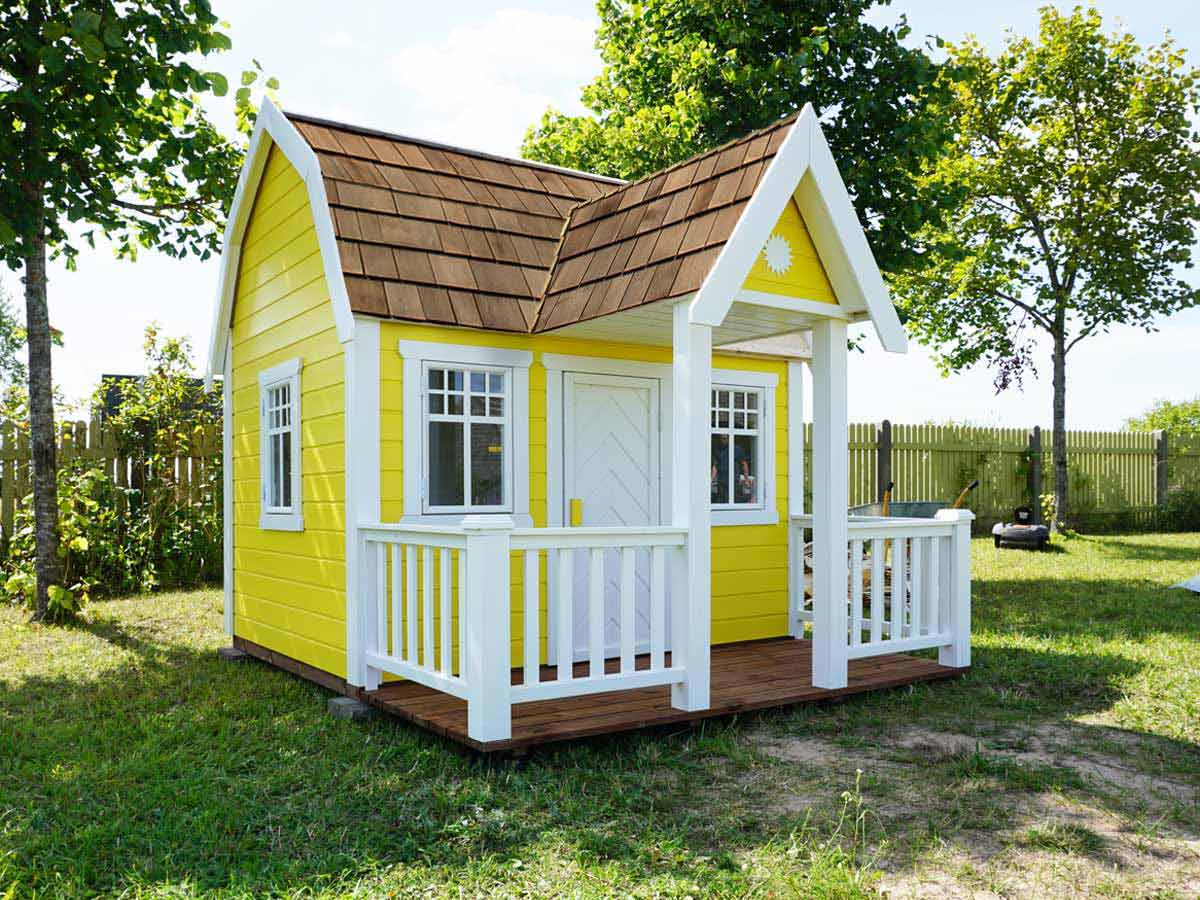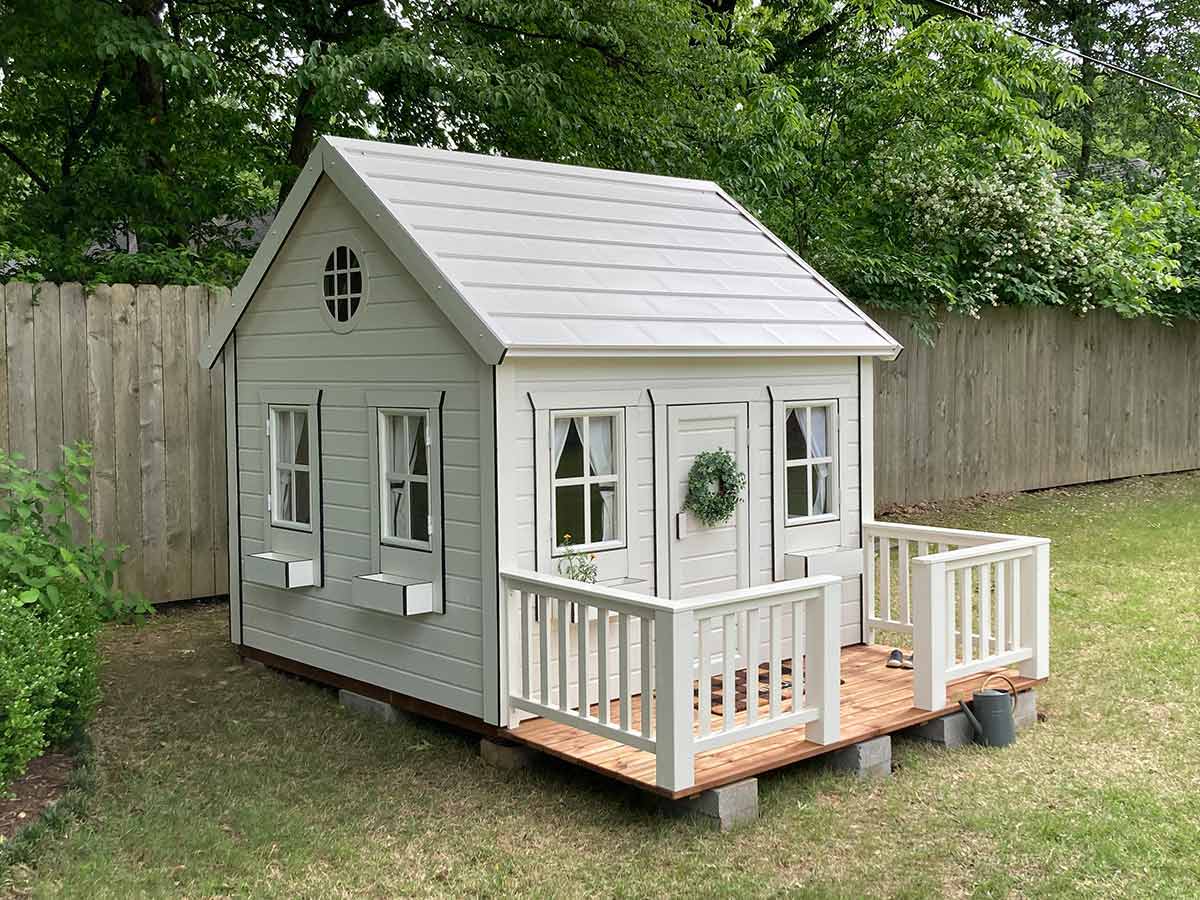 Five Things That Make Your Backyard Suitable for an Outdoor Playhouse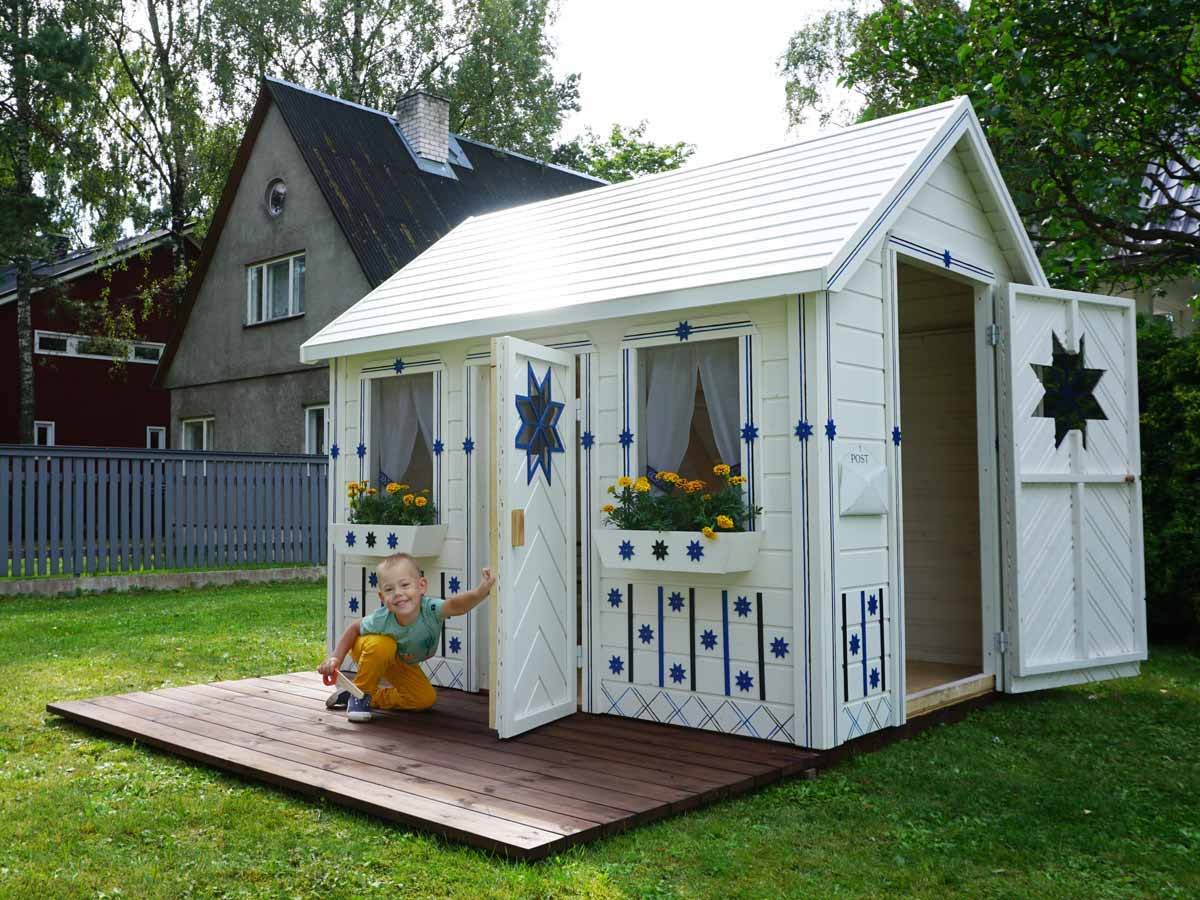 After we discussed the essential requirements and possible planning permissions, let's go over the five essential things that make your backyard perfect for a wooden playhouse.
#1 – Safety
Safety always comes first. Especially when we talk about constructions for kids. To make sure that your backyard is a safe place for an outdoor playhouse:
Place it away from other unstable and potentially dangerous constructions and old trees with branches that risk falling;
Make sure the base of the playhouse is level and stable or ask for assistance rom your local constructor;
Try to put the kids playhouse in the area where you can easily see or at least hear your children playing to be able to supervise their play without direct interference.
#2 – Maintenance
Fallen leaves and other debris may start rotting and cause damage to the outdoor playhouse. If you build your own playhouse or buy a DIY playhouse kit, make sure to cover the wooden construction with protective wood-staining or paint and clear the debris regularly to prevent its built-up on time. To learn more about painting a playhouse, visit our informational page How to Paint Your Wooden Playhouse.
#3 – Flooding
When choosing a place for your wooden playhouse, make sure to avoid waterlogged areas and consider building an elevated decking or drainage system that will drive water away from the wooden construction.
#4 – Aesthetics
Although your wooden playhouse is mainly meant for your kids, this construction can become a perfect addition to your backyard landscape. In most cases, it will even boost up the market value of your property.
By choosing a wooden playhouse, you get endless customization options. Together with your kids, you can personalize their playhouse, make it fit the overall aesthetics of your garden, and get a trendy yet functional decoration for your backyard. (For inspiration, check our other blog posts about different decoration ideas for various occasions)
#5 – Versatility
Many people think that outdoor playhouses are meant for small children only. However, with a proper approach, your outdoor playhouse can be suitable for your kids throughout their whole childhood and even teenage years.
While planning a playhouse placement in your backyard, consider possible modifications you may want or have to make in the future, leave some extra space around for a swing set or a sandbox, consider additional lighting options so kids could invite their friends for sleepovers when they are older, etc.
Getting your kids an outdoor playhouse can become a great project for the whole family. Today you can choose between lots of variants and models suitable for all ages and types of properties. And using our guide, you can make sure that your backyard is perfectly suitable and safe for a kids playhouse.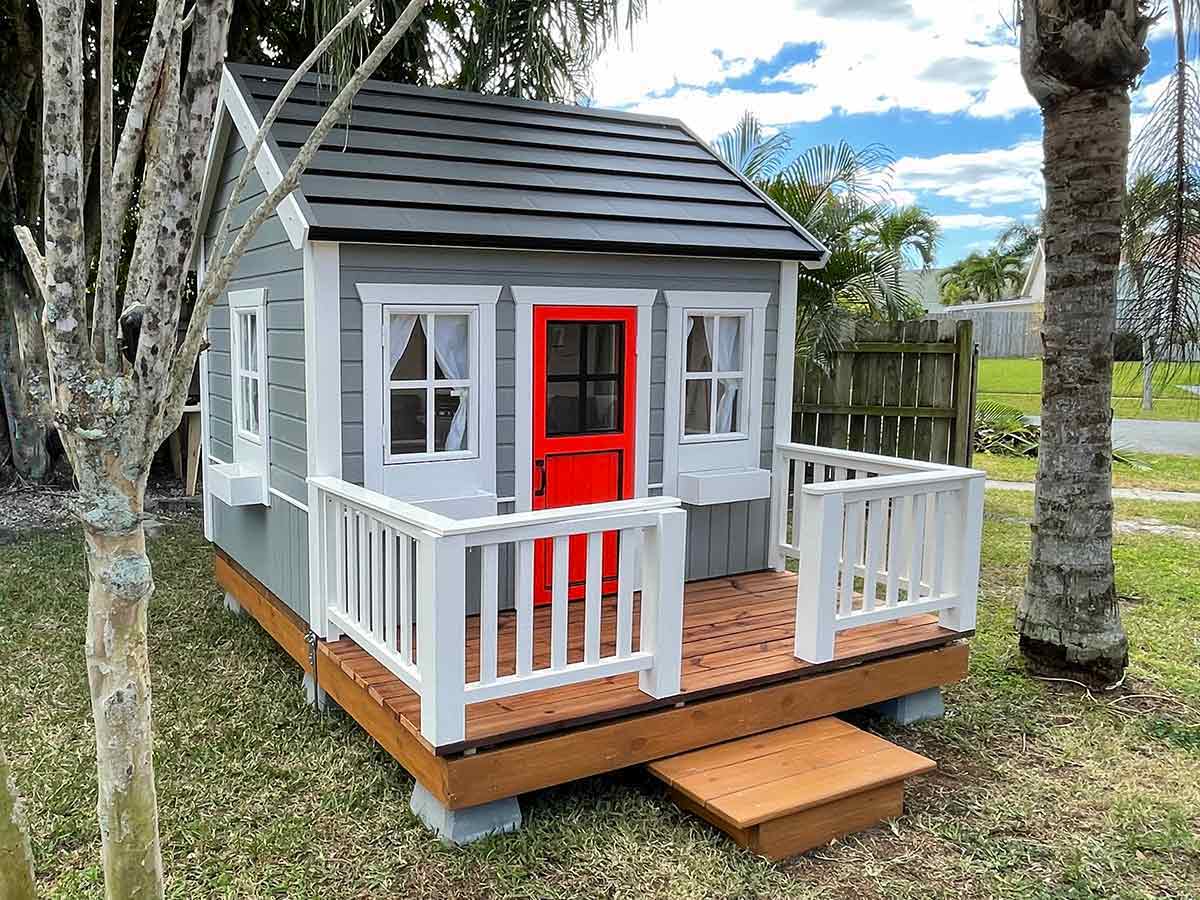 "Restore balance. Most kids have technology, school and extracurricular activities covered. It's time to add a pinch of adventure, a sprinkle of sunshine and a big handful of outdoor play."
Want to read more about Playhouses?
Written by WholeWoodPlayhouses
CHECK OUT OUR OUTDOOR PLAYHOUSES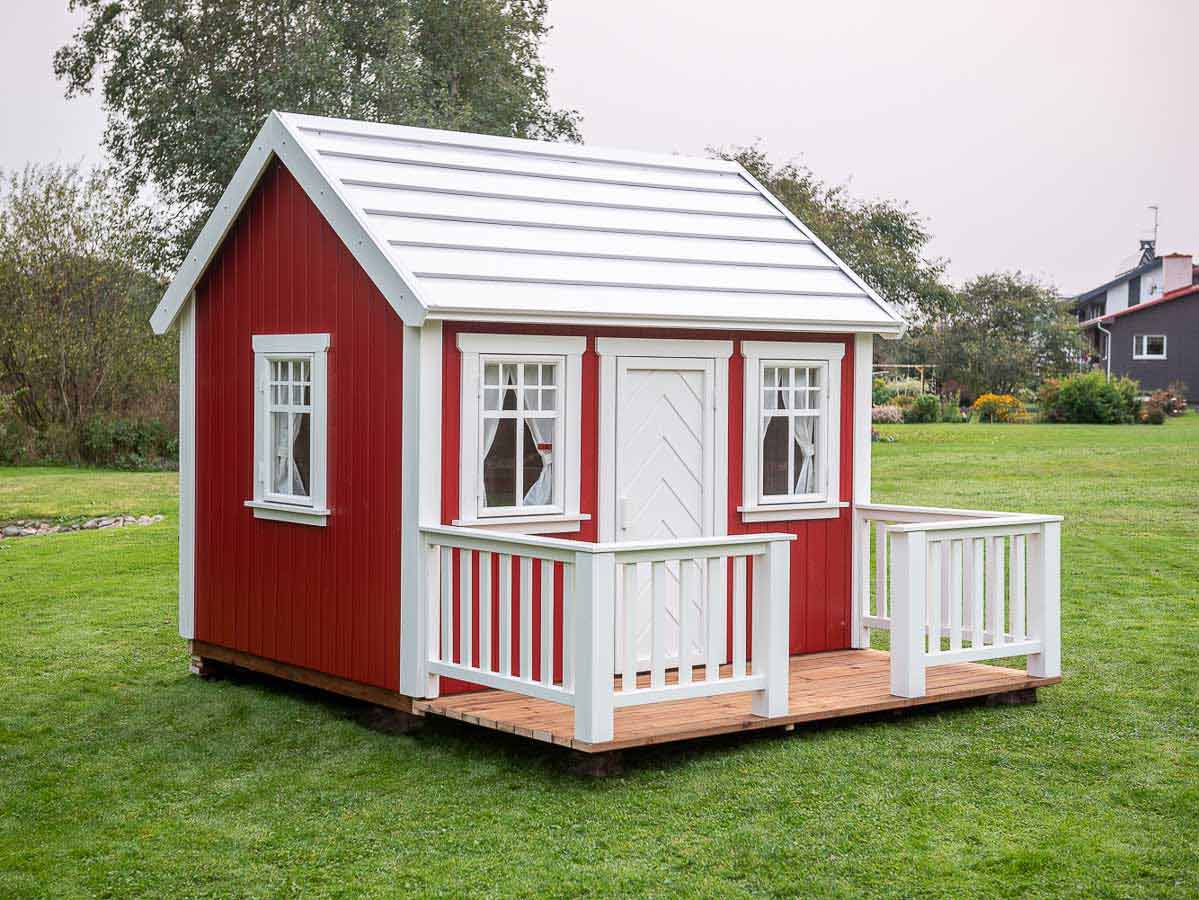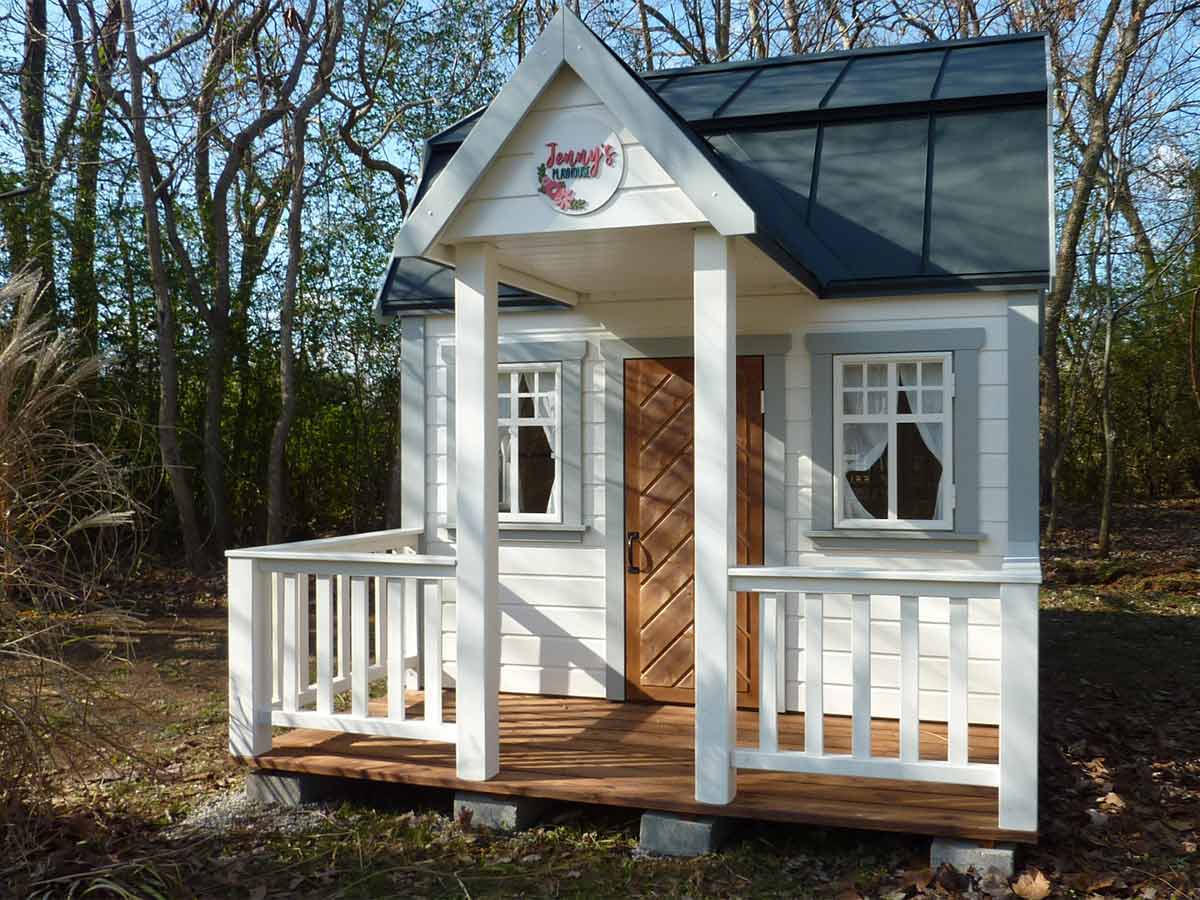 Playhouse Grand Farmhouse