What Age are Kids Playhouses Good for?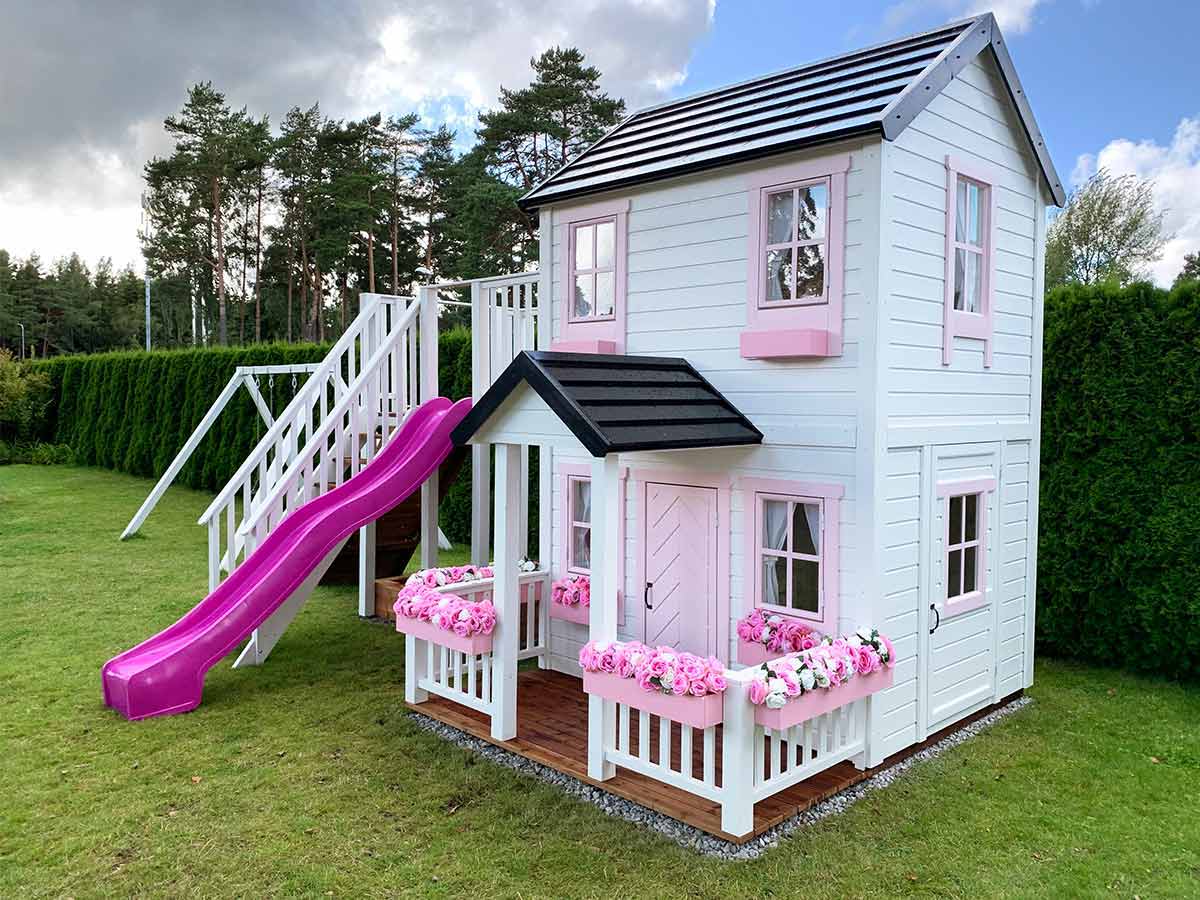 An outdoor playhouse is not just another toy. It brings joy and amusement to kids free time, becomes the base for creativity and provides a place for kids where to learn and develop numerous skills.
No wonder children worldwide (and their parents as well) dream about getting their own outdoor playhouse. However, there are certain things each parent should consider before getting an outdoor playhouse for the backyard.
First of all, being a place where your kids will spend a lot of time by themselves, a playhouse should be safe. The construction, materials, and even size of your playhouse are important to take into consideration. For example, at WholeWoodPlayhouses we produce and sell only high-quality & strong wood playhouses for exactly that reason. Not only will it make your outdoor playhouse last long, but it is also safer than plywood or plastic kids playhouses.
Also, a quality outdoor playhouse is not always cheap. Therefore you definitely want to make sure that it will fit your kids expectations and serve them for a long time.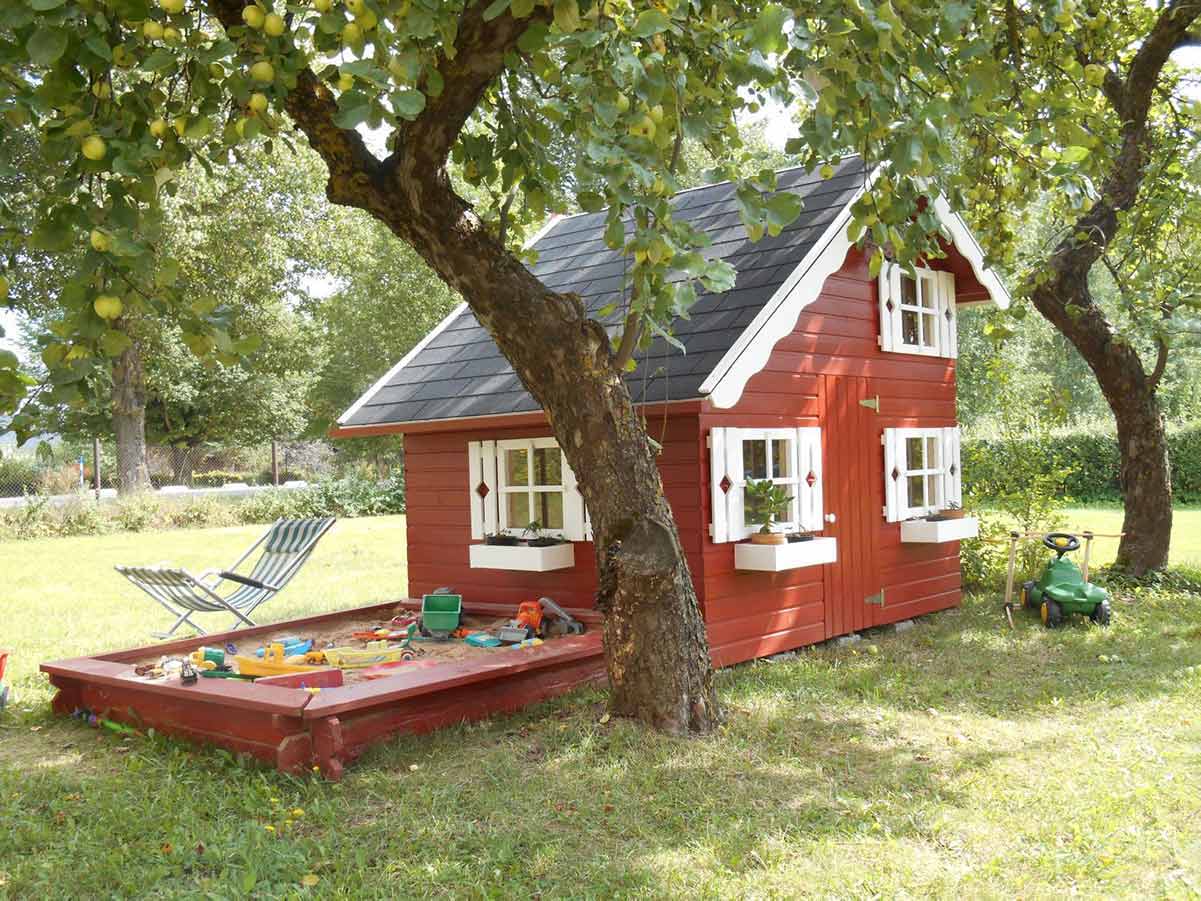 And here comes the most logical question: what age are kids playhouses good for? When is it too early or maybe too late to get your children an outdoor playhouse?
The answers to those questions may surprise you. Let's put it like this, the concept of an outdoor playhouse fits perfectly children of all ages and even some grown-ups. There is a strong chance you will have as much fun, growing flowers, playing a home theatre, or decorating a wooden playhouse for holidays together with your children.
Today you can choose among a wide variety of playhouses, which are perfect for all ages as well as backyards. Therefore in this article, we decided to create a detailed age guide to outdoor playhouses so you can choose the one that will be perfect, particularly for your family.
"There is always one moment in childhood when the door opens and lets the future in."
Outdoor Wooden Playhouses for all Ages
The best way to determine which playhouse will fit your kid's age or whether the idea of getting an outdoor playhouse is relevant at all is to contact the manufacturer or the company that sells it.
Different models and configurations of various playhouses may have their own peculiarities and therefore be appropriate for different ages.
At the same time, two seemingly identical models of outdoor playhouses may have different age labeling due to the inner floor plan, materials, customization options, etc.
It is also essential to remember that different ages may require various features from outdoor playhouses. For example, a wooden playhouse with a sandbox would be perfect for a toddler but appear pretty dull for an 8-year-old, who is more interested in imaginative role-playing as well as more advanced outdoor activities.
You know your kids, their interests, and their passions better than anyone else in the world. Those should be the primary matters to consider when you think about whether a certain outdoor playhouse would be a perfect match for your kids age.
WOODEN PLAYHOUSES FOR KIDS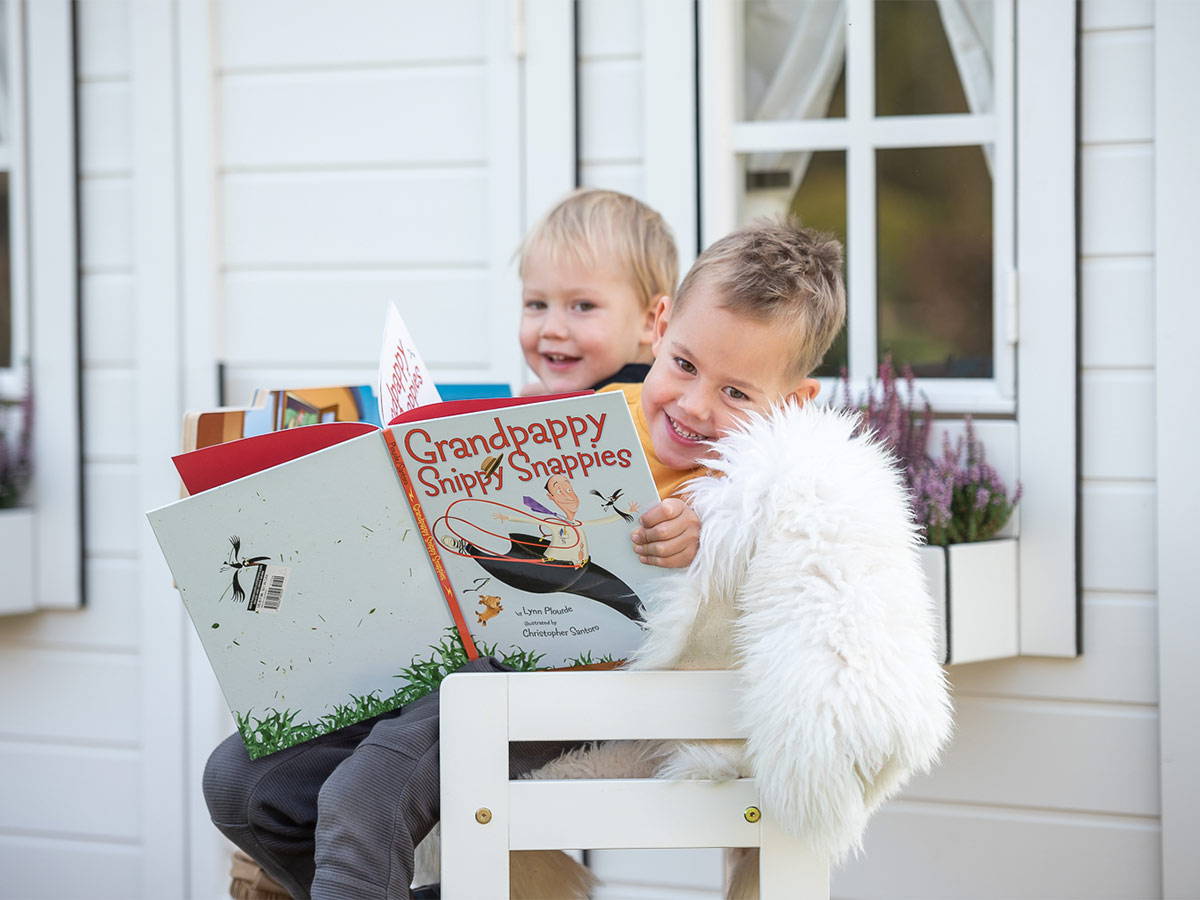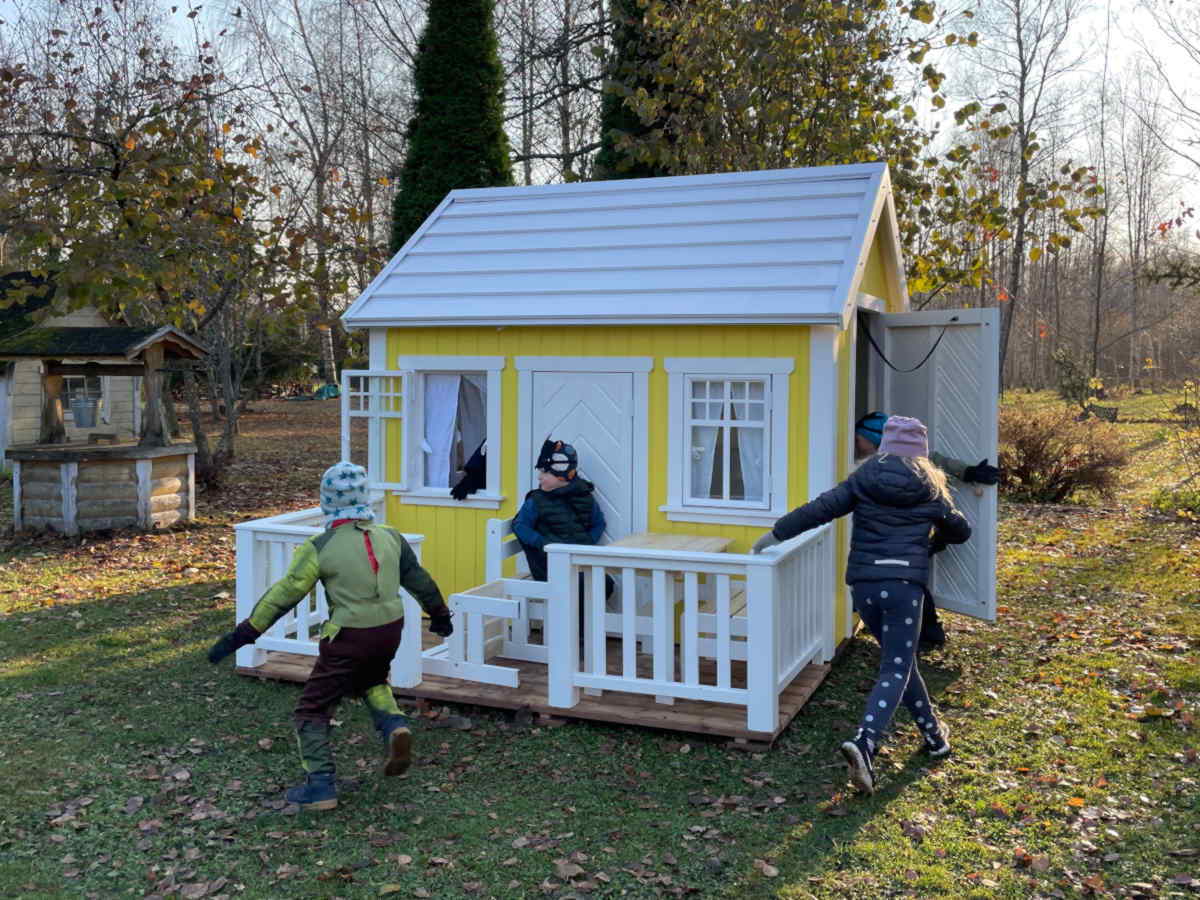 Perfect Outdoor Wooden Playhouses for your Kids Age
What do your kids expect from a playhouse? It has to be fun, provide enough place to play, and encourage their creativity.
However, your expectations from an outdoor playhouse may be a little bit more complex and advanced:
It has to be safe;
It has to correspond to your kid's skills and help them develop new ones;
It should encourage your children to spend more time outdoors, etc.
Therefore we decided to go through different childhood phases and divide kids playhouses according to their skills and demands.
Kids Playhouses for 1-4-Year-Olds
Safety is the main feature you should consider choosing a playhouse for a toddler. At this age, children are only starting to explore the world around them and learn to use their motor skills. Moreover, multiple systems such as immunity and respiratory are still establishing at this age.
Therefore it is essential that you get a kids playhouse made out of natural wood, painted and decorated with safe, non-toxic elements. We are strong believer of this for kids of all ages and therefore all WholeWoodPlayhouses outdoor playhouses and custom playhouses are treated only with non-toxic water-based colors.
Another thing to consider is that you definitely won't leave your kid playing alone in an outdoor playhouse at this age. Therefore considering your local climate and lifestyle (if you can spend time outside with your kid or prefer watching over them inside), you may want to choose between indoor and outdoor kids playhouses.
Your kids imagination is developing at this age through color perception and tactile sensations. Therefore, it is better to choose a brightly colored kids playhouse decorated with numerous details a child can touch, push, twist, and turn, developing motoric and sensory skills.
CHECK OUT OUR OUTDOOR PLAYHOUSES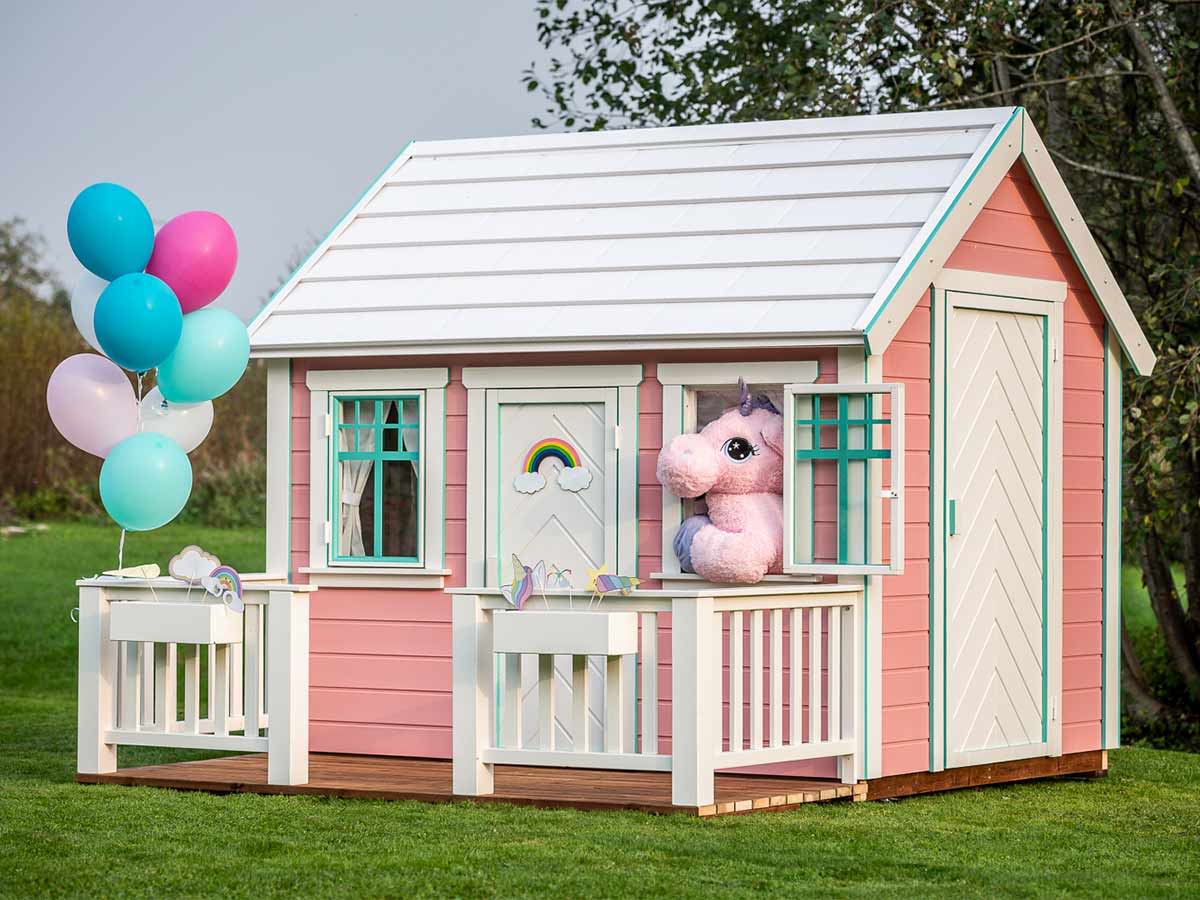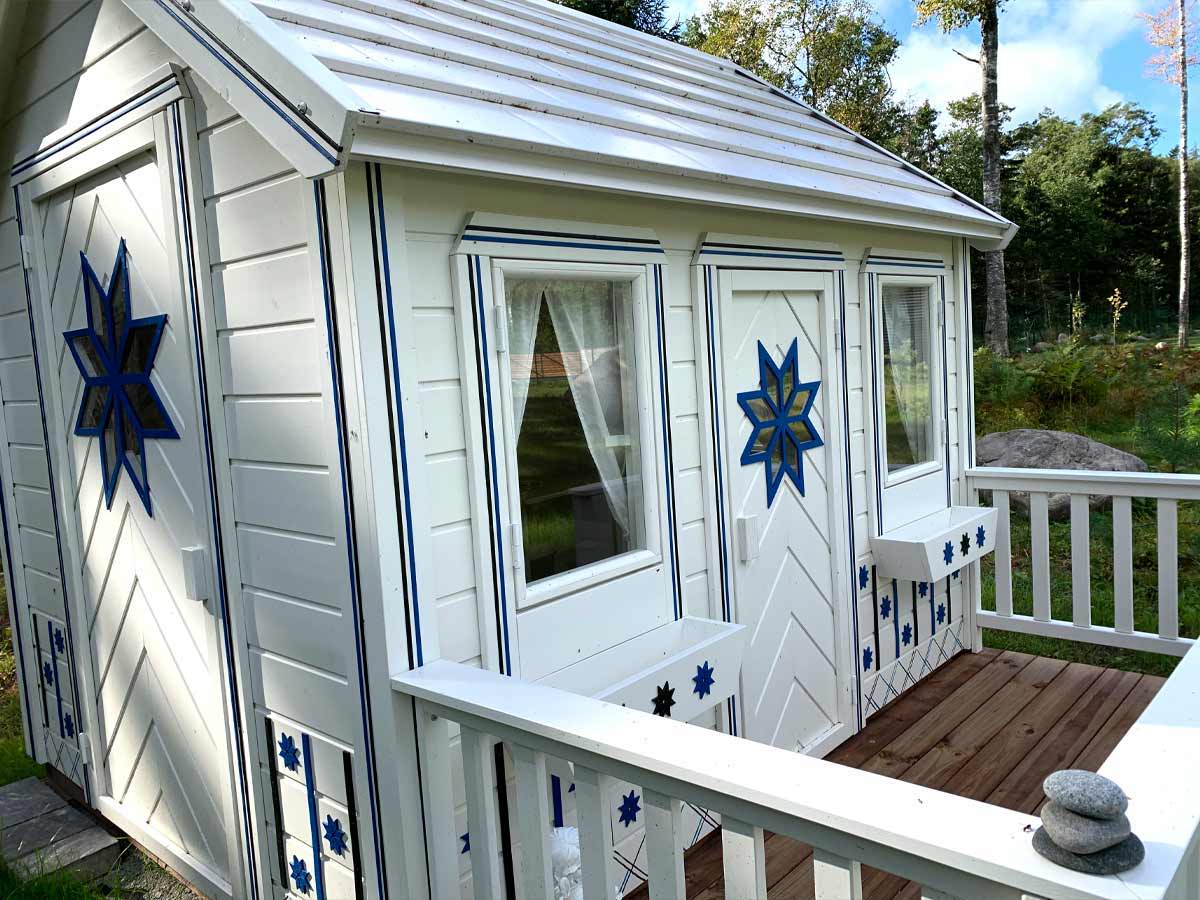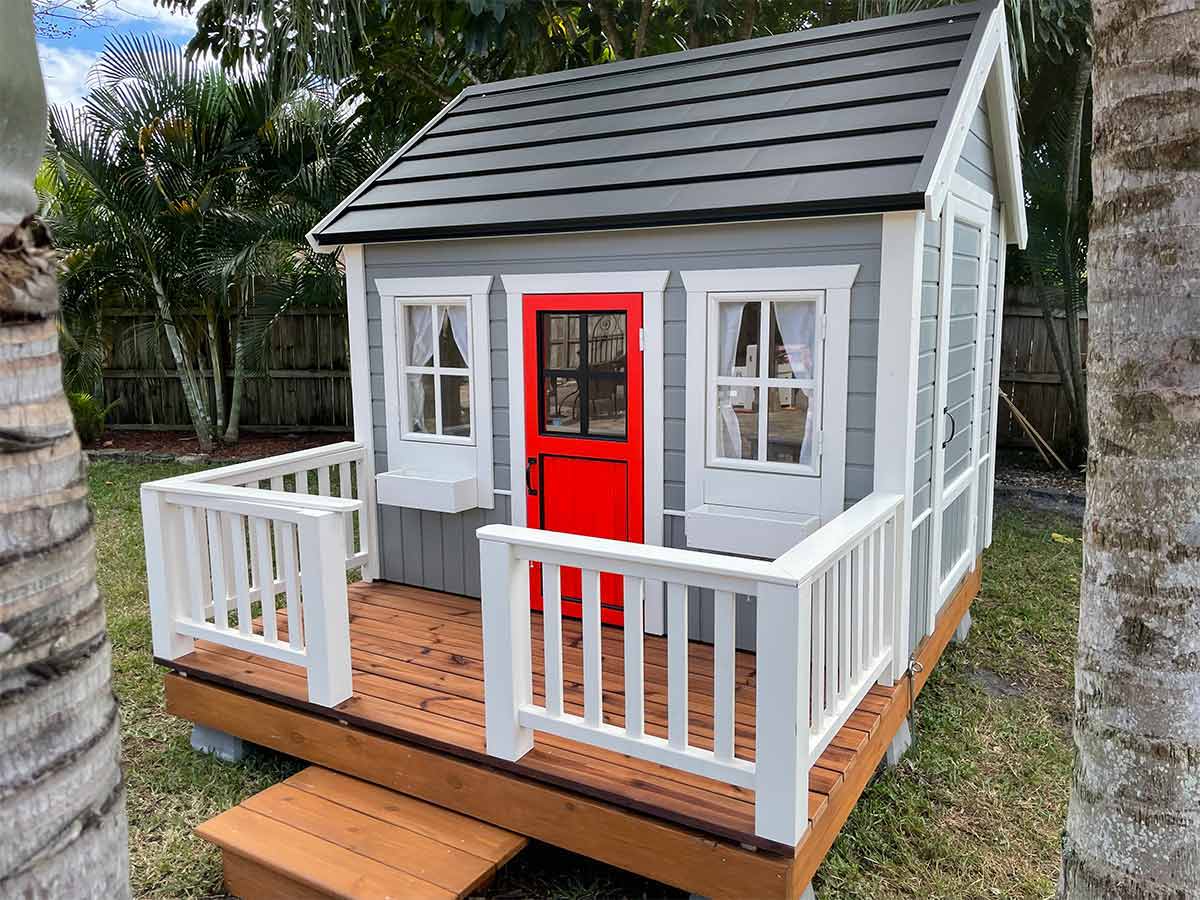 Getting an Outdoor Playhouse for 5-8-Year-Old Kids
From the age of 5 to 8, your kids start becoming significantly active. Their muscles and skeletons grow and strengthen; metabolism becomes particularly fast, and the mind – particularly curious. In other words, at this age, your kid will need more fun and advanced outdoor playhouse.
A wooden playhouse with an age-appropriate swing or slide would be a perfect match for your little adventure seeker. An outdoor playhouse with a sandbox will help kids develop motor skills by playing with molds and building sandcastles.
This is also the age when kids get involved with imaginative role-playing. Therefore you may want to consider wooden playhouses that come with furniture such as tables, benches or chairs, life-like kitchens, doors, windows, and porches. If you like one of our playhouses, then we have good news: all of our outdoor playhouses come with matching furtniture set and windows&doors that can be opened!
Outdoor Playhouses for 9-12-Year-Old Kids
It is the age when kids become most imaginative. Moreover, they start getting their first friends, build their first social relationships.
Above everything else, kids playhouses become a place for sleepovers, home theatres, more advanced imaginative games at this age.
It is a great idea to get a lifelike wooden playhouse for your 8-12- year-old kids. They have some advanced features like inside lofts, terraces, and furniture. They are more spacious and provide a limitless field for imagination and creativity.
You can combine such outdoor playhouses with swing sets, slides, climbing frames, etc. This way, a playhouse will definitely encourage your kids to spend more time outside and play active games with their friends and siblings, getting healthier and strengthening their immunity.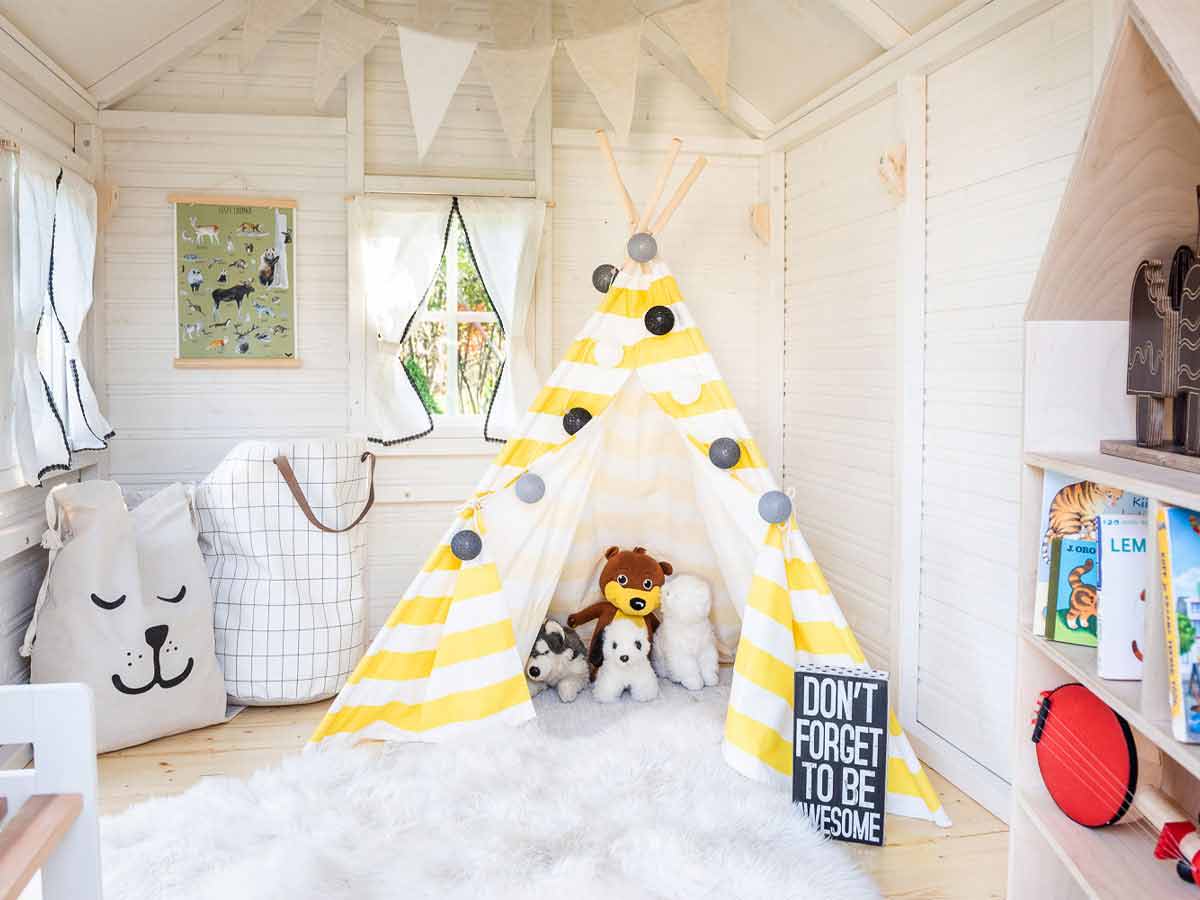 Are Wooden Playhouses Suitable for 12+-Year-Old Kids?
The short answer is yes! As you might have already understood, outdoor playhouses are good for children of all ages.
However, once we talk about teenagers, getting an outdoor playhouse may be an excellent idea. Here are just several reasons why your 12+ kids will be happy to have an outdoor playhouse:
They provide personal space, which becomes most essential at the age;
They help to process and comprehend social and family relationships in a life-like environment;
They provide limitless fields for creativity and self-expression;
A wooden playhouse can become an ultimate "happy place" where your kids can be surrounded by their interests, focusing on passions that can grow into lifetime careers;
Building and decorating an outdoor playhouse can be an educational and bonding experience for the whole family.
At this age, an outdoor playhouse turns into a separate universe for your kid. Turning it into a book or science club, art or fashion studio, you help your children embody their fantasies, explore their passions and maybe make the first steps towards their dreams.
It is best to pick spacious life-like outdoor playhouses for this age. Wooden playhouses made out of high-quality natural materials are even a better choice as they are safe and eco-friendly and provide limitless customization options.
You can help your kids color the walls, clip posters, hang shelves, plant flowers in their outdoor playhouse. That way, you have a chance to teach them something you know or get new skills together. It is a way for you to learn about your kids tastes, world vision, hopes, and dreams.
Generally, getting an outdoor playhouse for your 12+ year old is an exciting and educational experience for the whole family, a chance to bond on a whole new level and build joyful lifetime memories together.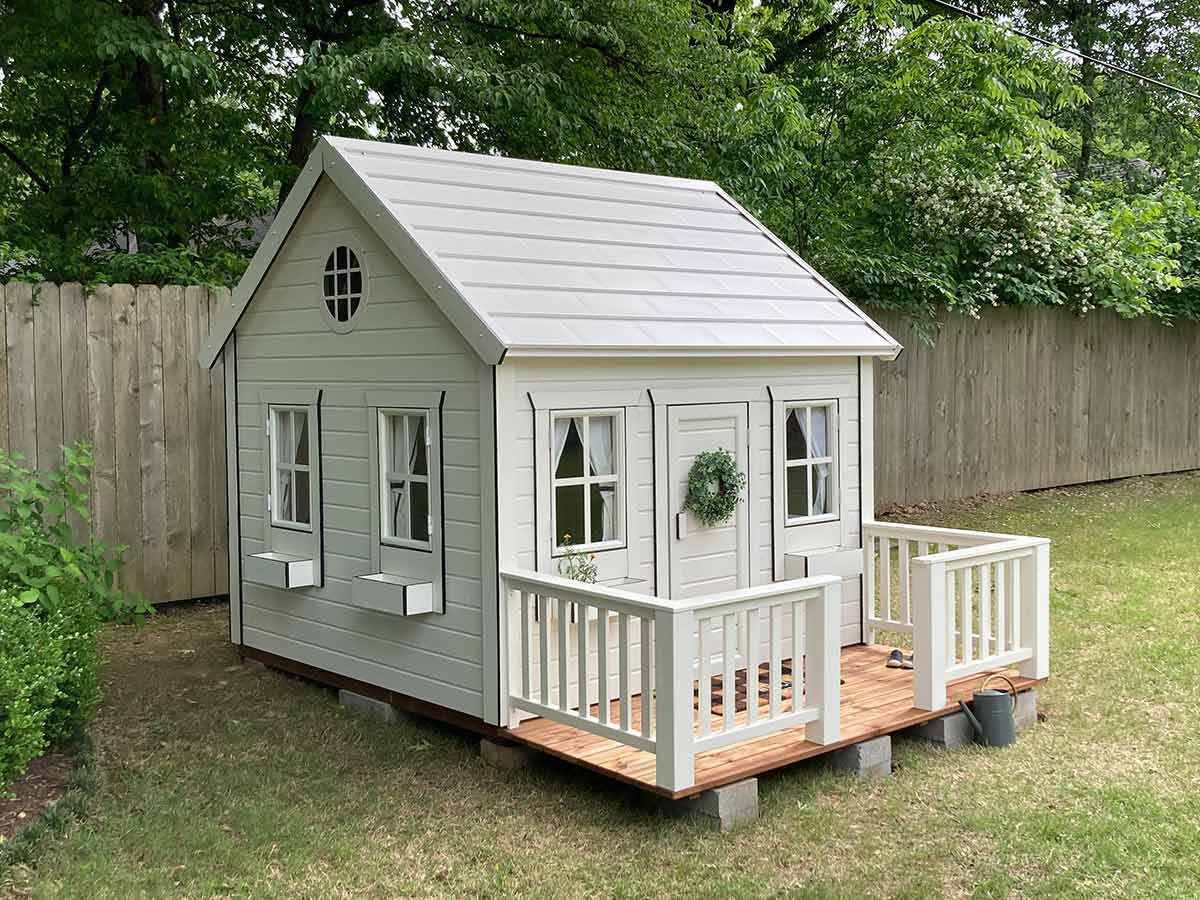 Available in various shapes and colors with limitless customization options, indoor and outdoor wooden playhouses can be perfect for kids of all ages. You can start with the simplest toddler-appropriate models that will introduce your kid to various tactile sensations and basic motor skills. Later on, continue by adjusting the wooden playhouse into a more life-like play area with a toy kitchen, furniture for tea parties, or "equipment" for a make-believe supermarket, doctor's office, etc.
For your older kids, an outdoor playhouse will be a place for festive birthday parties and sleepovers, a personal gym, a place to get together with friends as well as have some quiet alone time we all need at a certain point.
So if you are asking what age an outdoor playhouse is suitable for, the answer is – all ages. Moreover, not only your kids but the whole family will benefit greatly from getting a wooden playhouse. It will instantly become a place for adventure and creativity, a place where you will create and share lifetime memories with your kids.
"Children do learn what they live. Then they grow up to live what they've learned."
Written by WholeWoodPlayhouses
CHECK OUT OUR OUTDOOR PLAYHOUSES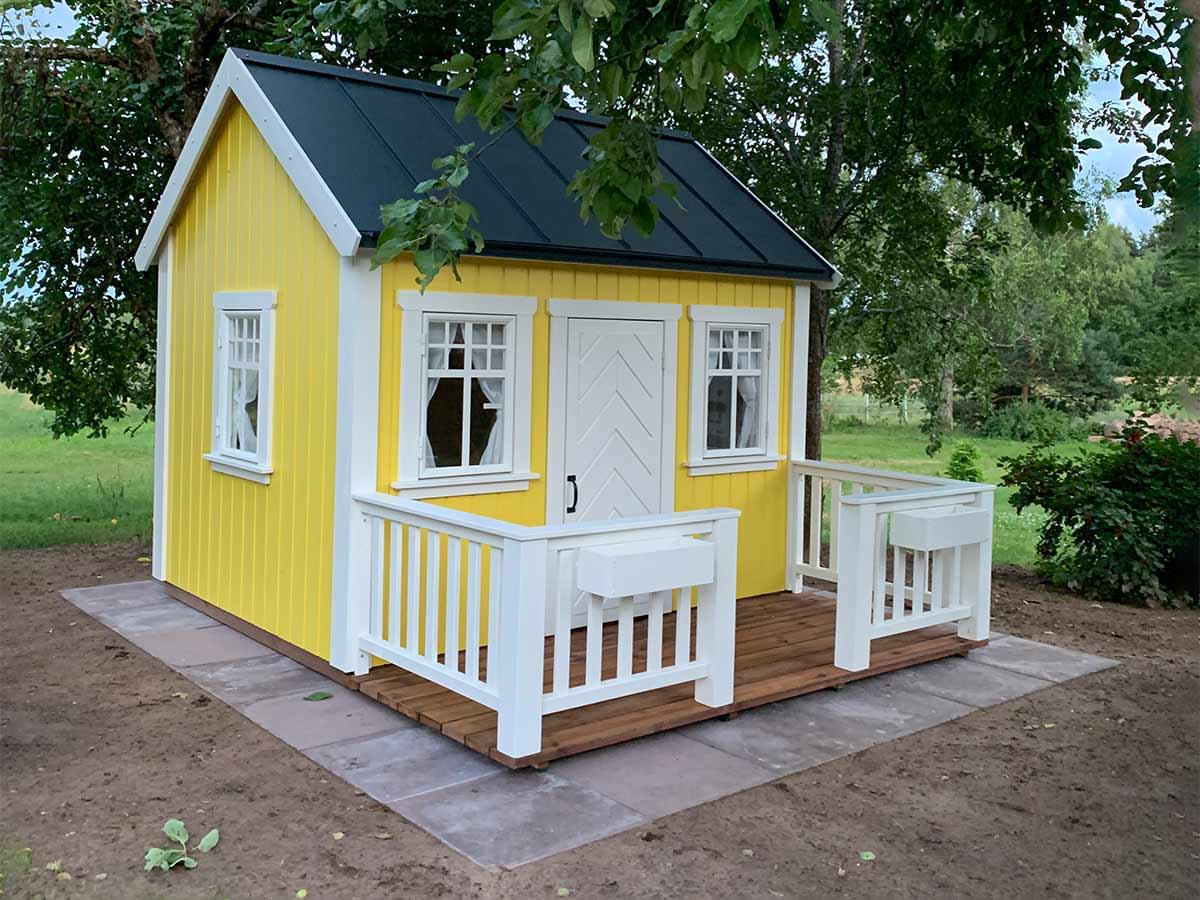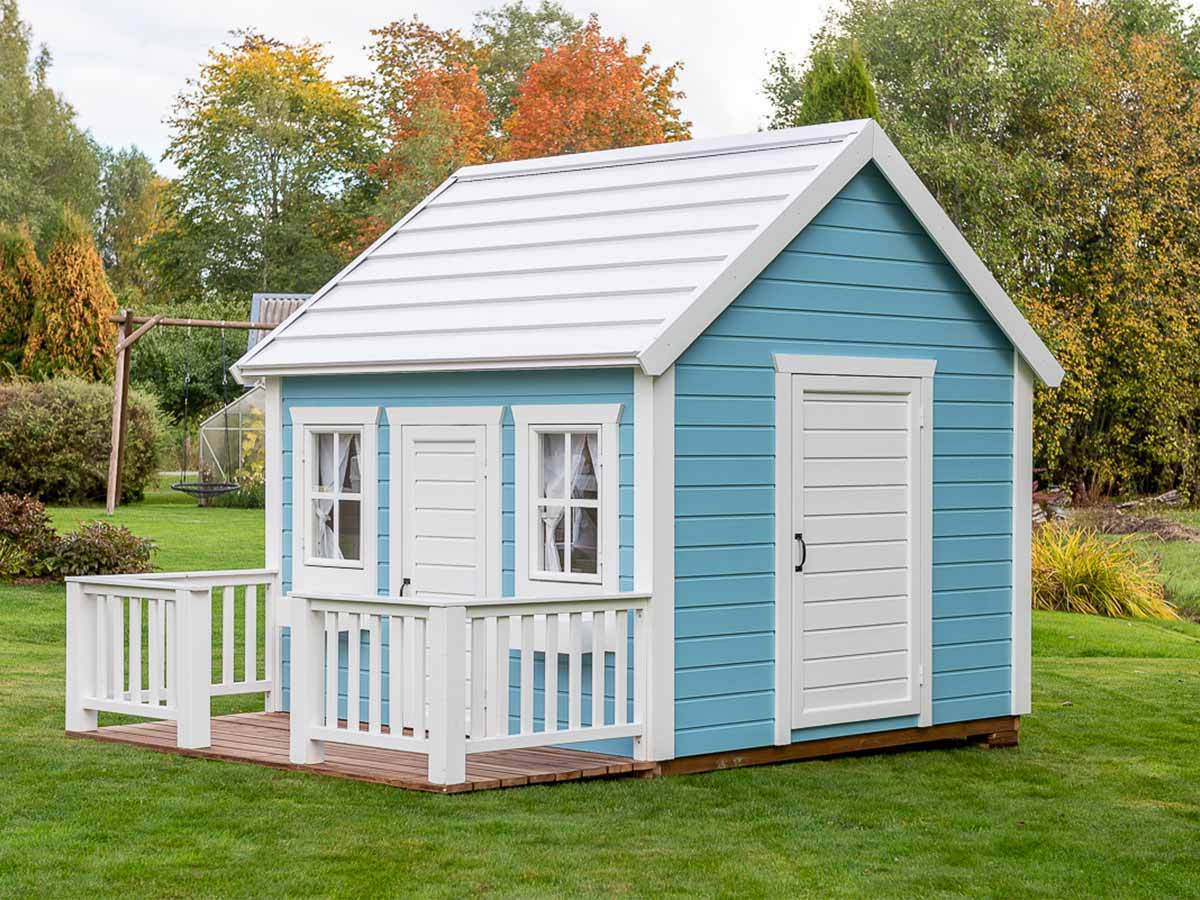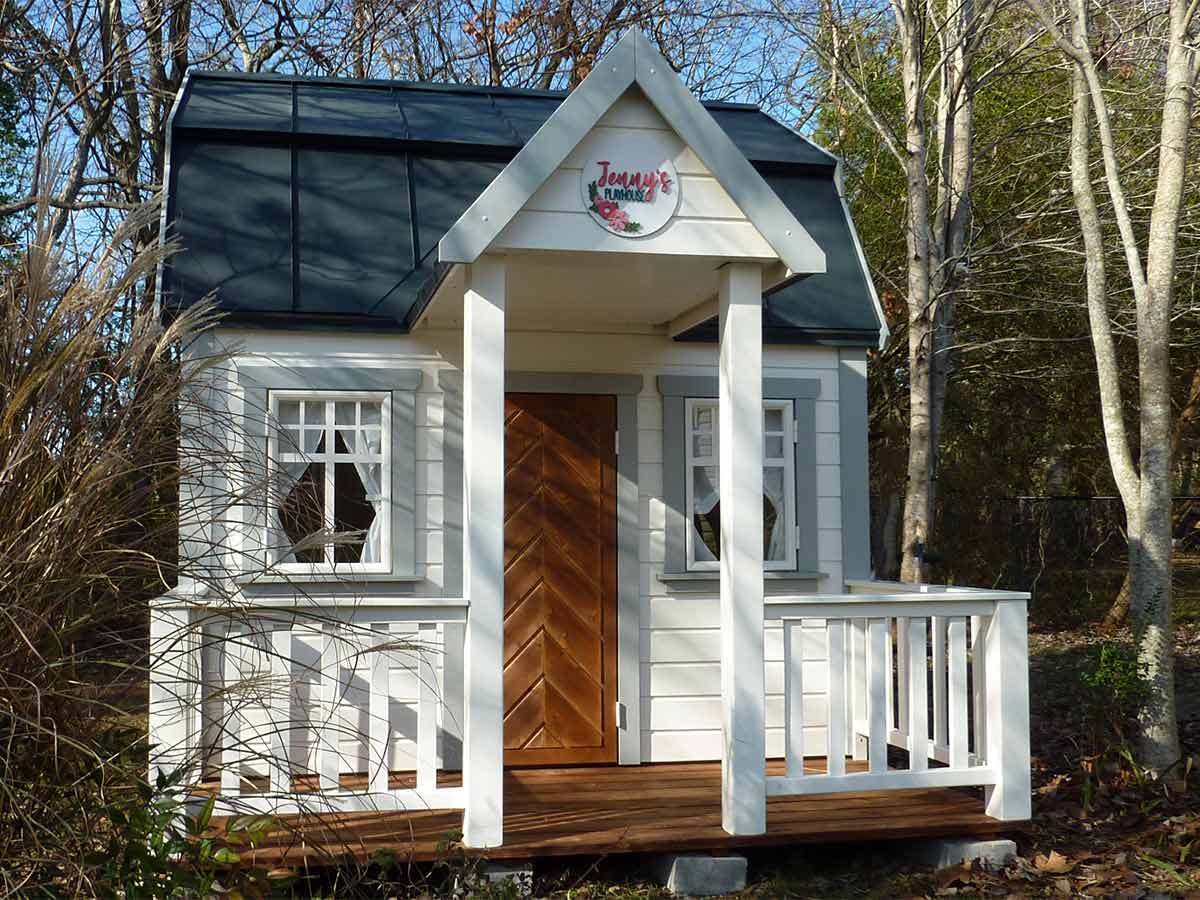 Playhouse Grand Farmhouse