7 Activities That Will Get Your Kids Outdoors
In the modern age of smartphones, tablets, and all things digital, convincing our children to have some fun outdoors is more challenging than ever before. Even though electronics are resourceful and entertaining to people of all ages, there's nothing quite like getting some fresh outdoor air. Not to mention, there's so much to show kids outside in the open world as we look for a chance to spend some quality time with them. Luckily, in our blog we found 7 activities and ideas that could surely get your kids outdoors in no time!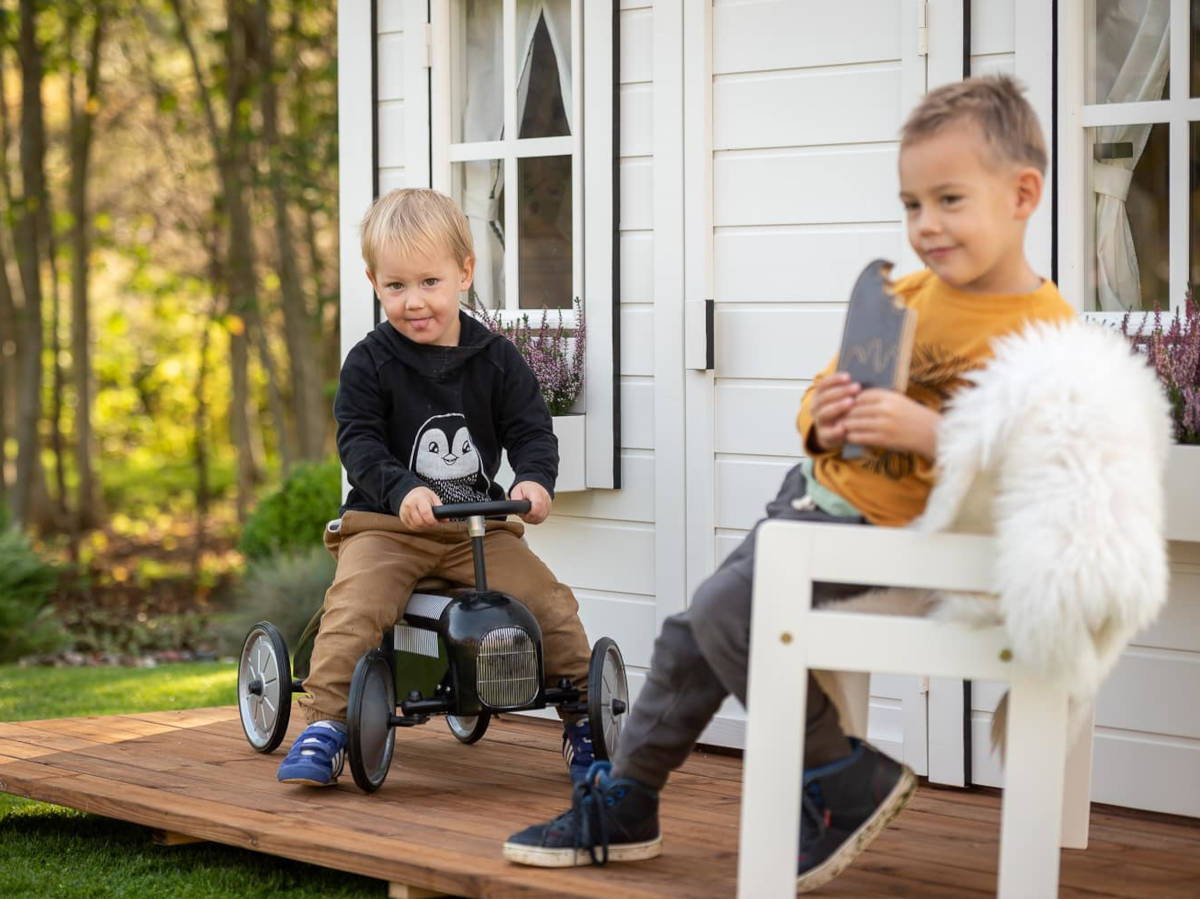 Why It's so Important to Get Your Kids Outside
The truth is, our kids just don't spend enough time outdoors. Hanging outside provides some astounding benefits all around rather than staying cooped up in the house. A healthy amount of sunshine exposure gives us vitamin D, boosts the immune system, and improves our mood. Additionally, getting our kids outdoors means that exercise is readily available. It's recommended that children get at least one hour of exercise everyday. Encouraging kids to get out in the open world, run around, and play absolutely helps achieve that one daily hour of exercise.
Not only does being outside give healthy benefits, but it also creates opportunities to socialize with friends and spend quality time with family. Time outside lets kids be as creative as they want to be which is crucial at a young age. We take great pride in the beauty of nature by serving our customers the finest outdoor products including wooden playhouses, DIY playhouse kits, outdoor swing sets, and play sets.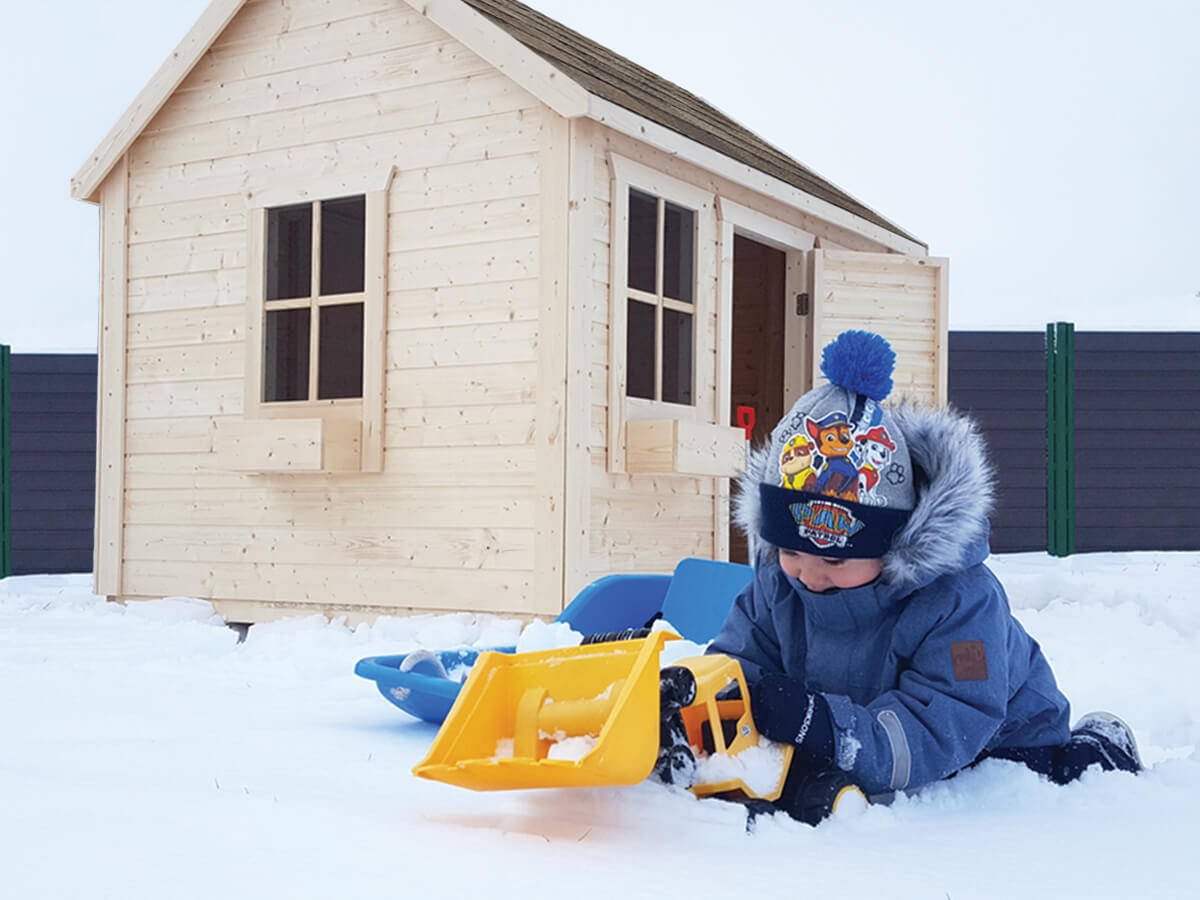 The first choice on our list - Playhouse Kits which are the perfect activity for parents who love spending quality time with their kids. DIY Playhouse Kits are easy to assemble on your own, which lets parents teach kids about the valuable lessons of working with your hands. Taking time to complete a DIY playhouse, not only keeps kids outside, but shows them how to work towards a goal. If your child is of age, you can even show them how to use some basic tools and teach them a new skill. Ultimately, children are rewarded with an awesome hangout spot, and just another reason to play outside!
The completion time of a DIY playhouse usually takes about one day which means you don't have to feel intimidated starting a new project. DIY playhouses are made with durable, eco friendly, Nordic spruce wood made to withstand any weather along with plexiglass windows. After assembling the wooden playhouse, kids could get creative by customizing the house with paint, plants, and other cool add-ons.
"Nature breeds curiosity; it helps to grow explorers rather than robots. It reminds us that we are part of something bigger. It grounds us, calms us."
Want to skip the whole building process of a DIY playhouse? No problem! Our regular Outdoor Playhouses have free delivery and could be assembled in less than 3 hours. The best part of outdoor playhouses is that they are made for durability and customization so that they could hang out in their own spot for years to come. Our outdoor playhouses are made out of solid wood, and painted with water based colors.
All kinds of fun features are packed within our outdoor playhouses. They are wooden playhouses that come with ladders, multiple levels, terraces, furniture sets. Each playhouse is highly personalized and is designed to be a comfortable hang out space for your kids. Many different styles are available for kids and their friends such as cabins, lodges, and clubhouses. There truly is an outdoor playhouse for any child!
CHECK OUT OUR OUTDOOR PLAYHOUSES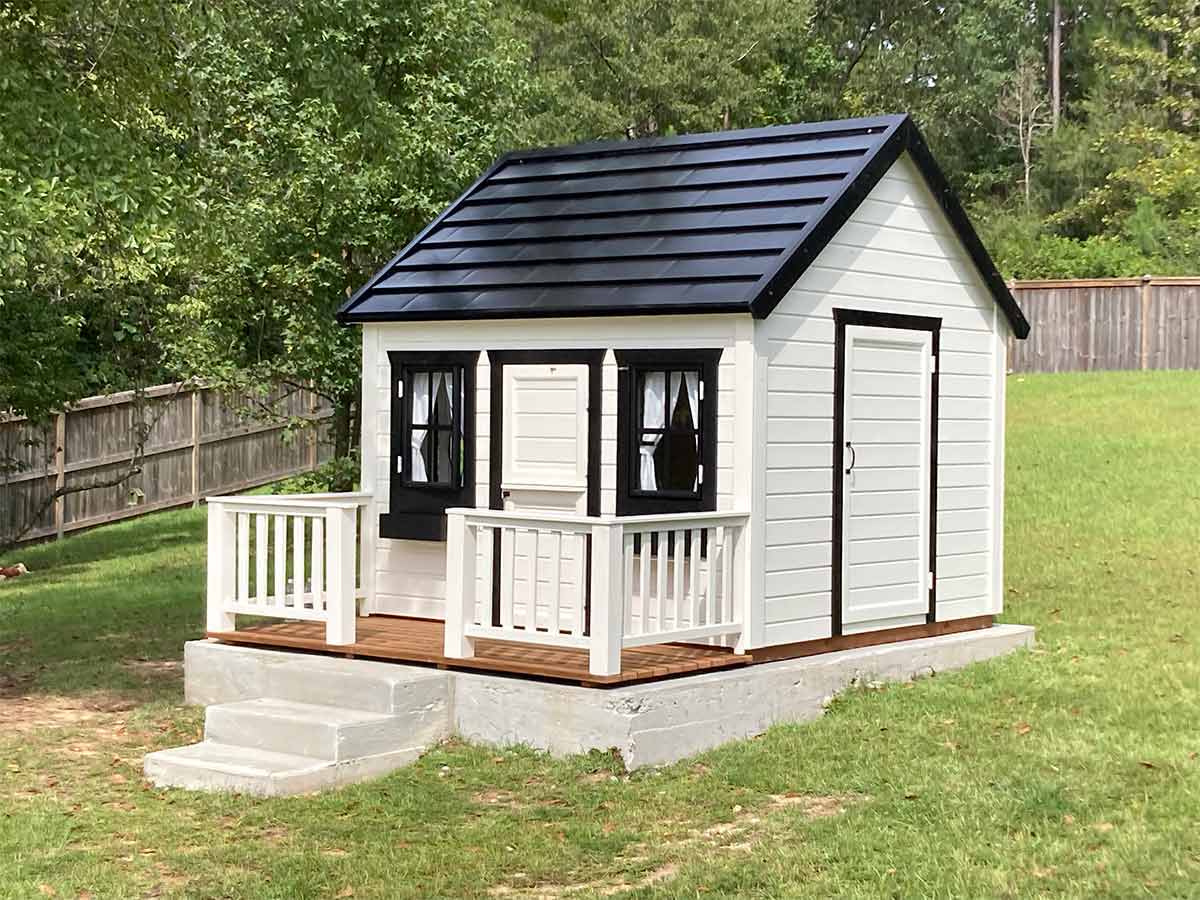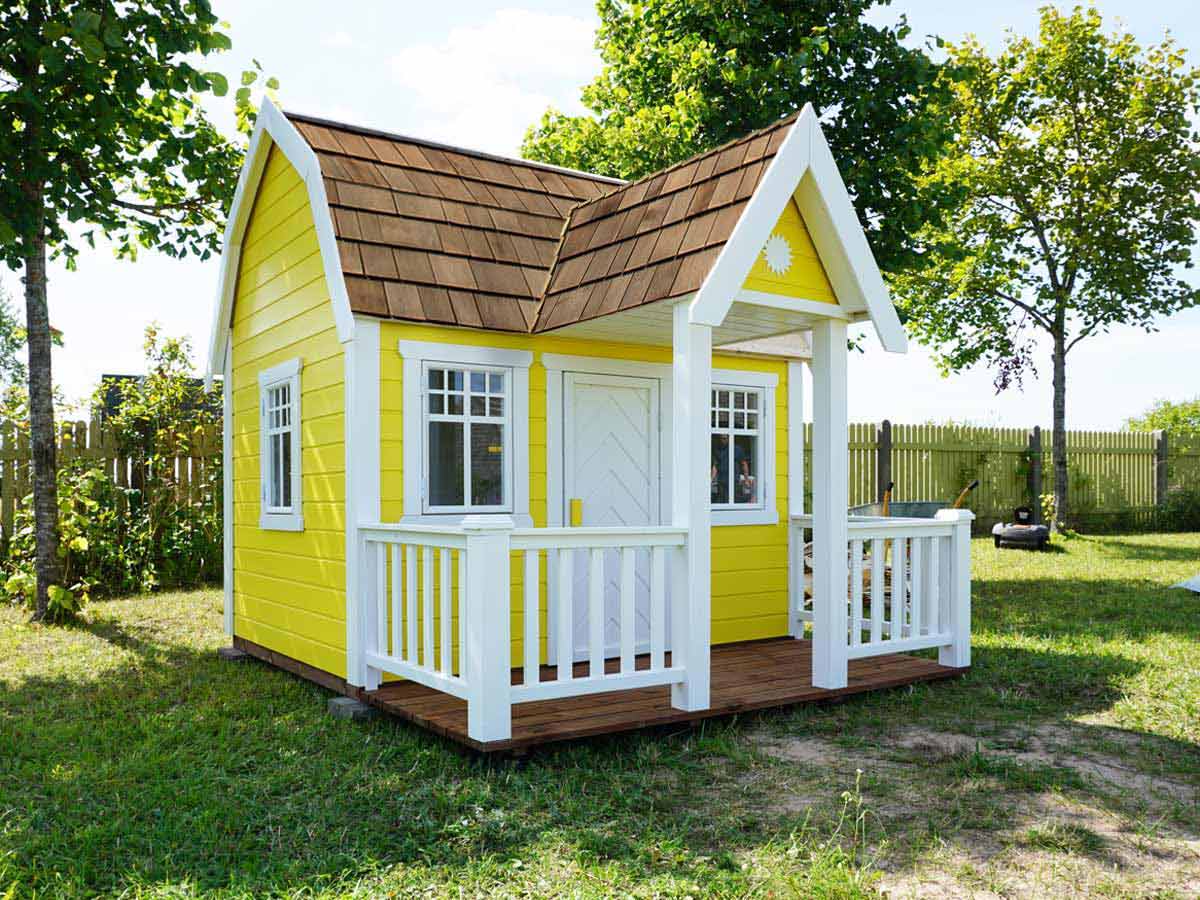 There's nothing like the thrill of soaring through the air on swings for kids. Swinging with friends and siblings is one of many ideas you could pull off right in your backyard. Swing sets are a great addition to the backyard that come in all kinds of shapes and sizes! You can also start with a basic swing set, and build some sweet add-ons like monkey bars and ladders overtime. Kids are so busy having fun on the swings, that they don't even realize how much strength that they build up while having a go at it. After all, the best kind of exercise for children is when they actually have a blast being active.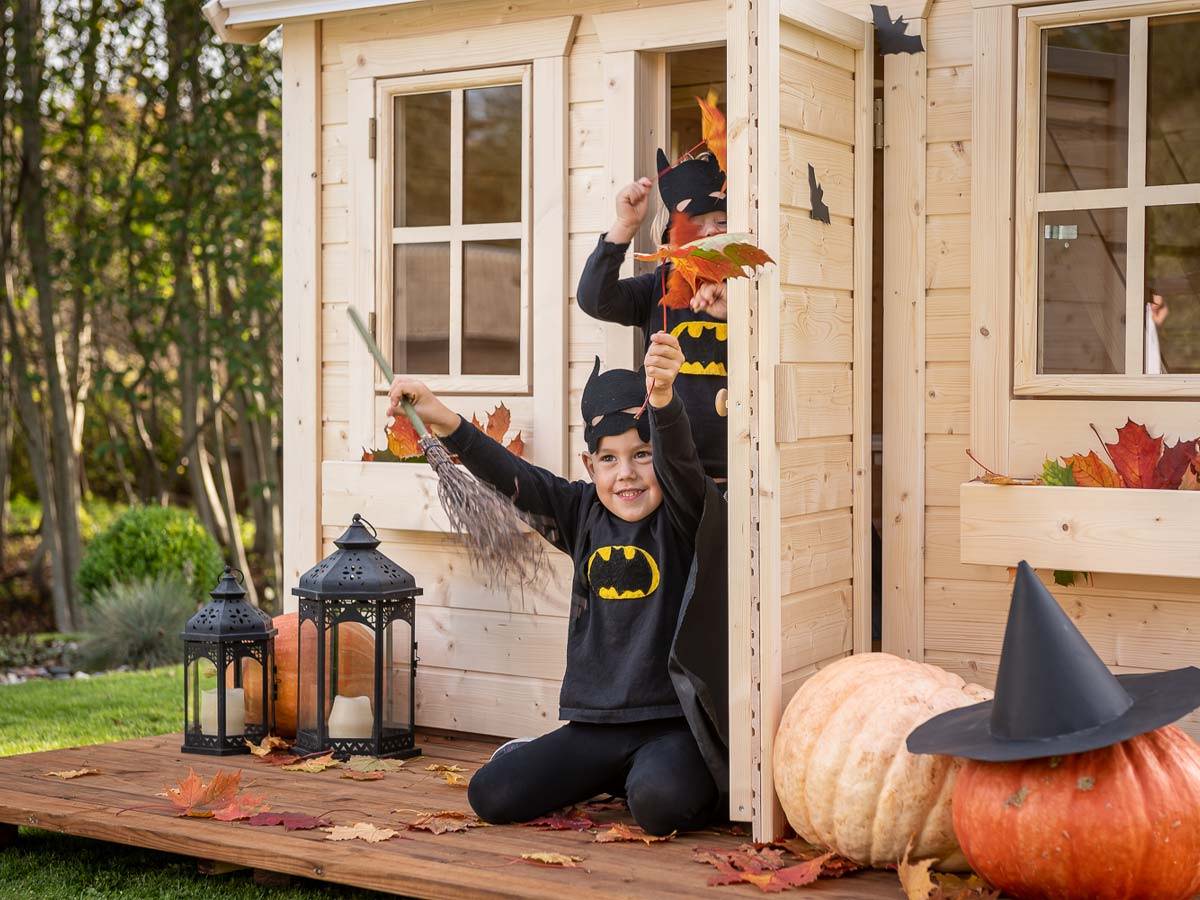 Slides have all types of healthy benefits for growing kids including improved coordination, spatial awareness, and of course, encouragement to exercise. Children as young as 3 years old could have fun going up and down slides as they discover a new thrill. Not to mention, they don't have to worry about exploring new heights and rushing down with fear. While you may not have enough time to constantly take a trip to the park, having your own slide makes a wonderful add-on to a backyard playset. Great slides are made with pressure-treated wood which are durable and guarantee your child's safety during playtime. There's a reason why you probably always see one at public parks around the world. Children love slides!
Another fantastic choice for an add-on to an outdoor playset. Rope ladders take a challenging approach to playtime for kids. While in most cases rope ladders are used to get somewhere else, they also are wonderful for the youth's imagination. Climbing allows children to imagine themselves on all sorts of adventures, and encourages them to chase that feeling of excitement. It's a safer option than having kids wander off and climbing trees at high (and unstable) distances. Rope ladders also take solid coordination, strength, and balance to advance up the ladder. For such a simple add-on, rope ladders work the entire body and build up core-strength. It's a win for both mental and physical activity!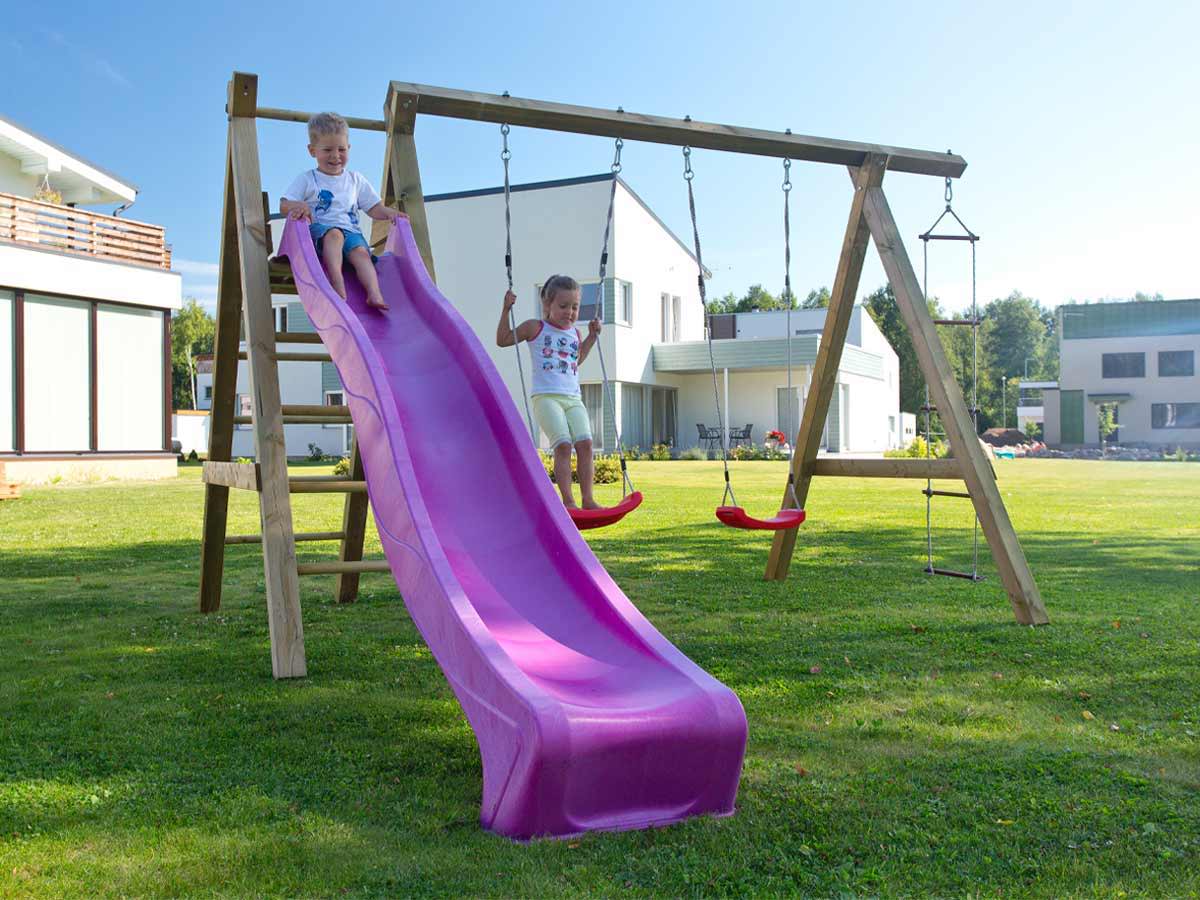 Bring the Indoors Outside
You might have to get a little creative yourself and think outside the box to pull this off. Invite your kids to do some regular indoor activities outside! Even some part of a child's everyday routine like doing homework and eating lunch is perfect in a hangout spot like a wooden playhouse.
It's even better when kids invite friends over to do some indoor activities like board games, draw, and paint! Mental stimulation is always good, but the added bonus of fresh air and sunlight brings a whole new perspective to indoor activities. Additionally, once the children are already outside, they probably will find some motivation to play and be active on a daily basis.
Some other cool indoor activities you could try to bring outdoors include:
Scavenger hunts
Puzzles
Picnics
Hopscotch
Balloon Games
LEGOs
Jenga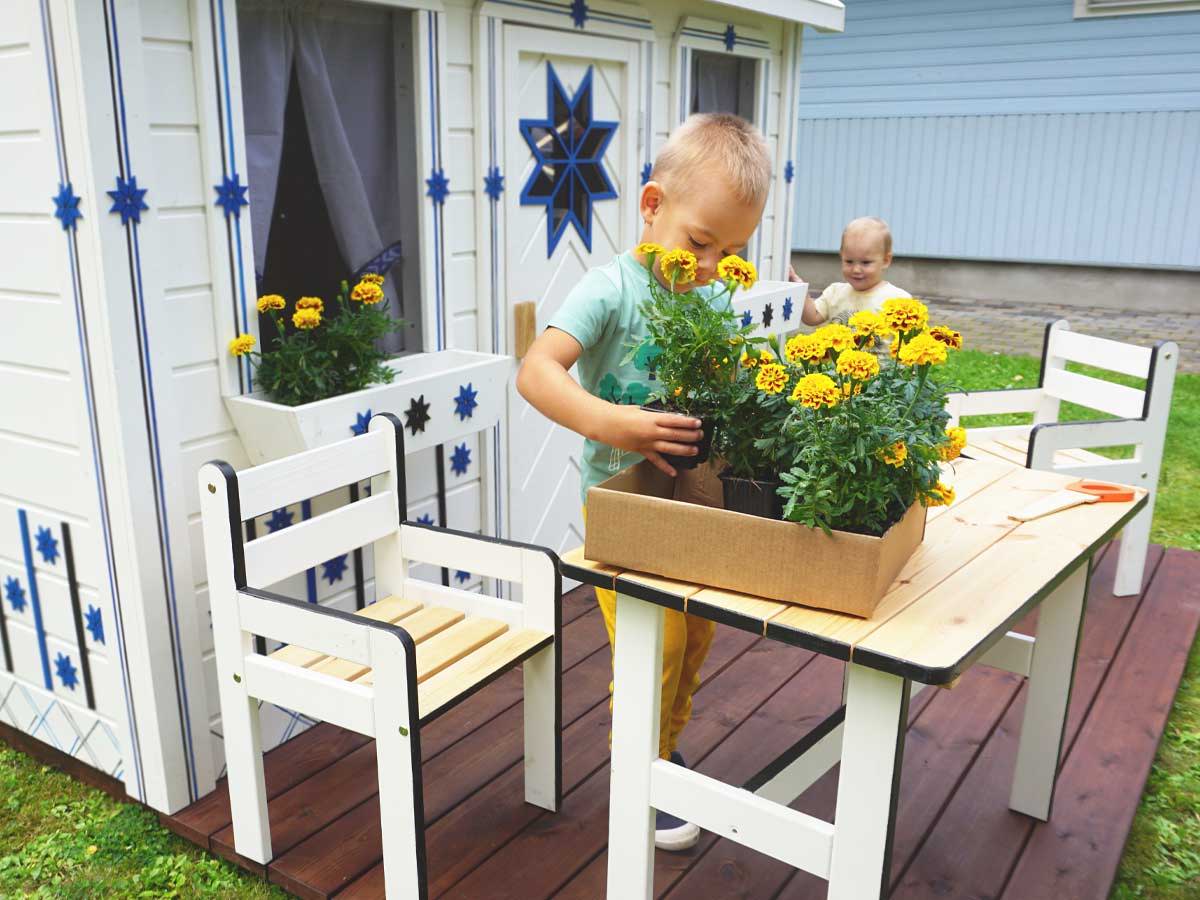 This might not sound too encising at first, but hear us out. While chores don't seem like much of an activity, there's no doubt they keep your kid active. Chores are a valuable lesson to be learned for children and teaches them how to work and earn. After completing a task, kids learn about fairness and getting rewarded for their work and discipline. If you can, set your child up with an allowance when you feel like they are responsible enough to handle it. Assign some easy to do tasks like, tidying up the backyard. If your wooden playhouse or patio has plants nearby, you could guide children on how to properly water them. We also all know there's always some extra sweeping to do somewhere. Overall most importantly, it motivates children to be active outdoors.
What Could You Come up With?
We need to emphasize the importance of spending time outside as a daily routine rather than for an occasional barbeque or family party. Creating a special outdoor living place for kids, such as a wooden playhouse or swingset is a great first step for encouragement. These awesome hangout spots are sure to help get your children physical exercise, and plenty of mental stimulation which is essential at early ages.
Getting used to spend time regularly outside as a kid builds a healthy habit for the whole life. It can be having snacks on the playhouse porch that develops into regular barbeques with family and friends. Or perhaps it is running around the playhouse and climbing on the play set that sparks jour kids interest for light athletics or gymnastics.
So how creative have you gotten in order to get your kids outdoors lately? Hopefully this guide sparked your imagination that we all were gifted with in our early days. Even thoughkids are glued to phones and electronic devices indoors, there's still a wonderful world to experience on the outside!
"If you haven't seen anything incredible today go outside"
Written by WholeWoodPlayhouses
CHECK OUT OUR OUTDOOR PLAYHOUSES