Wooden Playhouse Preparations for Spring
Springtime is almost here once again! For those of you who experienced the joy of building a wooden playhouse with your loved ones means that it's time to clean it up just in time for warmer days. Getting your playhouse ready for Spring is relatively easy, and you could once again take on the project with your kids. The outdoor playhouse preparation we will share with you is meant to make sure you are prepared with all of the materials and knowledge you need before you head outside. Let's look at how you can get your kids playhouse ready for Spring in this step by step guide.
A nice walk around your outdoor playhouse before you start is great for planning your Spring cleaning tasks. This gives you time to inspect the wooden playhouse for light wear or things that may have gotten loose from cold, windy weather. After inspection, you can gather all of the necessary tools or cleaning materials required to complete your Spring project. Wooden playhouses are typically built for durability, so the required maintenance should be low each Spring season.
Here is a quick checklist you could use while checking the playhouse for potential maintenance:
Move closely to the outdoor playhouse and bring your eyes close to the exterior surface
Look for any cracks, chips, splinters or bumps on the wooden surface
Check for any cracks on or around the playhouse roof
Look for dull paint spots
Spot any loose nuts, bolts, or nails among the wood and tighten where required
Check for any cracked glass or any damage near the playhouse window panels
Keep an eye out for any moss settling on the wood
Check the perimeter for signs of digging from rodents or other small animals
Be sure to take a close look on the inside as well
Look for any bugs or insects (such as ants or termites) that may have found their way to your wooden playhouse and maybe formed nests
Check for moisture build on the inside of roofs and floors (damp wood)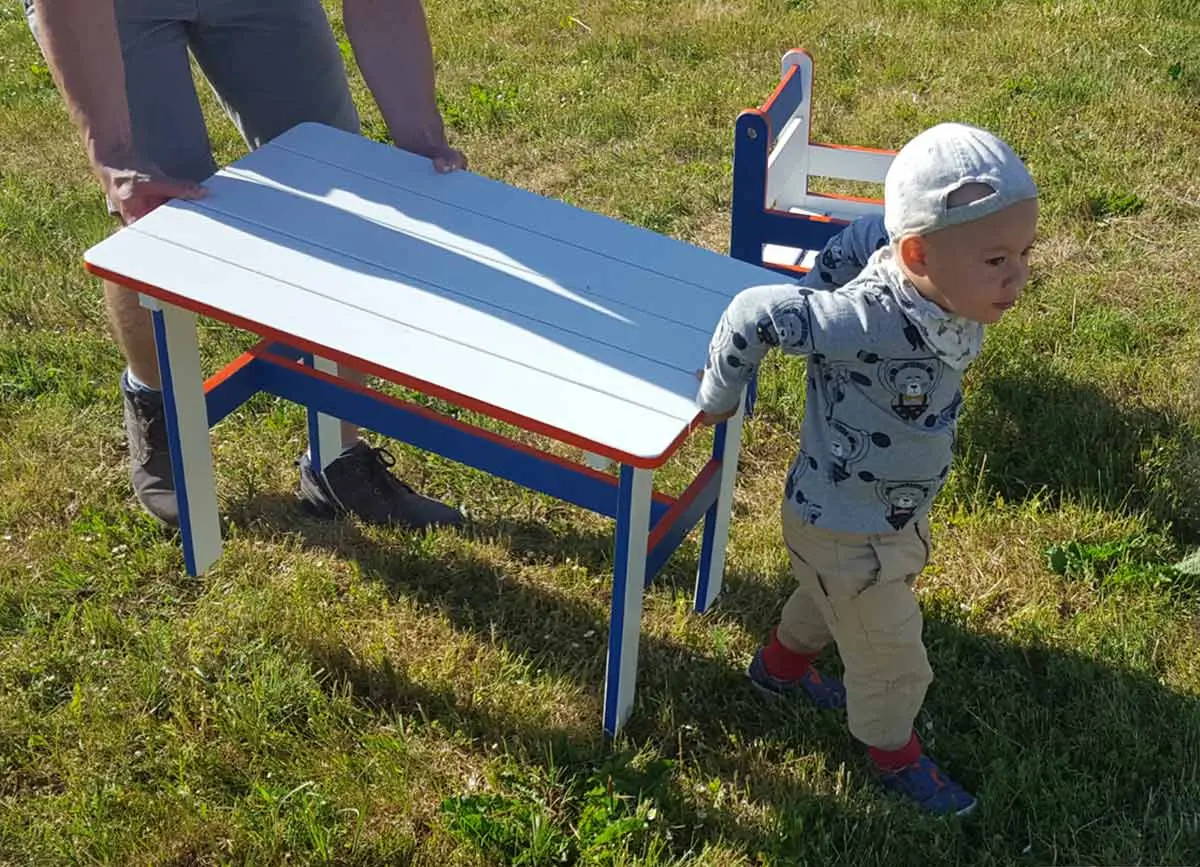 Prepping your wooden playhouse for Spring also means that you get to spend more time with your kids. This gives your family the opportunity to appreciate the outdoors instead of being cooped up in the house. After a long winter season, your playhouse will probably experience a buildup of dirt and dust from gusting cold winds or snow. With a short cleaning, it will look brand new once again!
While you handle a bulk of the more challenging cleaning areas and hard to reach spots, provide your kids with some soap and water. Fill a plastic bin with soap and water and sort out all of the toys and accessories in and around the playhouse. Provide some rags for wiping and dry towels for drying.
Here's a list of some toys and accessories stored over the winter you could task your kids with cleaning:
Flower boxes
Dish sets
Tea sets
Plastic cookware and pots
Plastic Chairs
Mailboxes
Storage Bins
Plastic balls, dolls, and figures
Play-sized basketball hoops
Mini cars
Swings and Teeter Totters
"Spring's greatest joy beyond a doubt is when it brings the children out."
Before restaining your wooden playhouse, take a damp cloth and rub the exterior surface. The surface should be wiped clean from any dirt, dust, and sand before painting. Remember to include any dusty windows, playhouse panels and edges.
If you don't wipe the wooden playhouse, dirt could get stuck in your painting brush. Also, giving your playhouse surface a light sanding will smooth out any bumps or chips from the old, worn paint. Having a clean surface will have your paint looking great while holding up for many years in any outdoor weather.
In the case that your outdoor playhouse is in bad shape, you could take care of it with a power washer because it's an effective way of cleaning really dirty wood surfaces. Any grime or fungi buildup is removed with ease. Experience with power washers matters because of the high pressure from the water that could potentially shatter windows if you aren't careful. They are readily available for rent if you want to prep the wood for restaining very quickly.
Apply a light coat using either a brush or electric paint sprayer (with extension cords). The paintbrush is a budget-friendly method but will take more time. With regards to quality, both methods will provide a beautiful finish for your playhouse. Staining soaks into the wood, which is why a quick coat is necessary here. Very dry wood (especially from a cold winter) absorbs the staining paint quickly.
Once the first coat dries completely, apply a second coat for added durability and a more finished look. It's important to note that you should wipe off the stain from nailheads, nuts, and bolts while painting over them. They will look much more blended in with the wood this way.
If you are not sure yet that you are up to the task of restaining your playhouse, check out our Playhouse Painting Guide. Or, as always we are happy to help you with any questions that you might have!
CHECK OUT OUR OUTDOOR PLAYHOUSES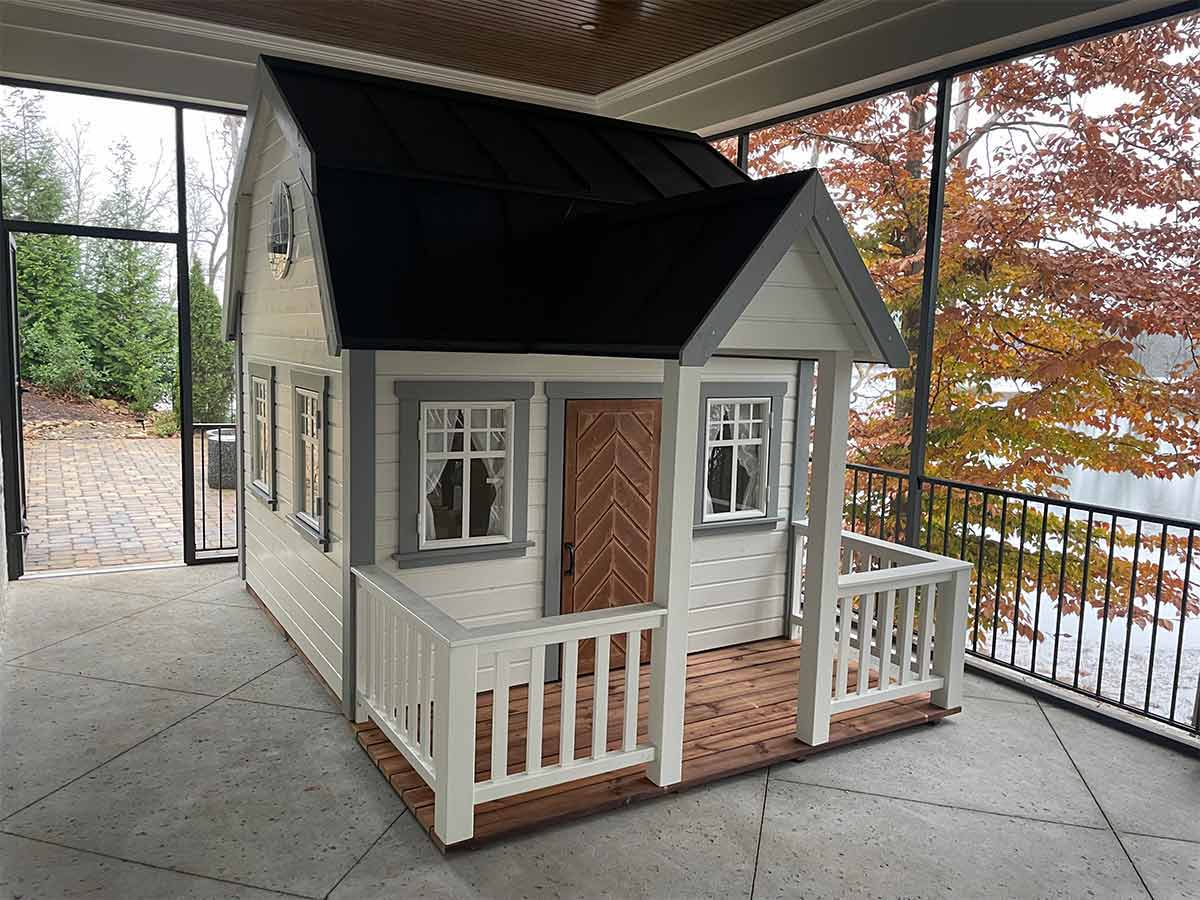 Playhouse
Grand Farmhouse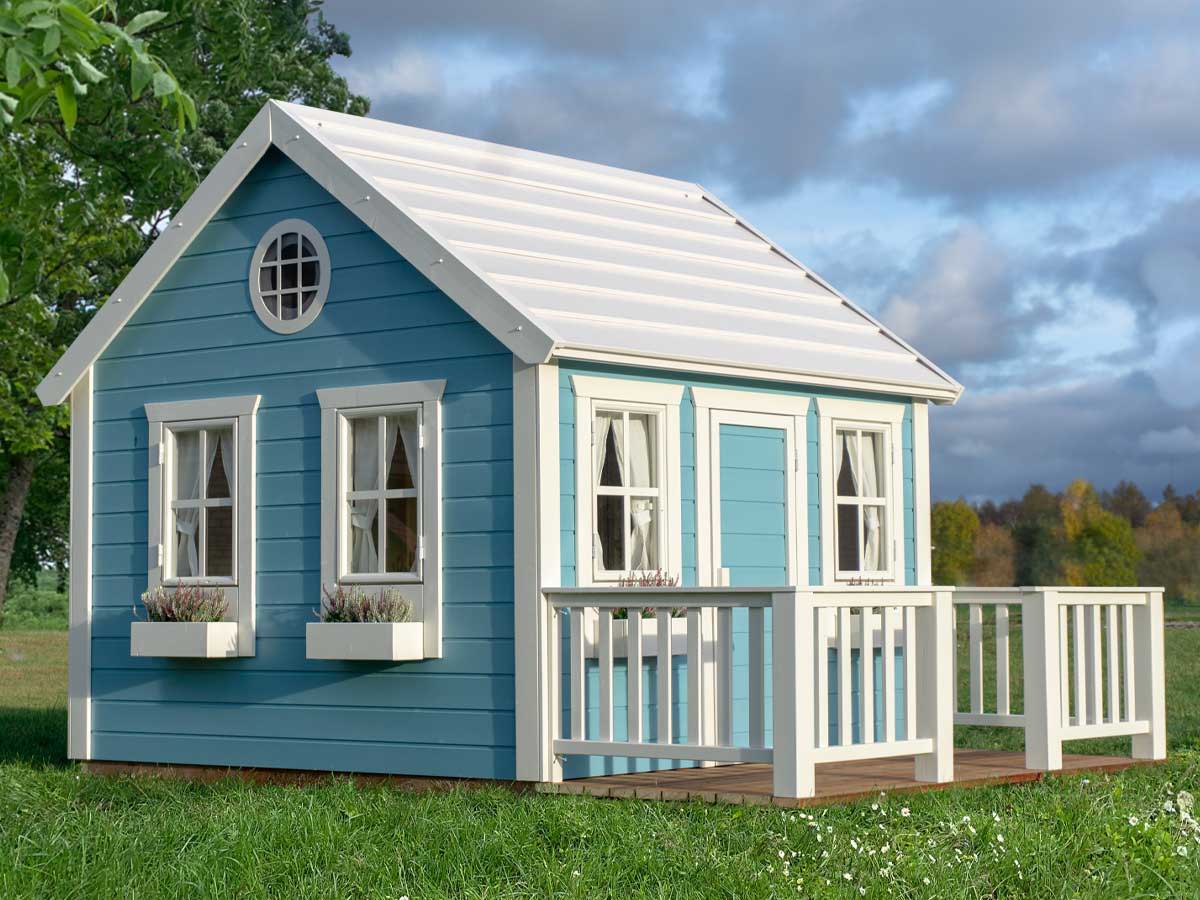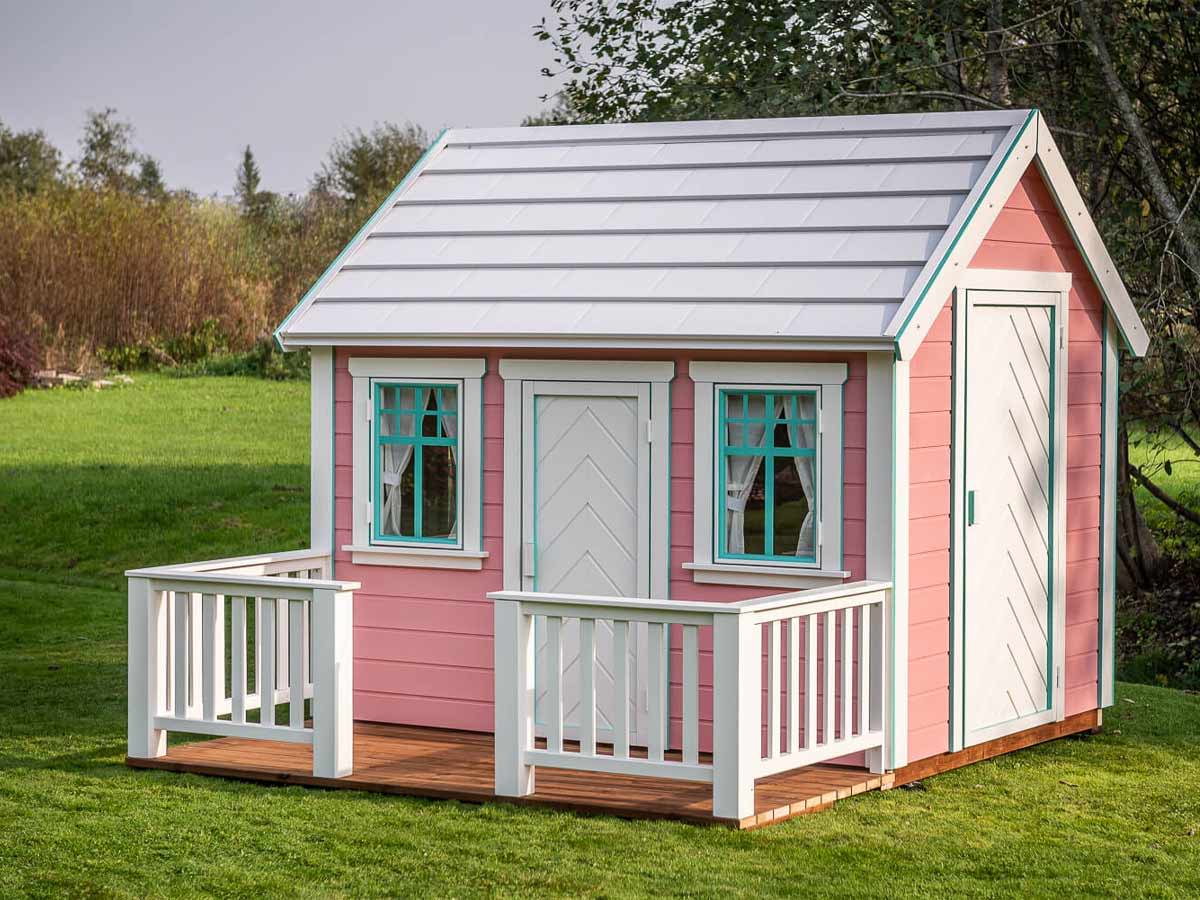 Perhaps the most fun part of prepping your wooden playhouse for Spring, is planning a new refreshing makeover. Brainstorm with kids and inspire them to think creatively! Think about any fun additions that could be added to the outdoor playhouse for the upcoming season. A sweet makeover opens up an infinite amount of ideas that you could do yourself or you could buy. Yearly make-over projects of your wooden playhouse is a fun tradition for the whole family and will provide you with a new playhouse each year!
See below for a few suggestions to spark your imagination.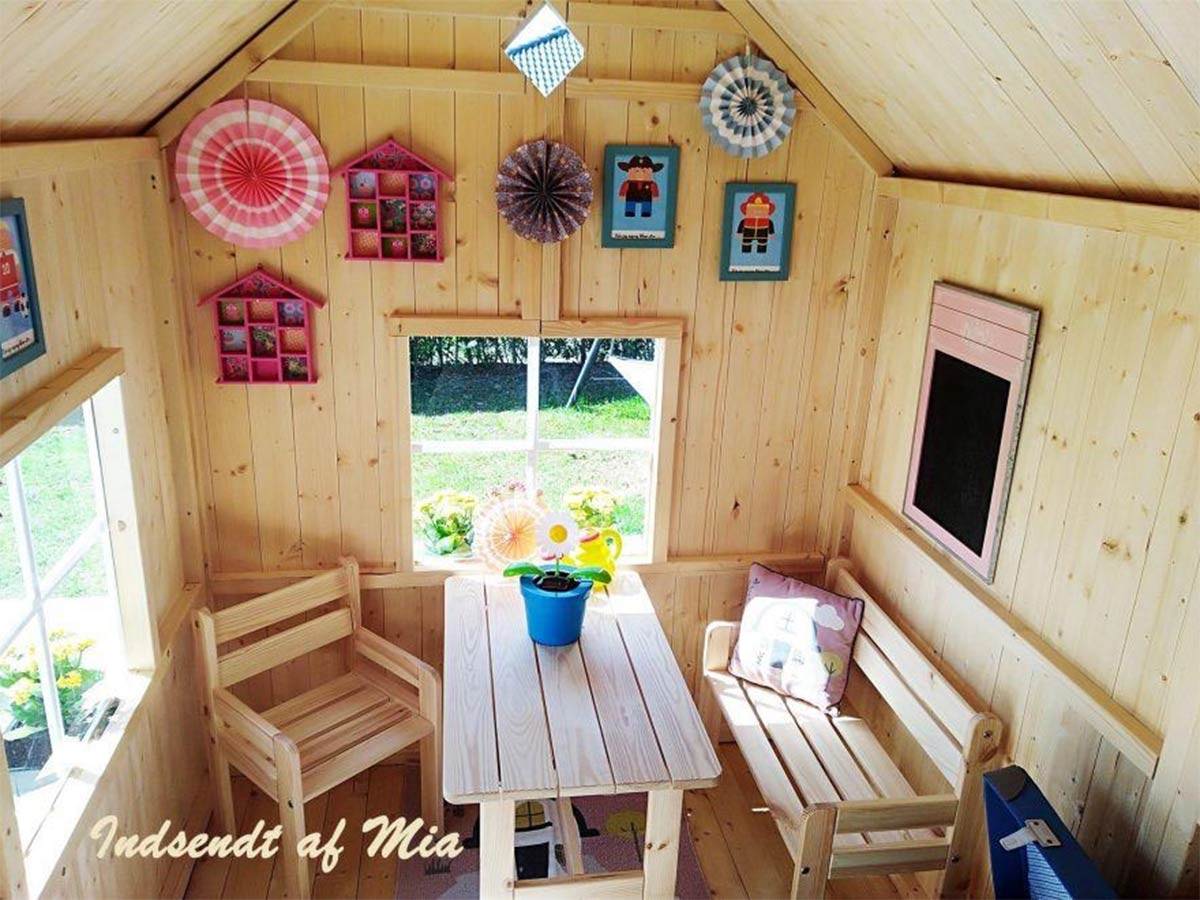 Pictures and Photos - What makes your children feel more at home than surrounding them with their favorite memories? You can also build photo collages with your kids and let them use glue, scissors, and colored paper to stitch the masterpiece together. Afterwards put it in a frame, hang, and decorate the wooden playhouse.
Wall Chalkboard - Bring out the artsy side of your kids! They love to draw and doodle anything they can imagine. There are also plenty of chalkboard games that encourage collaboration with others. Chalk is easy to clean and inexpensive to buy and also allows your kids to redecorate their wooden playhouse at any time.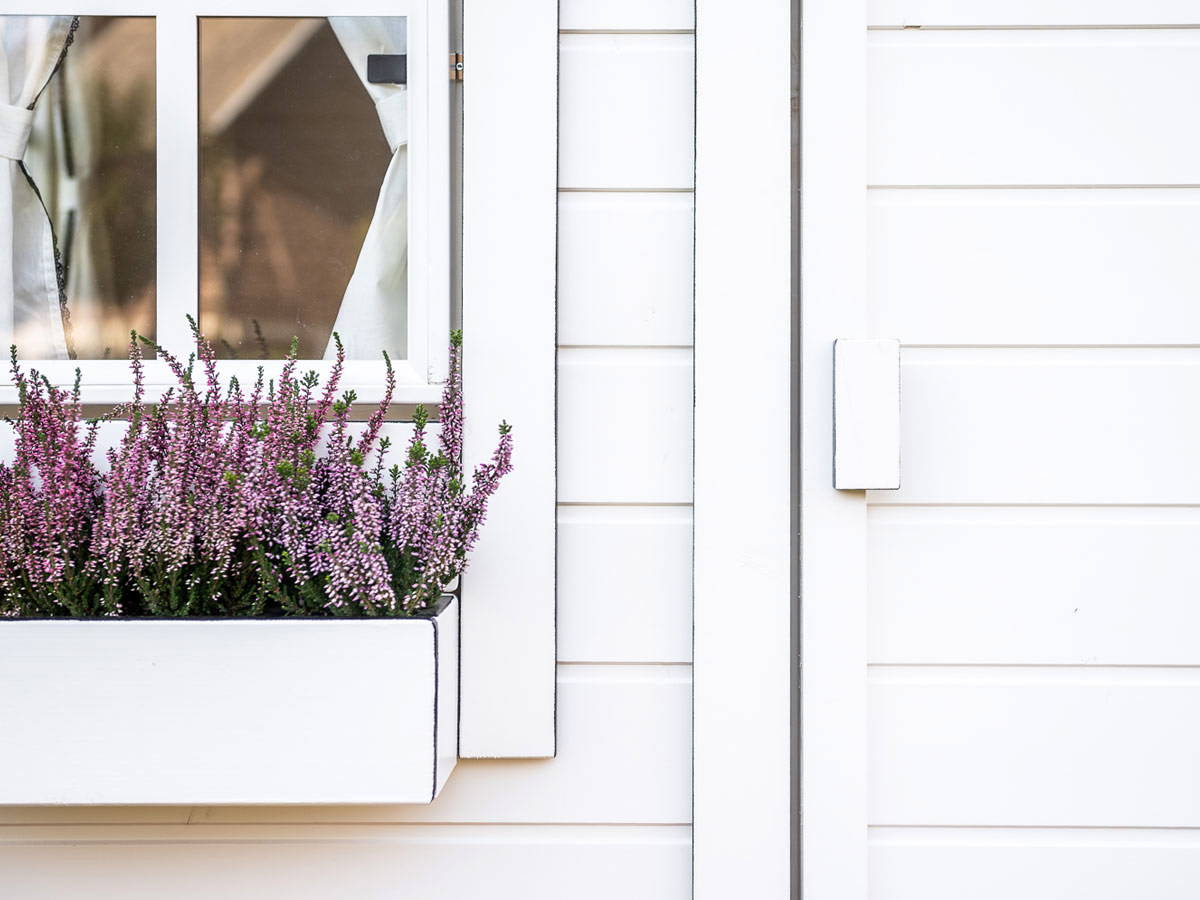 Flower Boxes - There's nothing like adding natural color schemes to a kids playhouse. Flower boxes are easy to paint and decorate. They also could hold low maintenance flowers which enhance the decoration near the outside windows of the wooden playhouse. You can show your kids how to take care of plants and some basics of landscaping!
Picnic Tables - A sweet hangout spot right outside of the playhouse. Kids could socialize right outside of the wooden playhouse with a picnic table. Not to mention, you could build your own picnic table, paint it, or decorate it with cloth for added customization.
Doorbells - Doorbells are a cheap accessory but give your kids a sense of their actual home in an entertaining way. Plenty of affordable doorbells have various chimes and are fully waterproof for an outdoor playhouse.
Sandboxes - The classic sandbox is awesome for capturing a beach themed wooden playhouse such as the bungalow style. Kids absorb themselves in their imagined worlds such as the beach. Plenty of activities and toys could be placed inside!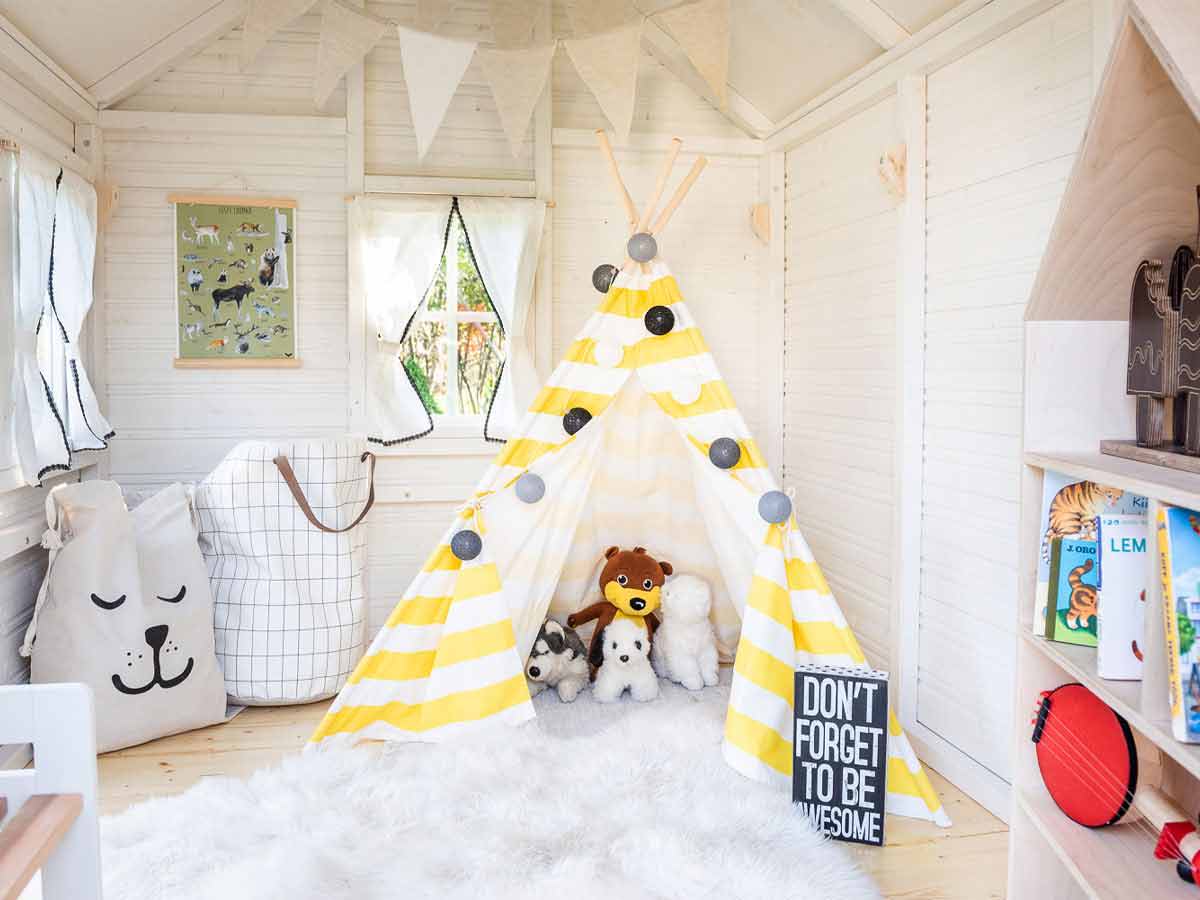 Beanbags - These are both ultra soft, and versatile when it comes to sizing. Beanbags are portable enough to easily bring into your wooden playhouse while providing maximum comfort for a cozy experience both inside and outside of your wooden playhouse.
Floor cushions - The good thing about floor cushions is that they are soft, but also easy to clean. Floor cushions are typically made out of plush material which is suitable for kids who may track dirt into the outdoor playhouse.
Fun Rugs - Not only are rugs cozy, but some have games or activities on them too. Fun rugs are great for when kids have friends over and want to play on the ground. They add character to a wooden playhouse and they also prevent slipping on hard surfaces.
Curtains - Good for adding color to your outdoor playhouse area. Curtains compliment the windows well and add soft texture to a wooden playhouse. Any leftover fabric can also be used as cloths for tables and chairs.
Spring is a time to start fresh, clean up, and prepare for a summer loaded with activities and nice weather. If you enjoyed this read, our site is just the place for all of your playhouse needs. At WholeWoodPlayhouses, we provide free tips, information, fun ideas, and cover everything you need to know about wooden playhouses. Children deserve the perfect place to play, and what's better than a freshly cleaned and well-maintained playhouse.
"Spring is the time of plans and projects."
Written by WholeWoodPlayhouses
CHECK OUT OUR OUTDOOR PLAYHOUSES