Wooden Playhouse – Your Winter Wonderland in the Backyard
"It's the most magical time of the year!" Winter is the time for the most exciting outdoor activities when your own backyard can turn into a fairy tale snow kingdom, a battlefield for an epic snowball fight, or an Olympic stadium. And your outdoor playhouse will become the centerpiece, a castle, the headquarters of fun.
In fact, winter outdoor activities are not just an opportunity for friends and family to come together, have a thrilling adventure and lifetime memories. Experts from different fields, from healthcare to psychology, claim that backyard winter activities may be important for your kids more than ever.
Due to the quarantine restrictions and uncertainty caused by the Pandemic of COVID-19, the past couple of years were hard for everyone. Especially for kids and their parents. However, families that already had or got outdoor playhouses during this period often point out that it helped them to organize bonding and exciting activities that in many ways compensated for the lack of the habitual social life.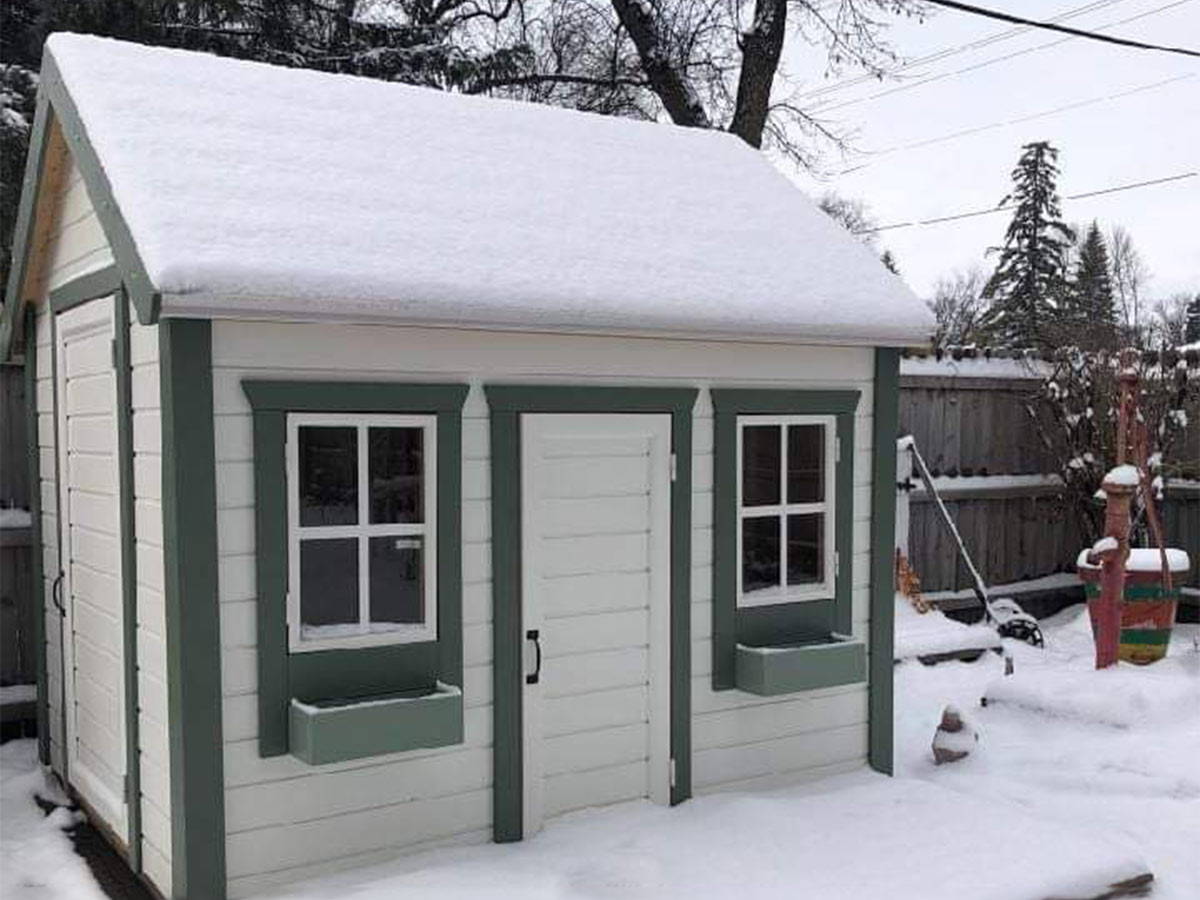 As for winter outdoor activities with kids playhouse in the backyard, they can be particularly beneficial for all family members:
Spending time outdoors in winter helps us build and strengthen our immunity;
Having a wooden playhouse in the backyard, kids will avoid the temptation of staying inside and spend whole winter in front of their screens;
During the winter, kids can learn a lot about the nature and environment, and an outdoor playhouse would be a great "Polar research station";
Due to the cold weather, winter outdoor games are more active. Those are often sports that inspire teamwork, fun, and bonding activities for the whole family.
That is why by having a kids playhouse in your backyard, you get a chance to turn this winter into "the most magical time," effortlessly creating an ultimate winter wonderland for your kids and the whole family.
In this article, we shall talk about the most popular and fun backyard outdoor activities for the whole family and how your kids playhouse can become the headquarters of the holiday fun!
Make a Winter Fairy Tale Come True
The story of Snow Queen has been fascinating to us for generations. While interpreted by different cultures, authors, and animation studios, it always tells the story of true love, an unbreakable friendship, and, of course, magic.
Having an outdoor playhouse in the backyard, you can easily bring the winter fairy tale to life! Here are only some ways to plunge into the atmosphere of winter magic with your wooden playhouse.
"Winter is not a season, it's a celebration."
Build a Snow Maze Around the Kids Playhouse
If you are lucky enough to live in an area with particularly snowy winters, you can turn the chores of cleaning the backyard from now into a fun, bonding, and exciting adventure.
Build a snow maze around your outdoor playhouse (if your backyard is big enough) or at least a near-impregnable snow wall. May your kids go on the quest, find the Snow Queen in her wooden playhouse winter castle, and break the spell saving the world from the curse.
Not only is it a fun, imaginative game for the whole family that also encourages teamwork, but the whole process of collecting the now and building the wall is a great outdoor workout for you and your kids.
Turn the Wooden Playhouse into a Winter Castle
Another way to bring the fairy tale to life into your kids playhouse this winter is to turn it into a magical winter castle.
It is a chance for you and your kids to get creative, discover and learn some new skills and embody the most daring design fantasies.
Wall and window mural with special paints, mosaic, garlands made out of cotton and paper, artificial snow and tons of glitters, etc. All those are the elements of exciting and fun DIY craft projects that will turn your wooden playhouse into an ultimate Winter Castle, a palace for the Winter Ball, or a tower where the evil Snow Queen keeps the Princess locked away under the oversight of evil snowmen and ice dragons.
The possibilities are only limited to your and your kids imagination and creativity.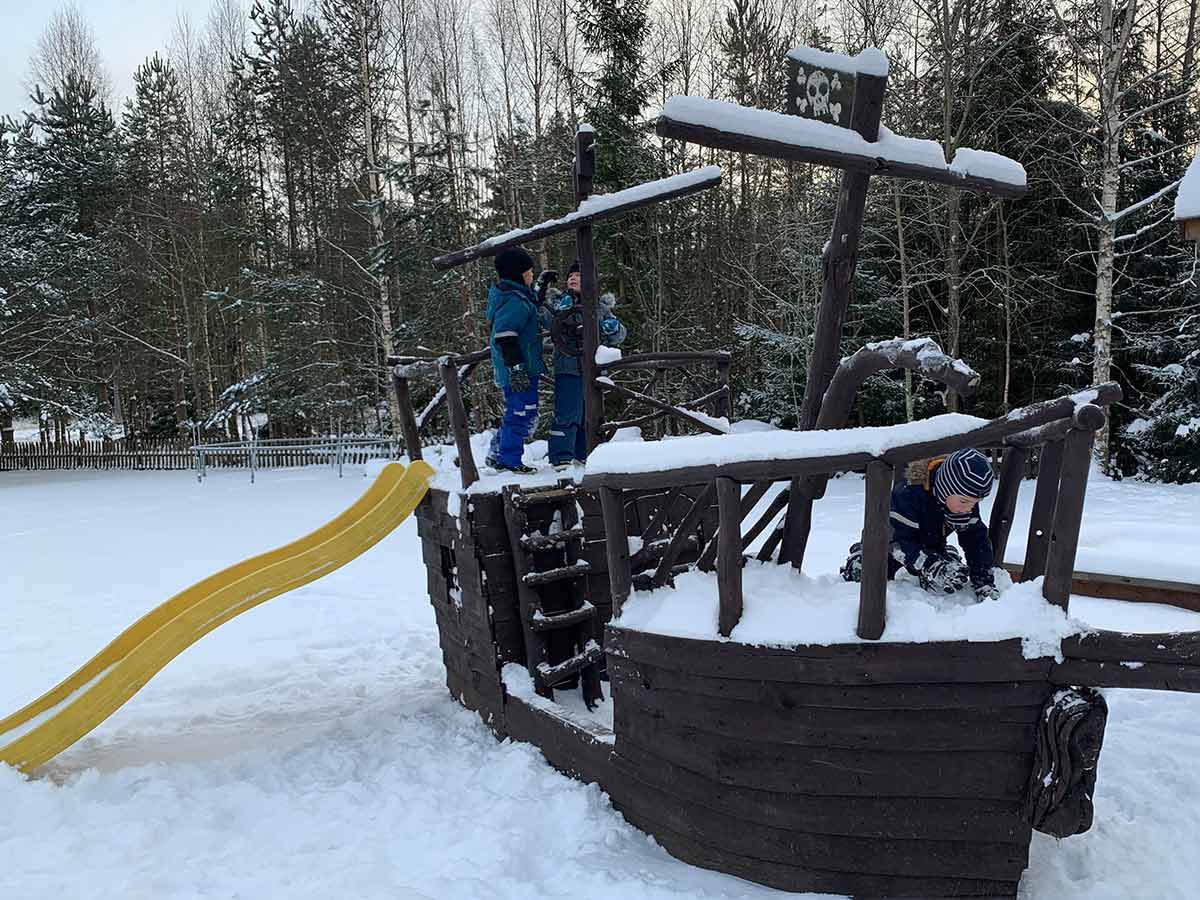 CHECK OUT OUR OUTDOOR PLAYHOUSES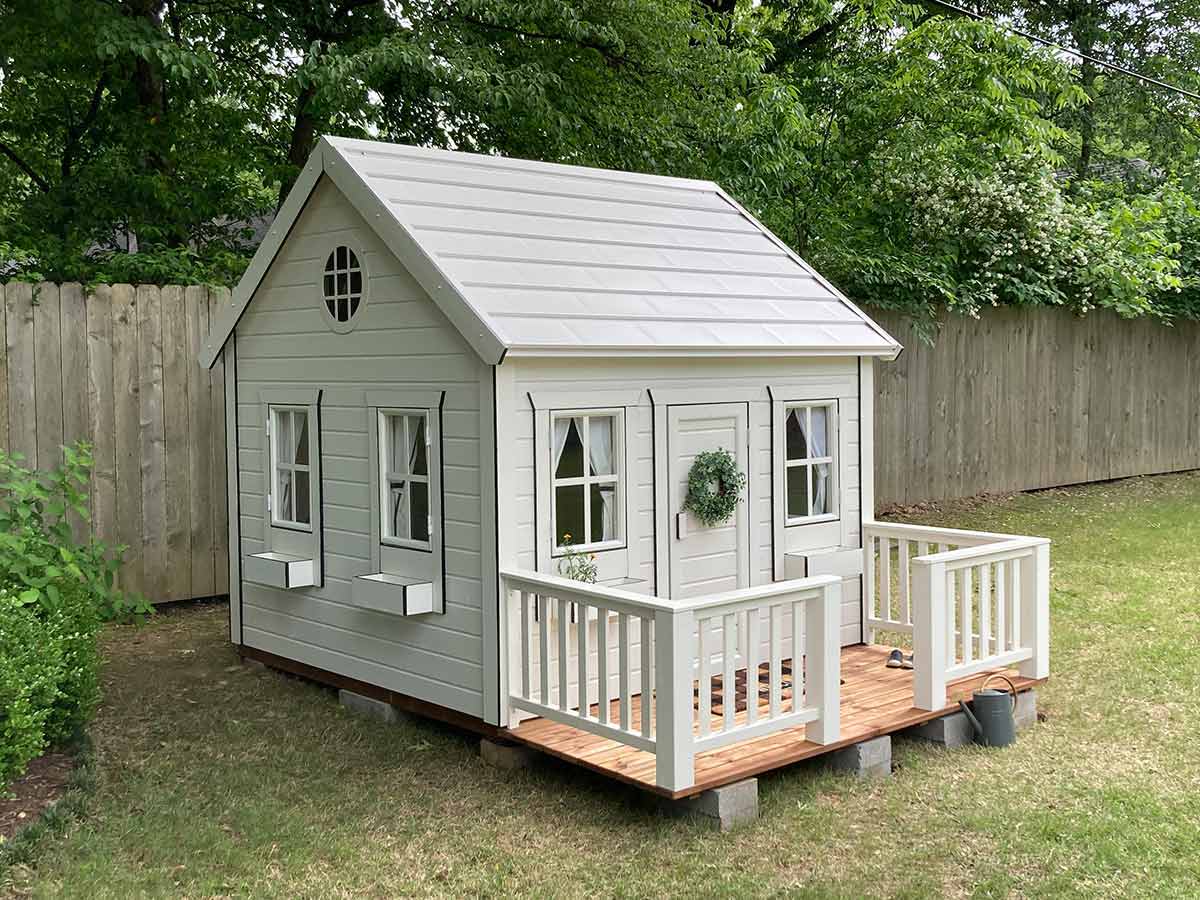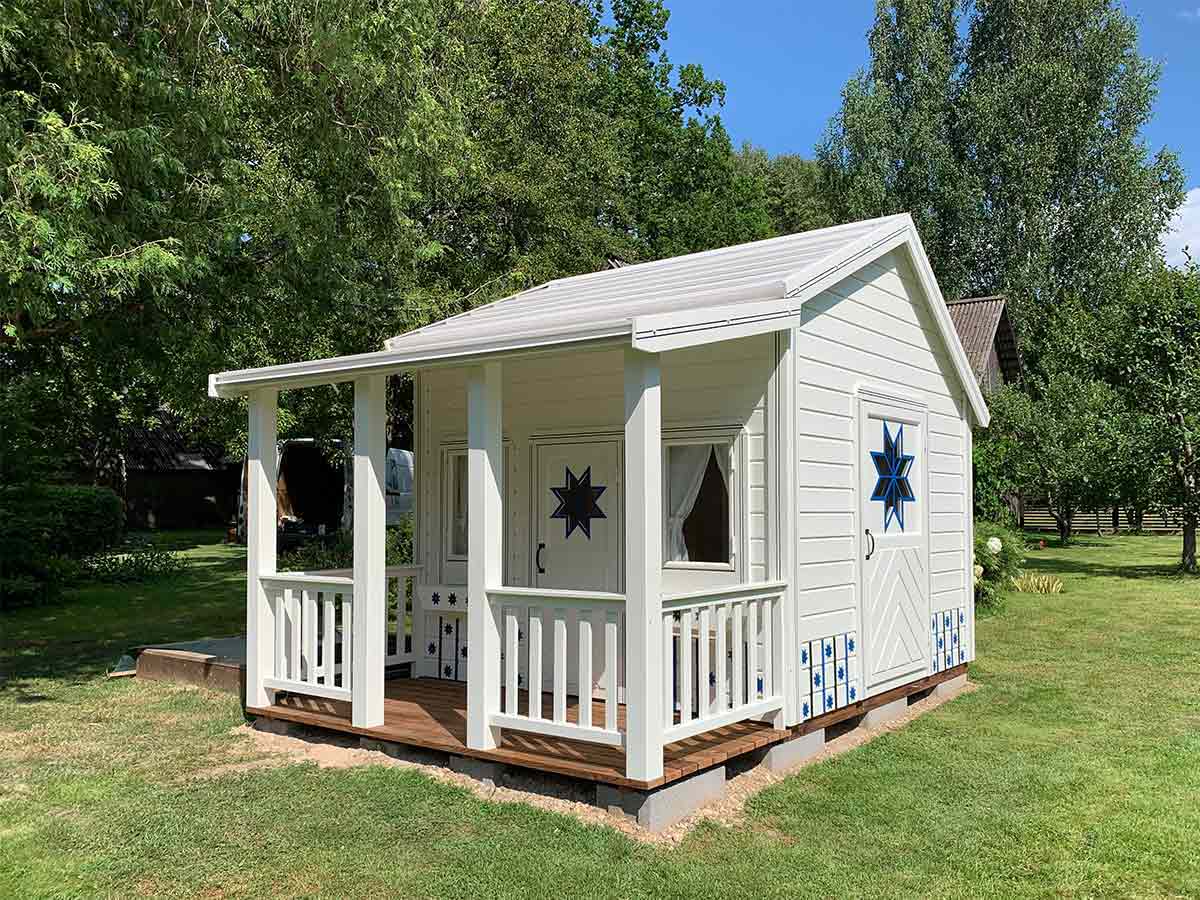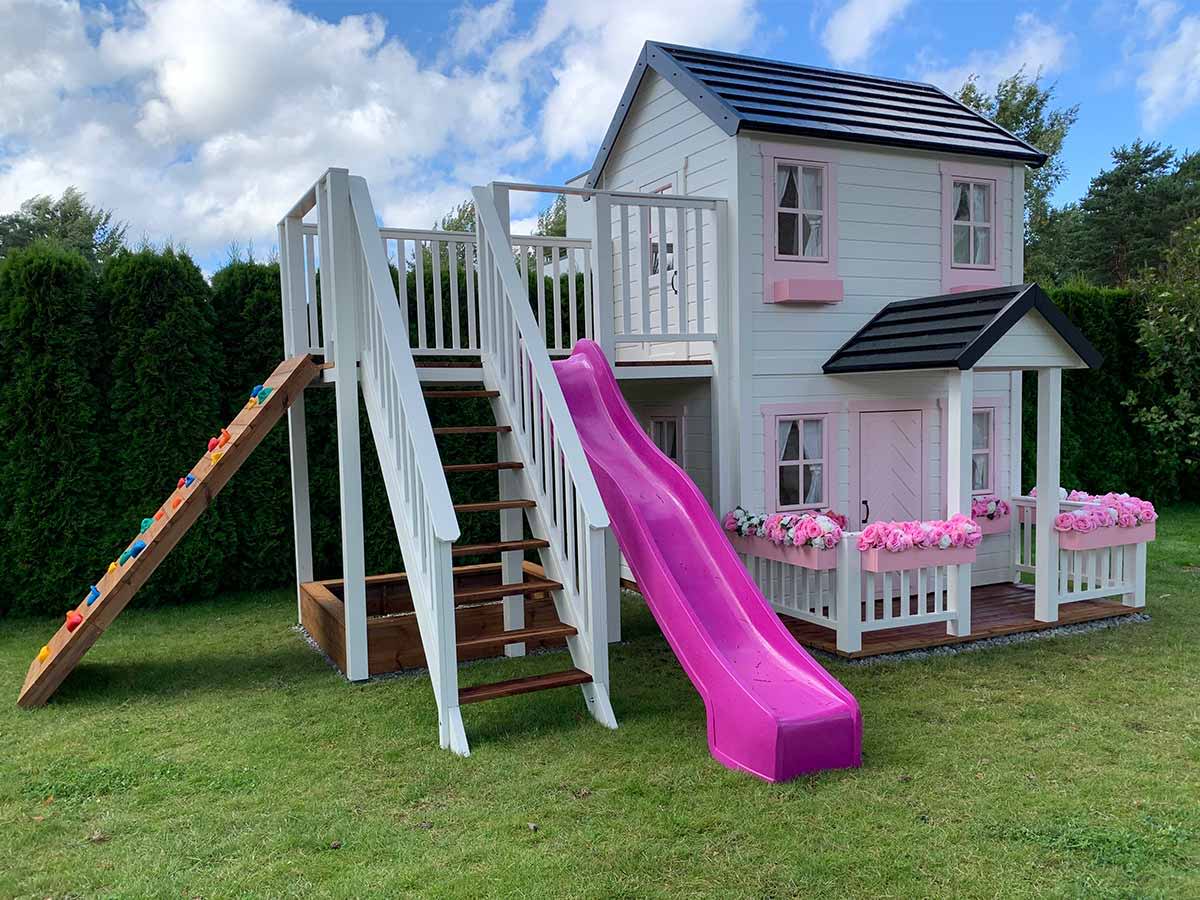 Is there anything more fun, exciting, and colorful than a winter fair? It is a place where you can meet your friends, see the works of local artists, drink warm cocoa with marshmallows, and win cute prizes in fun contests.
Your wooden playhouse allows you to arrange such a fun winter fair in your own backyard! Call all your friends and family, decorate the backyard with garlands and fairy lights, install booths where each kid can display their artwork, science project, or toy collection. You can turn the outdoor playhouse itself into a cocoa station, a winter cafe with warm puff pastry (and, maybe, some gluhwein for the parents).
Arrange fun competitions like a sack race on the snowmen contest and prepare crafty DIY prises together with kids.
Having a wooden playhouse in your backyard, you can arrange an ultimately epic event for your kids or even the whole neighbourhood this winter.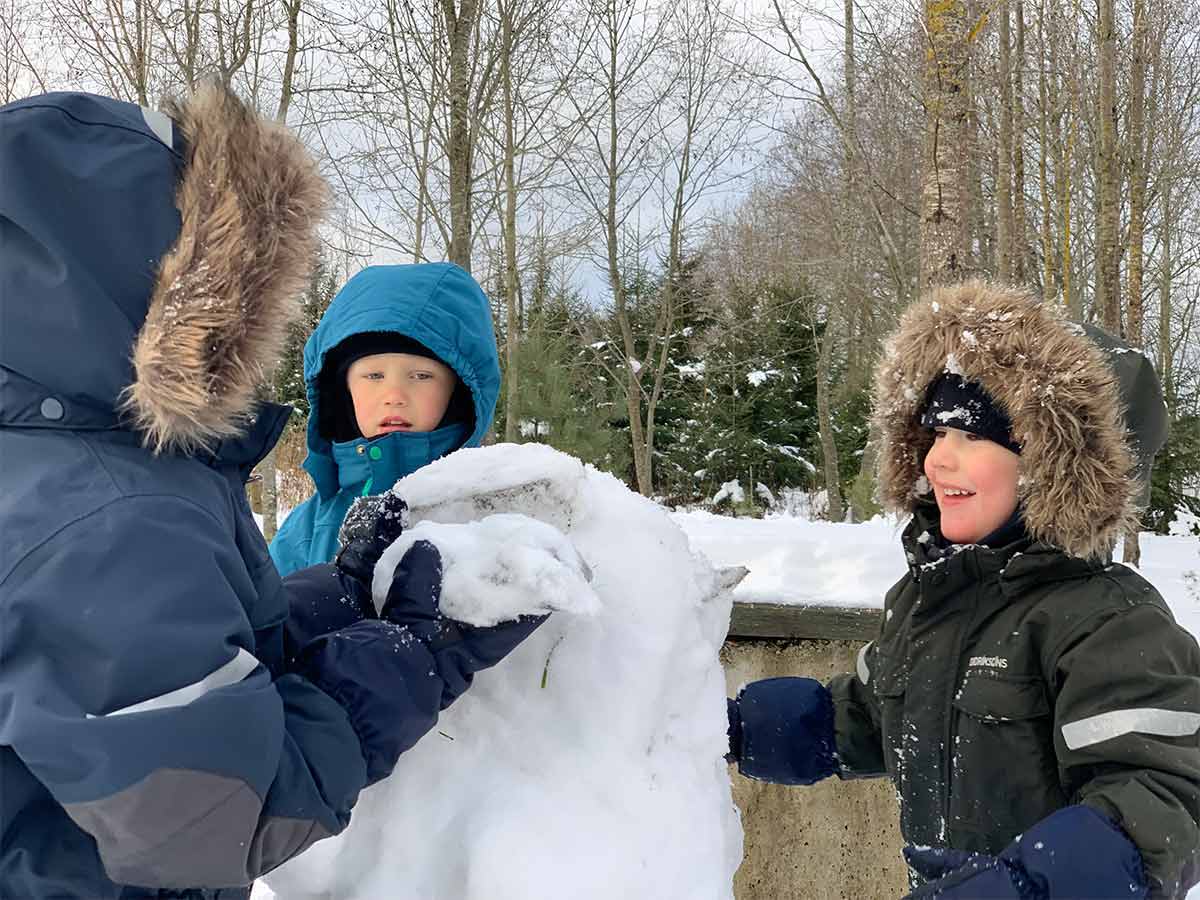 Turn the Kids Playhouse Into a Polar Science Station
Winter is not only fun and exciting but also a very educational time. It is the period when kids can learn a lot about the cycle of life, the wonders of nature, and the environment.
Your outdoor playhouse can turn into an ultimate polar station, where kids can bring and study the samples of snow, leaves, soil, and other objects they collect all over the backyard. Hardly there is anything more exciting than looking at snowflakes under a magnifying glass and then trying to repeat its unique patterns in the journal or cut them out of paper.
You can bring a projector or any screen into the kids playhouse and play interesting documentaries about Polar wildlife, animals` hibernation, environmental protection, and climate change.
It is a great chance to raise kids awareness about the ecosystem, our impact on the environment, and ways we can protect nature.
Learning about nature, local animals, and their life during the winter, kids will get inspired to build winter feeders and birdhouses. And your outdoor playhouse will be a perfect workshop for it.
Add some imagination and help your kids turn their wooden playhouse into a science lab, a forest ranger station, or a secret villain's layer.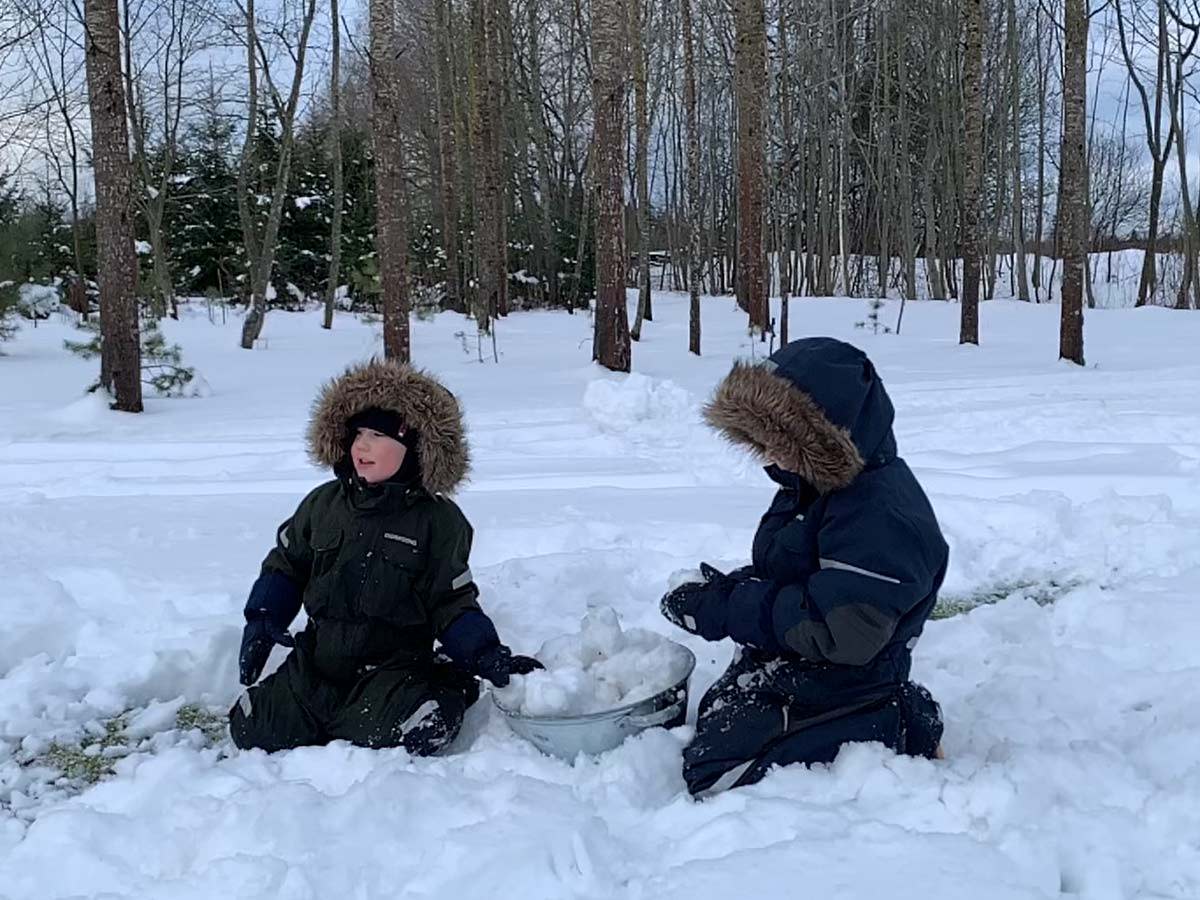 The Epic Snowball War Headquarters
Building a snow fort and unwrapping snowball battles in the backyard is one of the classic winter outdoor activities. If you have a kids playhouse, you can take the game to a whole new level.
With your kids imagination, the wooden playhouse will turn into a strategic object, the capital castle that needs to be defended or conquered.
Kids can play "capture the flag," installing the flags on opposite sides of the outdoor house or simply try to knock the "enemy's" flag off the playhouse's roof with snowballs.
Those are both competitive and team-building activities that will also be a fun workout for the whole family.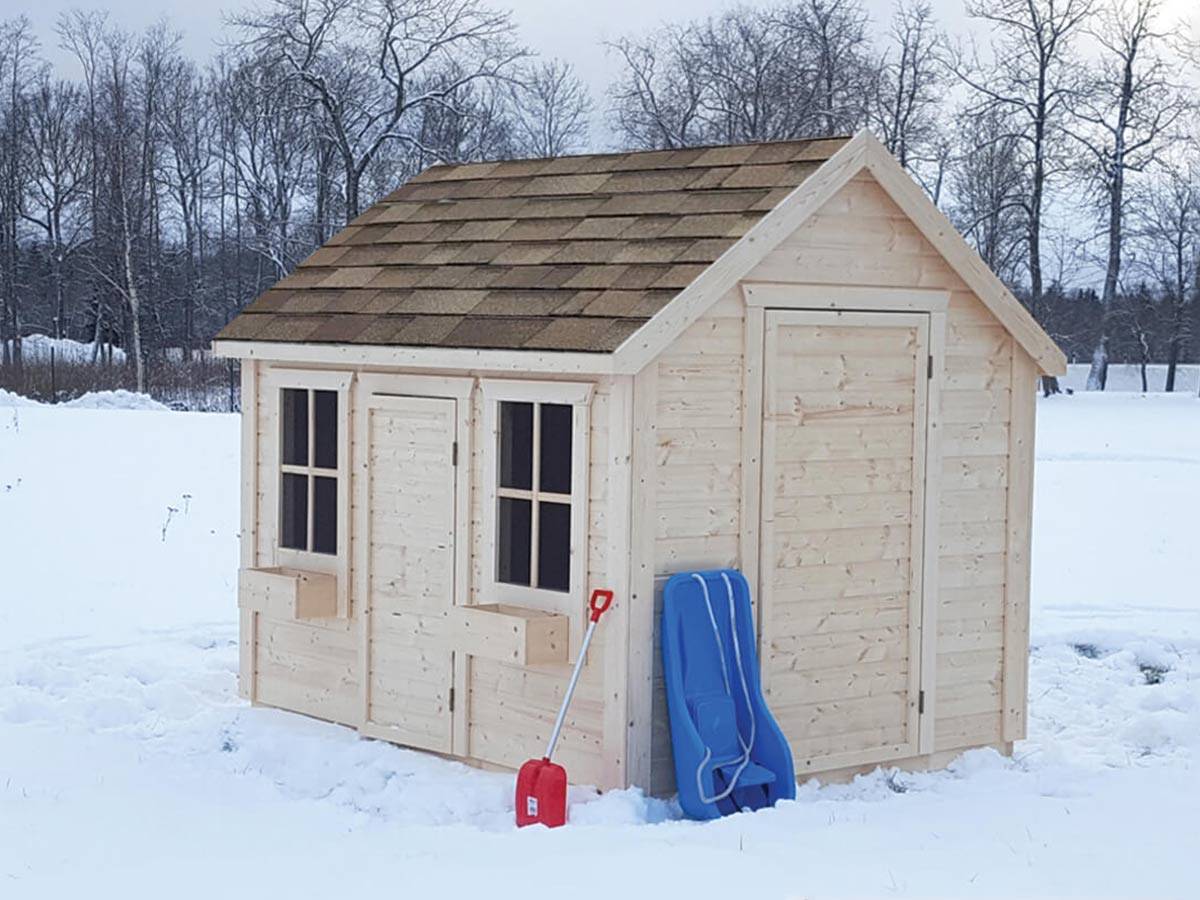 Play Moon Landing in Your Backyard
While today everybody is fascinated with the new opportunities of space travel and a possible soon Moon landing and Mars settling, your outdoor playhouse can easily become an ultimate extra-terrestrial station or s spaceship on the way "where no man has gone before."
May your kids put on their warmest "pressure suits" and go on heroic spacewalks collecting samples of the Moon or Mars soil, or confront the Xenomorphs in epic space battles.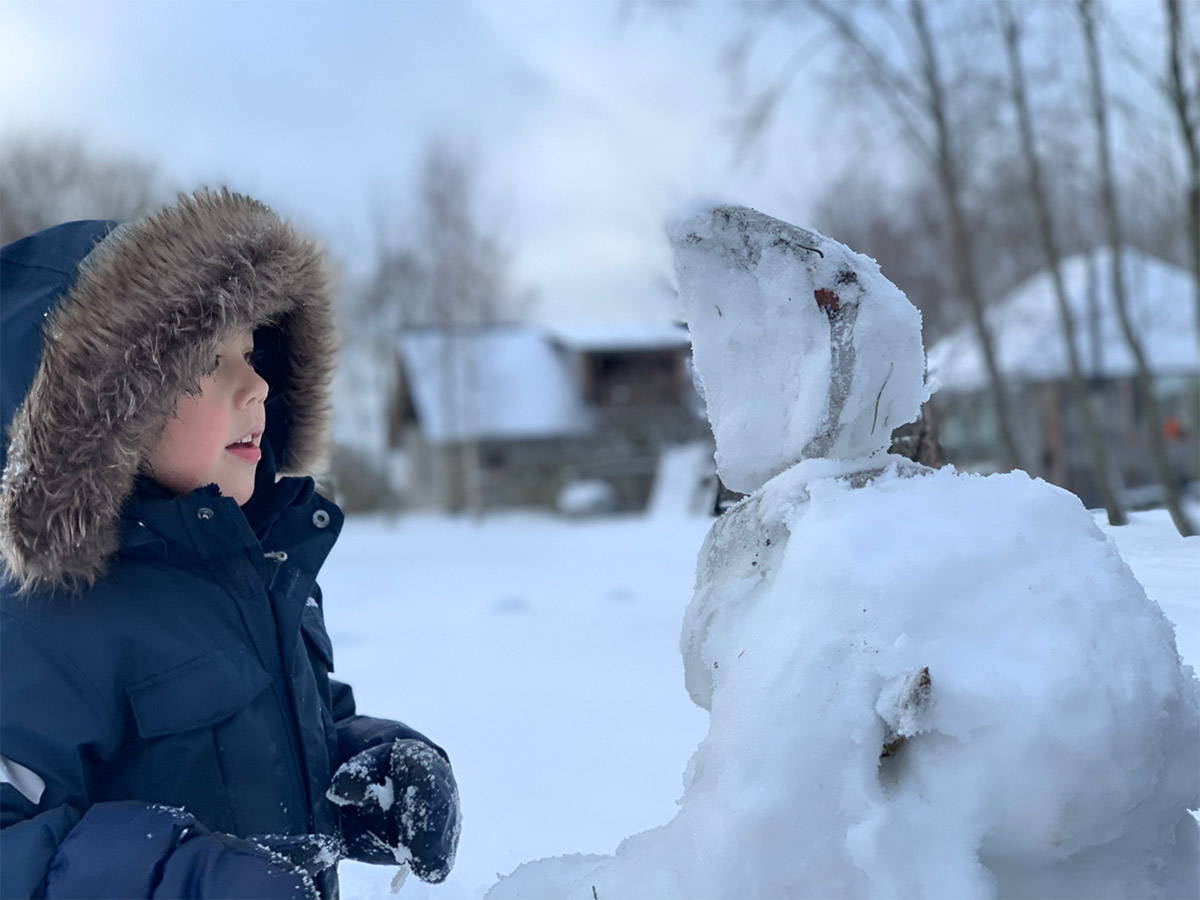 A kids playhouse can take winter activities to a whole new level and literally out of this world, turning your backyard into a different planet, a magical fairy tale, a territory of scientific and environmental research, or the place where superheroes will defeat the evil forces once and for all.
The activities that we have mentioned in this article are only a small fraction of the endless games, competitions, events, and craft projects that can be inspired by the idea of kids having their own outdoor headquarters in winter, a place where they can let their imagination go wild, revel their creativity or simply find shelter in the middle of an epic snowball battle.
Getting your kids playhouse is your chance to encourage the whole family to spend more time outdoors, let your kids enjoy all the exciting winter activities in the safety of your own backyard, and an opportunity for friends and families to come together holding your own winter fairs or backyard Olympic games that can become lifetime memories and family traditions beloved and passed through generations.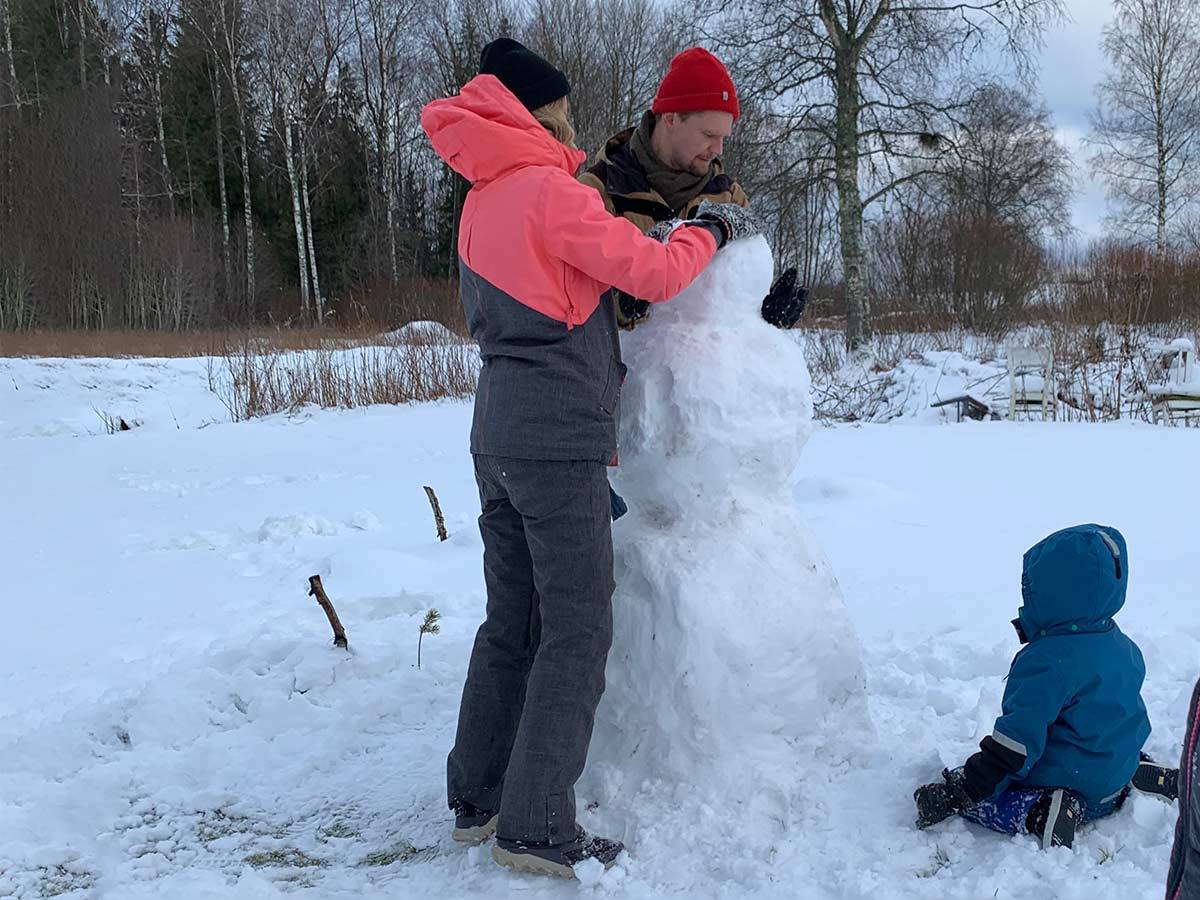 "When there's snow on the ground, I like to pretend I'm walking on clouds."
Want to read more about Playhouses?
Written by WholeWoodPlayhouses
CHECK OUT OUR OUTDOOR PLAYHOUSES