10 Exciting Things to do in an Outdoor Playhouse this Summer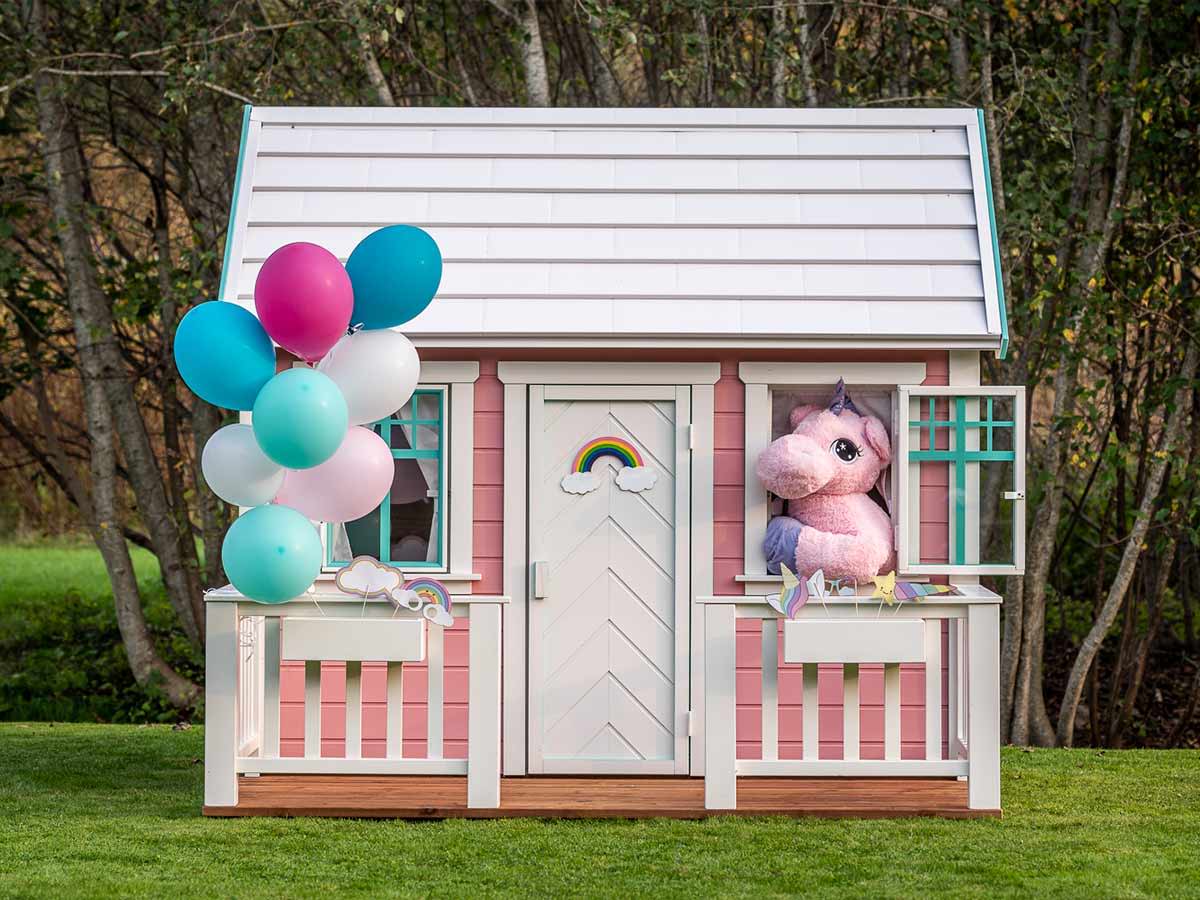 A kids playhouse is not just another toy. It is a unique opportunity for you and your children to create a whole new universe for them. Your kids can discover and reveal their talents and passions by decorating their space, making their make-believe worlds, or just spending some time alone reading, painting, or mastering a new creative project. And of course, nothing would keep your children away from their gadgets and encourage them to play outdoors this summer like a playhouse.
In this article, we shall go over the most exciting and popular ideas of how your kids could get the most out of their outdoor playhouse this summer.
It may seem pretty trivial and evident in the beginning, but offering your child to decorate and arrange the wooden playhouse the way he or she would want to see their own future homes would be a pretty exciting and educational experience for both of you.
Children often feel a lack of control over their lives. It is natural and reasonable that most of the time, grown-ups are making decisions about what they wear, eat, read or watch on the TV. Still, at a certain point, this behavior pattern may encourage indecisiveness and lack of self-esteem that would accompany your beloved child on the way into the grown-up life. Psychologists claim that this is why children love to watch the same cartoons, read the same books, or listen to the same songs over and over. The fact that they know for sure what will happen in the end creates an illusion of control over the situation.
Allowing your child to turn his or her outdoor playhouse into the model of his desired world will break this vicious circle, encourage decision-making and creativity. Having such an opportunity, your children will feel that you trust and respect their opinion, taste, and decision. At the same time, you get a chance to learn a lot about your kids` inner world and bond with them on a whole new level.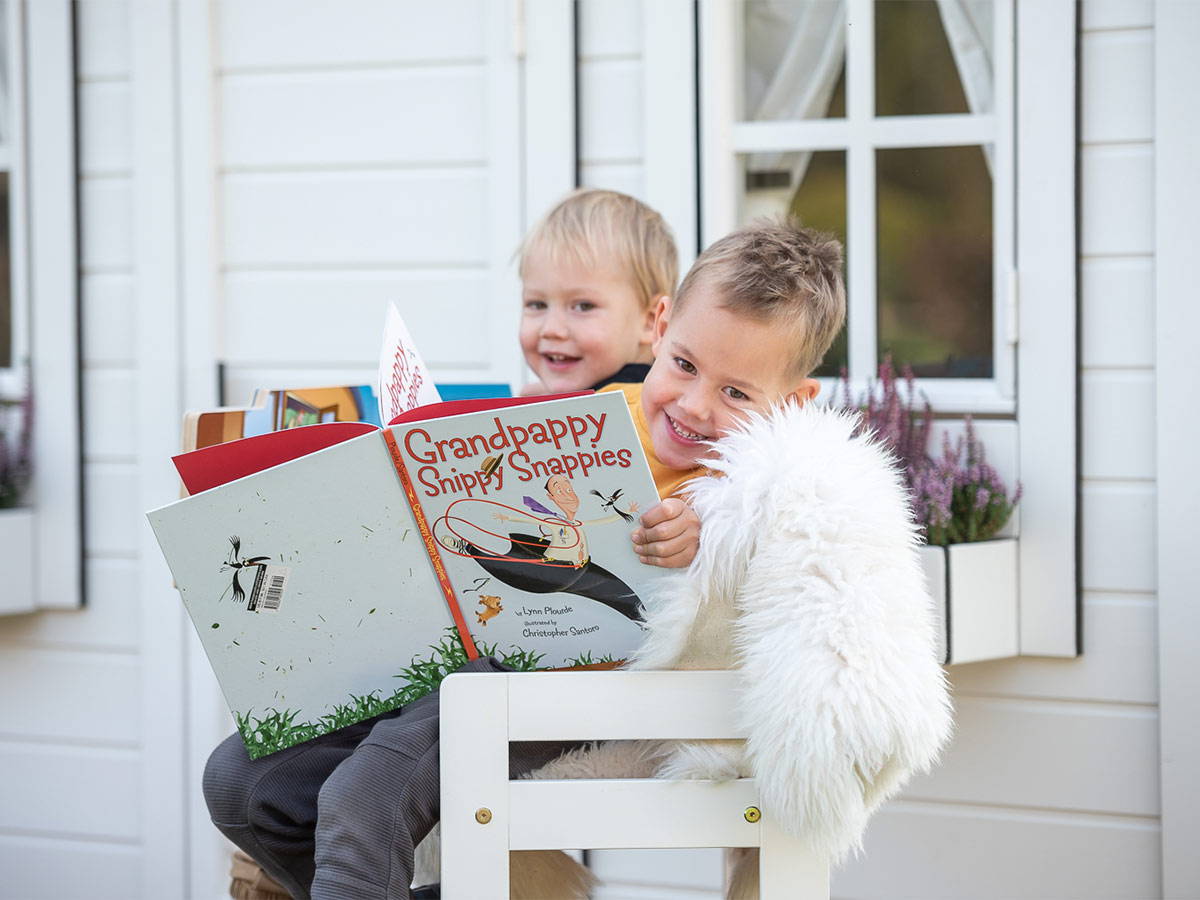 Many parents feel concerned that children read less today. Indeed, the development of Television and the Internet lead to the fact that video content appears more digestible and attractive. Another important point is the rapidly decreasing attention span – the time a person can concentrate thoroughly on a certain action or thought. According to research, the modern average attention span remains at around 8,2 seconds, which is even smaller than a goldfish's 9 seconds. However, this factor is crucial once we talk about education, cognitive development, and mastering new skills.
And while experts continue arguing whether education should adjust to technological progress or vice versa, reading remains the main exercise that helps to maintain and develop a healthy level of attention span.
Turning a kids playhouse into a reading booth can be a great trick for parents to encourage children to read. Decorate it together with your kids, but comfortable chairs, colorful through pillows and blankets to make it cozy, and create proper lighting. Build the library together with your kids, mixing popular today's characters with the evergreen classics of kids' literature. You may arrange kind of a book club in the wooden playhouse, reading together and discussing your impressions. It would be another great opportunity to learn more about your kids` interests and familiarize them with gems of classic literature.
"There is more treasure in books than in all the pirate's loot on Treasure Island."
Outdoor Playhouse Home Theatre
An outdoor playhouse theatre may be a logical sequel to the Book Club described above or a wholly independent project. Your children can recreate their favorite books or movies or even write and produce their own plays.
A home theatre is not only a place for artistry and a way for your kids to express themselves. It will also encourage them to discover and master numerous creative skills such as costume creation, scenography, makeup, and more. A Wooden Playhouse Home Theatre can be a wonderful bonding experience for the whole family or a thrilling independent project for kids and their friends.
CHECK OUT OUR OUTDOOR PLAYHOUSES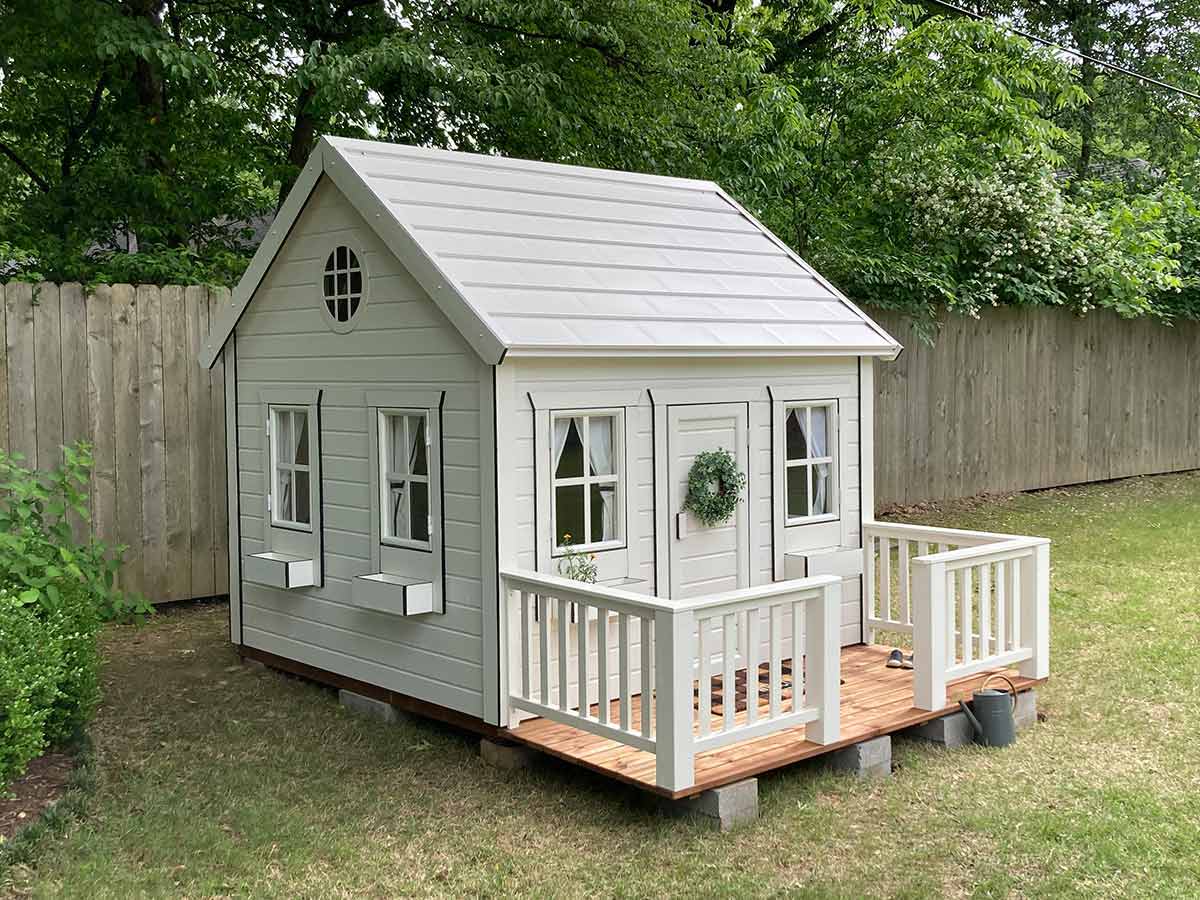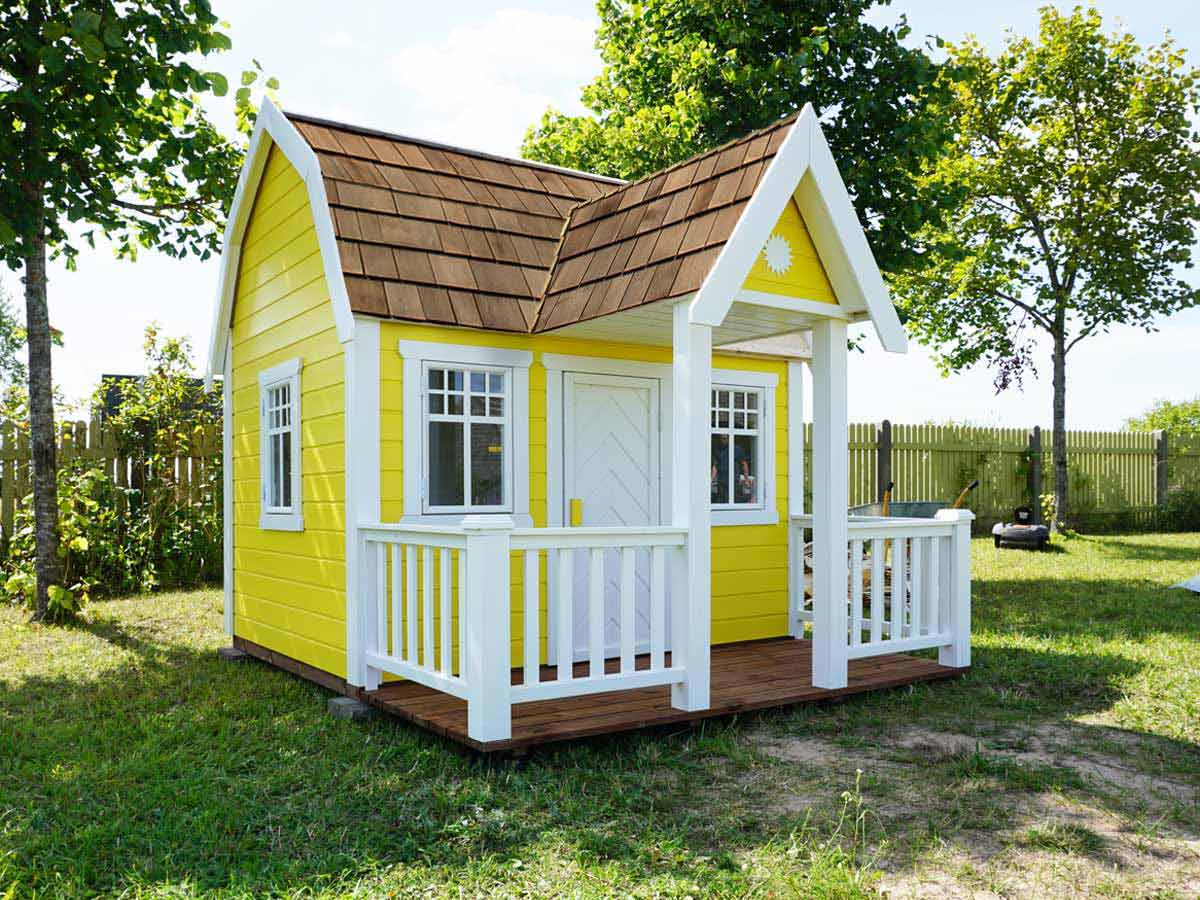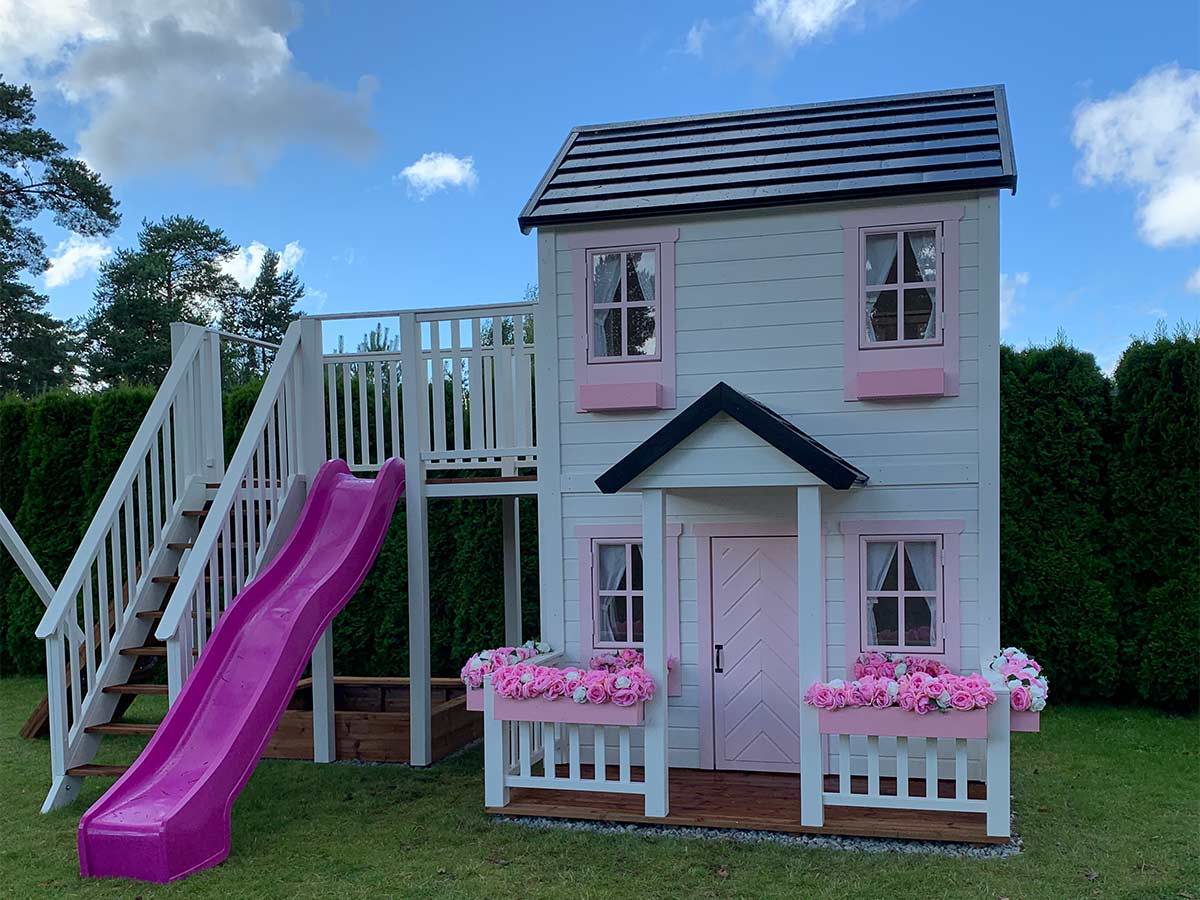 A Wooden Playhouse Garden
Fill up an outdoor playhouse with flower boxes, pick up seeds and plants together with your children and encourage them to learn more about nature in their own playhouse garden.
On the one hand, taking care of the plant, growing it from a seed, following the watering schedule, and watching it grow is a wonderful educational experience for any child to train responsibility. Also, nothing would boost up a kid's self-esteem more than knowing that tiny seed has grown into a beautiful flower due to his or her keen efforts.
It is also a smart nutrition trick for parents who have to deal with "peaky eaters." Once a child managed to grow his or her own vegetables or greenery, they look much more attractive on a plate than the impersonal supermarket food.
Outdoor Playhouse Music Club
Children are often fascinated with music, and mastering a new musical instrument is not just a thrilling hobby but a major development feature at a young age. However, children often feel shy during practice and lock themselves away in their rooms or garage before they get more or less confident with their skills.
Arranging a mini music studio in your kids playhouse is a great way to provide a private and personalized place to practice and pull your kid outdoors at the same time. You can put their favorite artist's posters on the walls or decorate the wooden playhouse to make it look like a record label studio. Anyway, after some practice and encouragement, a kids playhouse can turn into a private music club for your little rock stars.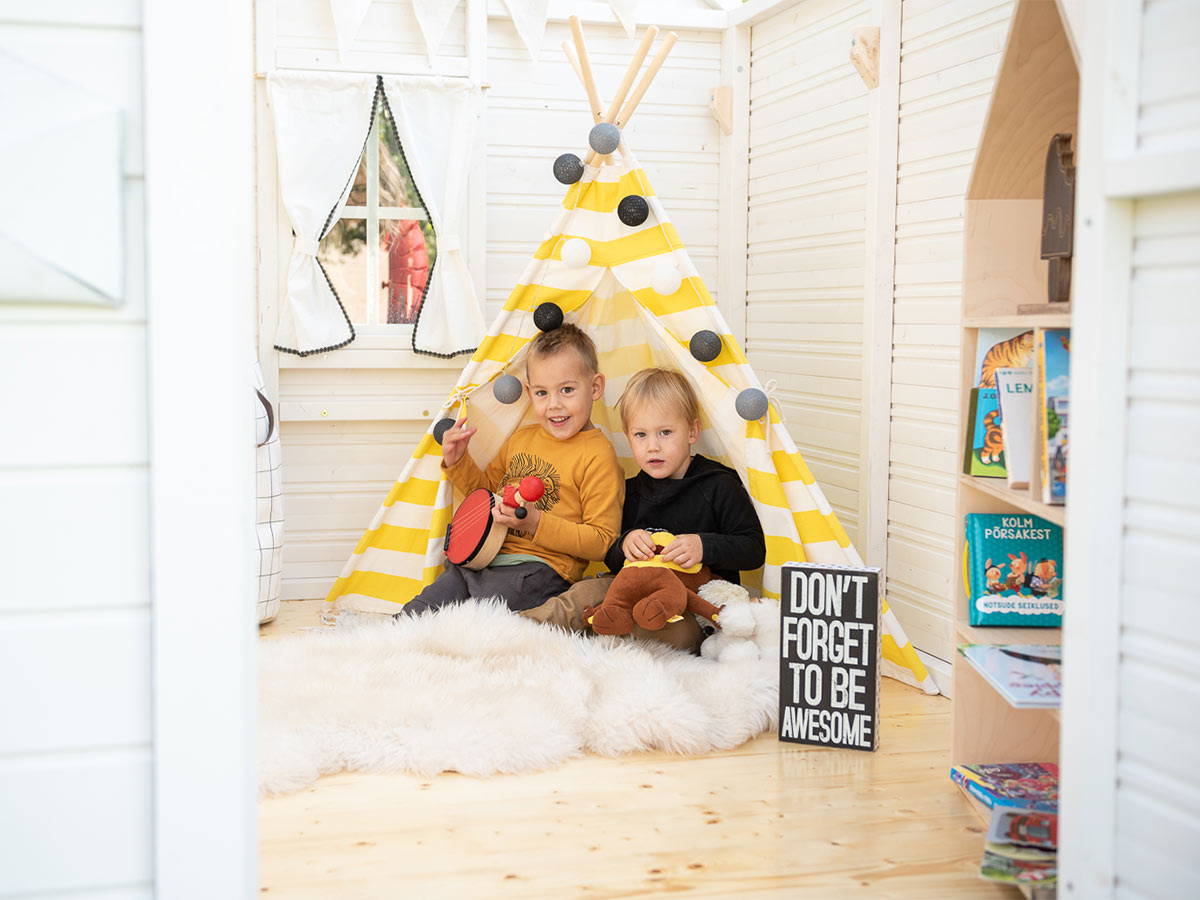 The pandemic of COVID-19 has become a pretty traumatizing experience for many children worldwide. Numerous kids had to face the disease and even loss in their own or their friends` families.
Educating children about the situation and explaining to them what is going on and what we all should do to overcome the pandemic is crucial to protect them. Even now, when the dust of pandemics seems to settle down, numerous parents report that their children developed fears, insecurities and even have panic attacks related to the disease.
Arranging a playhouse hospital can be a great opportunity to educate children about viruses, germs, and various diseases. Through the playtime, children will learn to become more trustful towards doctors and nurses, learn about immunization, sanitary measures, and numerous other healthcare essentials. After all, your child may discover a new passion while treating his or her plush toys in the kids playhouse. This exciting and educational game may turn into a lifetime profession.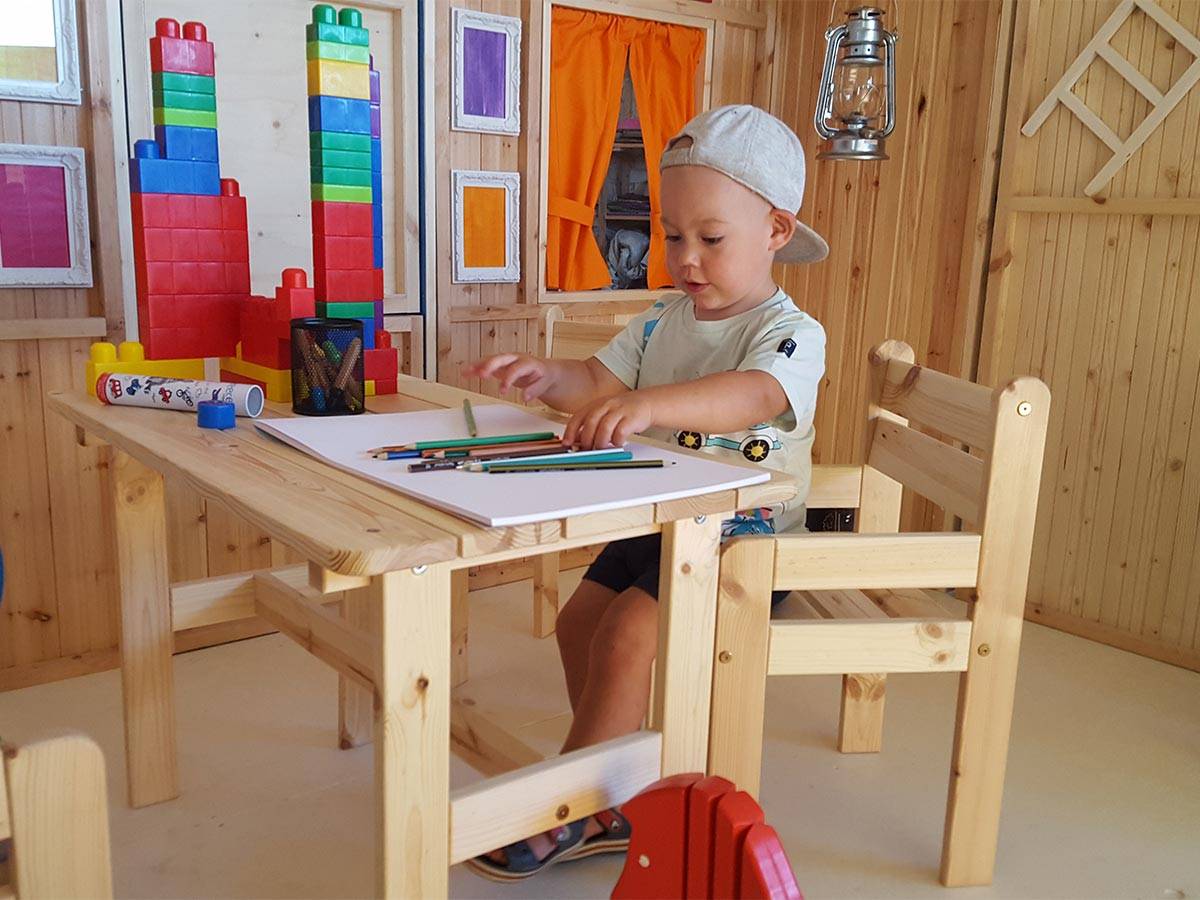 A Kids Playhouse Workshop
Whether your children are into fine arts and crafts or seem to be fascinated with hardware tools, an outdoor playhouse can be a perfect place where they develop and master their passions.
Turn a kids playhouse into an art workshop, where your children can create and exhibit their masterpieces. Fill it up with stationery, paints, clay, and other materials to inspire and boost up their creativity. Later on, you can arrange an art exhibition in the playhouse, invite all friends and family to the event.
It may also be a great idea to turn a wooden playhouse into a tool shed if your child seems to be fascinated with carpentry, welding, or any other handcraft activity. You may teach your children about different instruments and materials, their features, usage, benefits, and, of course, safety measures.
You may turn an outdoor playhouse into a copy of your own workshop if you have one. While parents are the first role models, children are often fascinated with an opportunity to do something just like us.
A Kids Playhouse Business
Once we talk about copying grown-ups, why not turn an outdoor playhouse into a small business for your kid this summer? Whether your kids say that they dream about owning an ice-cream cafe, becoming hairstylists, or dog groomers, building a tiny business shop in a wooden playhouse is not only fun and thrilling but an extremely educational experience.
Through this game, you can explain to your kids the foundations of financial literacy and economy, basic rules of marketing, commercials, taxes, and numerous crucial practical matters that they will definitely need in their grow-up lives.
Kids Playhouse Event Planning
Although there are several pretty thrilling holidays in summer, you can always come up with your own to make the season even more fun. Let your children invent, plan and hold their own events in the outdoor playhouse. Except for traditional themed birthdays and pool parties, those may be Teddy-Bear Day, Mermaid Celebration, Toy Car Show, etc.
Your kids can come up with the holiday's concept, create the celebration rules, decorations and ceremonies. All those activities boost up the imagination, collaboration, creativity, not to mention that they are incredibly fun. Maybe some of them will grow into good family traditions passed through generations.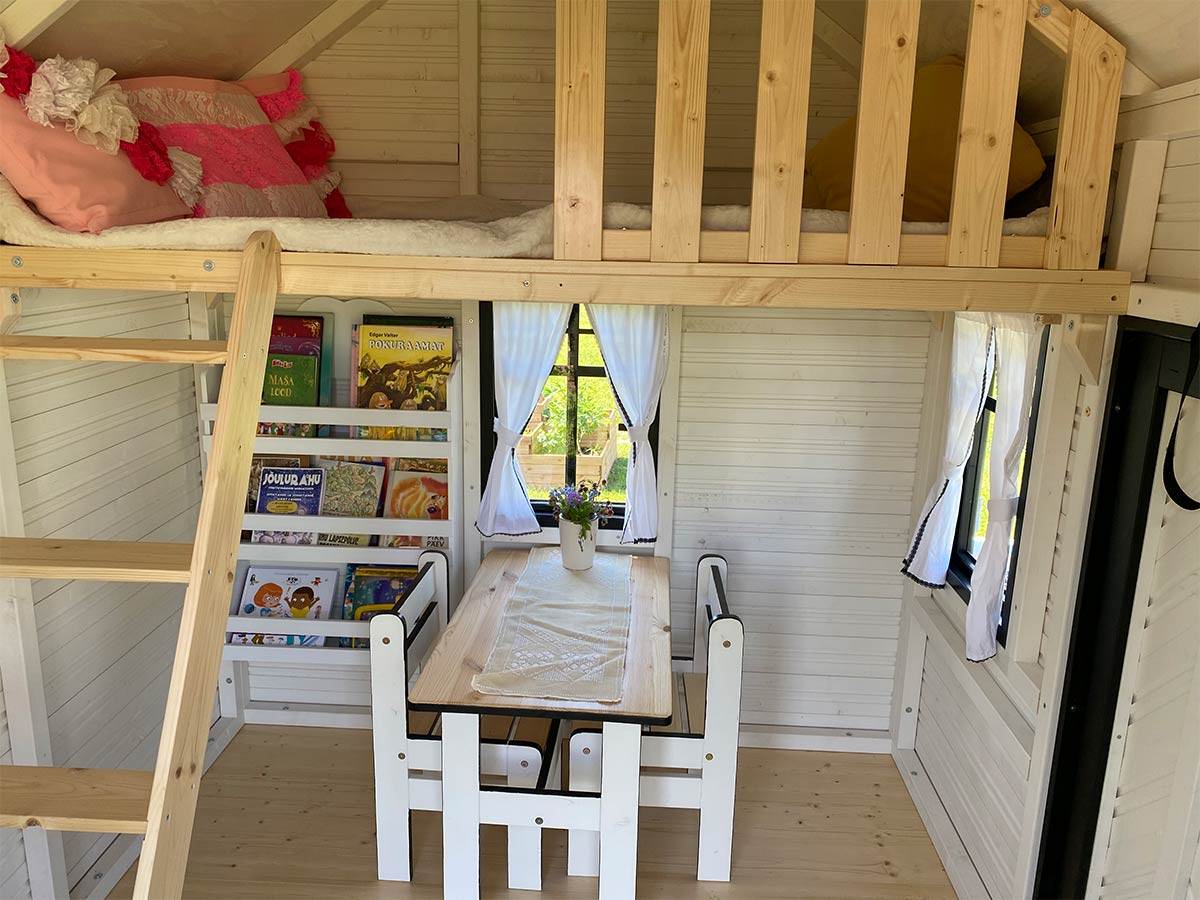 Outdoor Playhouse Slumber Parties
Slumber Parties might be the most thrilling and exciting social events for children. Staying up all night, reading comic books, doing each other's hair, or playing "Truth or Dare" aren't those the funniest memories from your own childhood.
Outdoor playhouse slumber parties are even more exciting. If the weather is appropriate and you took all the precautious measures against insects, provided kids with blankets through pillows and snacks, this summer's playhouse slumber parties will be legendary.
A kids playhouse is a small space that can turn into a whole Universe for your children. It offers a limitless field for imagination and creativity. Discover this world together with your children this Summer, or let them fly with their own wings towards new passions, skills, and lifetime memories.
" Life is playfulness... we need to play so that we can rediscover the magical all around us."
Written by WholeWoodPlayhouses
CHECK OUT OUR OUTDOOR PLAYHOUSES