Thinking out of the Playhouse Flower Box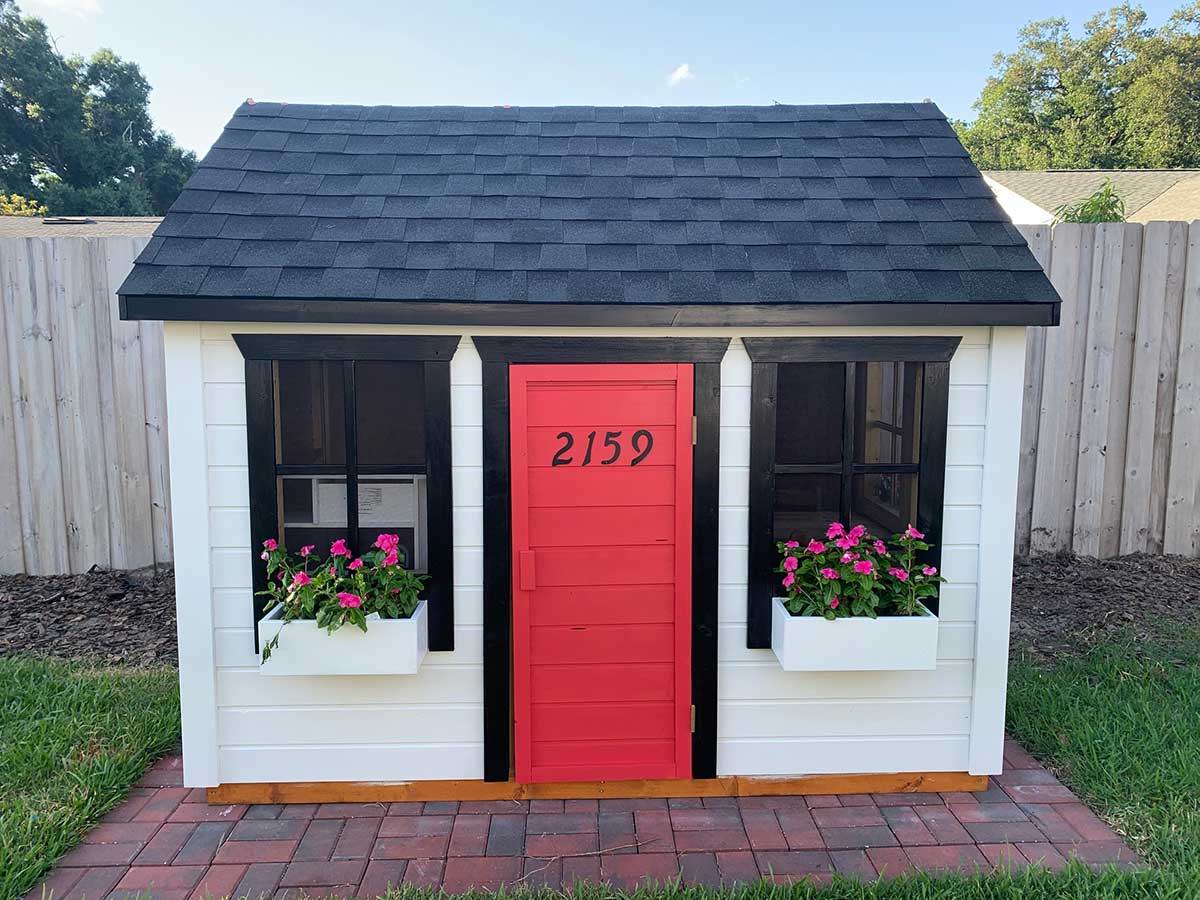 Summer is the time to go outdoors and enjoy sunny days, fresh air, and numerous activities we all have missed so much during the winter, including playing in outdoor playhouses. Summer break indeed does wonders to children: they grow, develop, make new friends, immunity systems prepare for the next season, and minds reload before the new school year. No wonder parents always try to diversify their kids outdoor activities to keep them as much as possible in the fresh air and especially away from their digital gadgets. Getting a trampoline or kids playhouse, arranging kids their play yard or a camping site at your back yard are all great solutions. However, some smaller add-ones like flower boxes can take the summer outdoor activities to a whole new level for you and your children.
Such a simple things as a flower box and a wooden playhouse can:
Introduce your child to gardening – one of the most exciting hobbies;
Teach children about various plants, flowers, and veggie foods;
Boost up their creativity;
Encourage them to be responsible and make their own decisions.
Those are only some of the benefits of flower boxes and the reasons why child psychologists and healthcare and wellness experts recommend parents worldwide to introduce their kids to gardening through such a fun and undemanding thing as a flower box placed in a wooden playhouse.
Flower Boxes - Fun and Educational Gardening
Most people think of flower boxes as a way to introduce their children to the concept of gardening, explain to them the importance of agriculture and teach about such matters as nature and ecosystem.
All those things are true, and we shall discuss them a bit later. But decorating a kids playhouse with flower boxes can be a fun and educational experience for your child before they become his or her gardening test site.
Creativity
Getting flower boxes can be a perfect way to personalize and decorate your kids playhouse or let them make an impact on your garden. It is their touch, their vision, and their design. Let your kids decide if they want to design or fill the already existing flower boxes, like WholeWoodPlayhouses outdoor playhouses have, or if they want to expand their garden further.
This way, you let your children:
Understand that you trust them and appreciate their impact;
Make their own creative decisions;
Express themselves.
Encouraging creativity, boosting self-esteem, and building mutual trust through a shared hobby – not a bad list of benefits and uses for a flower box in an outdoor playhouse before you even plant anything in them, isn't it?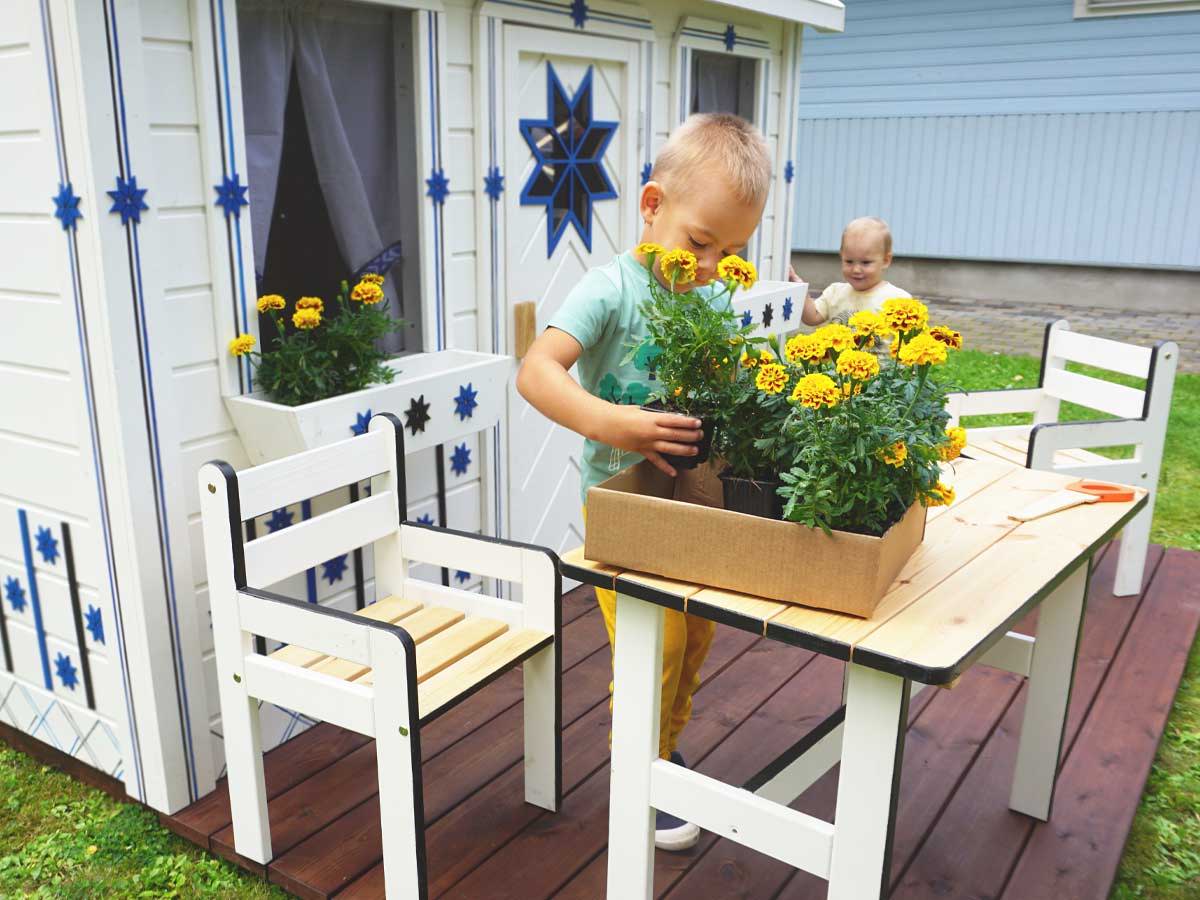 Environmental Awareness
Planting and growing their plants around their wooden playhouses, children discover the world and get priceless practical knowledge and experience.
While trying to grow their plant, whether edible or decorative, your child will learn:
The importance and influence of water on the living world;
The natural course of events, the lifecycle of any being – from a plant to an insect or an animal;
The variety of living beings like various insects, beetles, and bugs that you kid might have never noticed in everyday urban life, their role, and importance for the environment.
Being aware of such things, your child will grow into a responsible adult who will fully understand how the environment works and why it is essential to take care of the ecological balance.
"Why try to explain miracles to your children when you can have them plant a garden."
Practical Knowledge
Having their wooden playhouse gardens in flower boxes, children inevitably get crucial practical knowledge that may not be associated with gardening directly but start making much more sense for a kid trying to master a new hobby.
Trying to grow a plant in a flower box, your child will:
Have to read the instructions of the seed pack carefully and learn to follow the directions;
Learn to count and understand the importance of knowledge;
Recognize different plants, their peculiarities, and benefits;
Develop patience – one of the qualities that seem to die out in our digitalized world.
CHECK OUT OUR DIY PLAYHOUSE KITS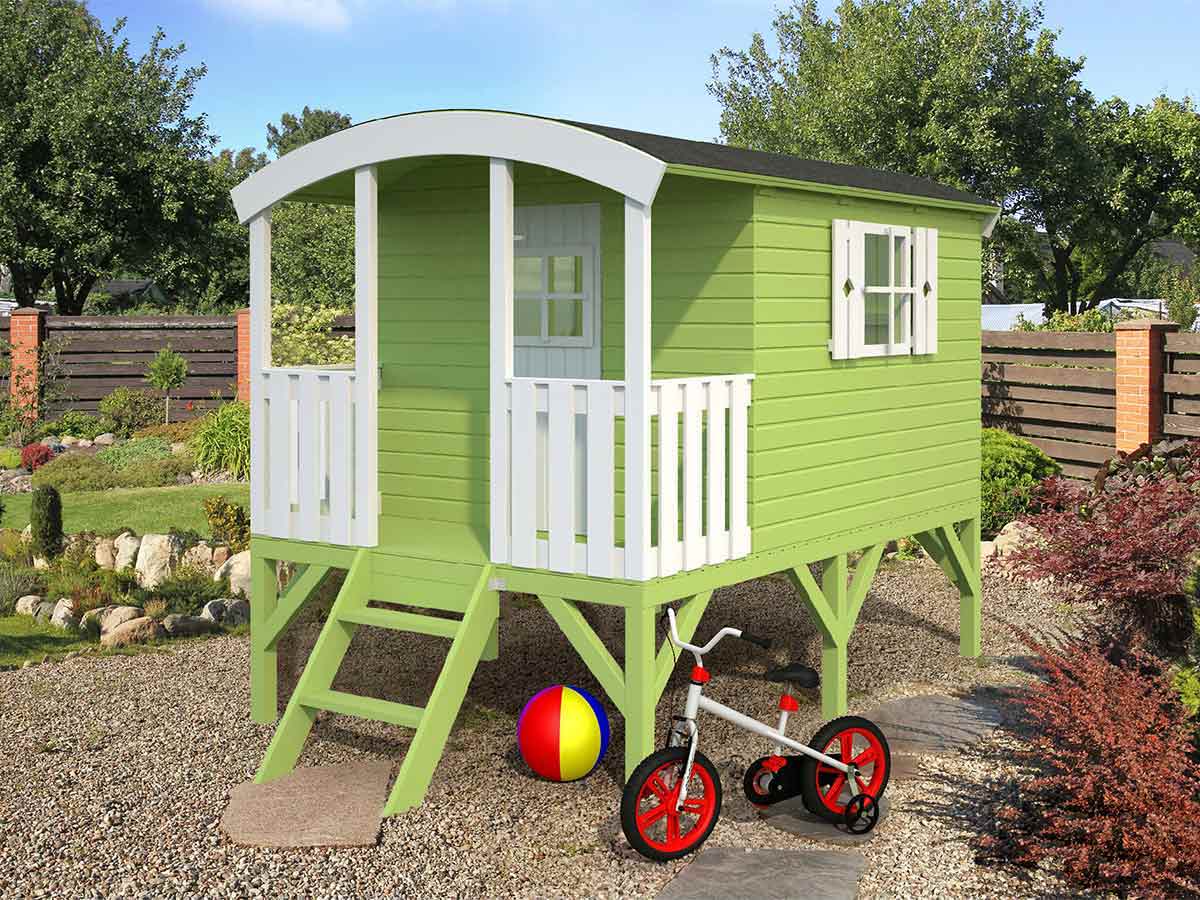 DIY Playhouse Kit Little Bungalow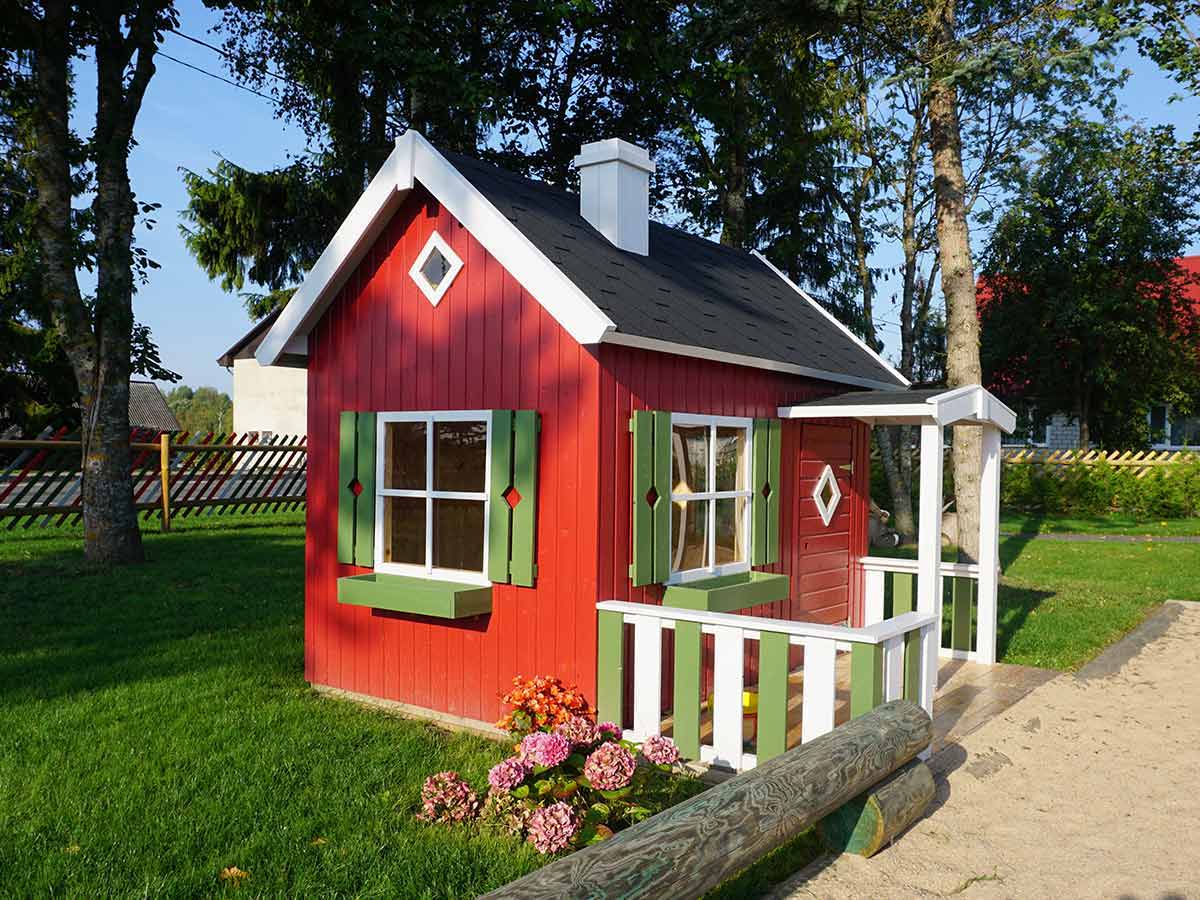 DIY Playhouse Kit Little Cottage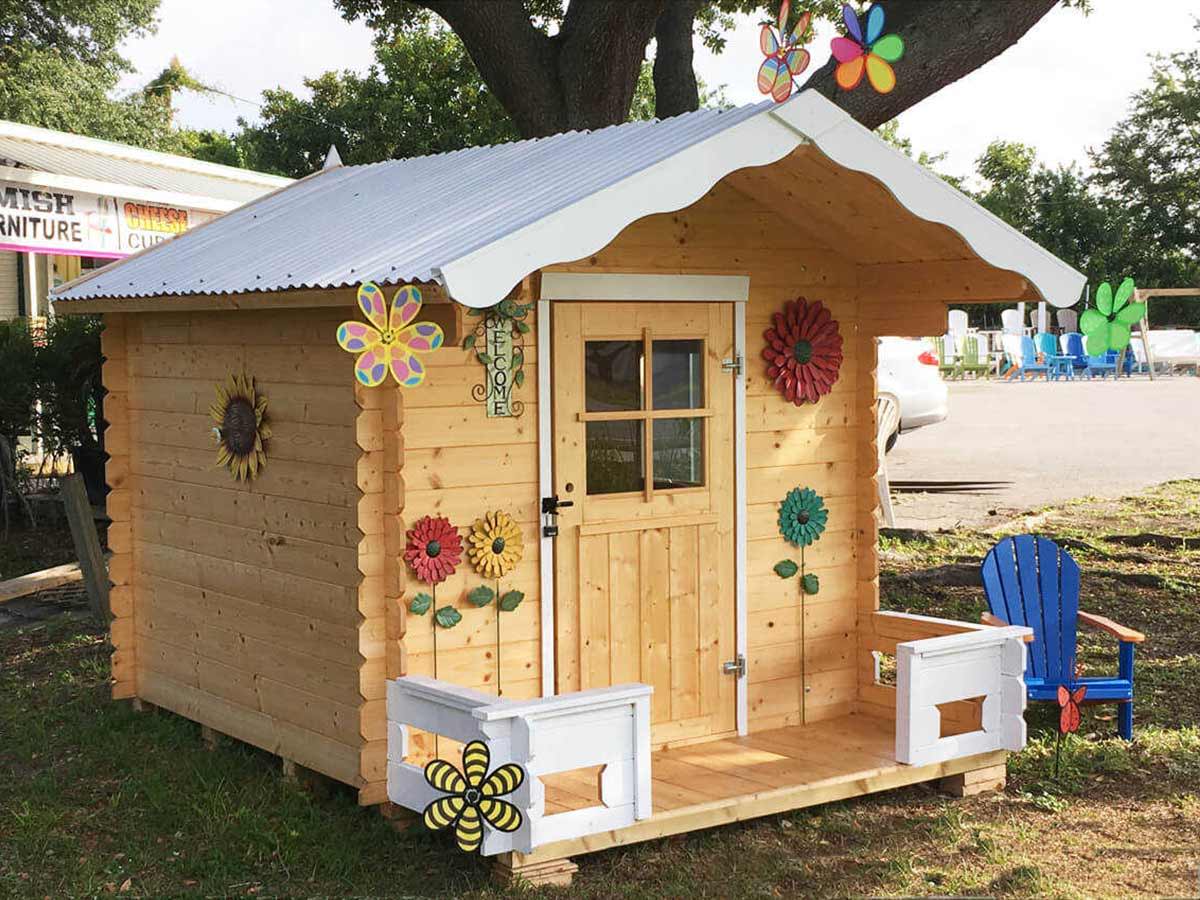 DIY Playhouse Kit Little Chalet
Activity for All Ages
Even such a small-scale gardening is growing cucumbers in a flower box at a kids playhouse is an activity that can boost up both mental and physical development for children of all ages.
The youngest kids would develop their sensory skills, learn and recognize different textures of soil, plants, and seeds. They start noticing the difference between colors and flavors, build associations that will help their causation thinking in the future. Even getting dirty and making a mess is a highly educational and necessary experience for any child. Not to mention all the fun, of course.
Older children also boost up their mental development through flower box gardening around an outdoor playhouse without even realizing it. Except for developing patience that we have already discussed, they build their motor skills and hand-eye coordination necessary for trimming or cleaning their flower box plants. They learn to acknowledge and appreciate physical labor and understand the actual value of food on their table.
This experience is crucial for a child's academic skills, writing and typing, and such fundamental qualities as self-discipline, responsibility, and empathy.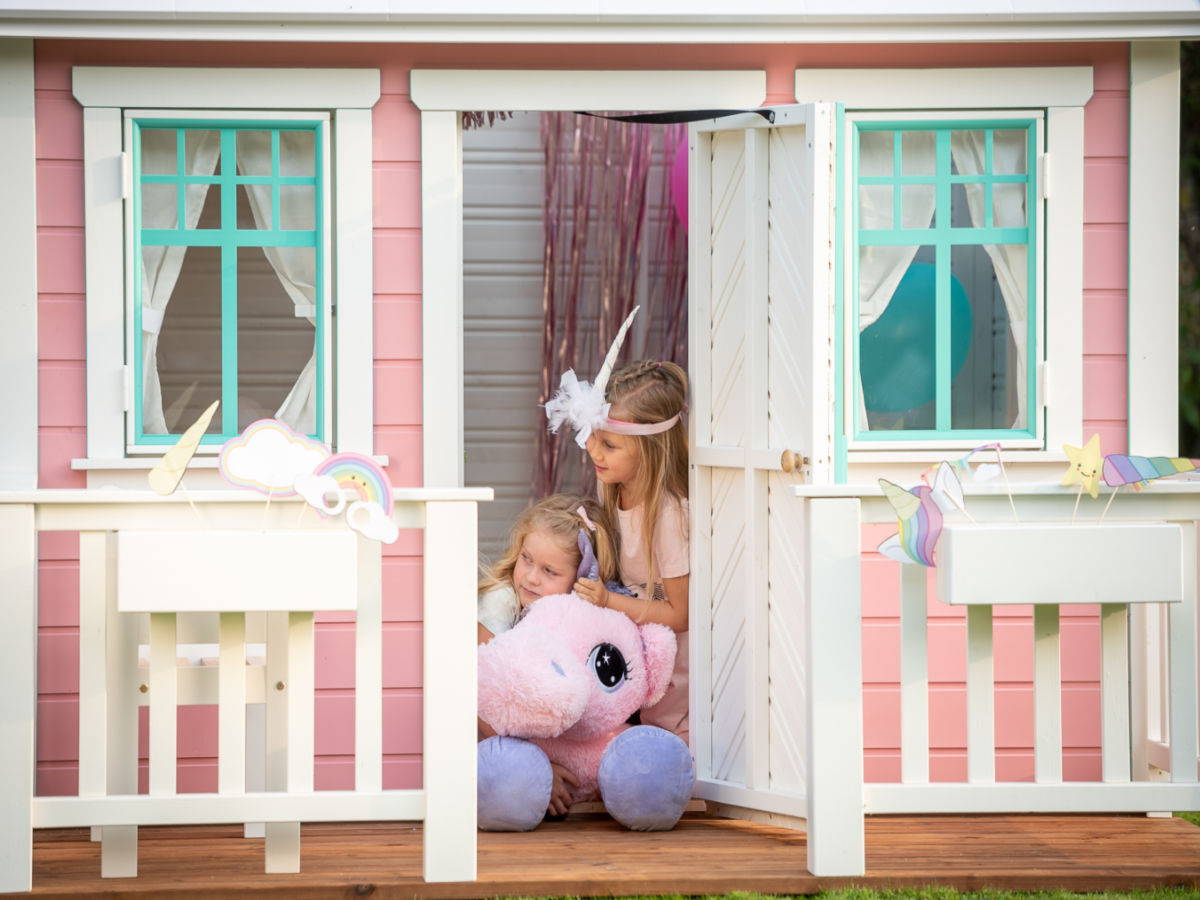 Healthy Diet Solution
Parents who have to deal with "picky eaters" or wish to make their children's diet healthier will also benefit from getting flower boxes for their kids playhouses.
When children see how veggies are growing, put their effort, and feel proud of the harvest, they will naturally feel much more enthusiastic about eating whatever they grew. It will be an integral part of the experience, a well-deserved reward for the effort. Not a burden or obligation, like it, feels with supermarket veggies.
Of course, you don't have to go for the full-cycle tomatoes or bell-pepper growth if you think that your child does not have enough patience and skills to grow something like that yet. Microgreens are not just another food trend but a genius food trick for parents. They grow in a blink of an eye and encourage children to try new flavors and textures, which seem even more attractive as a result of their effort.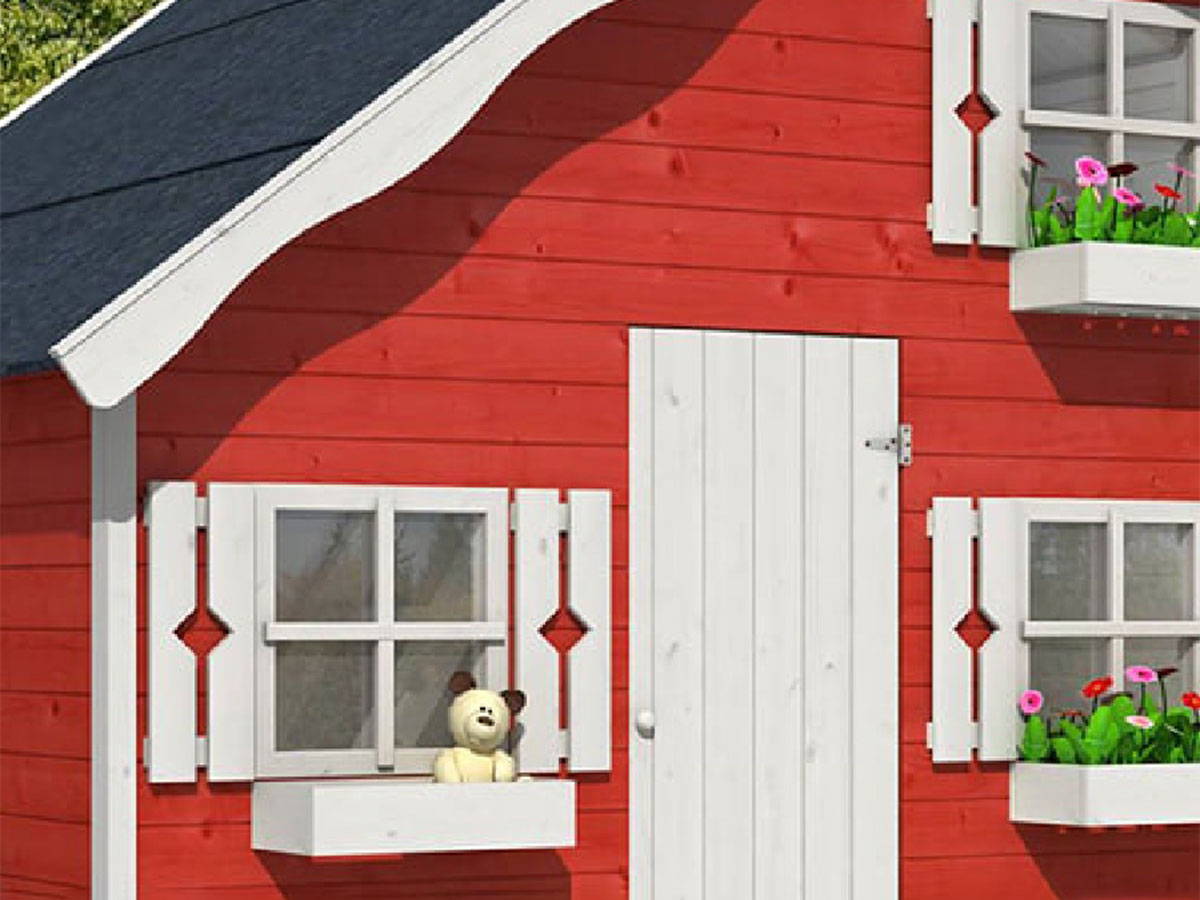 Flower Boxes – a Smart Storage Solution for Kids Playhouses
Except for their original purpose, flower boxes can become an imaginative and creative storage solution for a kids playhouse, room, or creative space.
Some kids playhouses already come with flower boxes, for others you can choose from various shapes and sizes, easy to install and attach to the walls, and are incredibly customizable.
Safety and Responsibility
Get your kid several flower boxes and show how comfortable and safe his or her outdoor playhouse will be when all the toys, colors, tools, or books are arranged neatly in them.
The size of standard flower boxes will allow you to teach your children to sort and store things in their wooden playhouse, make decisions and create their organization system. They will instantly learn that being arranged, their toys and tools don't get lost or spoilt, and they can find them whenever they want.
Trust
It is one of the essential qualities you want to develop with your children. And getting them flower boxes for storage in an outdoor playhouse can help with it. Don't impose; plant the idea into their heads and then go with the flow.
Let your children choose the boxes they like and customize them the way they want. Help them place or hang them in their playhouses or rooms safely. Suggest an organization system and encourage them to work out their concepts.
When a child sees that his parents suggested works, but he does not see it as an obligation or enforcement, he will learn to trust you and address your opinion willingly in other matters.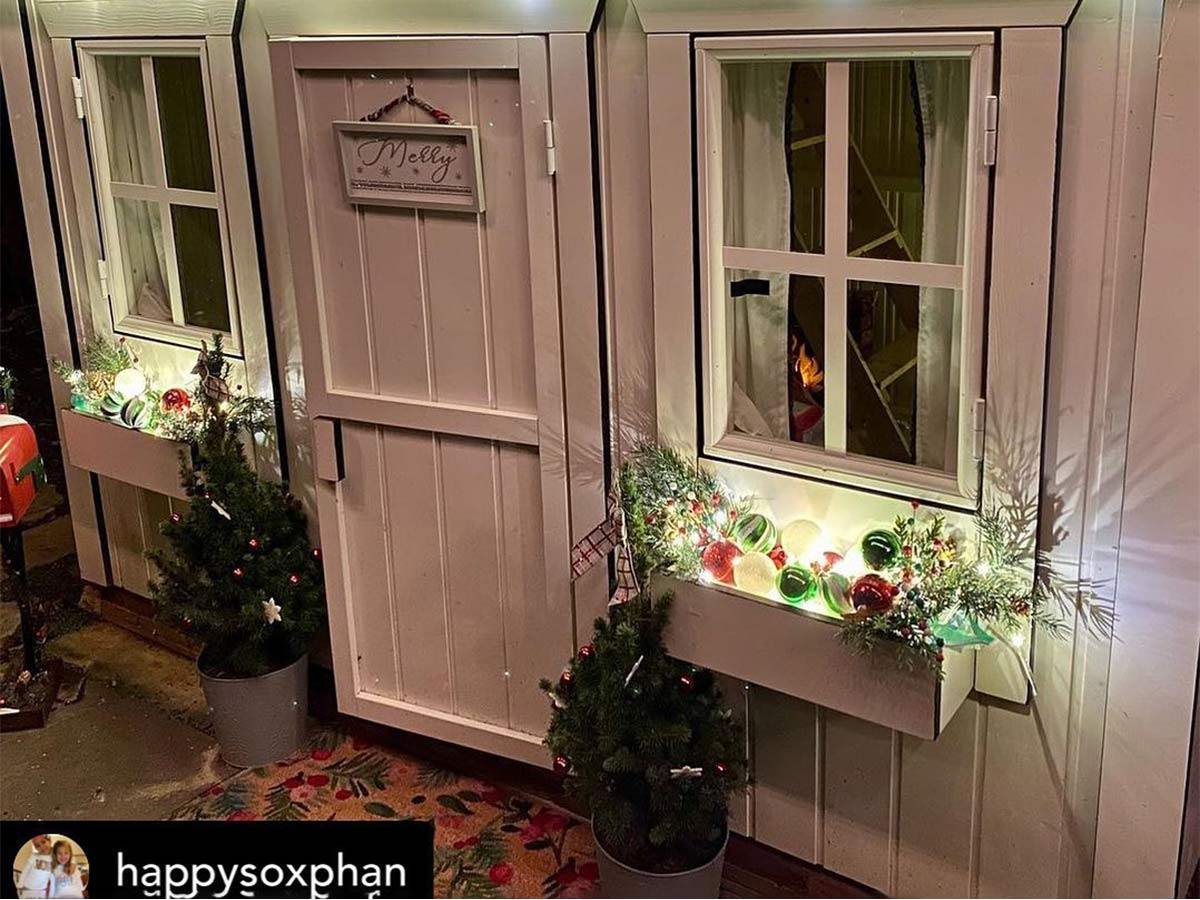 Flower Boxes in a Kids Playhouse – a World of Limitless Imagination
Flower boxes can as well become an integral part of a game and a toy themselves. Together you can build a puppet theatre in an outdoor playhouse or a dollhouse out of several flower boxes. They can become buildings, cars, supermarket shelves, or beds for puppet hospitals with some minor adjustments.
The ideas are ultimately limitless so is your child's imagination. All you have to do is encourage your kid's creativity, help them see different angles of habitual things and maybe even develop this quality in yourself.
By coloring flower boxes, children develop their creativity;
Connecting boxes into dollhouses or turning into furniture pieces, they will learn about tools and materials, develop handy skills;
Looking for new uses of habitual objects, kids learn to see "out of the box" in all aspects of their lives in the future.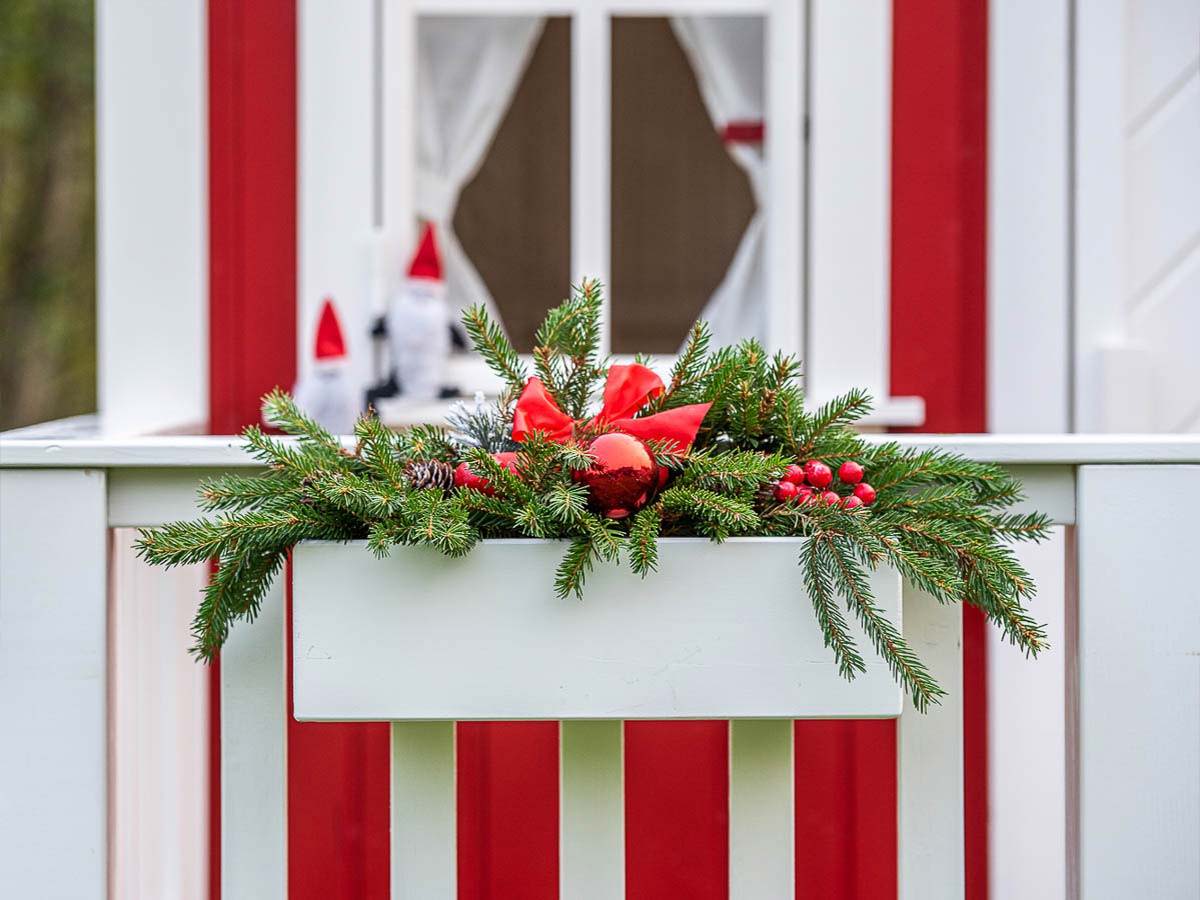 Flower boxes can also become a perfect way to customize and decorate your kids playhouse for different holidays.
"Plant" miniature Christmas trees and candy canes into them or help your kids build a nativity scene with their dolls out of flower boxes. On Halloween, they can turn wooden playhouses into candy graveyards, inhabit them with Peeps and eggs for Easter, or decorate with ribbons and heart-shaped lollipops for Valentine's Day.
Whether you choose to put plants in them or not, flower boxes can become an intelligent design solution for kids playhouses and help children easily customize their playhouses or rooms for any holiday with them.
Whether used for their indeed purpose or as a part of a creative project, such a seemingly simple thing as a flower box can become a center of the fun in an outdoor playhouse, exciting hobby, educational experience, or a tool that helps parents connect with their children, build mutual trust and develop various skills. After all, kids appreciate our attention and encouragement more than the fanciest toys and gadgets. So if you are looking for a fun and exciting way to spend more time with your children outdoors this summer start with a simple flower box and discover an endless world of joy and creativity in your wooden playhouse.
"The creation of something new is not accomplished by the intellect but by the play instinct."
Want to read more about Playhouses?
Written by WholeWoodPlayhouses
CHECK OUT OUR OUTDOOR PLAYHOUSES