Hosting a Halloween Party in Your Kids Playhouse
Here comes one of the most fun holidays of the year. Halloween might be the only reason why children (and fairly most grown-ups) are waiting for Fall so impatiently every year.
Once you have an outdoor playhouse in your yard, Halloween can become an ultimately special event this year. Not only this holiday allows you to embrace and reveal the spooky side of the personality that we all definitely have, but turning your kids playhouse into a Halloween haunted house will be an exciting and bonding adventure for the whole family.
If you can't wait to create one of the most epic Halloween decorations in your backyard, keep on reading! In this article, we shall describe the most eye-catching and creative yet accessible and inexpensive ways to put your wooden playhouse into the history of the family's Halloween traditions.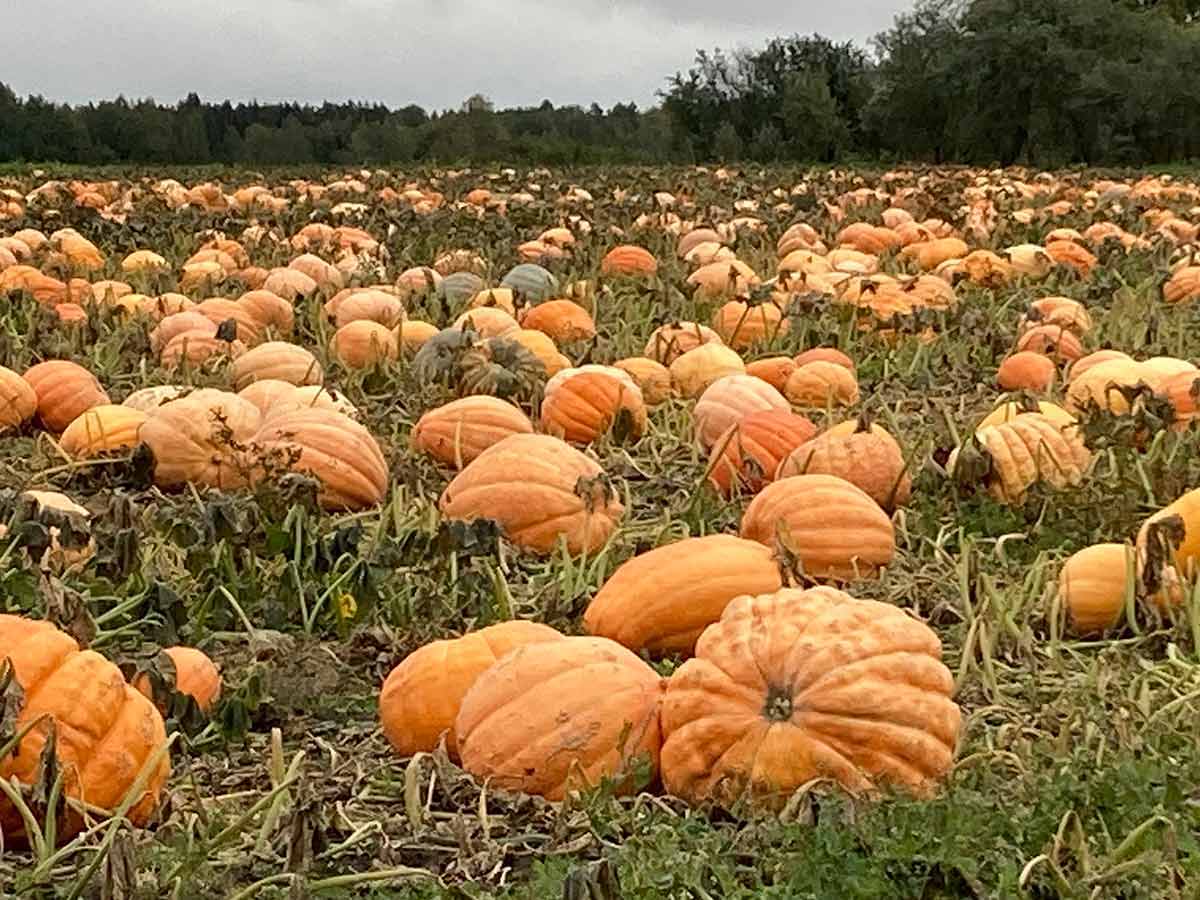 Carved pumpkins are the ultimate trademark of Halloween. It is the first thing that comes to mind when you start planning Halloween decorations.
However, depending on the age of your kids, the type of crowd that is planning to visit your outdoor playhouse Halloween party, and, of course, your skills and experience, carved pumpkins are not always the best solution for every Halloween setup.
The carving process can get pretty messy and, most importantly, dangerous, especially for small kids. And if you have ever tried DIY pumpkin carving, you know that the idea has inevitable consequences… Dirty, stinky animal-attracting consequences.
Does it mean that we recommend you deprive your kids playhouse Halloween party of the holiday's primary symbol? Not at all! There is a safe yet fun and creative alternative to the classic approach.
You can paint pumpkins together with your kids. Use safe toxic-free colors and let them express themselves freely, turning pumpkins into the spookiest monsters which have ever crawled from under any bed in the universe. Or vice versa, help them turn the grim symbol of Halloween into a fun and friendly creature ready to welcome their friends at the epic outdoor playhouse Halloween party.
You can use fluorescent colors that glow in the dark or even add some details from modeling clay and play-doh to your alternative Jack-O-Lantern's faces.
Not only is this task a fun bonding activity for the whole family, but it is also an educational exercise. By painting pumpkins together with your kids, you get a chance to learn a lot about their world vision, whimsical and creative side of their personalities. It is also a way to discover kids` hidden fears and help them deal with those issues healthily.
"Shadows of a thousand years rise again unseen,
Voices whisper in the trees, "Tonight is Halloween!"

A Haunted Outdoor Playhouse
Naturally, you can't call your kids playhouse haunted unless there is at least one ghost in it! The whole concept of ghosts is so spooky and yet fascinating that it is simply impossible to imagine Halloween decorations without them.
Once again, ghost decorations will vary depending on your kids age and the age of friends they are planning to invite to their Halloween playhouse.
The Internet is full of pretty creative DIY projects that involve plastic sheets and bags wrapped around fairy lights or illuminated mannequins for a maximum effect.
If you are not sure that your kids are ready for their playhouse to be taken over by very realistic and scary monsters, then you can introduce ghosts into your kids playhouse through fun and easy-to-make garlands. All you need is a string, a bunch of tissues, and a black Sharpie.
Roll a tissue into a lump and wrap another one over it, fixing it with a string in the "neck" area. Then draw a spooky or funny face with a Sharpie and hang your ghostly garland all over the kids playhouse.
This activity is not just fun and entertaining but extremely useful for young kids. It develops finger motorists, teaches them about different shapes and textures, and boosts up self-esteem as the result is pretty achievable and looks excellent.
A Playhouse by the Cemetery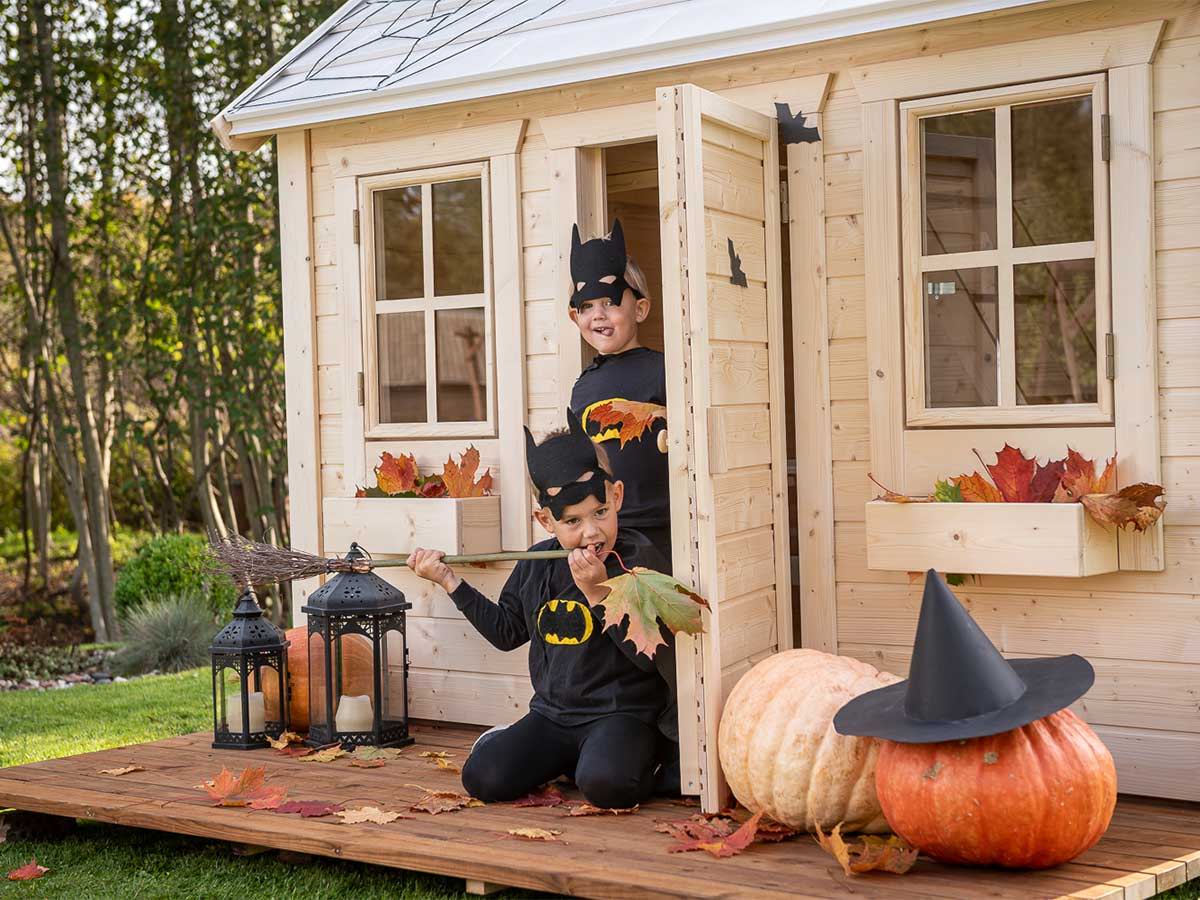 What can set the scene of an epic house of horror better than gravestones in the backyard?
You can make pretty realistic "gravestones" out of old or cracked paving slabs, which most probably collect dust in the basement now. Use sandpaper to give them that spooky distressed look, decorate with artificial flowers, draw skulls on them, or print those creepy Victorian photos from the Internet to complete the effect.
You may go for an even simpler solution, which is also much safer in case you are planning to have some young kids at your outdoor playhouse Halloween party.
Use styrofoam for the gravestones. It is easy and safe to cut, can be colored and adjusted according to the overall concept of your playhouse of horrors.
Your playhouse graveyard does not have to be scary, especially if you invite little children who might not be ready for it yet. The colorful and joyful concept of Mexican Dia de los Muertos can work for your kids playhouse perfectly.
Use fluorescent colors, glitters, and artificial flowers to decorate the gravestones. It may also be an excellent way for your kids to make a tribute to their deceased hamsters, goldfish, or other pets, cope with the grief healthily and celebrate life.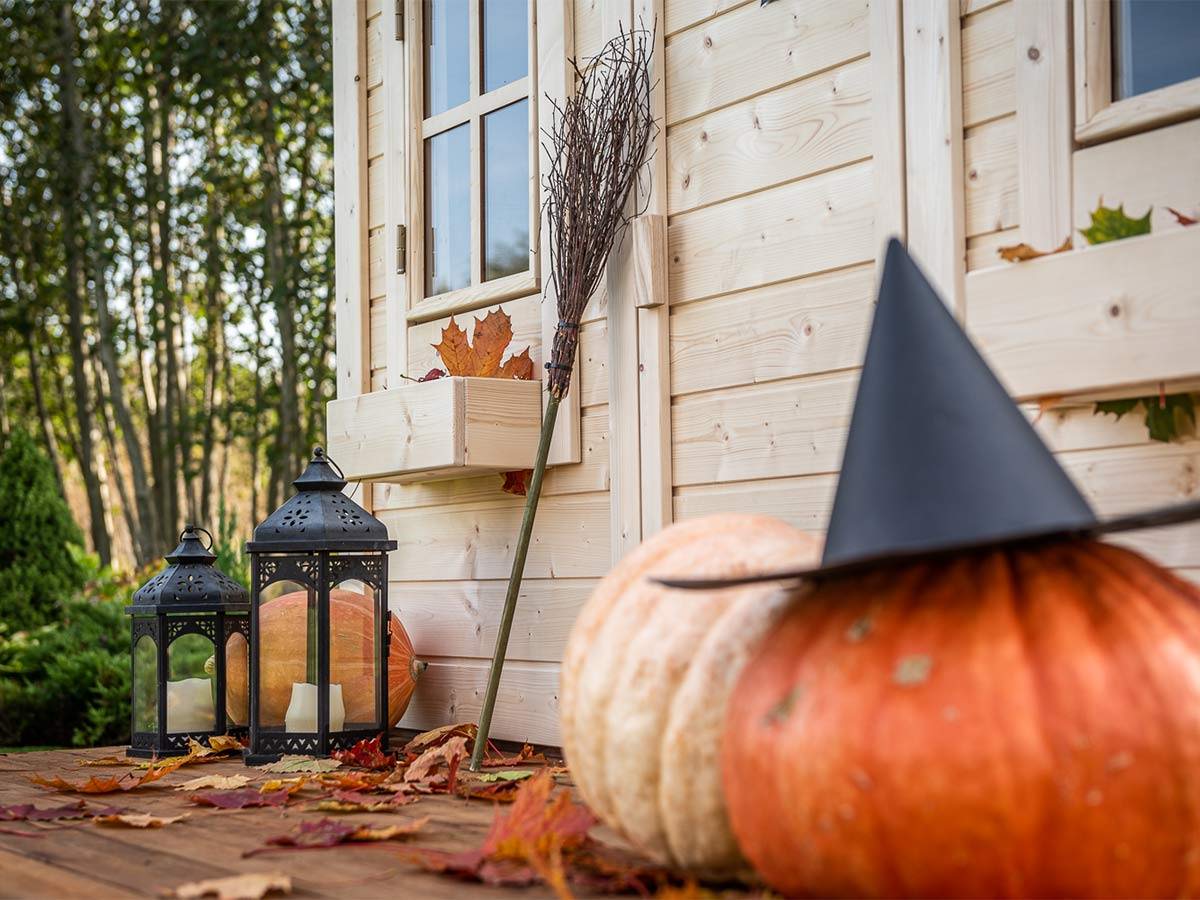 Candles are another integral attribute of a perfect Halloween haunted house. However, when we talk about wooden playhouses and parties for kids, an open fire can be dangerous. While real candles can be fine for a calm tea party, for more active parties, such as Halloween, we recommend battery-operated candles and lights. That way you will make sure that no accidents happen and kids can run in and out of the playhouse and various decorations without having to look out for open flames.
To create epic Halloween candle holders, try to collect as many glass jars as possible throughout the year. Now take thick paper and cut out silhouettes of ghosts, spiders, witches, etc., and glue them to the jars. You may print out stencils from the Internet.
Once you place candles into those jars, they will through the fascinating spooky shade on the walls of a dark Halloween playhouse. It is an excellent idea for a Halloween-themed slumber party in your kids playhouse, as well as an everyday highlight for the kids room.
CHECK OUT OUR DIY PLAYHOUSE KITS
DIY Playhouse Kit Little Cottage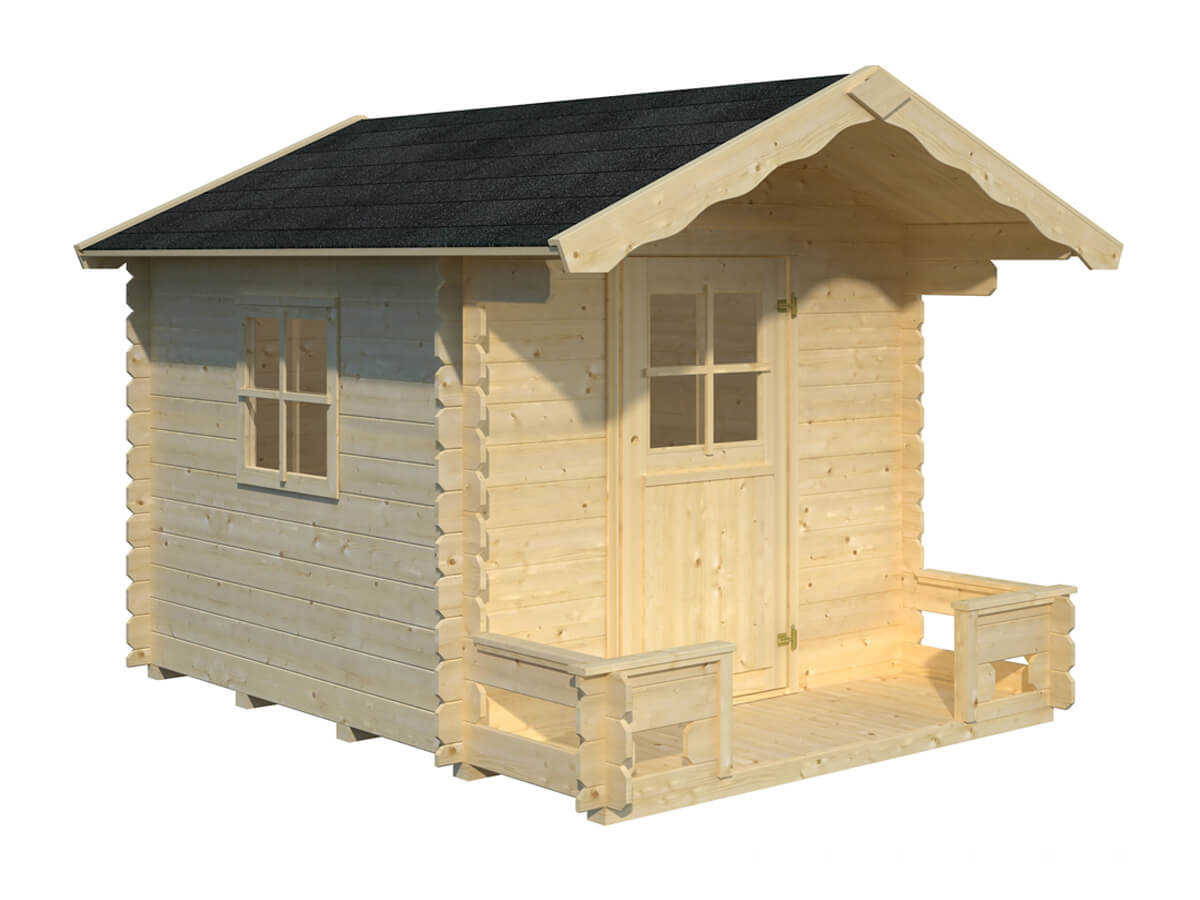 DIY Playhouse Kit Little Chalet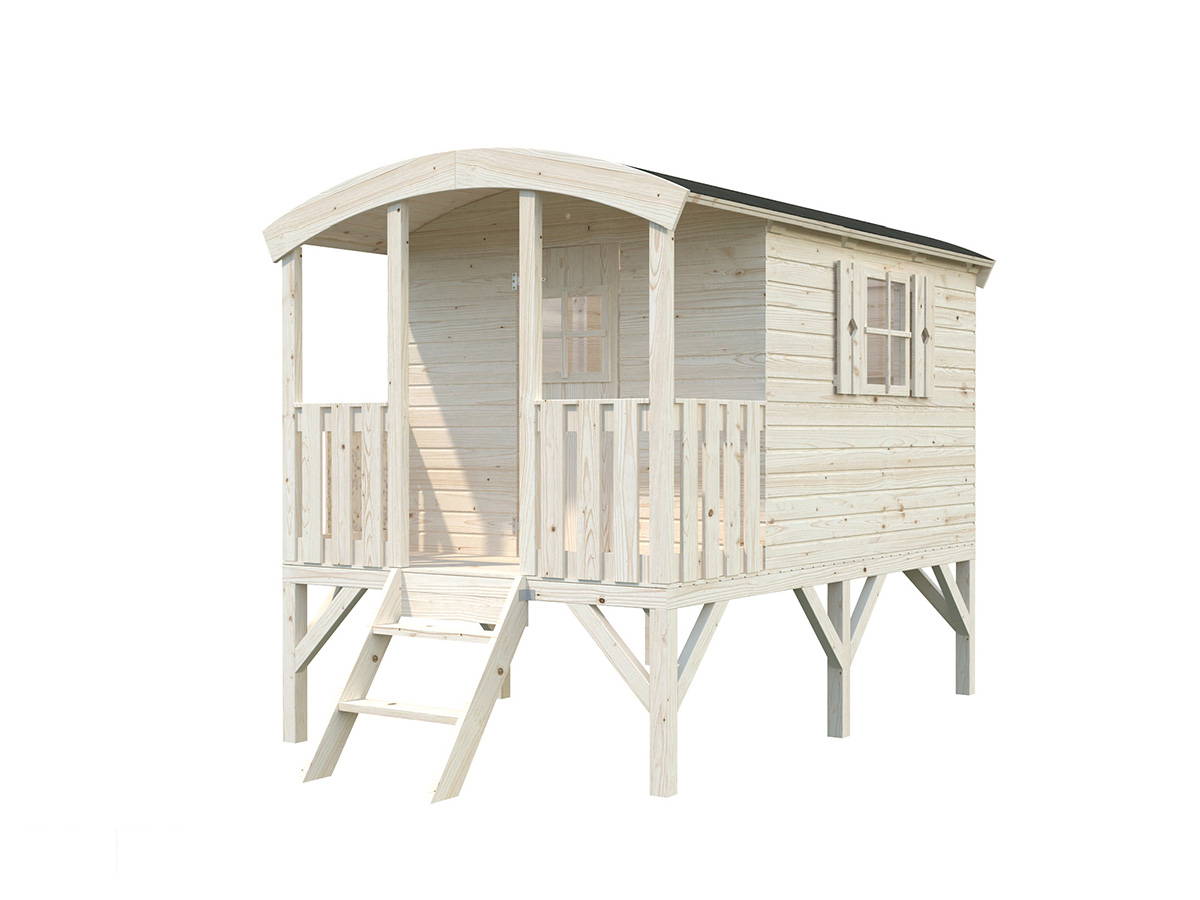 DIY Playhouse Kit Little Bungalow
Spider webs are another attribute that a haunted house simply cannot do without!
There are numerous ways to decorate your kids playhouse with spider webs. You can create them from yarn and wire, place life-like spiders on them, hand them on the windows and illuminate with fairy lights for a maximum spooky effect.
Those who are going for the ultimate thrill of realistic Halloween decorations can easily make a perfect spider web using a glue gun. Place it in front of a ventilator and some frame (preferably a ladder or a back of the chair) that will "catch" the string of glue. In a matter of several minutes, you will get a realistic spider web for your kids playhouse, as seen in horror movies.
Another recipe for a spider web is using gauze. Its weightless strings repeat the texture of a spider web perfectly. This is the easiest solution, which will work the best if your haunted outdoor playhouse is dark.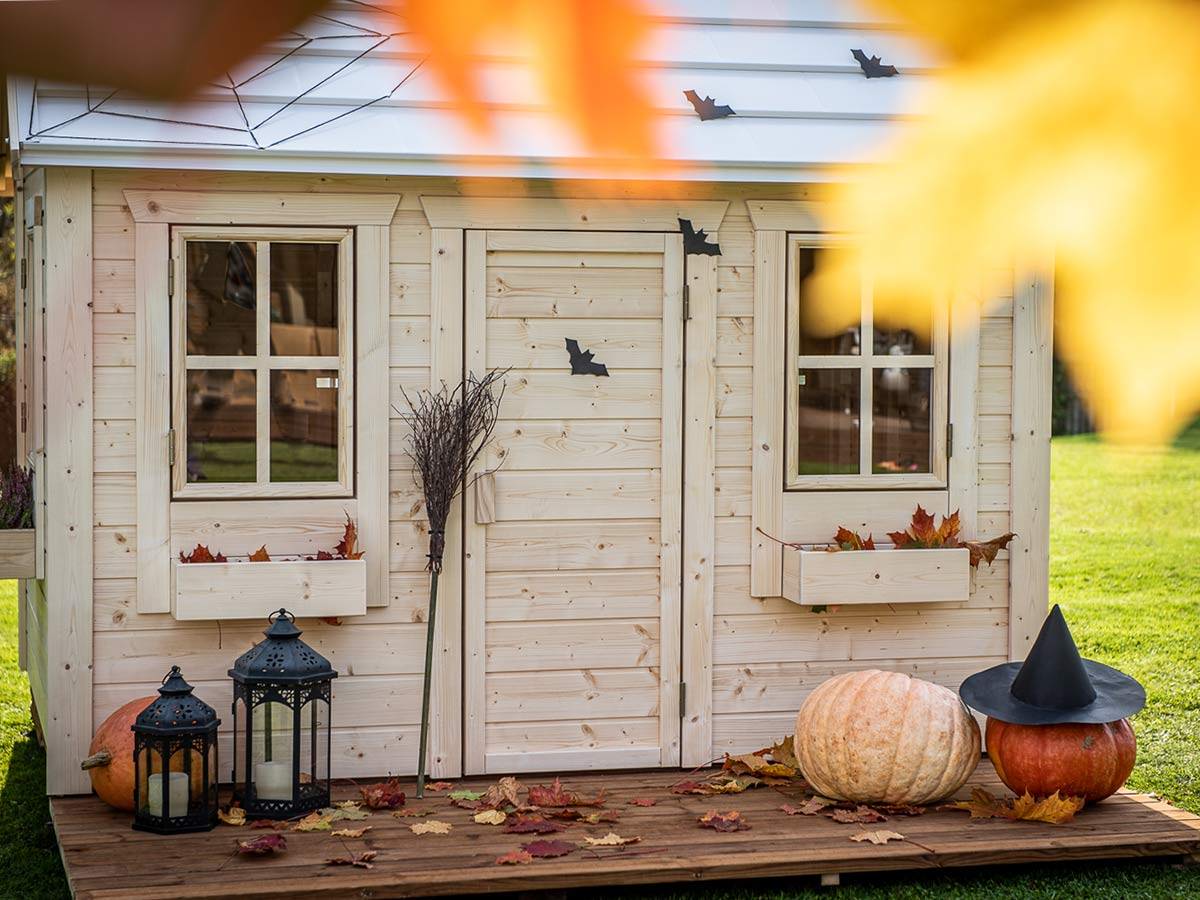 Talking about any event arranged for kids and especially such an exciting one as a playhouse of horrors, safety should always come first! Or perhaps your kids are still a bit afraid of the dark and wish to have a bit more light in the garden and the wooden playhouse?
This does not mean that you have to kill the atmosphere illuminating the whole wooden playhouse. There are numerous garlands with lights that come in the shape of Jack-O-Lantern, ghosts, bats, etc. You can create them yourself by buying fairy lights with big round lightbulbs and drawing spooky faces on them. They can be a part of a quest game if you are planning one for your wooden playhouse of horrors this Halloween. You can right clues on them or use them to illuminate the way to the next step.
If you have an outdoor playhouse in your backyard, this Halloween can become legendary for the whole family. Decorating a wooden playhouse for any holiday and especially such a fun one as Halloween is an exciting bonding experience and also a simple and inexpensive way to create a fun, memorable celebration for your kids.
You can pick up the topic depending on your kids age and interests. From fun and cartoonish decorations for young children to Tim Burton-themed parties for teenagers (and, yes, most grown-ups), Halloween is all about creativity, setting yourself free, and being able to embrace all sides of our personalities.
"There is magic in the night when pumpkins glow by moonlight.
Want to read more about Playhouses?
Written by WholeWoodPlayhouses
CHECK OUT OUR WOODEN OUTDOOR PLAYHOUSES