5 Tips to Customize a Wooden Playhouse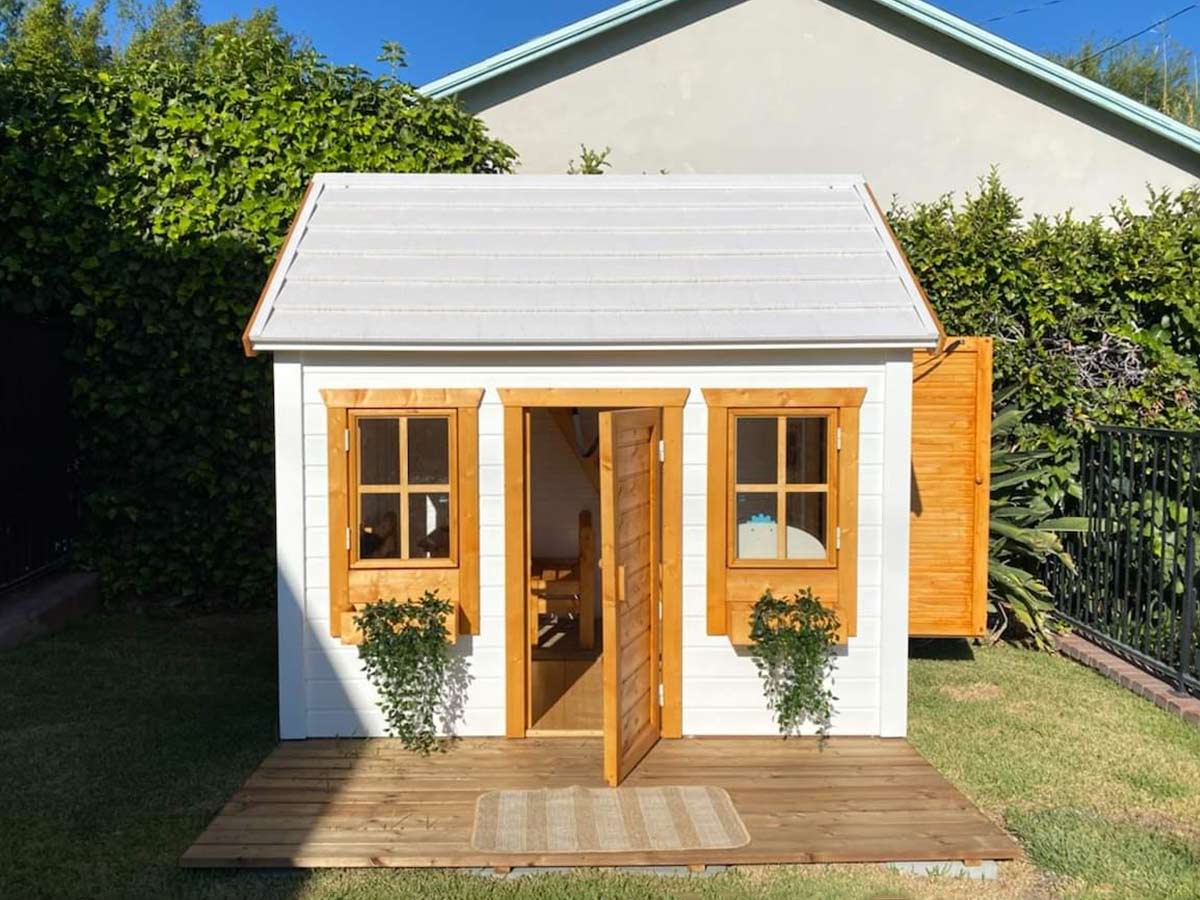 Getting an outdoor playhouse was already a great idea if you want to encourage your kids imagination and let it thrive in their own make-believe universe.
However, although today you can find wooden playhouses of all shapes and sizes, they all need some personal touch, a certain level of customization that will make them truly comfortable, safe, and attractive for your kids.
In this article, we shall discuss why it is so important to customize your wooden playhouse and how you and your kids benefit from this project.
And, of course, we shall provide several tips that will let you customize your outdoor playhouse quickly, without breaking your piggy bank, and have a lot of fun on the way.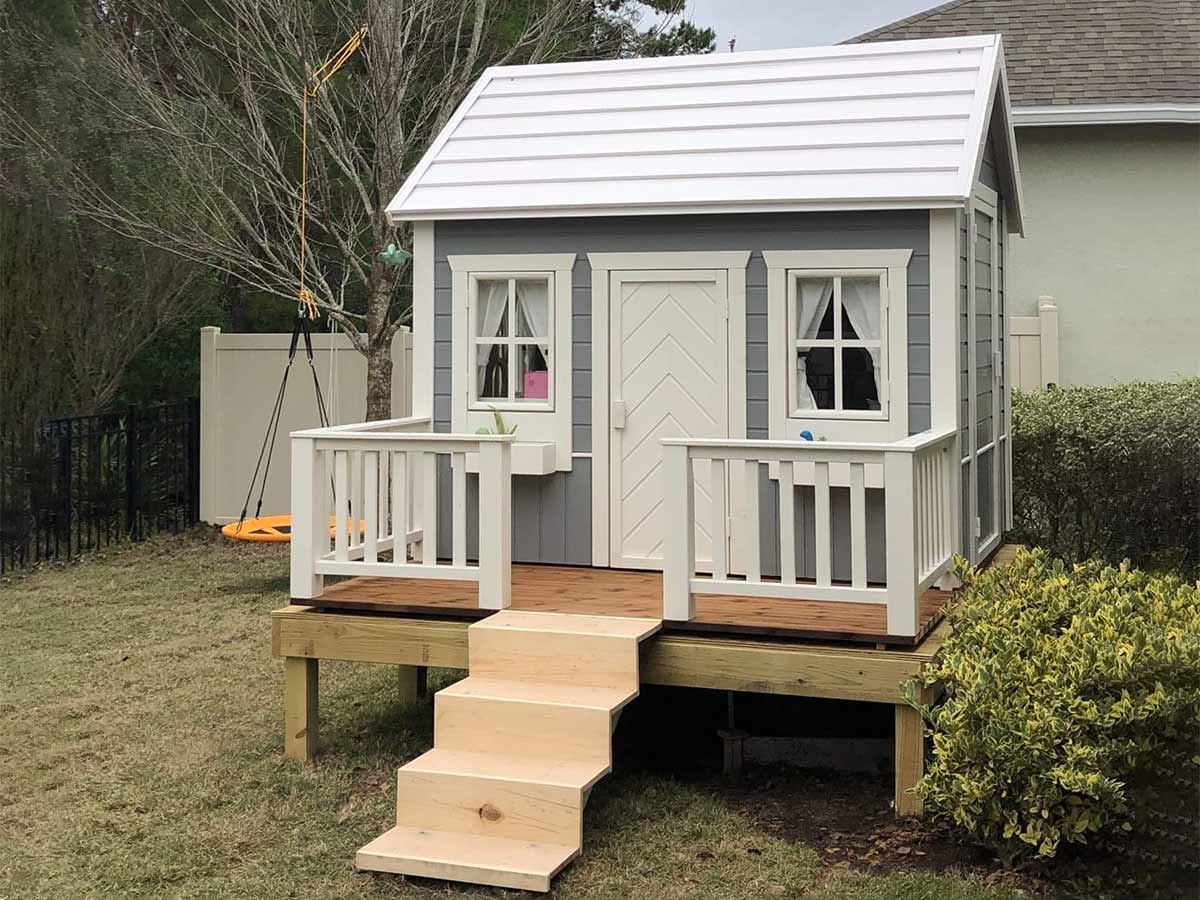 Why Should You Customize Your Wooden Playhouse?
There are two main reasons why you may want to customize your outdoor playhouse:
As for creativity, everything is pretty personal, but the idea remains the same. Your wooden playhouse will be the home for your kids imagination and self-expression, so why not start the creative process with the playhouse itself?
Moreover, by adjusting the wooden playhouse according to your kids tastes and preferences, you make it truly their, add that whimsical effect of originality and self-expression that lets creativity thrive and turn the playhouse into a whole universe for your kids.
Another solid reason why you would want to personalize your wooden playhouse is your kids safety. All our outdoor playhouses are made out of natural, eco-friendly materials. They don't contain any potentially dangerous elements, toxic colors, or coating. Therefore, the house itself is perfectly safe for your kid as it is.
However, you should understand that your kids will spend a lot of time in their playhouse, drawing, reading, holding tea parties, or playing role games there. Therefore all the furniture, shelves, seating places, doors, and windows of the playhouse must be adjusted perfectly according to your kids heights and activity level.
Once seating, they should be comfortable to preserve posture. Also, moving around their outdoor playhouse, kids should not risk bumping their heads on shelves, lights, etc.
And this leads us to our first playhouse customization tip…
"The best way to have a good idea is to have a lot of ideas."
Make the Wooden Playhouse Functional
You know your kids better than anyone in the world and, therefore, definitely understand how they are going to use their outdoor playhouse.
Are you a proud parent of active kids who jump and run around looking for adventure all day long? Then you may want to consider installing a swing set, monkey bars, or a climbing wall on your outdoor playhouse. There are models that are standing on beams and have a slide, or you can add a second floor to your wooden playhouse and add a fireman pole or a slide there.
In case you have particularly creative children who are mostly interested in arts and crafts, your kids playhouse may need some additional storage solution for all the art supplies. You should also take care of comfortable and functional sitting places, tables, or easels for drawing and sculpting, etc. Another important thing is, of course, good lighting. This detail is also essential once the kids playhouse is going to turn into a book club or a home theatre.
Any way you look at it, the first step in customization of your outdoor playhouse is making it comfortable and safe for your kids, so they can enjoy themselves without the risk of getting injured.
CHECK OUT OUR OUTDOOR PLAYHOUSES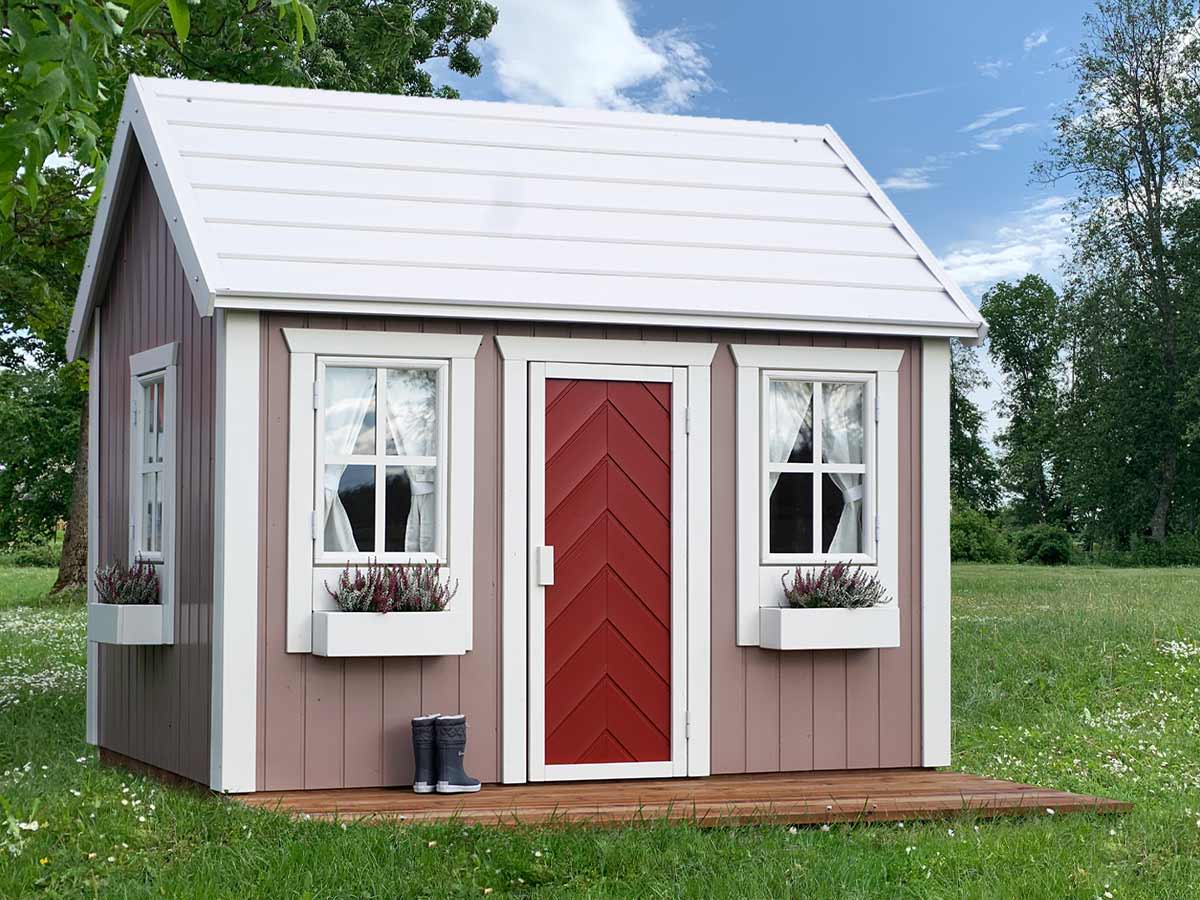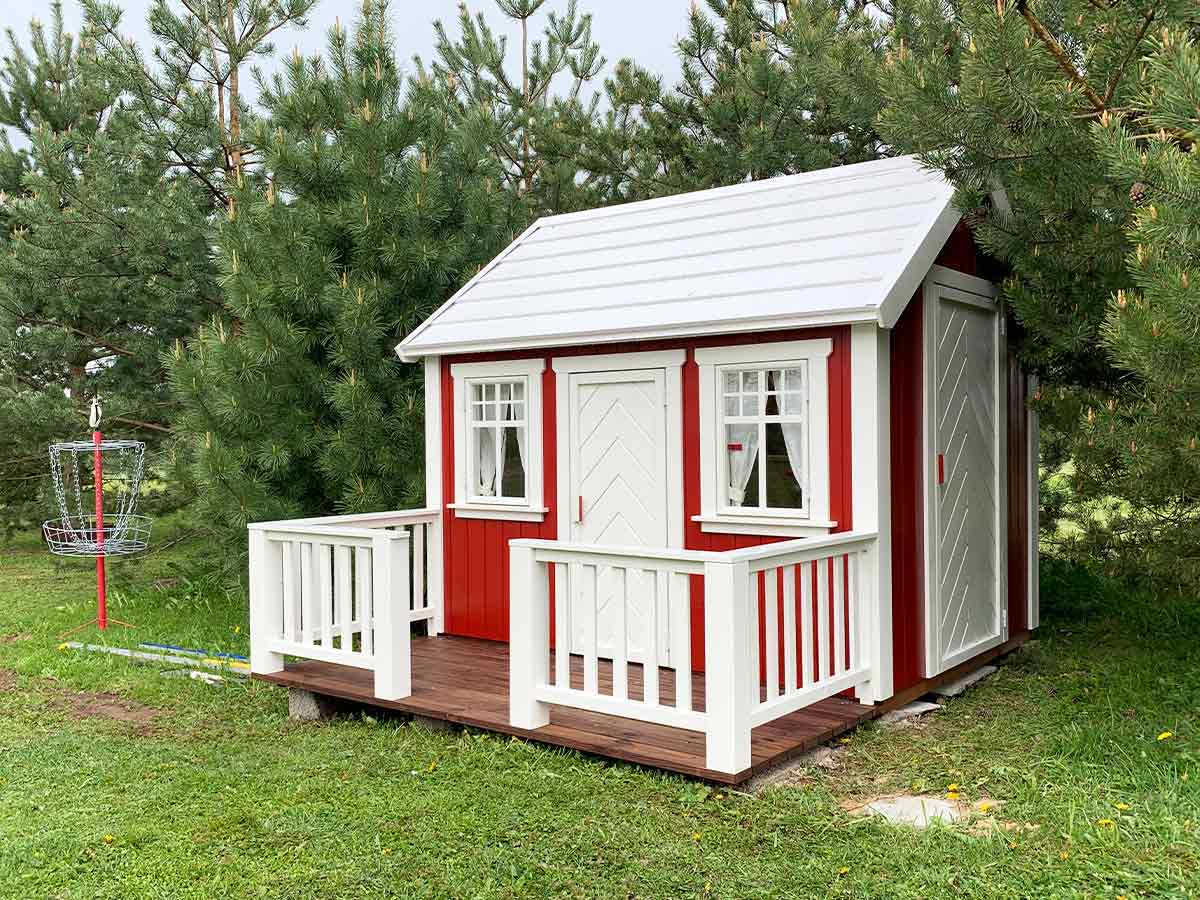 Paint and Stain Your Wooden Playhouse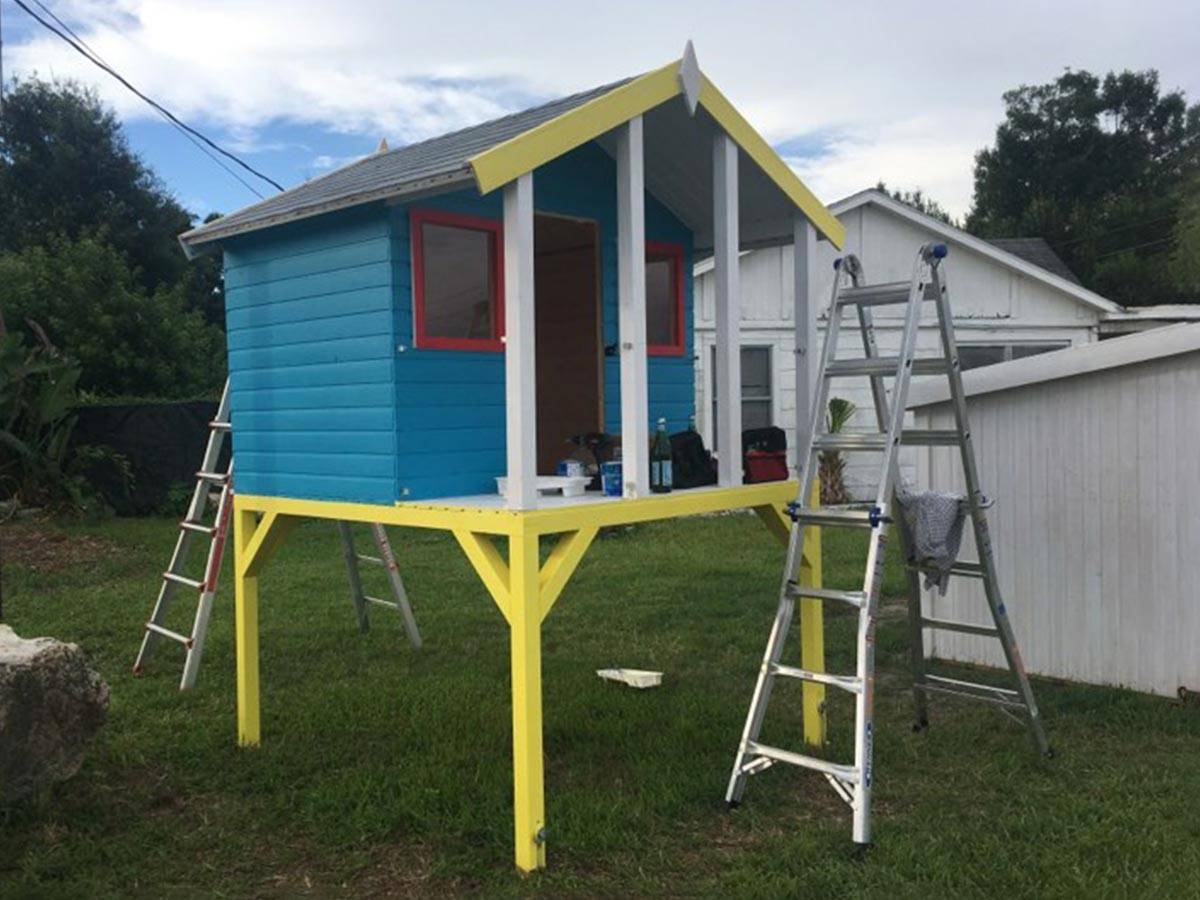 Painting and staining your wooden playhouse will help you kill two birds with one stone: personalize it according to your kids taste and protect it from elements considering your local climate and weather conditions.
As for painting, the options are limited only to your kids imagination. The best thing about wooden playhouses is that they can be painted and therefore customized easily. You can make it look like a whimsical gingerbread house, a large-scale Barbie-doll house, a superheroes` headquarters, etc.
In case you decide to preserve the authentic cabin-like image of the playhouse, you can just use a varnish of different shades to add some depth and highlight the natural texture of wood, protecting it from sunlight and humidity on the way.
Putting varnish and staining is the functional aspect of wooden playhouse personalization. Depending on where you live, your outdoor playhouse may be exposed to excessive humidity, extreme temperatures, or direct UV light. All those factors can damage natural wood, significantly shortening the lifespan of your kids playhouse and fairly altering its safety.
Make sure to contact local carpenters or handymen, who will advise on what type of staining would be best for outdoor wooden constructions in your area.
Hire Your Kids as Designers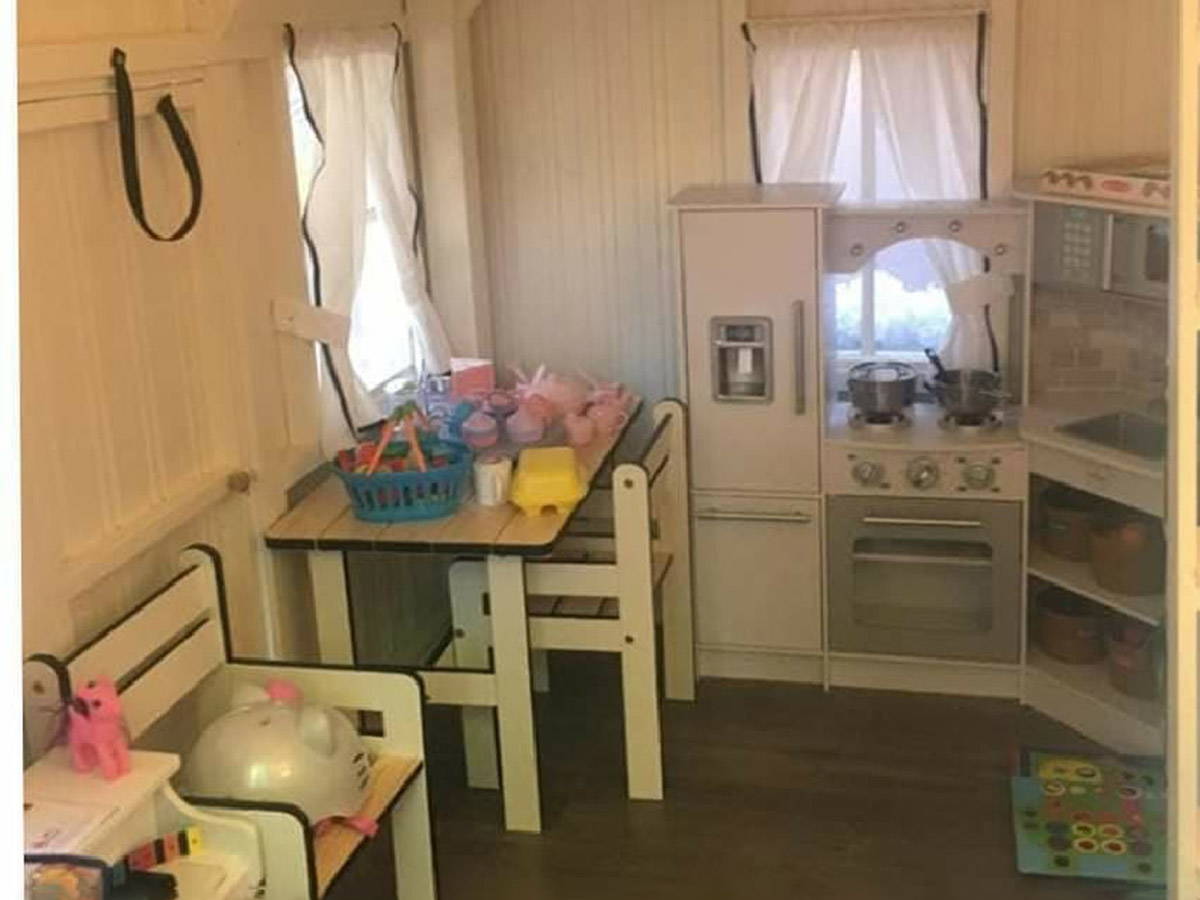 First of all, no matter how excited you may be about the project, it is essential to remember that we are talking about your kids playhouse.
It is them who will play inside it, building their whimsical make-believe world whiting its walls. And therefore, it is up to them how those walls will look.
Moreover, you can turn the customization project into an exciting and educational role game. Pretend that you hired your children as designers for the wooden playhouse. Ask them to create and present the project, choose colors, stencils, wallpaper, and posters, and explain their choice.
That way, your kids will feel like they have an important mission and your full trust in their judgment. And you get a chance to learn a lot about their tastes, passions, and world vision.
Another benefit of this approach is that you get a chance to pass your wisdom, teach your kids how to paint, place the wallpaper, hang shelves, etc.
CHECK OUT OUR DIY PLAYHOUSE KITS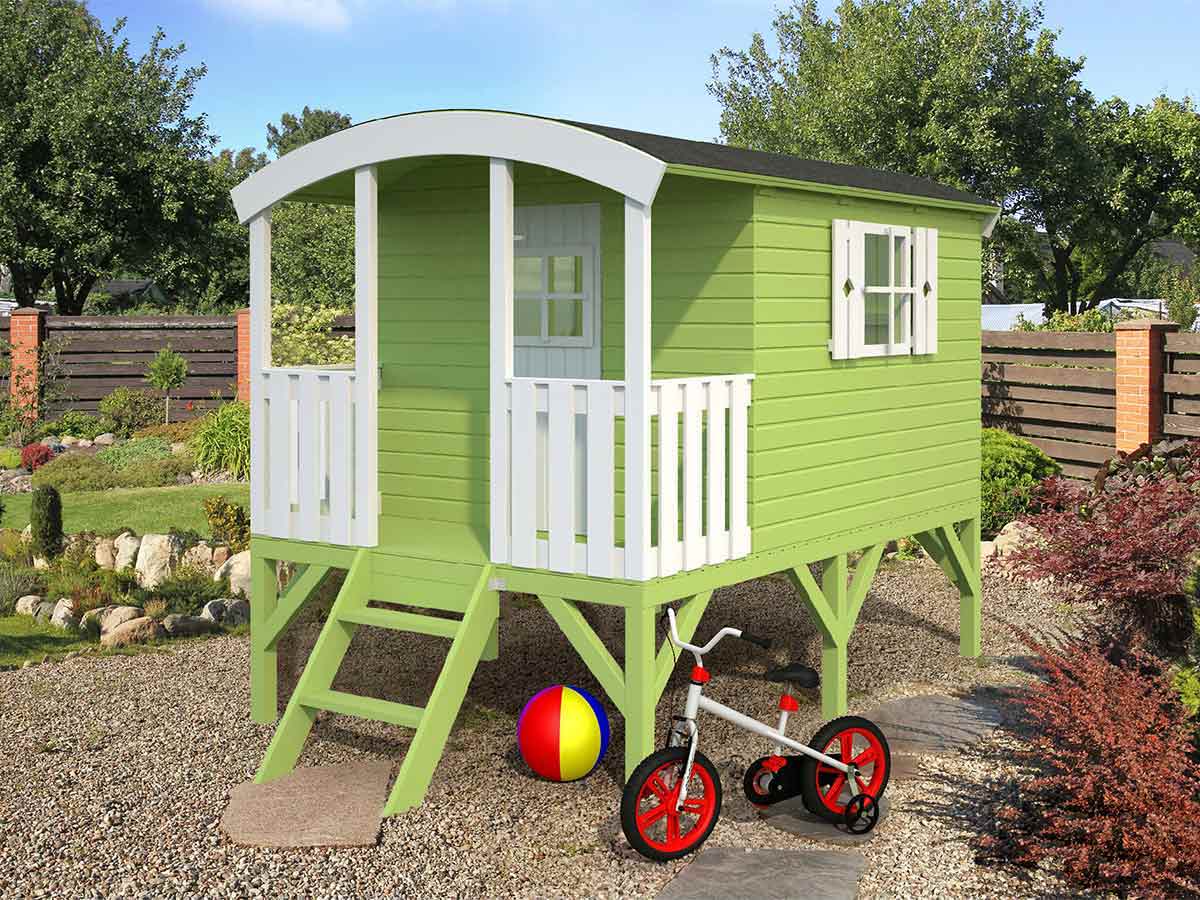 DIY Playhouse Kit Little Bungalow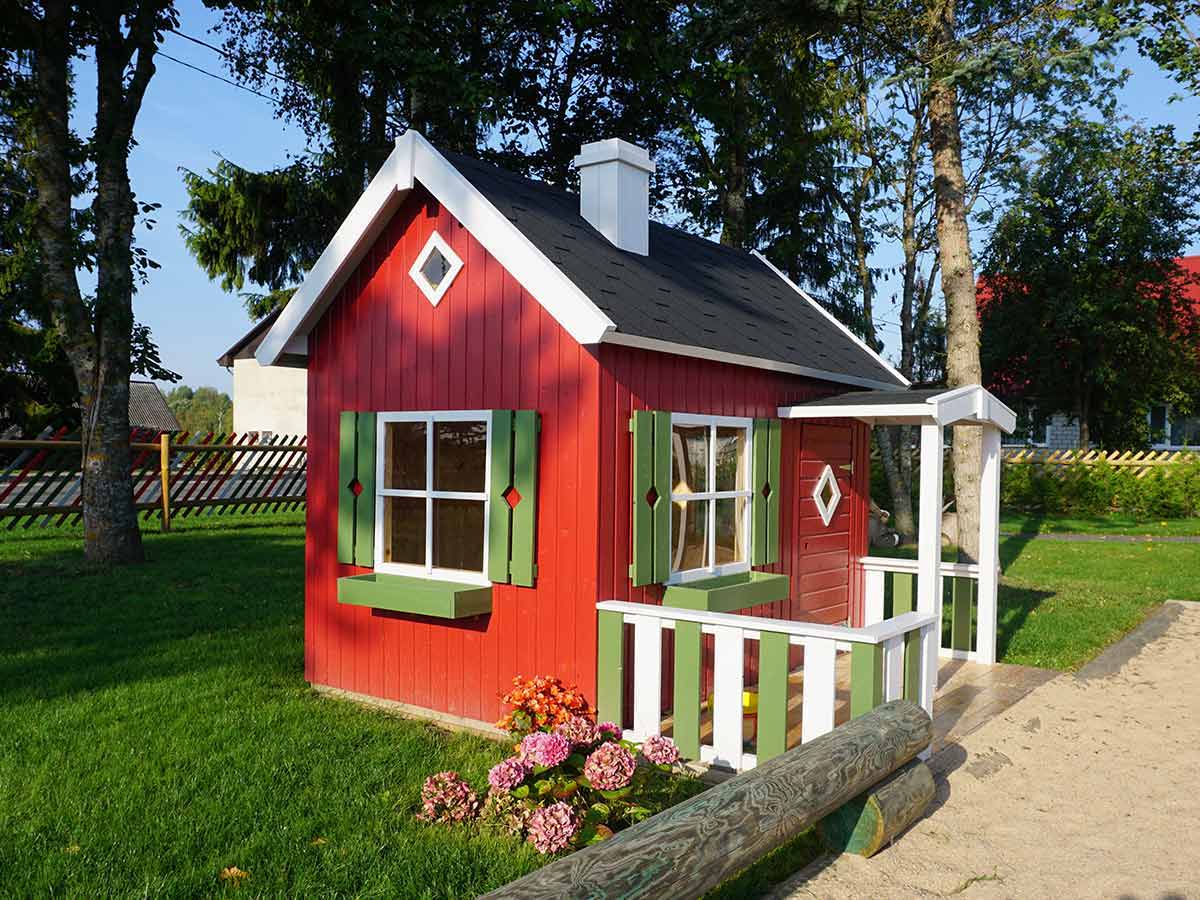 DIY Playhouse Kit Little Cottage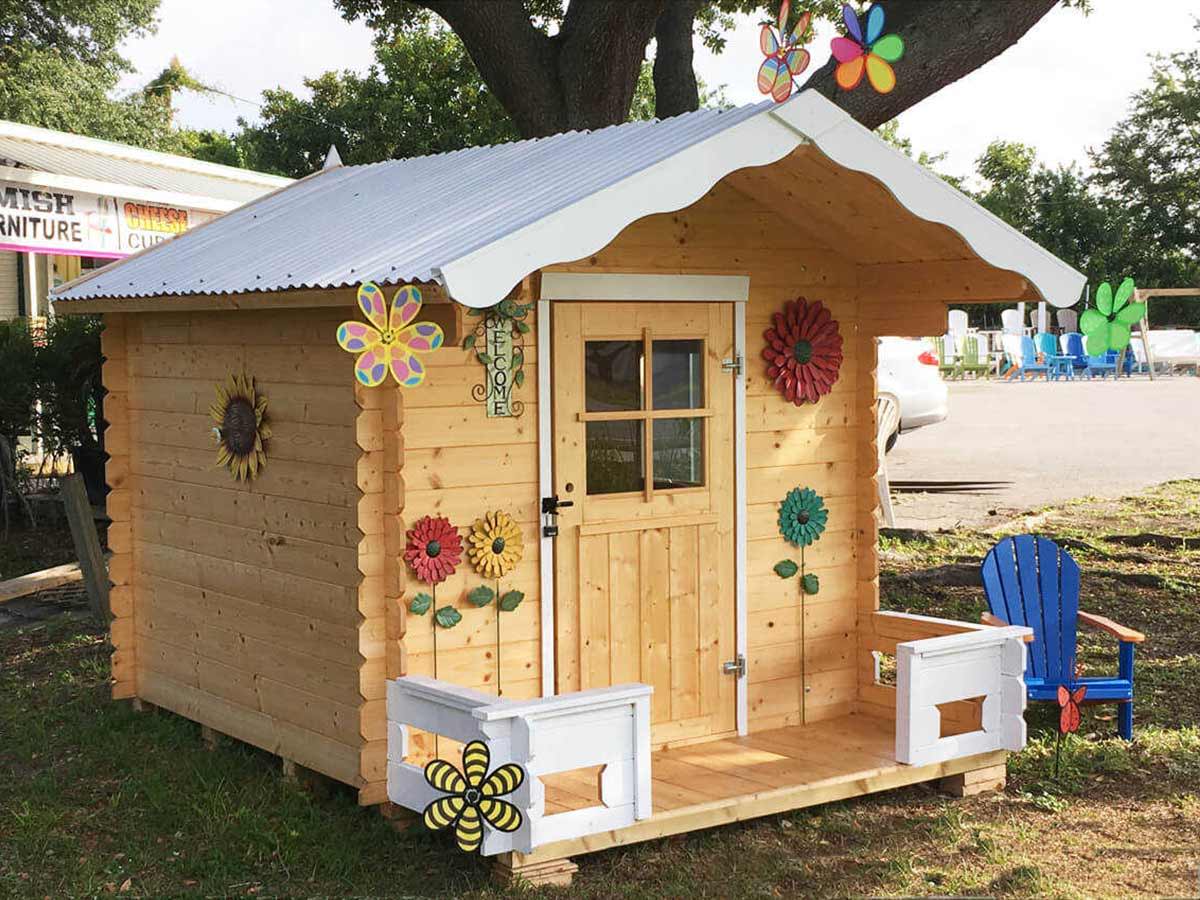 DIY Playhouse Kit Little Chalet
Create the Unique Interior Design
Although our wooden playhouses come with a set of matching furniture, you will definitely want to go beyond adding some personal touch to the overall interior design of your kids outdoor playhouse.
Once again, it all will depend on kids tastes and the future purpose of the playhouse. An "art gallery" or "theatre" will need some additional storage place for supplies and costumes; a superhero's lair will definitely need an armory wardrobe, secret escape door, and posters of favorite comic book heroes. If you are planning a classic girly outdoor playhouse that will host tea parties and sleepovers, think about bright colors, curtains, decorative elements, and twinkle-light garlands for a truly magical atmosphere.
A flower box or a pot with a plant would be a perfect decorative yet educational element for a kids playhouse. It will instantly make the interior lively and teach your kid a lot about responsibility, the life cycle of plants, and nature in general.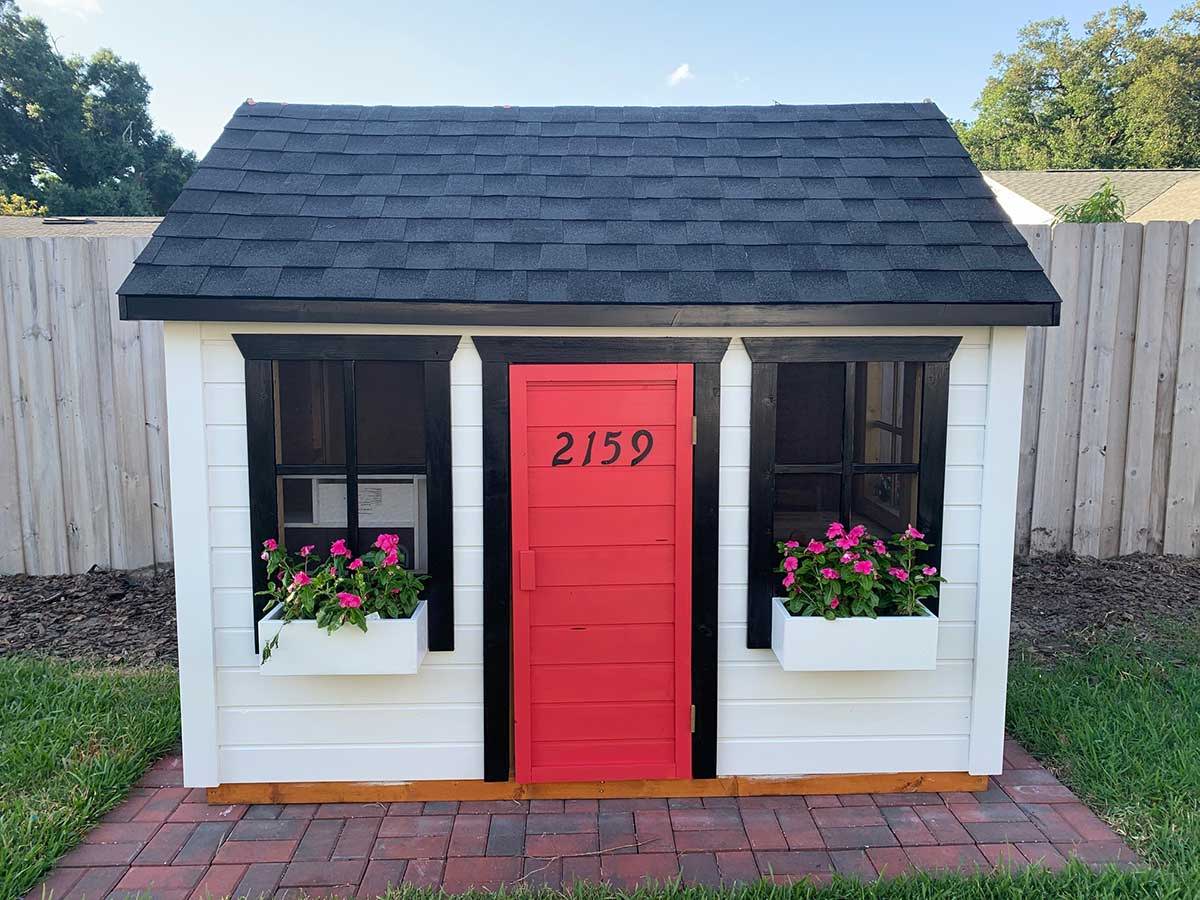 What can be more personal than a name? to make your wooden playhouse truly unique, give it a name!
It can be something personal, a statement that will seal the ownership of your kids playhouse, can be derived from the particular kid's name or from the overall family name. Try "Smith's Cottage," "Liam's Castle," or "Olivia's Palace."
You may take the creativity to a whole new level and derive the name of your outdoor playhouse from its theme. Those can be "Batman's Lair", "the Globe Theatre", "Plush Vet Clinic", etc.
The process of coming up with the name, agreeing on it among all kids is as fun and thrilling as making the plate together out of wood, DIY letters, and decorative elements and holding the ceremony of placing the plate on the wooden playhouse. It can be turned into a massive event for friends and family, a fun occasion that will bring all your beloved people together.
As you see, there are lots of reasons why you may want to customize your wooden playhouse. While your kids` safety comes first, customization will make it most appropriate for their age and activities. But it can also turn into a fun, thrilling project for the whole family that will let you bond on a whole new level, learn to trust each other, communicate openly, express your opinions and viewpoints. It is our chance to demonstrate to your kids that you consider their wishes and trust their judgment.
And above all, customization is the ultimate way to make that wooden outdoor playhouse truly belong to your kids, becoming their safe personal space, where they can express themselves and build their own fantasy world.
"Childhood is the most beautiful of all life's seasons."
Written by WholeWoodPlayhouses
CHECK OUT OUR WOODEN OUTDOOR PLAYHOUSES