Christmas & Playhouse Creating a Christmas Miracle on Your Backyard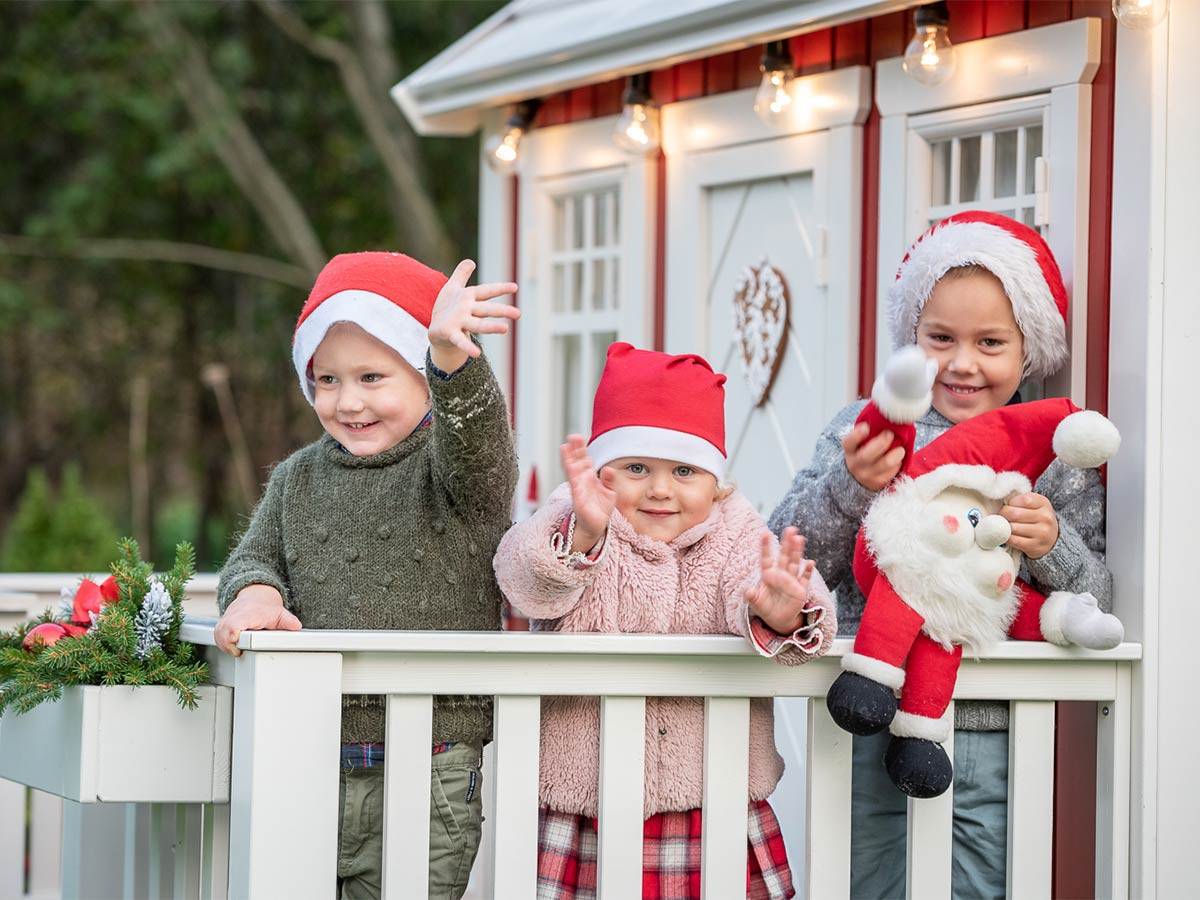 It is the most magical and the favorite time of the year for most people in the world. Once you have an outdoor playhouse or think about getting one, the whole family might be beyond excited to express themselves, decorate and customize the wooden playhouse. And the holiday season may be a great boost up for your family's imagination and creativity, a chance to bring a fairy tale to life and create lifetime memories together.
Christmas is one of those holidays that has its hallmarks, cherished traditions, and decorations that make our hearts melt and instantly create a whimsical, festive mood.
Decorating an outdoor playhouse for Christmas together with your kids can be a wonderful educational experience that will help each family member embrace the joy of the holiday season and add something very personal to traditional Christmas decorations.
Together with our Santa's Little Helpers, we have created an ultimate guide to Christmas decoration for kids playhouses.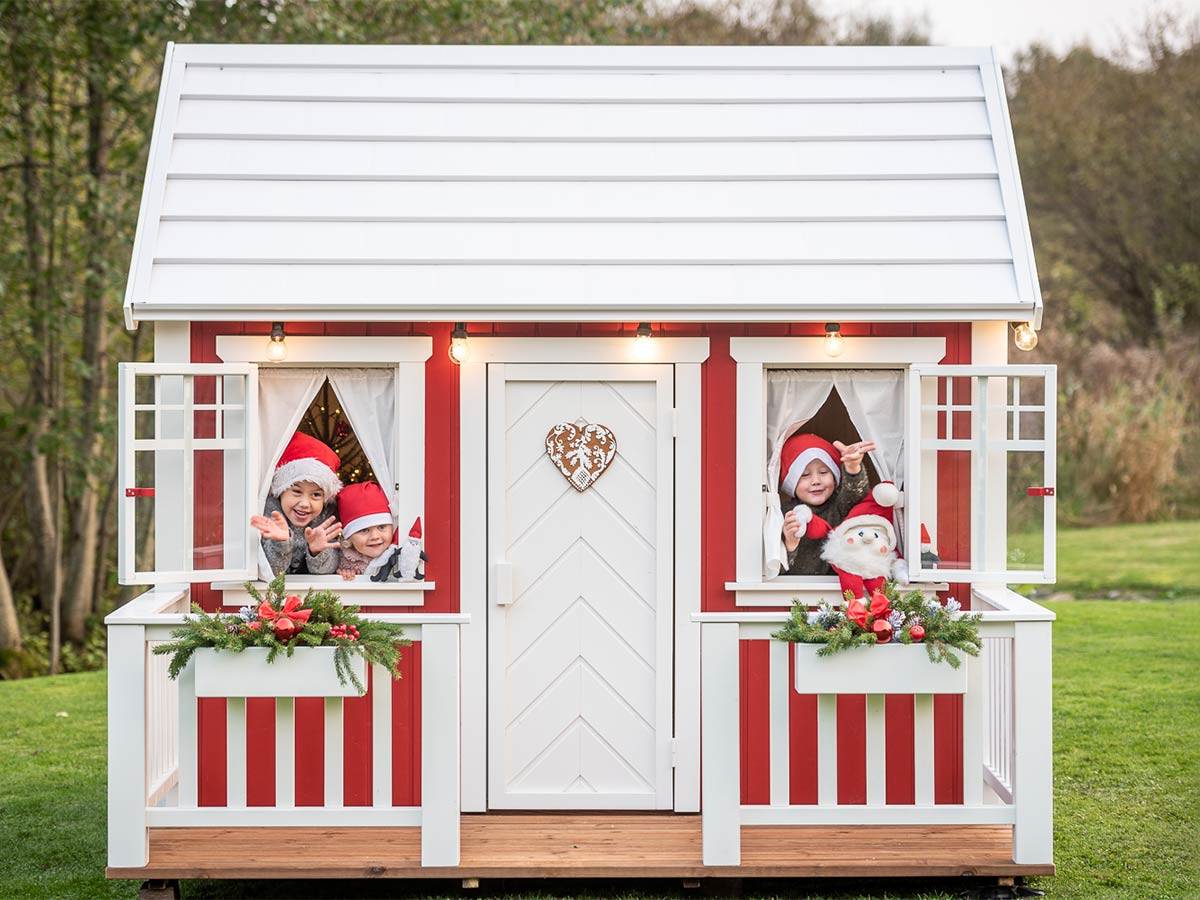 The Colors of Christmas on Your Kids Playhouse
Christmas is one of those holidays that has its own unparalleled color pattern that instantly sets the mood. Ask anyone what the colors of Christmas are, and they will name green, red, white, and gold right away.
Some say that the combination of red and green represent the sacrifice of Jesus Christ and the celebration of eternal life. Others believe that those are the colors of evergreen trees and red berries that keep birds alive during the winter season; therefore, they represent the hospitability and generosity of the holiday season.
Fashion trends change every year, offering new ideas for Christmas decorations, but the everlasting classics will live on forever.
In case your house is not originally painted into the classic Christmas colors, you can easily bring them into the décor.
Wraths and ornaments – place flower boxes with decorated wreaths on the porch of your kids playhouse. Hand ornaments on the door and windows. May those decorations glitter in the evening light, creating the whimsical mood and that magical glow even if you live in a snow-free climate;
Curtains – it is another decorative element meant to set the mood both inside the wooden playhouse and around it. You may go for various Christmas-themed curtains, create your own with application and embroidery. Or simply place classic white curtains with tassels – the most likely choice of Mrs. Claus;
It is all in the details – except for the wraths and ornaments, Christmas colors may appear in small decorative details that will instantly turn your kids Playhouse into a Christmas challenge. Place a tiny red mailbox for letters that go directly to the North Pole, add garden gnomes in red hoods, which will help Santa arrange presents inside the kids Playhouse, and don't forget illumination for the final touch.
Custom paintwork – If you are up to a serious project and feel determined to put your outdoor Playhouse on the map this Christmas, you can go for a custom Christmas paintwork. The best thing about wooden playhouses is that with a proper approach and wise choice of materials, you can easily customize them and adjust their exterior. However, such a project is definitely not a last-minute decision. Make sure that the weather is suitable and the Playhouse will dry thoroughly before you start decorating.
"Gifts of time and love are surely the basic ingredients of a truly merry Christmas."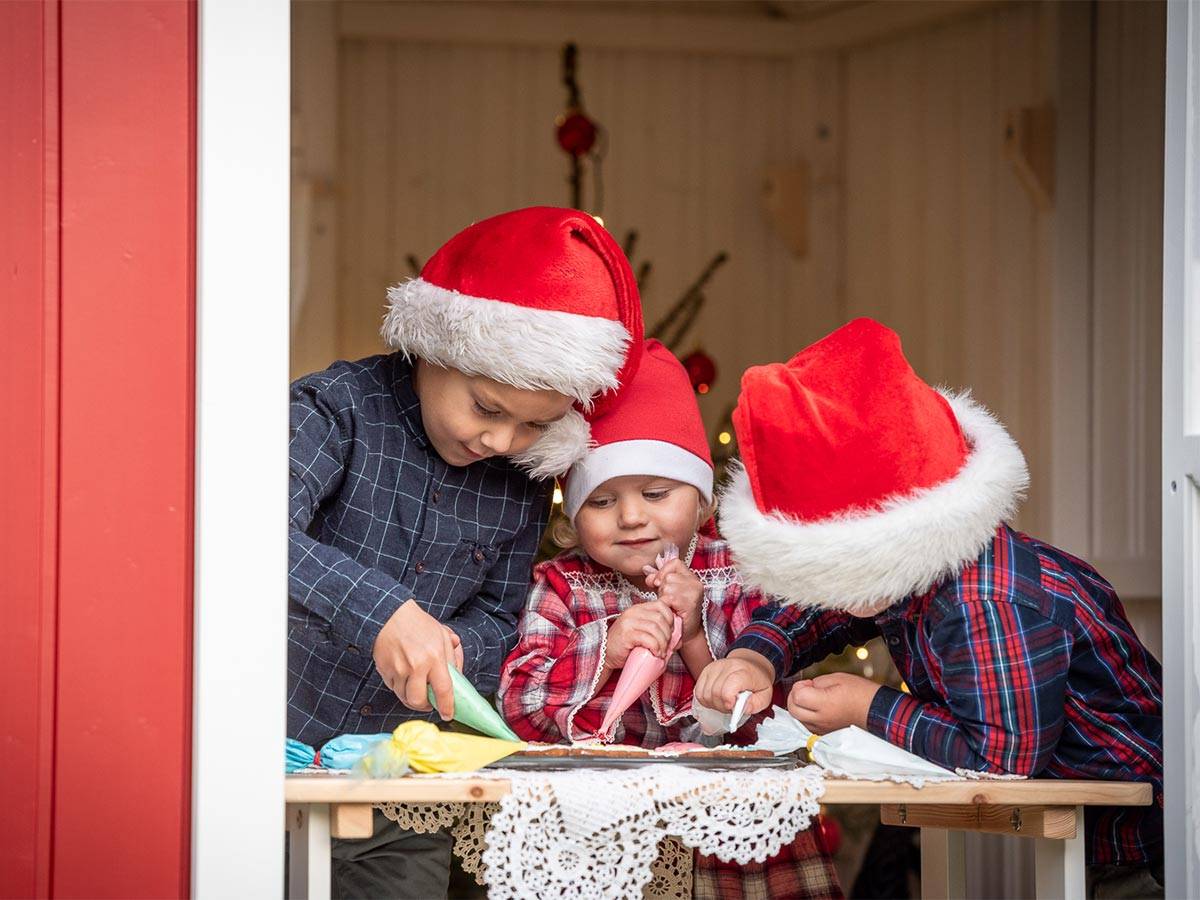 Tasty Decorations for a Christmas Outdoor Playhouse
Who said that Christmas decorations for a playhouse could not be tasty as well? If you decide to go for DIY decoration and ornaments for your outdoor Playhouse this year, you can also make gingerbread ornaments and emblems for the doors, walls, windows, and the Christmas tree as well!
It will be a fun and bonding activity for the whole family. Moreover, children love to cook (or at least to help) and can learn a lot from the process.
And what can be more exciting and satisfying than eating a gingerbread that you have created and decorated all by yourself?
CHECK OUT OUR PLAYSETS & SWINGS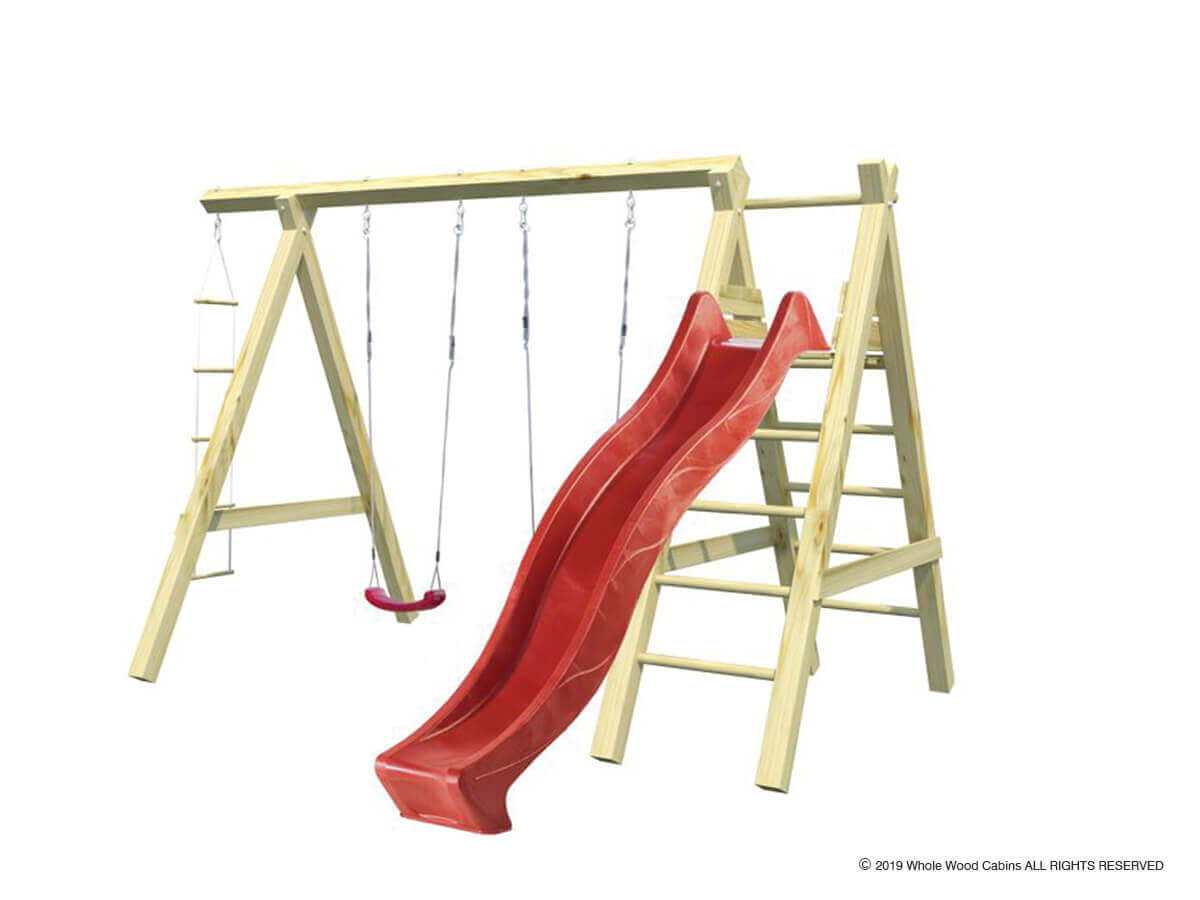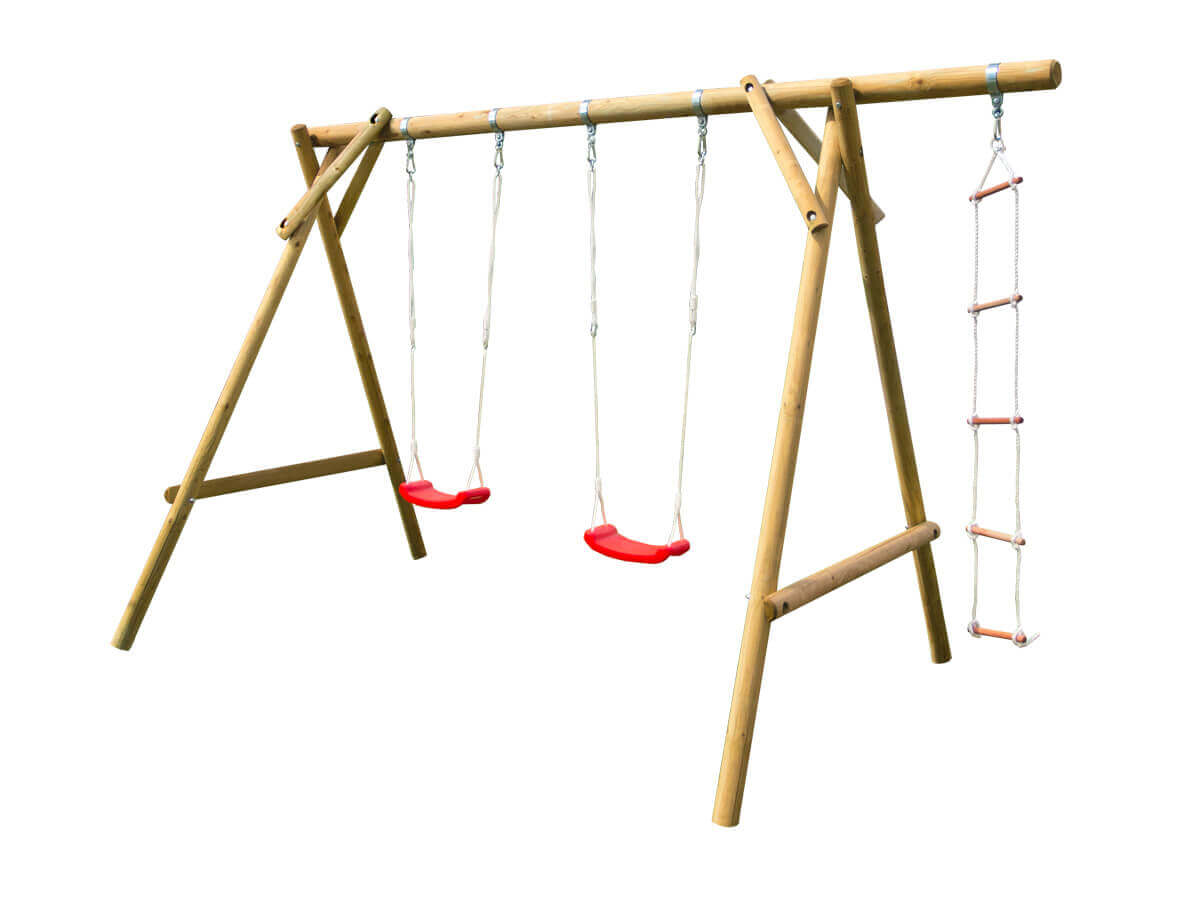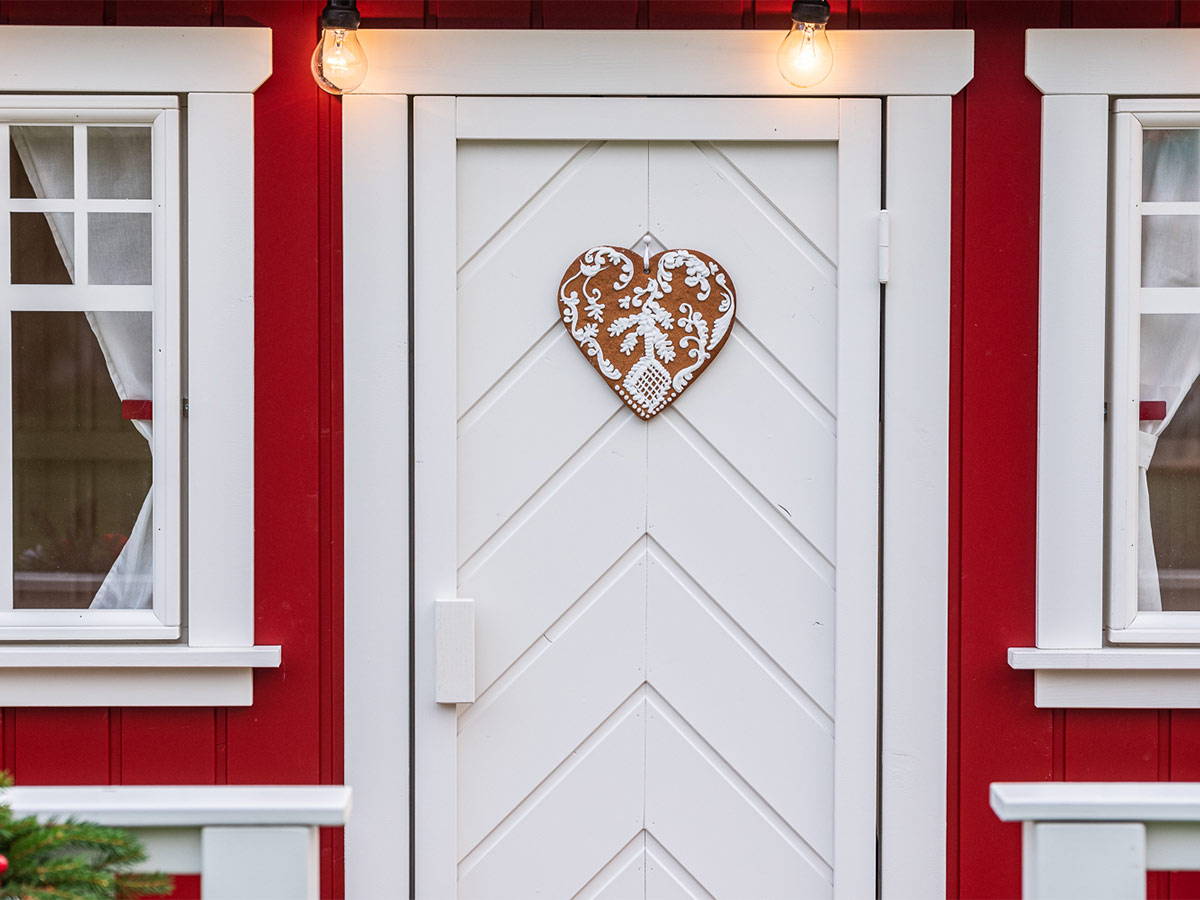 Christmas Illumination in a Kids Playhouse
Days are getting shorter, and nights are getting truly magical in winter. To support the mood and encourage your kids to spend more time in their outdoor playhouses, you can place Christmas illumination.
Illuminating the Playhouse itself – to create the ultimate Christmas spirit, you can place the classic Edison lights illumination all over the perimeter of your kids playhouse. It is a win-win solution, which will easily fit into the Christmas mood, as well as any other theme or interior décor kids, will prefer in the future;
Illuminated decoration – once you decide to place a small Christmas tree inside the kids playhouse, you can decorate it with gentle fairy lights garland. Those strings of light seem weightless. They are perfectly safe, and most of them work from solar batteries, which also make them eco-friendly and a perfect low-maintenance solution for a Christmas outdoor playhouse.
If you have younger kids, never leave them unsupervised around illumination garlands. We find it best to attach or secure all decorations to their place to make sure that find would not blow the decorations off your outdoor playhouse and that kids can run around the playhouse without worrying about the decorations in and around the wooden playhouse.
CHECK OUT OUR DIY PLAYHOUSE KITS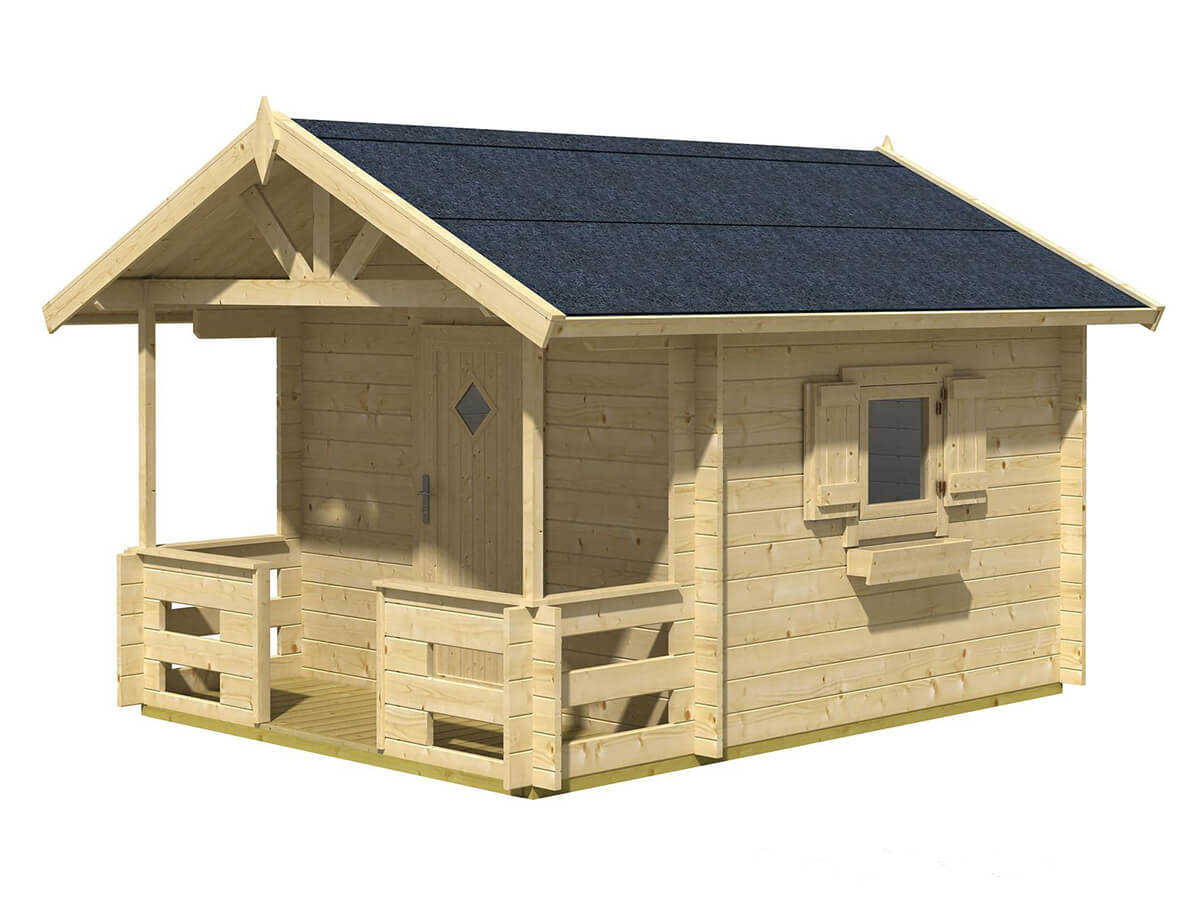 DIY Playhouse Kit Little Lodge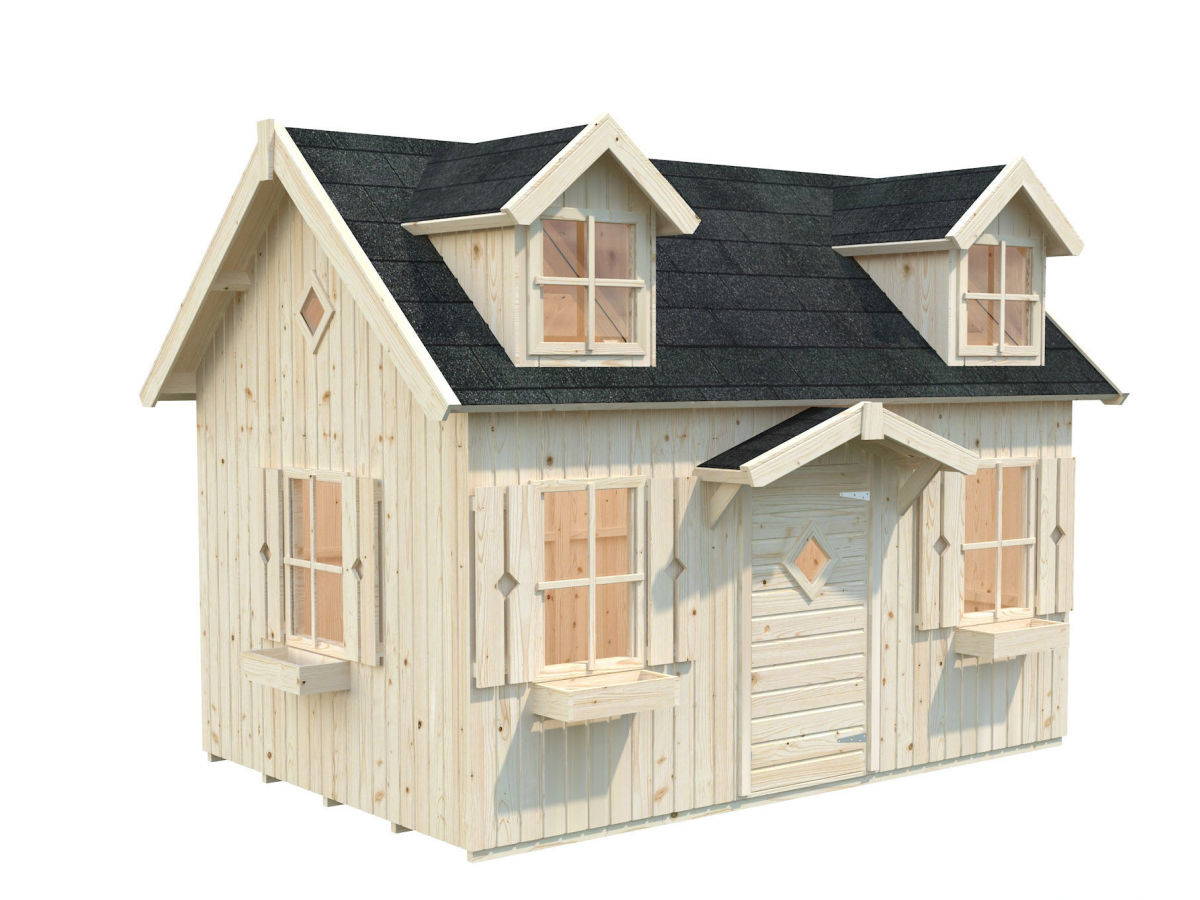 DIY Playhouse Kit Little Farmhouse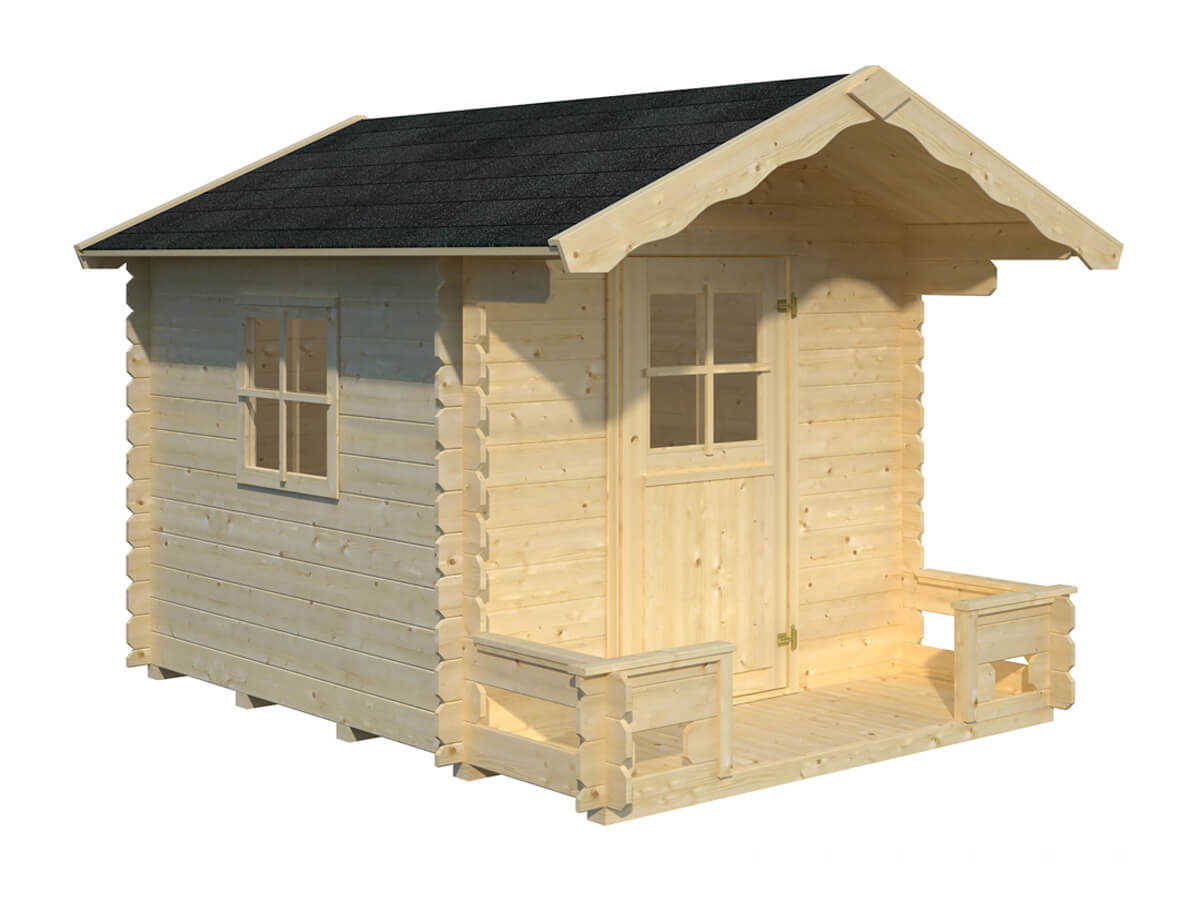 DIY Playhouse Kit Little Chalet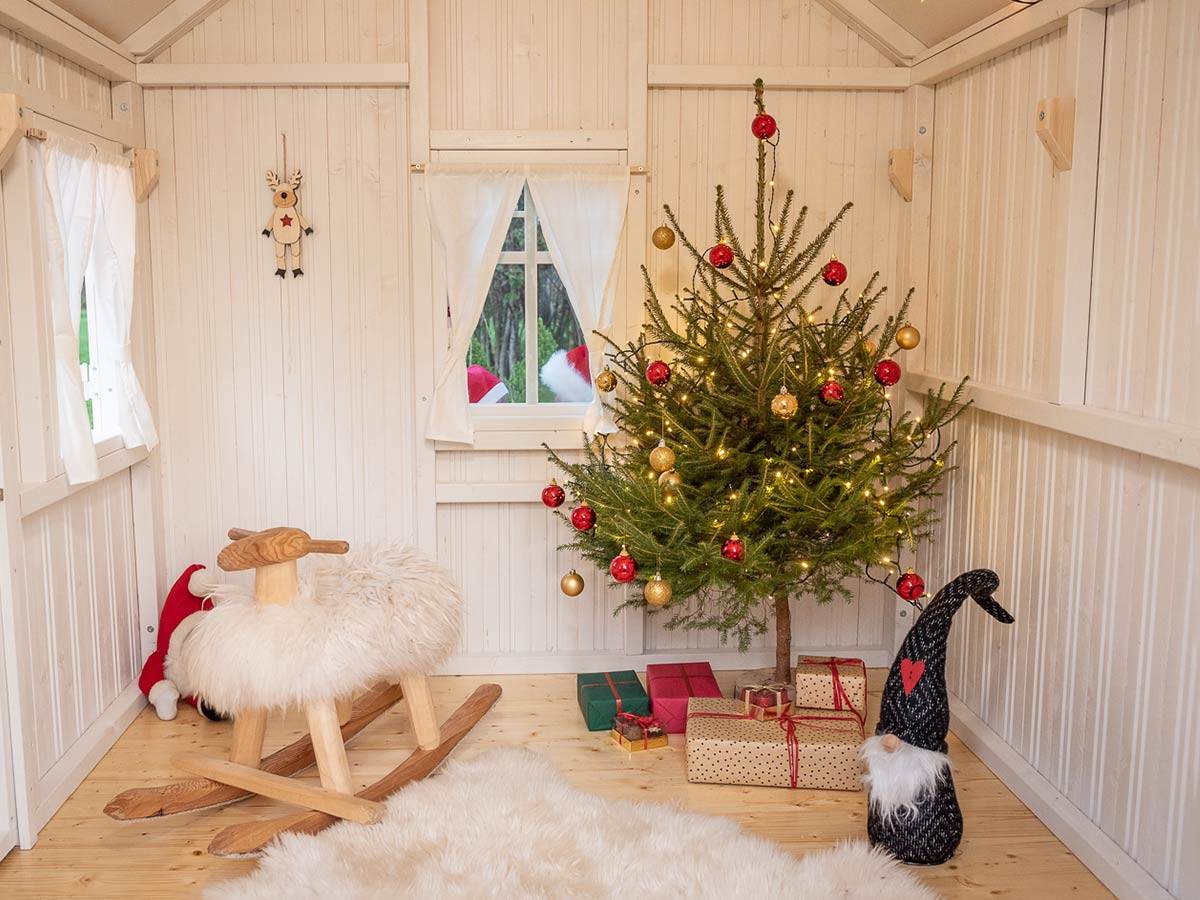 Christmas Playhouse Interior
Decorating your outdoor playhouse for Christmas, it is essential to set the mood both outside and inside your kids space.
Christmas interior décor for playhouses can both set the mood and protect kids from cold and drafts while they are playing inside. Get a bunch of Christmas-themed through pillows and place them all over the floor, creating an additional layer so kids don't get into direct contact with the cold floor.
Put a fuzzy carpet inside the kids playhouse or cover furniture with faux fur rags to create an atmosphere of a chalet lost in the Alpine mountains.
And of course, don't forget about the Christmas tree. Once you decide to place one inside the kids playhouse, make sure that the ornaments and decorations are shatterproof and won't get into small mouths. Also, fix the tree firmly to the floor to avoid flipping and injuring.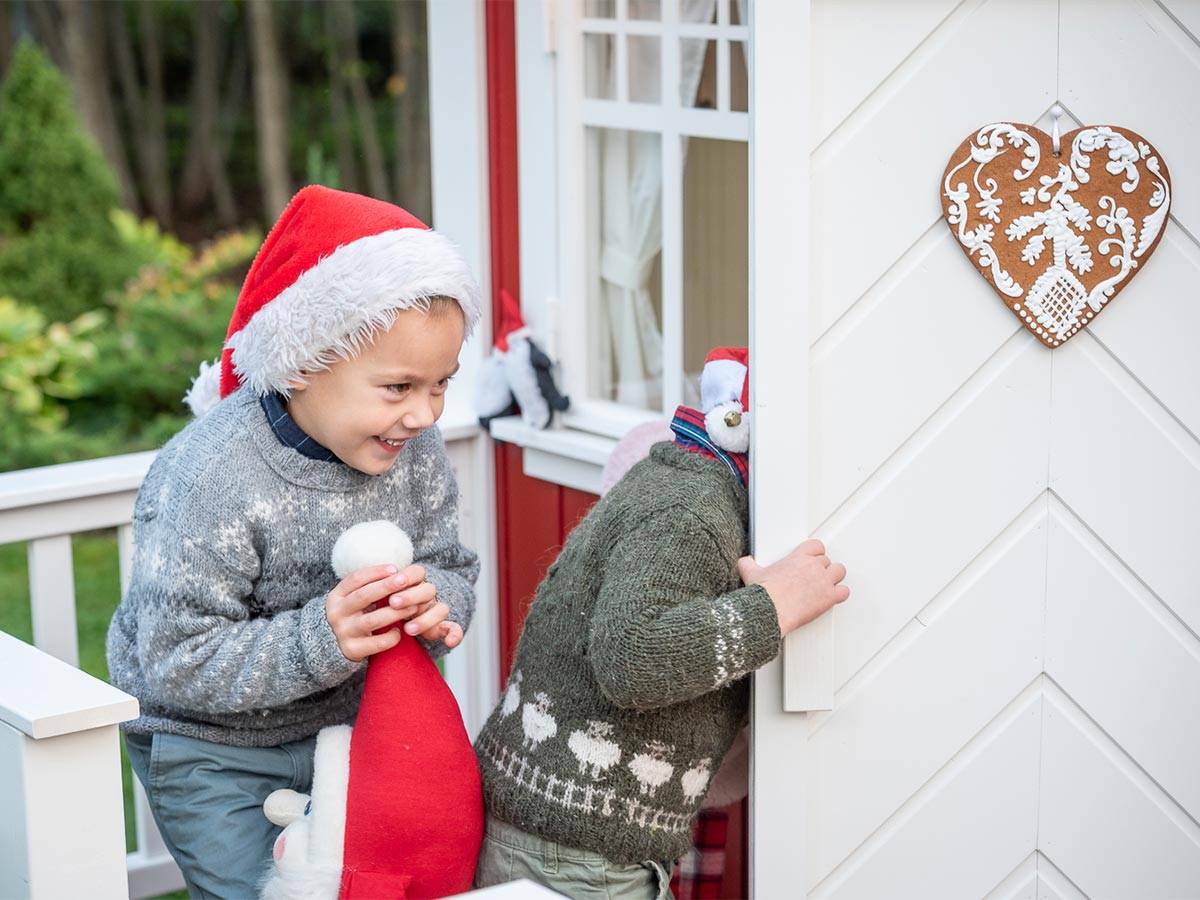 Prepare the Kids Playhouse for Santa's Visit
Finding presents under the Christmas tree is definitely the most beloved tradition by all the kids worldwide. But what if Santa visits their playhouse?
Preparing your outdoor playhouse for Santa's visit can be another stimulus for kids to decorate it and a thrilling adventure for the whole family!
Place the illumination so Santa will find your outdoor Playhouse easily. Don't forget cookies and milk for him and maybe hand-decorated food balls for his deer.
A playhouse can be an epicenter of Christmas preparations. The letters written for Santa and placed in the special decorative mailbox will instantly reach the recipient.
Kids will spend their whole time creating handmade decorations, placing socks and name tags all over the playhouse, and preparing homemade cookies.
They will bond, learn a lot and develop their creativity this year. And later on in the future, when they grow up, those Christmases spent in the outdoor playhouse will become one of the warmest childhood memories, and maybe a long-lasting family tradition passed from one generation to another.
Getting a wooden playhouse is a wonderful opportunity for the whole family to bond, discover each other's creativity. It is your chance to express yourself and learn a lot about your kids world vision. Being one of the main holidays worldwide, Christmas brings families together, helps them create and cherish their memories and traditions.
Decorating an outdoor playhouse together with your little helpers can become one of the most beloved traditions for your family, a thrilling adventure, and a bonding experience bringing several generations together under the roof of your cozy wooden playhouse.
"The best of all gifts around any Christmas tree: the presence of a happy family all wrapped up in each other. "
Written by WholeWoodPlayhouses
CHECK OUT OUR WOODEN OUTDOOR PLAYHOUSES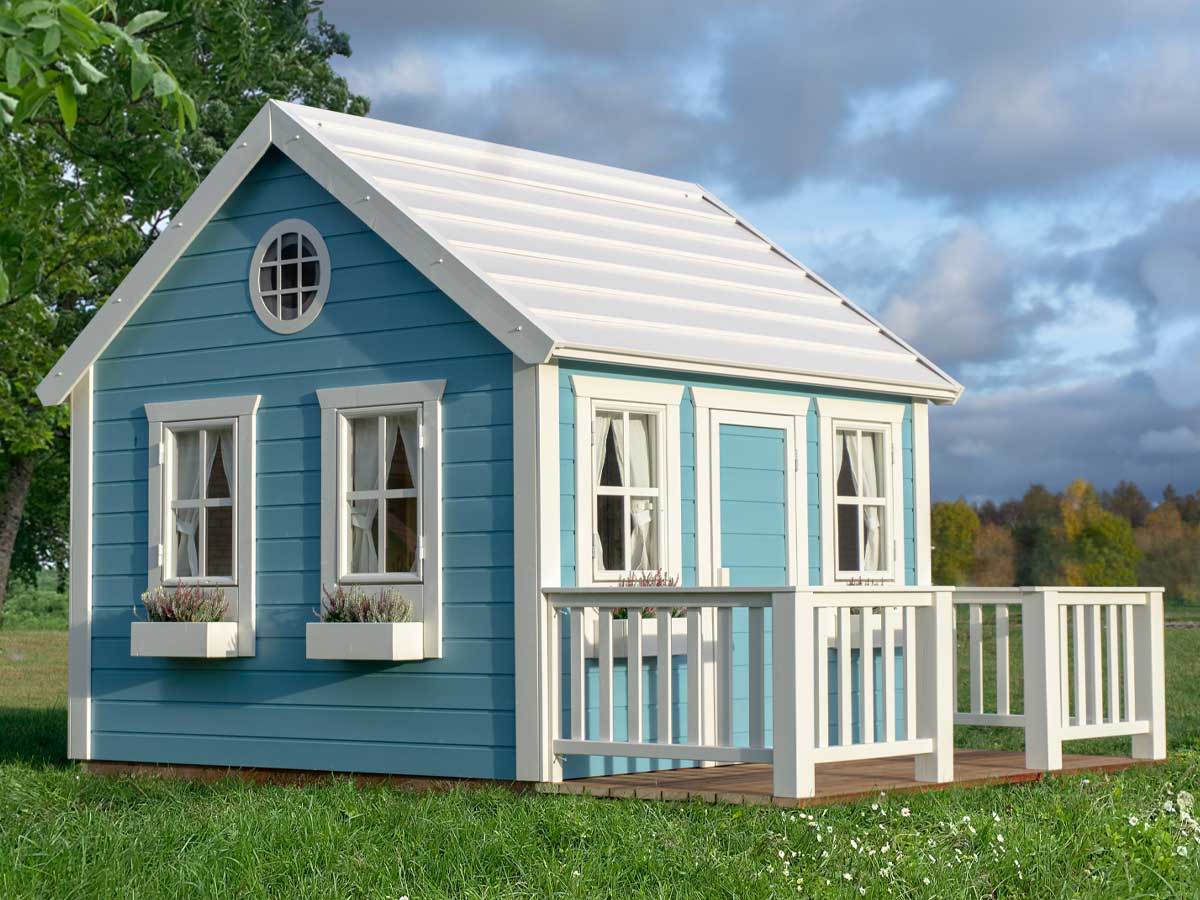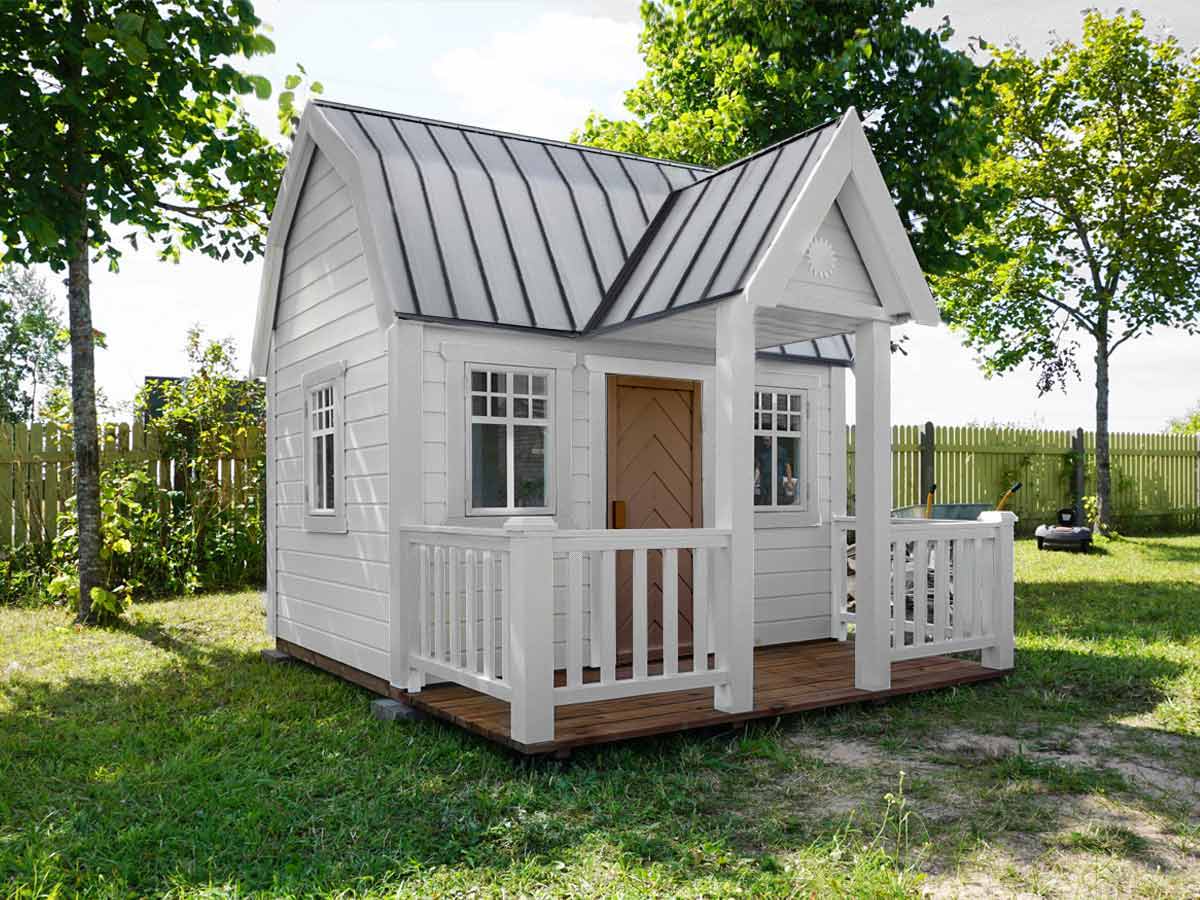 Playhouse Grand Farmhouse