How Big Should a Kids Playhouse Be?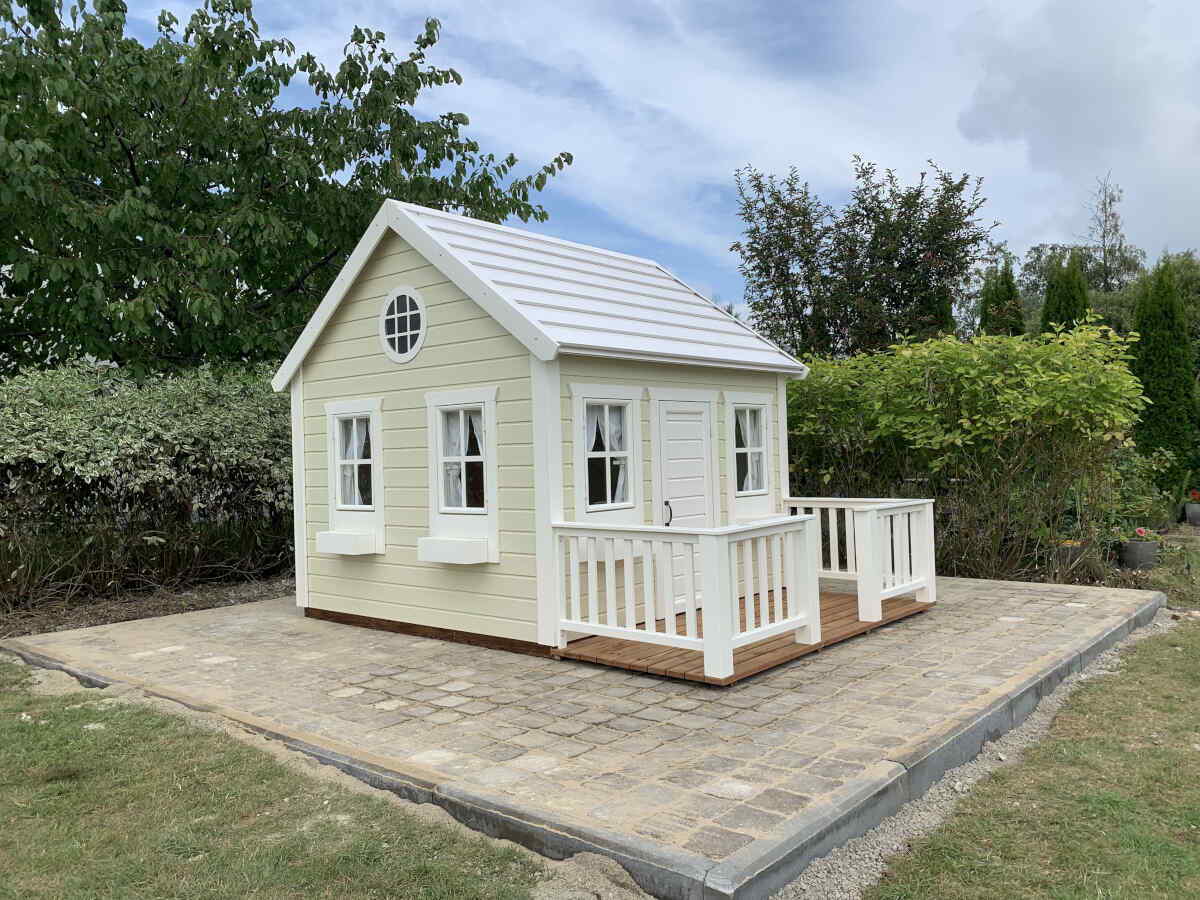 The idea of getting kids an outdoor playhouse is becoming more and more popular today. It is pretty understandable. The recent Pandemic and its restrictions made many families revise the way they spend time home together. Many people have literally rediscovered their own backyards. Since it was the only opportunity for thousands of families to safely get out of the house, people have turned their backyards into private gardens, playgrounds, etc.
An outdoor playhouse can help your kids create their own world, a safe place, a perfect location for parties and sleepovers, and a place where they can set their imagination free and fully express their creativity.
And while your kids may already anticipate how much fun they are going to have in their outdoor playhouse, you may be pretty overwhelmed with the choice of kids playhouses on the modern market.
Indeed, today playhouses come in all shapes and sizes and are made out of different materials. The limit is only the manufacturer's imagination and, of course, your wallet.
However, there is the main question you should ask yourself choosing an outdoor playhouse for your kids: how big is it supposed to be?
The size of your future wooden playhouse can be determined by many factors. From the obvious ones like the available space on your background to safety and even legal regulations that many people don't even know about until they start searching for a perfect outdoor playhouse for their kids.
In this article, we shall explain what you need to consider choosing a perfect kids playhouse and what is the perfect square footage for an outdoor playhouse that will fit your kids needs.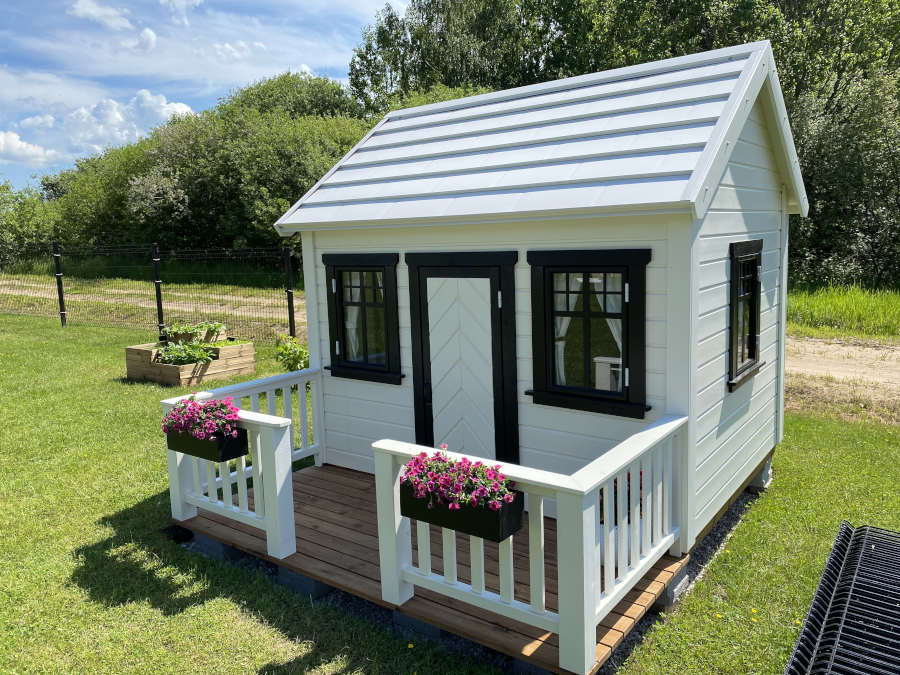 Taking Measurements for an Outdoor Playhouse
The first thing you need to determine is, of course, where exactly you are going to place the kids playhouse.
If your backyard is not too big, you may not have too many placement options. In this case, you will have to choose the size and structure of your playhouse according to the available space.
The bigger your property is, the more things you take into account when choosing a place for an outdoor playhouse. To make sure that the wooden playhouse serves you for many years and kids play safely in it, the place where you put it should be:
Flat and firm;
Easily accessible;
Visible from the main house.
Depending on your local climate, you may also make sure that the place where you put your kids playhouse doesn't get flooded regularly and stands away from big trees or poles that may fall and damage it in case of a storm or hurricane.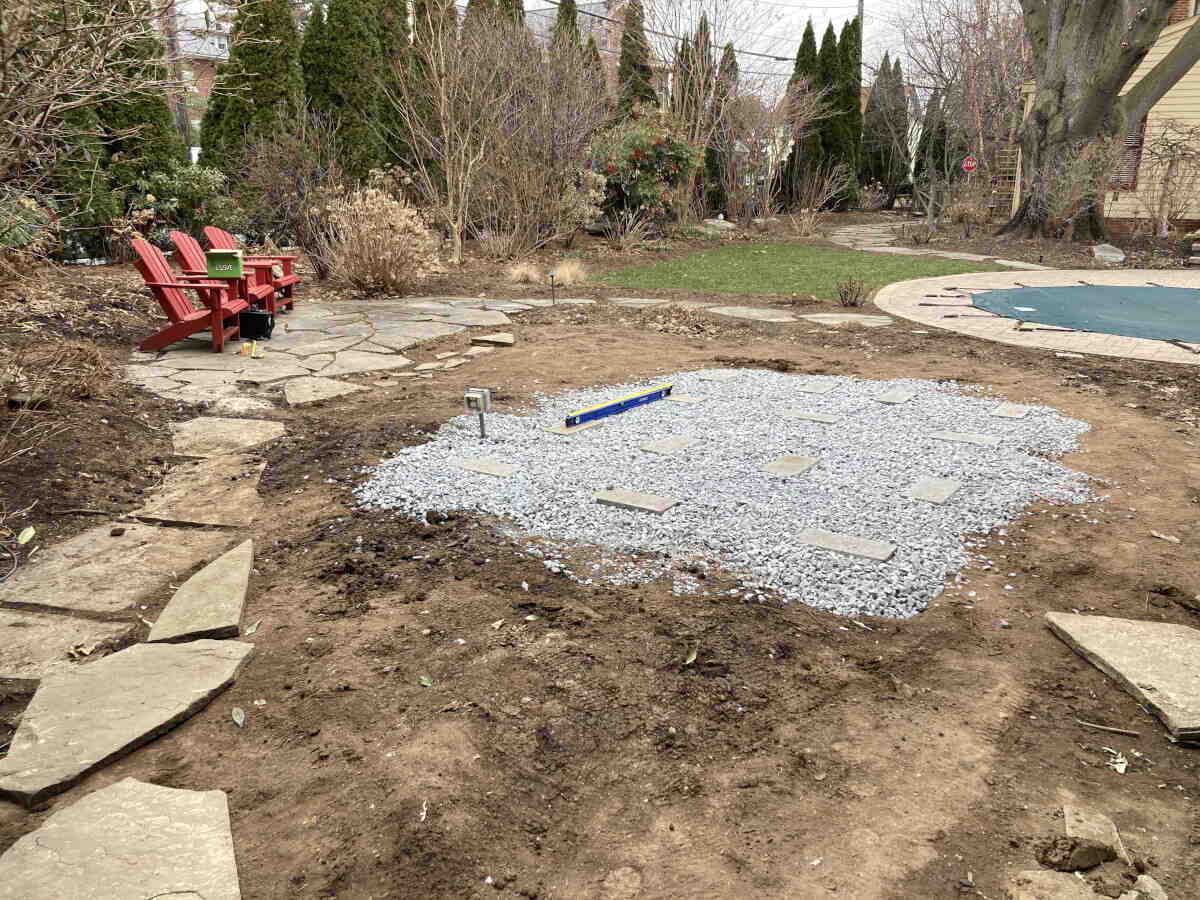 Once you find the perfect place for a wooden playhouse in your backyard, it is time to take the measurements.
It is important that you measure not only the length and width of the available place in your garden but also consider the height of your outdoor playhouse. While some models of wooden playhouses and DIY Playhouse Kits come as elevated tower houses or even two-storey constructions, the height of your future outdoor playhouse may be as crucial as its square footage.
There are three main criteria that you need to consider choosing the size of your kids playhouse:
It should fit the kids;
It should fit your property;
It should fit possible local restrictions and requirements towards all outdoor constructions, including kids playhouses.
Every measurement can play a crucial role for each of these criteria. The ideal outdoor playhouse is safe for your kids and has enough space for them, their toys, art supplies, etc. At the same time, it fits the square footage as well as aesthetics of your backyard and does not block the view or safe passage through your property.
Normally, 8x8x8 ft is a perfect versatile size of a wooden playhouse. It allows you to get a comfortable and safe structure for your kids, whether we are talking about a classic wooden playhouse model with a small cosy terrace or an elevated Tower Playhouse kit with a sandbox, swing, or slide options.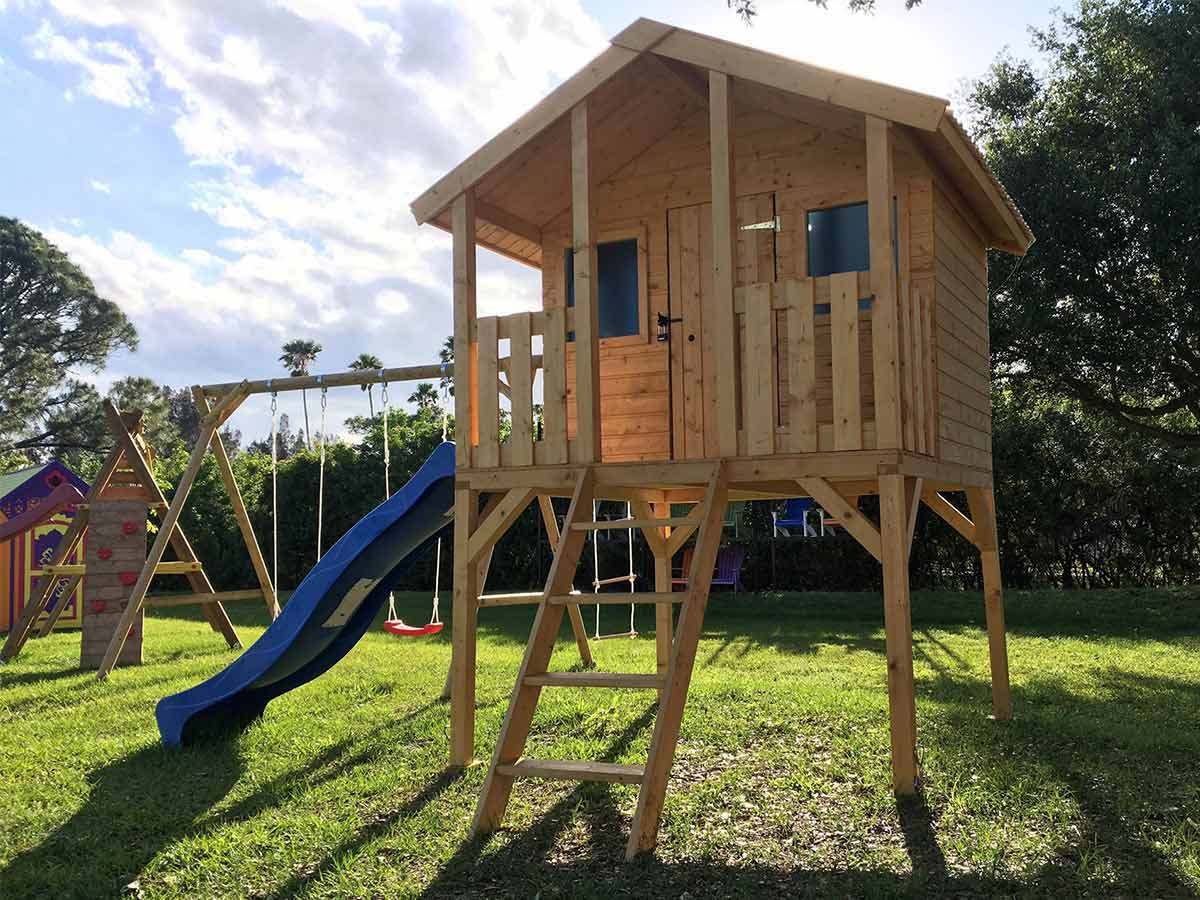 Do I Need Planning Permission for a Wooden Playhouse?
It is the most common question people ask, thinking about the possible size of their future outdoor playhouse. Unfortunately, there is no universal answer to this question. In many cases, the necessity of planning permission for a kids playhouse as well as an outdoor kitchen deck or a tool shed will depend on local legislation as well as peculiarities of the structure and the neighborhood itself.
Sometimes a two-storey outdoor playhouse in your backyard does not bother anyone or cause any safety concerns. In other cases, your housing association might ask for planning information for even a basic DIY Tower Playhouse Kit.
In our experience, planning or building permits are usually not required for kids outdoor playhouses. Nonetheless, if you live in a stricter community or historic neighbourhood with special building and garden rules, we advise you to check before your kids playhouse arrives. If you are required to provide information beforehand to your local association or municipality, then let us know and we will provide with technical drawings and anything else you might need!
"Children need the freedom and time to play. Play is not a luxury. Play is a necessity."
A Wooden Playhouse That Fits Your Kids
Probably the main thing you think about choosing the size of an outdoor playhouse is the comfort and safety of your kids. After all, it is going to be their space and the place where they will spend most of their free time from now on.
DIFFERENT STYLES, SIZES & PRICES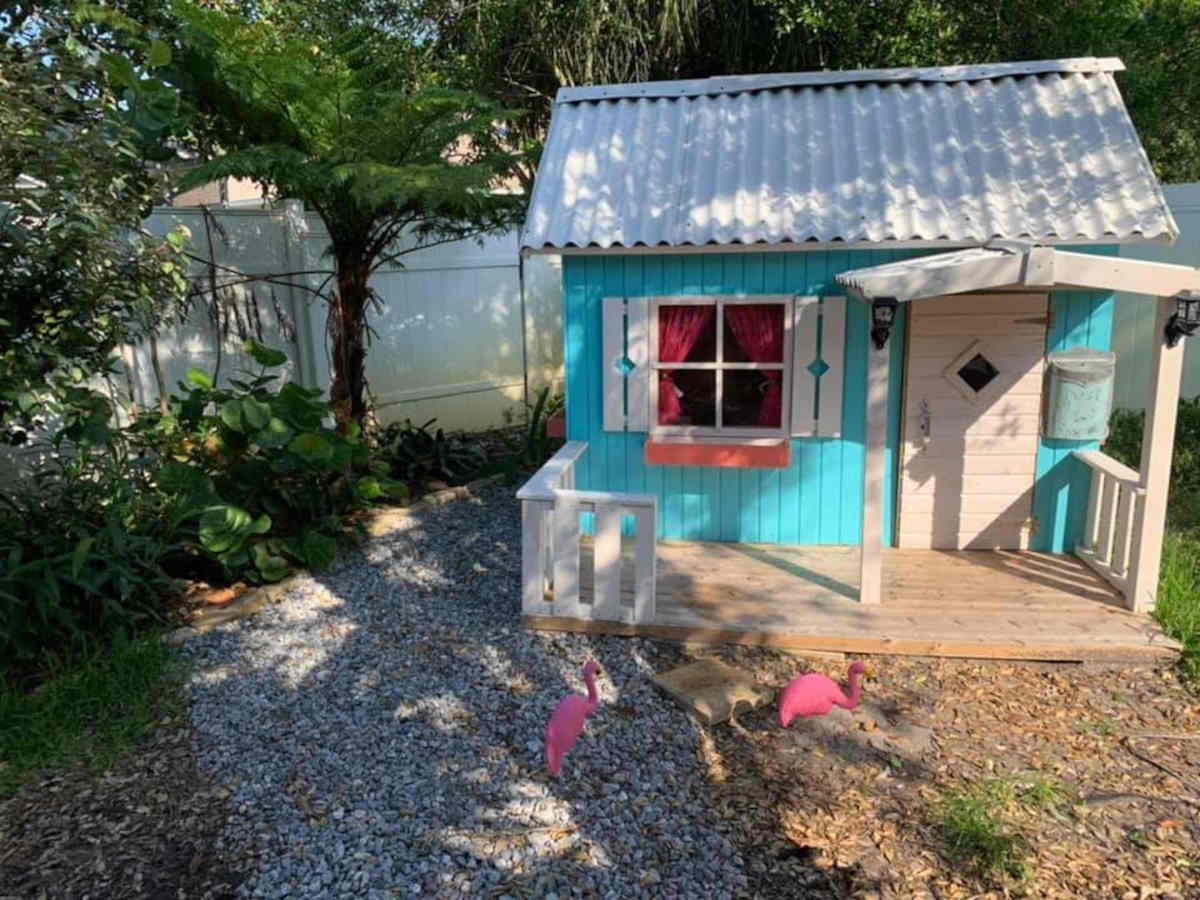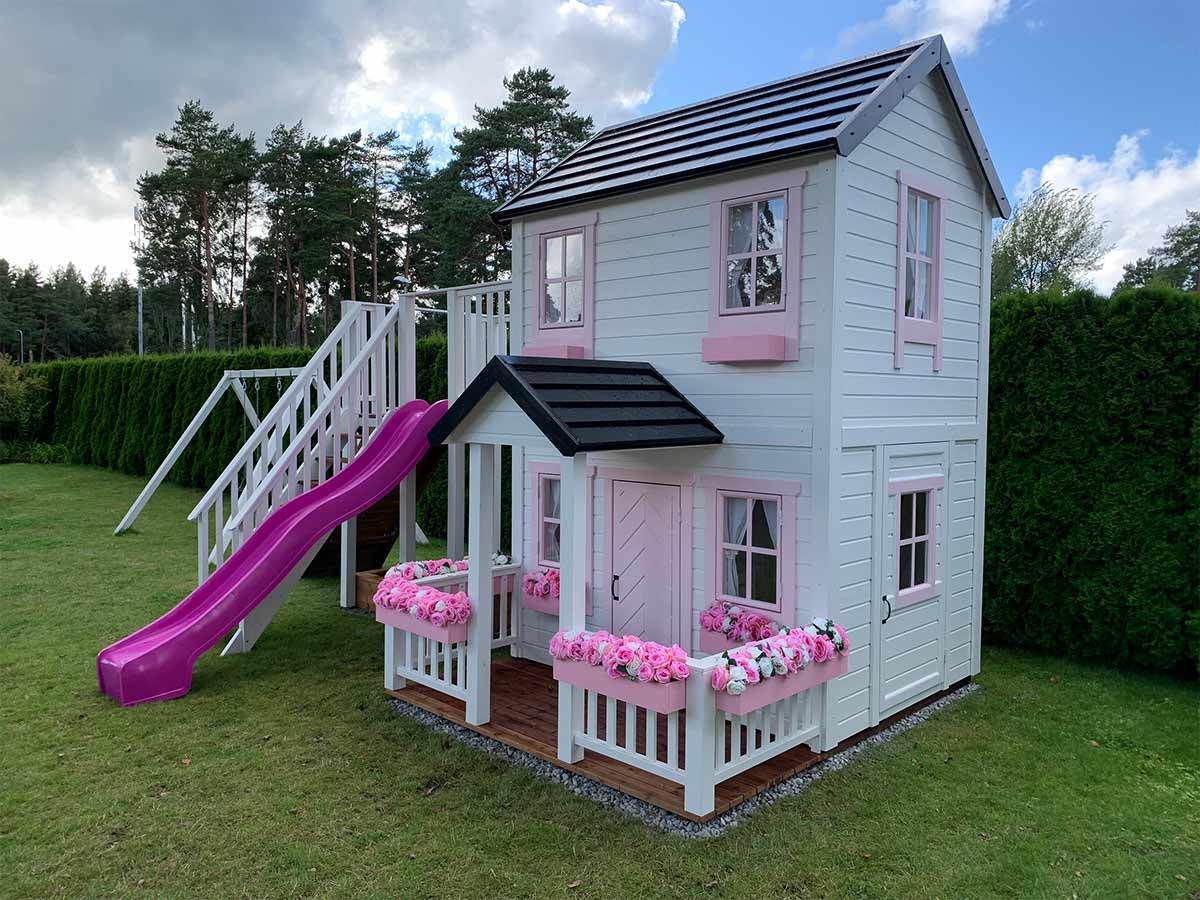 Thinking about an outdoor playhouse that fits your kids needs perfectly, you may want to consider the following factors:
How old are your kids? On the one hand, an outdoor playhouse is a perfect idea for kids of any age, from toddlers to teenagers. Even grownups can have tons of fun in an outdoor playhouse. However, it is important to make sure that the playhouse is not too big and not too small for your kid. For example, a basic tower playhouse with 3x3 feet inside space may be perfect for younger kids, but perhaps not for a 14-year-old. At the same time, kids grow. And much faster than you can imagine. Of course, investing in a playhouse, you want it to last for years and fit their needs and interests while they get older. From this perspective, an 8x8 foot is a perfect floor measurement for an outdoor playhouse. It will be spacious inside and will allow you to have an outdoor terrace or a small playground at your kids playhouse;.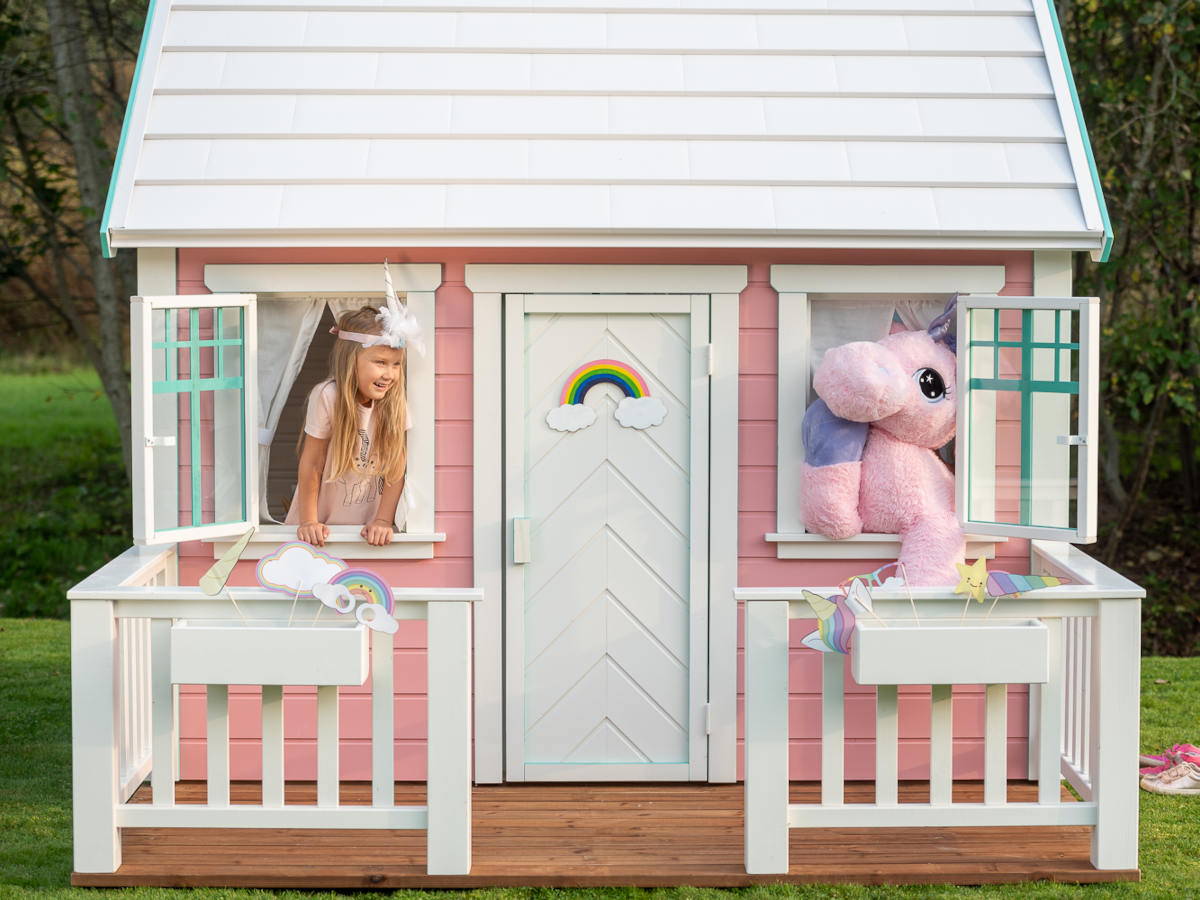 How do your kids play? Kids playing habits are also crucial when you choose the size of an outdoor playhouse. Some kids prefer playing outside and will probably use the playhouse mostly as a "headquarters" or storage for their "equipment." Other children may be more "indoorsy," turn their wooden playhouse into a science lab, an art gallery, or superheroes lair. Your kids may want to invite friends for a sleepover in their wooden playhouse, use it as a secure safe space, a home theatre, or a library. Any way you look at it, the playhouse should be spacious enough so they could play there comfortably but still remain in reasonable sizing so you could easily maintain your wooden playhouse keeping it safe, cosy, and beautiful for the kids.
How many kids will use the playhouse? How many kids will enjoy the outdoor playhouse? Do they share the same interests, or will each one need some personal space? Do your kids often invite friends over, or will the playhouse be their exclusive secret headquarters. There are many questions you may need to ask yourself and your children to understand how big should be your future outdoor playhouse.
CHECK OUT OUR OUTDOOR PLAYHOUSES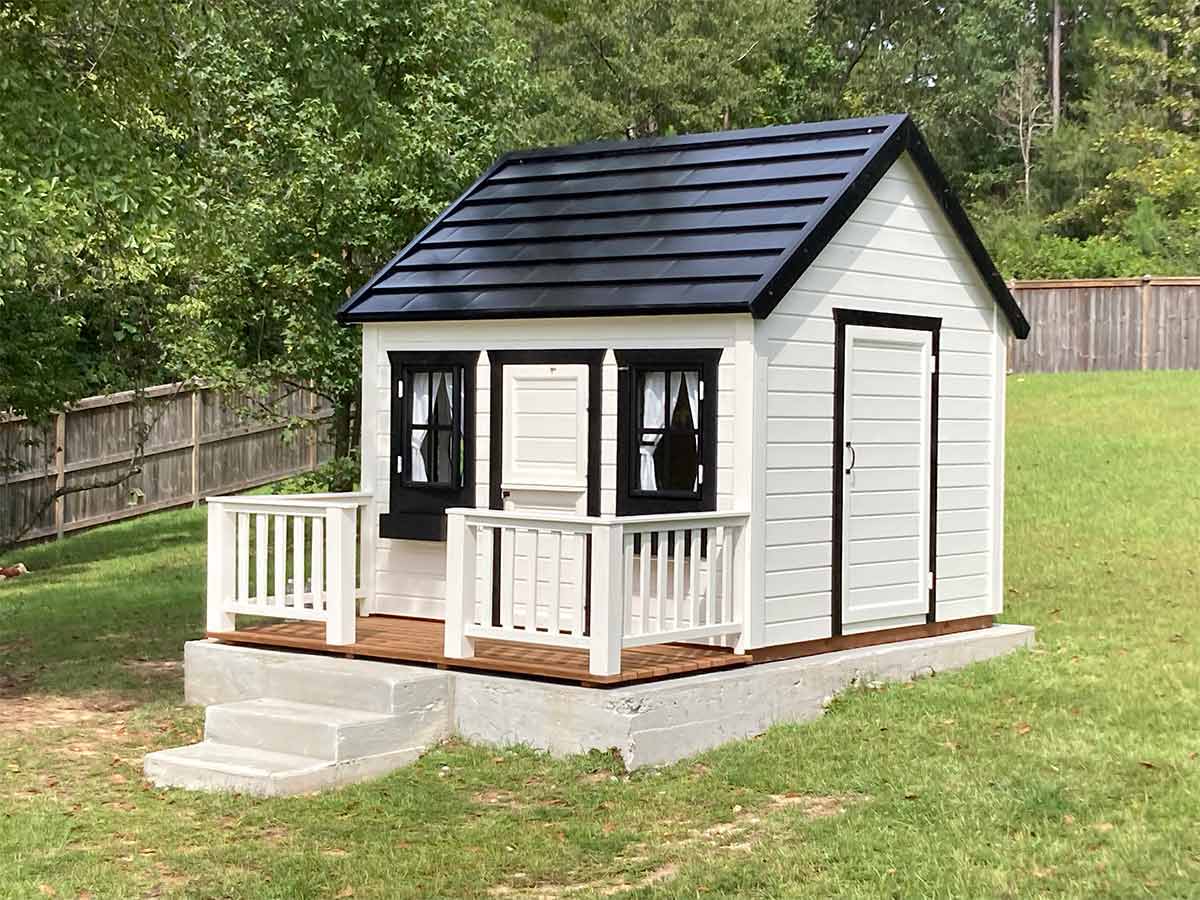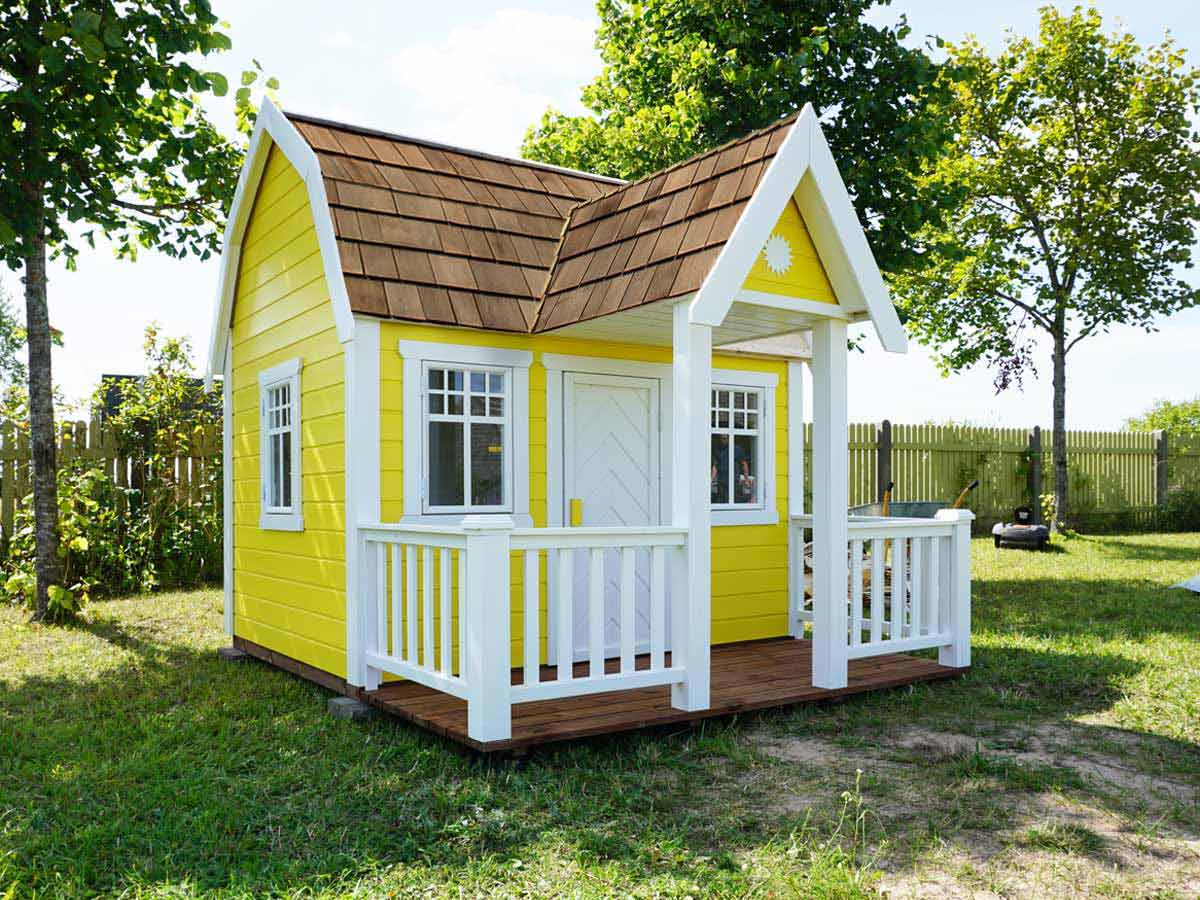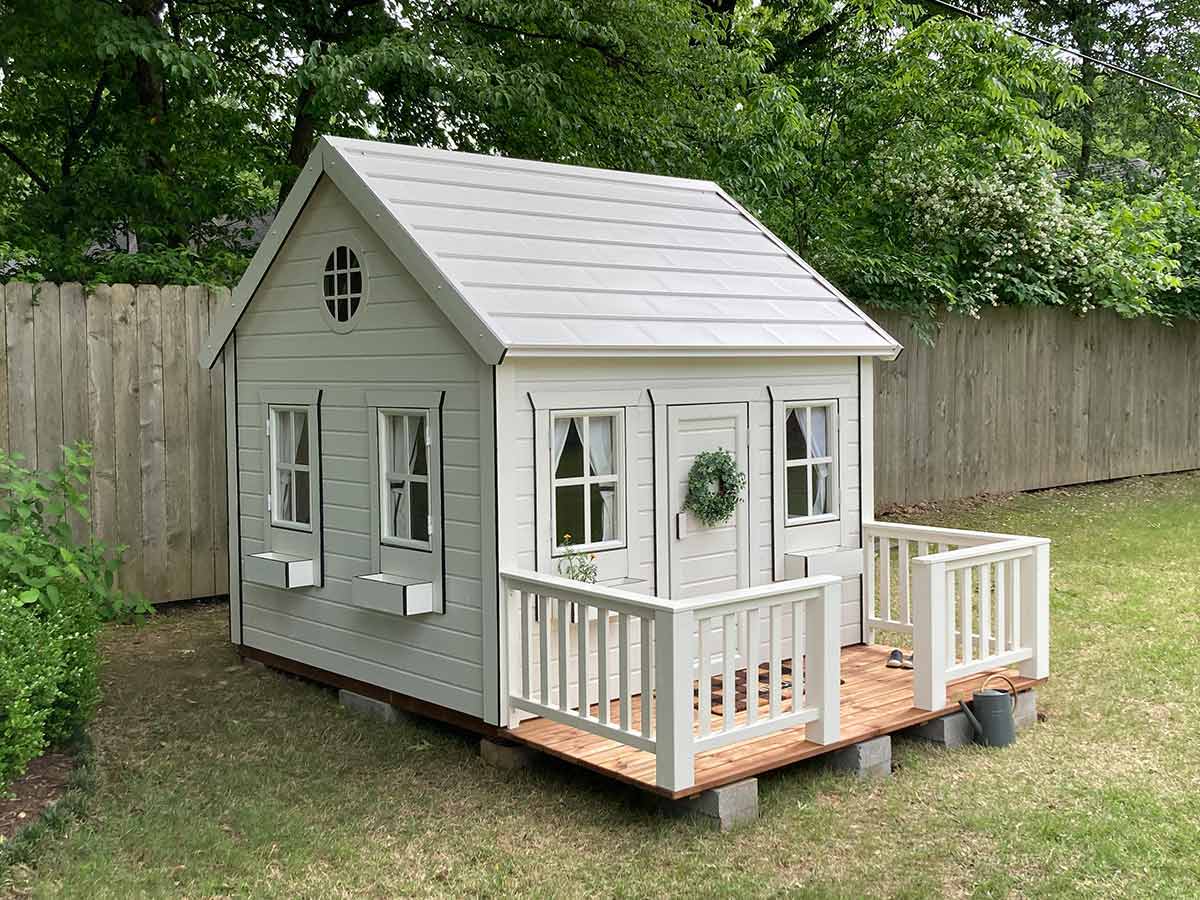 An Outdoor Playhouse That Fits You!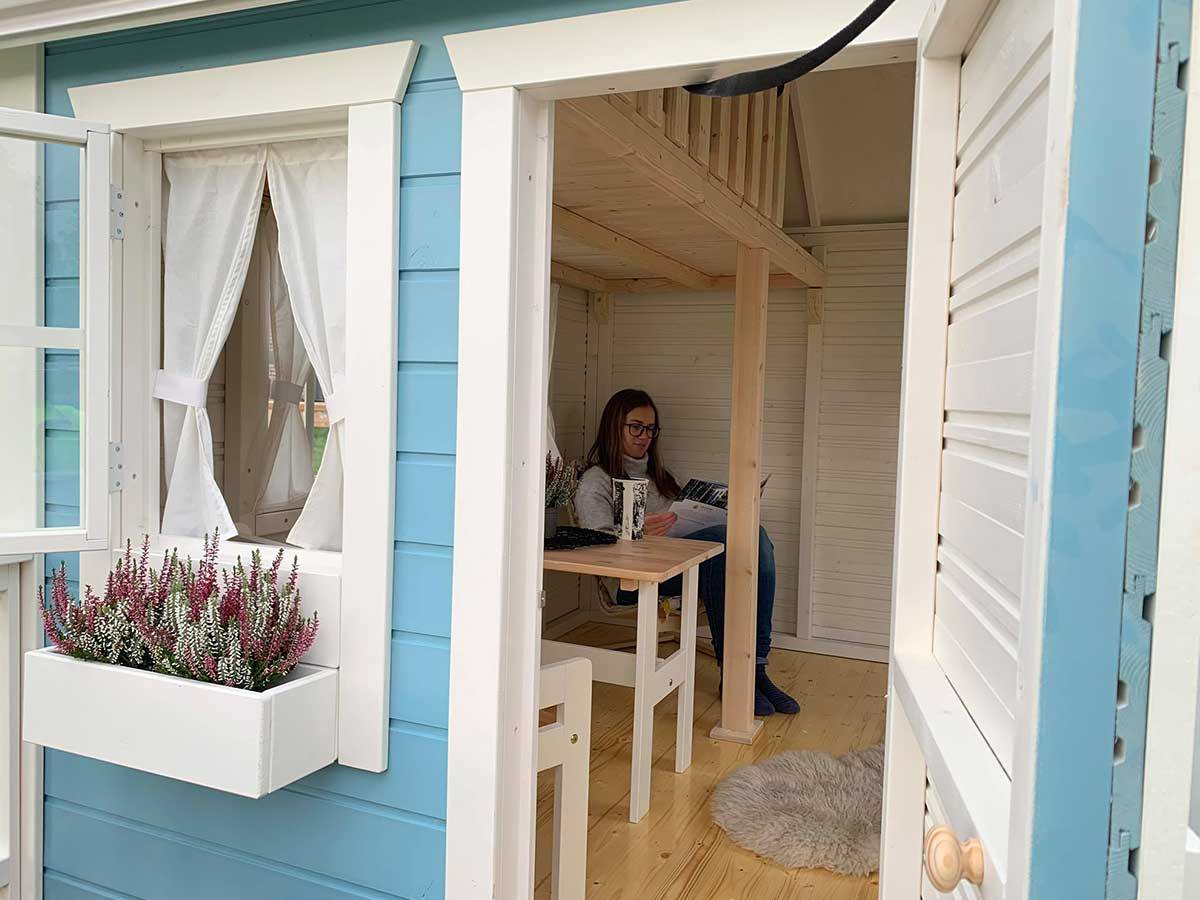 Yes, you are getting the outdoor playhouse primarily for your kids. But it does not mean that you should not consider your personal interests, comfort, and the aesthetics of your property when you plan the size of a kids playhouse.
First of all, you need to consider the annual maintenance of your wooden playhouse. Are you going to take care of it yourself, or are you planning to hire someone to do it? Wooden playhouses keep very well through time, but they do also want a bit of love in spring - cleaning of the roof, a check if anything has damaged the playhouse from the outside or inside. Most parents do it with their kids - it is not a big task and will teach the kids how to take care of their belongings.  
Do not forget, your interests also matter! If you have been dreaming of a private garden, an outdoor kitchen, or a workshop in your backyard, you should find a way to correlate the size of the kids playhouse with your own plans for the backyard, not cancel them for a playhouse. Afterall, how cool is it if both parents and kids can have fun togetehr in the garden :)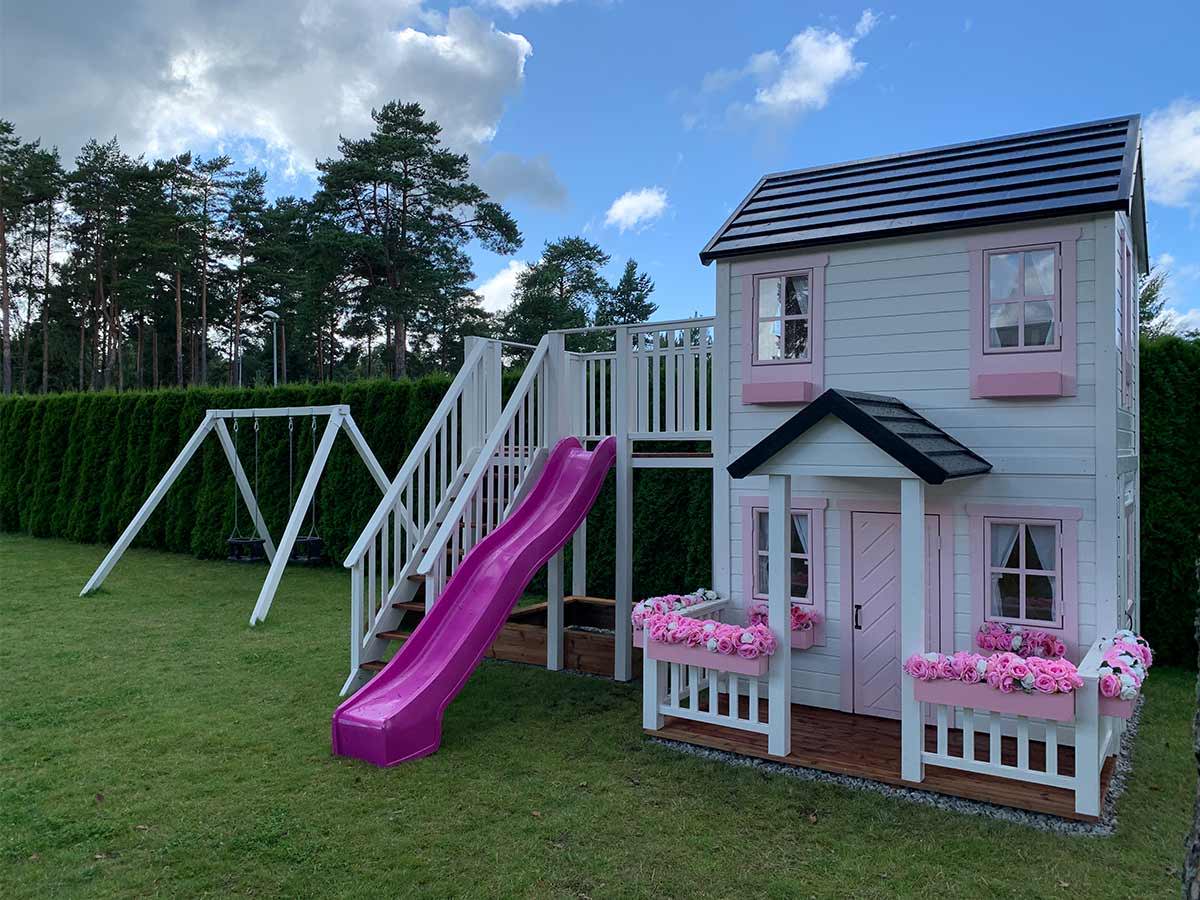 Getting an outdoor playhouse for your kids is a great idea. It is an opportunity to encourage your kids creativity, pull them away from gadgets, introduce that to imaginative play and have a great bonding experience for the whole family.
"This world is but a canvas to our imagination."
Want to read more about Playhouses?
Written by WholeWoodPlayhouses
CHECK OUT OUR OUTDOOR PLAYHOUSES