Custom Arctic Nario Playhouse with a Mud Kitchen– the Happiest Days End up with Dirty Clothes!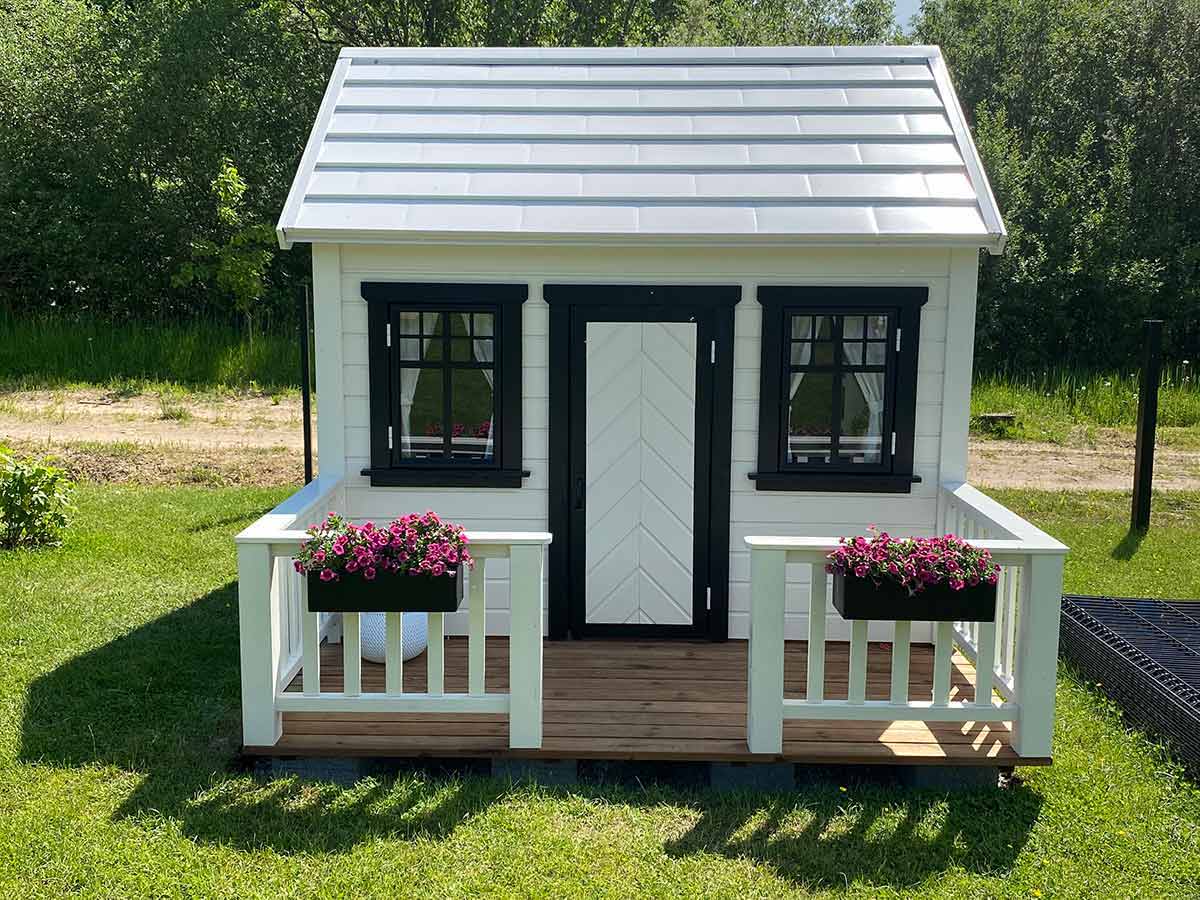 Every parent wants their kids to spend as much time as possible outdoors, explore the forests, and discover the wonders of the world in the midst of real nature. Unfortunately, it is not always possible, not always easy, and not always as safe as we would want.
Buying an outdoor playhouse at the same time is a great opportunity to inspire kids to spend more time in the fresh air and be closer to nature. Even if the great outdoors is limited by your backyard fence.
This is exactly what Mark and Megan thought when they decided to get a custom wooden outdoor playhouse for their kids. And they were absolutely right! However, these two parents managed to find a way to make their kids playhouse even more exciting and attractive for their little explorers!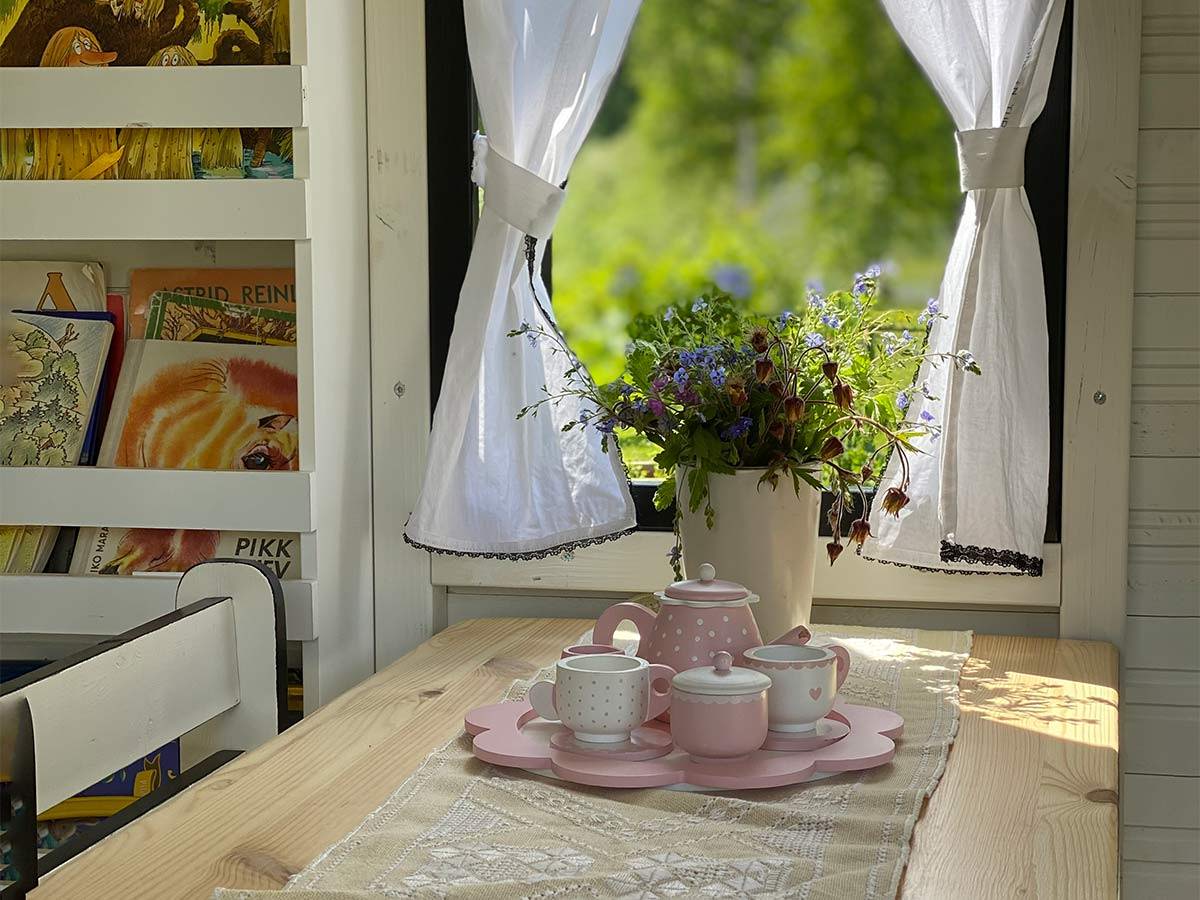 When their custom Arctic Nario Playhouse was delivered and installed, Mark noticed that he's got left with a wide palette the playhouse was delivered on. After a couple of hours of browsing Pinterest and some basic construction work, Mark managed to build a mud kitchen for his kids playhouse.
This seemingly simple addition gave a whole new edge to the whole idea of having an outdoor playhouse in their backyard. Except for giving kids a chance to enjoy unrepentant goofing around with mud all day long, it has introduced them to a unique educational opportunity, a chance to learn and develop new skills while doing what every kid (and many adults) enjoy most – playing with mud.
In this article, we shall tell you more about Mark's kids' experience with their custom Arctic Nario Playhouse and explain why and how mud play is so beneficial for kids of all ages.
"Whoever wants to understand much must play much."
How Mud Makes It All Clear
From the variety of outdoor playhouses that we offer, Mark and Megan chose the Arctic Nario Playhouse. They said that they really enjoyed its bright, concise design that would perfectly match their backyard at any season.
Indeed, Arctic Nario Playhouse is a bright, airy playhouse with dark decorative accents that perfectly translate the classic Nordic architecture style in the scale of a kids wooden playhouse. It is minimalistic and stylish, which makes it so attractive to parents and cute and dreamy for kids.
However, when Mark said that he had built a mud kitchen for their Arctic Nario Playhouse, we were fairly surprised. Would not the idea of kids playing with mud around it make this bright-painted wooden playhouse a bit… high maintenance?
But when Mark and Megan told us more about their project and the idea they planted into it, we realized how much hidden potential outdoor playhouses reveal to every new owner. The potential we often didn't even think about!
WOODEN PLAYHOUSES FOR KIDS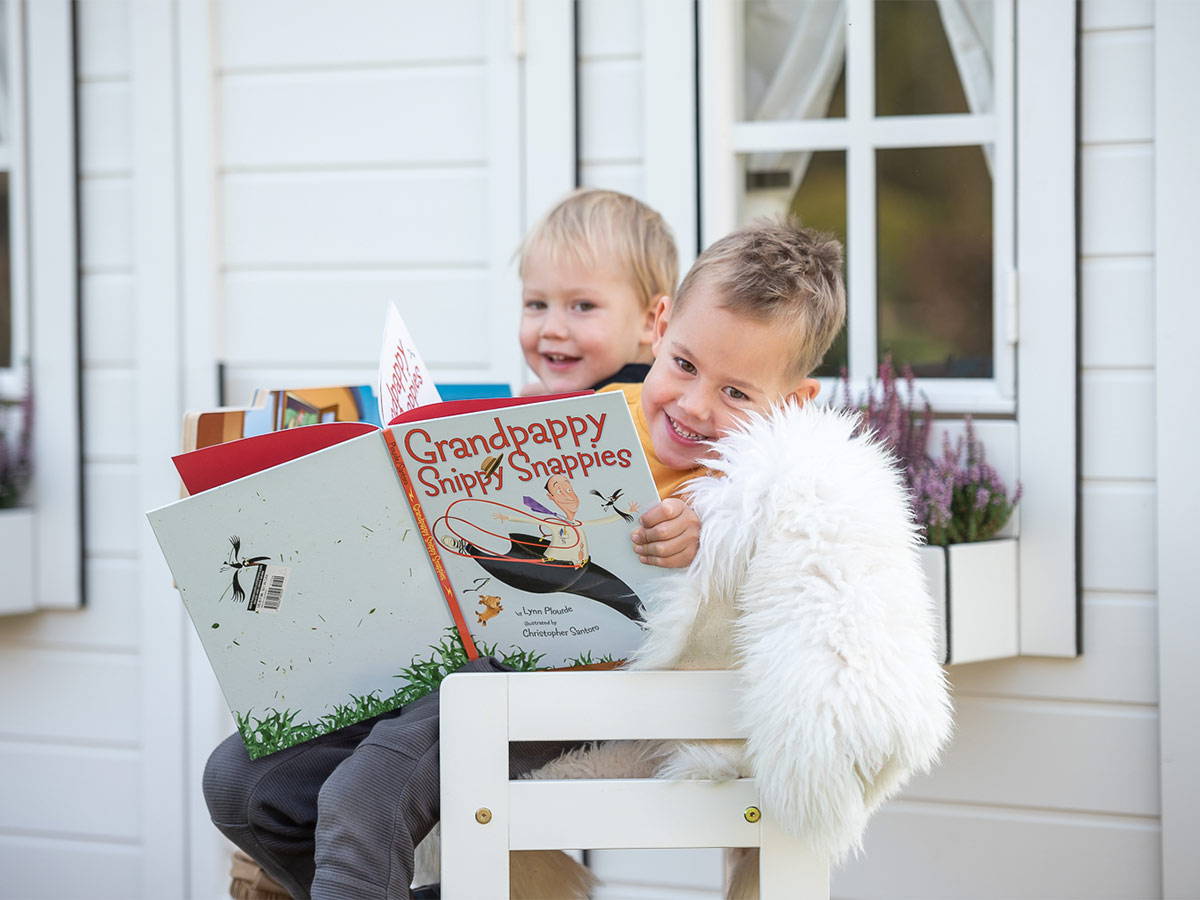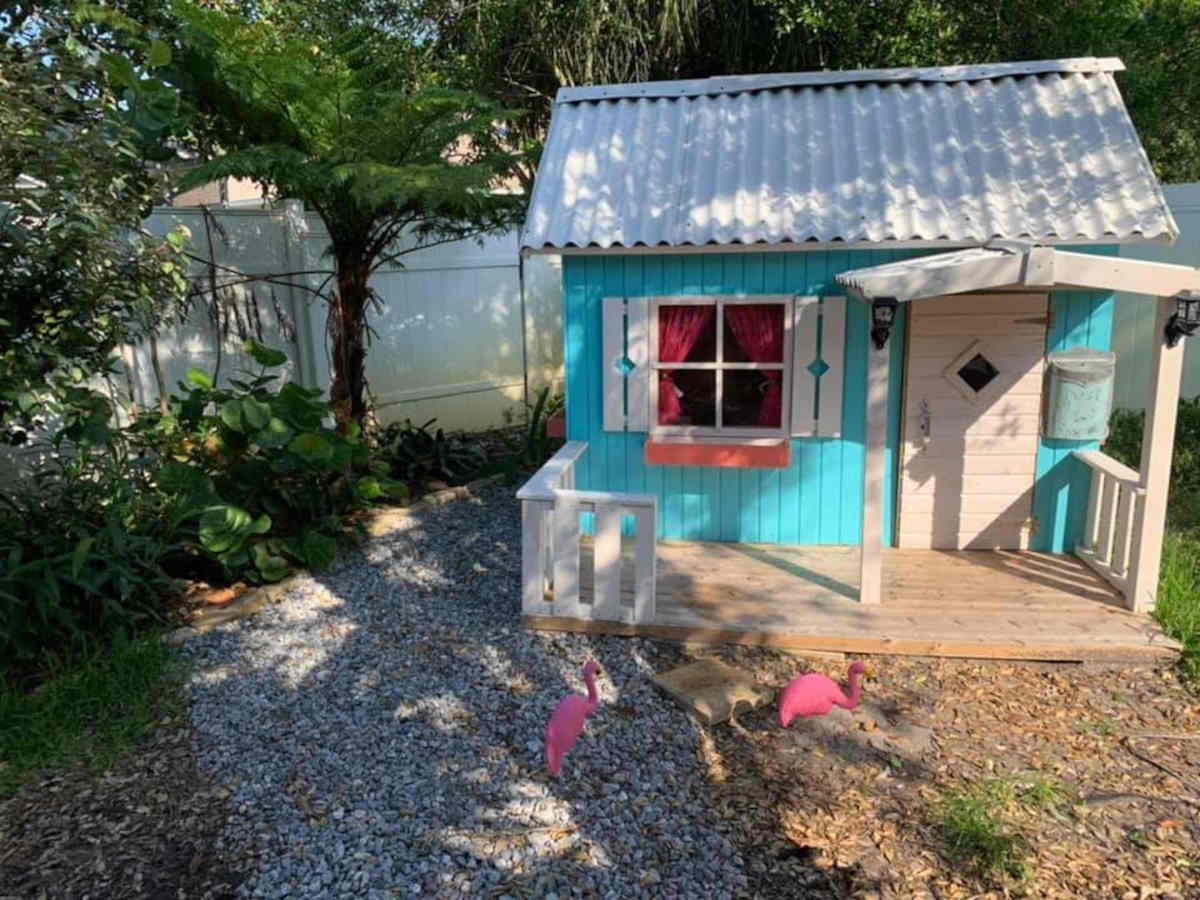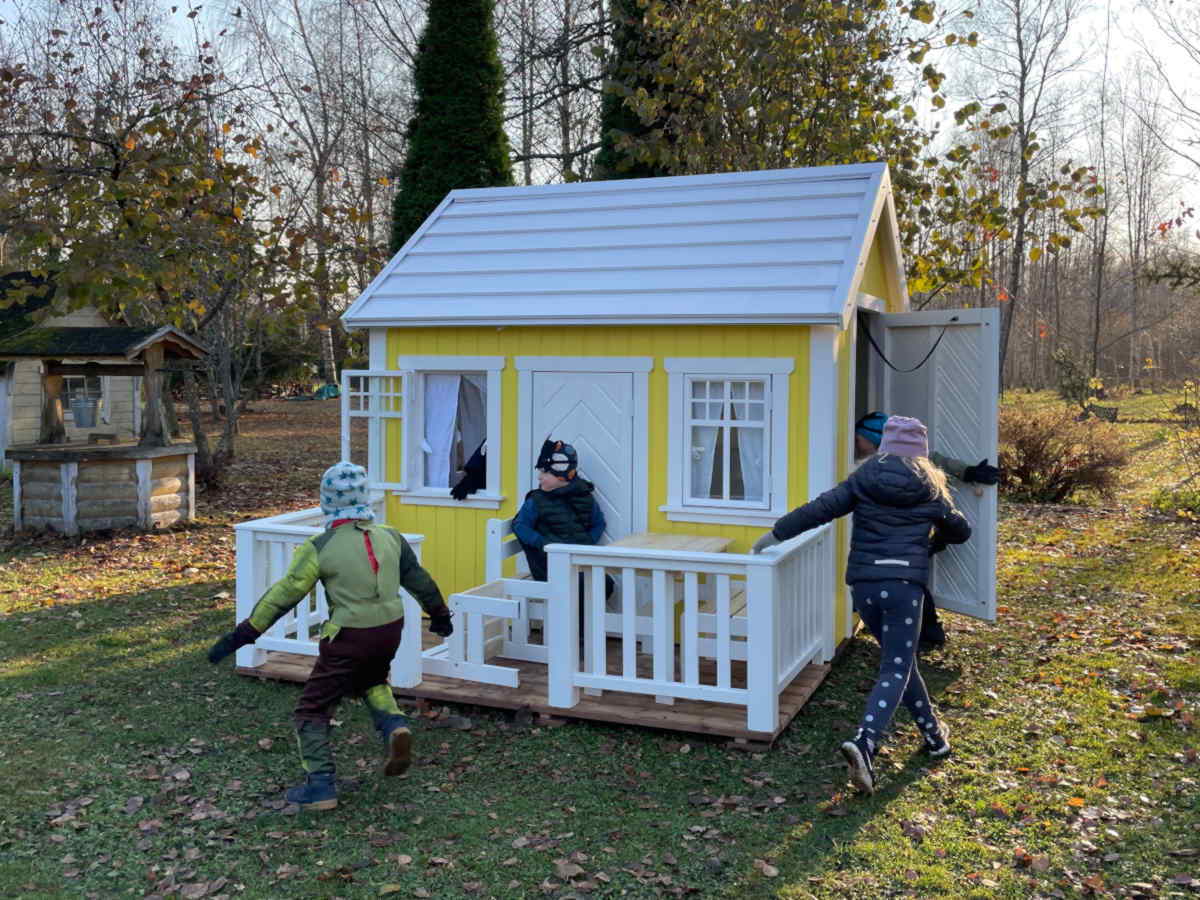 Why Build a Mud Kitchen for Your Kids Playhouse?
Remember how we emphasize the idea of kids connecting more with nature and being encouraged to play outdoors with their wooden playhouse? Well, a mud kitchen definitely makes sure of it!
What do kids enjoy most when you take them to a forest or countryside. Let's be fair; bird watching and admiring the beauty of nature is hardly their #1 priority. Kids love to play with mud. Get into soggy, muddy puddles, laugh so hard when they get stuck in it and have to be pulled out, throw mud around, etc.
Why do they love it so much? Experts have several explanations. Some say that it is kids' natural desire to explore and get in touch with something they don't see a lot in real modern life.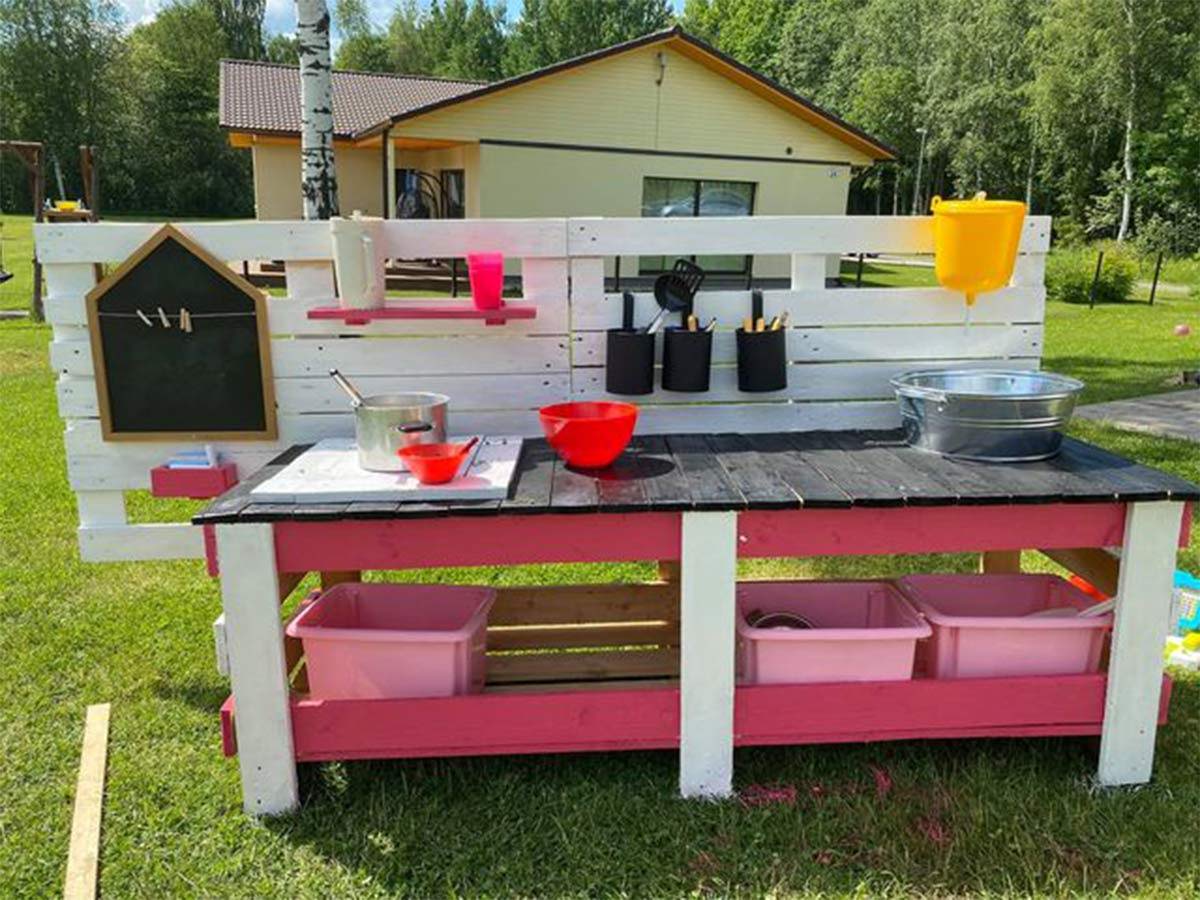 At the same time, getting dirty, seeing the consequences, and cleaning up is an essential experience for a kid's development. It is one of the things that helps them to develop cause-effect thinking.
Not to mention the fact that mud can change its texture and color depending on how much water you add and where it comes from. It is simply fun to experiment with.
As much as Mark wanted his kids to connect with nature, he could not take them to the countryside as often as he wished. Getting a mud kitchen for their outdoor playhouse gave an additional boost to the whole idea of outdoor play, allowing kids to go beyond running around the backyard and chasing butterflies and explore nature from within… literally!
CHECK OUT OUR OUTDOOR PLAYHOUSES
From Mud Play to Gardening
Like many of us, Megan and Mark want to make their backyard look neat, nice, and Instagram-worthy. And every plant lover would tell you that gardening is something like potato chips – you cannot just get one bush and close the matter.
As a result, gardening became one of their main hobbies pretty soon. They really wanted their kids to get involved with it also and get all the benefits and joys of spending time outside, seeing how the plants grow and the garden starts to take shape.
It was one of the reasons they got their kids the outdoor playhouse. And it worked!
Well, almost. Yes, kids instantly started to play in fresh air much more and really enjoyed the new game opportunities the wooden playhouse provided them. But just like most urban modern kids, they didn't really share their parents` passion for gardening. Mainly because it is dirty and weird; there are worms, bugs, and who-knows-what in that soil.
A mud kitchen helped kids to break this last barrier and overcome their insecurity. While making their mud soups and souffle, kids felt that they were in control of the situation; they could explore and get used to mud safely and have fun on the way.
Soon enough, their interest has switched to gardening, helping parents to plant and take care of new flowers and trees in the backyard. Now the family has a bonding and exciting hobby that literally flourishes, giving them lifetime memories and cherished quality time outdoors.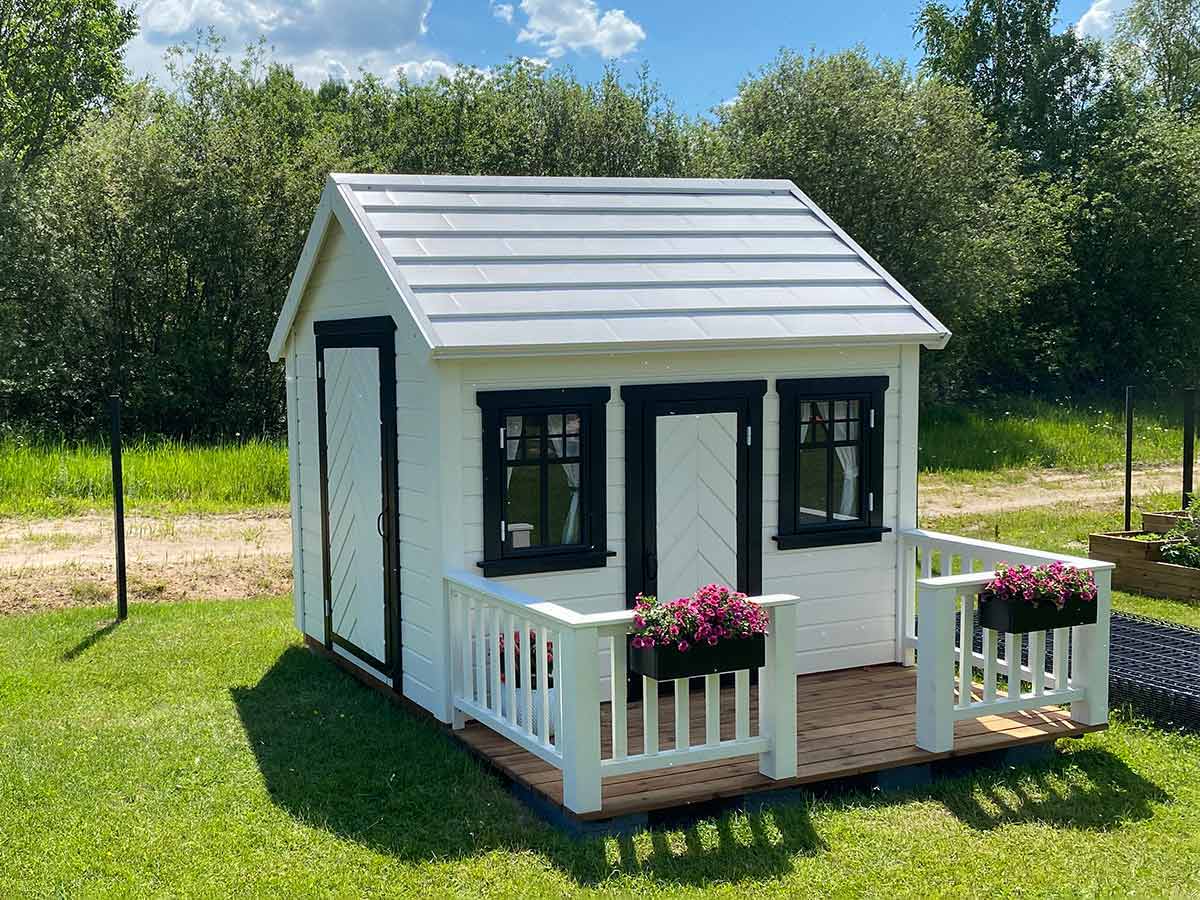 Remember how we were a bit confused when Mark suggested building a mud kitchen for a bright-colored Arctic Nario Playhouse. Despite all the concerns this idea raised, Mark claimed that nothing taught his kids to be neat and keep the place clean better than a mud kitchen.
When kids walk all over the house in street shoes or don't dust their rooms for weeks, it is pretty hard sometimes to explain to them why you get so irritated and want them to clean after themselves. Indeed, the effect from one walk across the carpet in fusty sneakers is not seen right away, and for kids, it fairly says nothing.
But when you get covered with mud after a good play with siblings and friends in your backyard, you instantly see how the mess affects your favorite things, especially your cherished outdoor playhouse.
When the consequences of your actions are so visible, you know how and why to avoid them! As for Mark's kids, this approach worked perfectly as kids really loved their Arctic Nario Playhouse and wanted so much to keep it in its original condition inside and outside. They realized how to play and protect themselves and the wooden playhouse and clean after themselves in the end.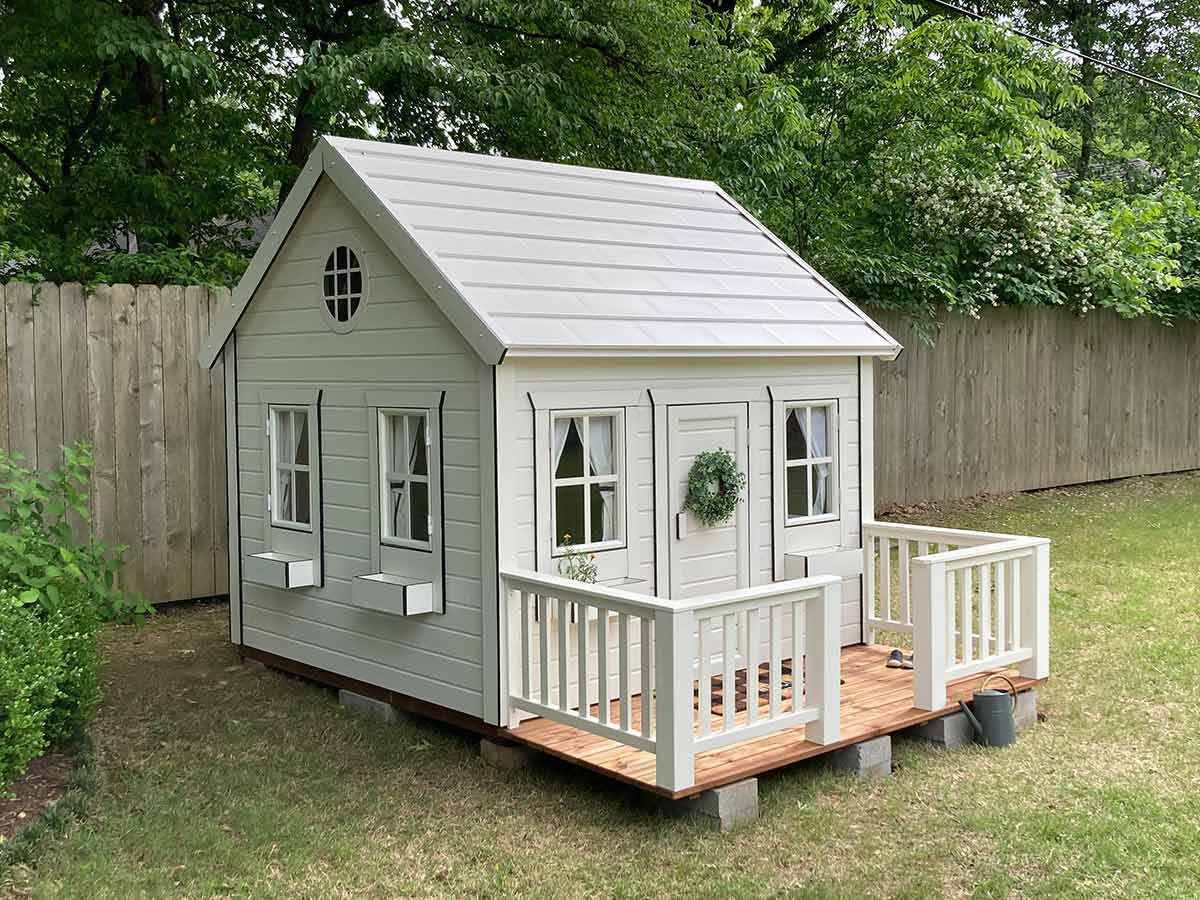 Working together, Mark, Megan, and their kids decorated their Arctic Nario Playhouse, turning it into a cozy and comfortable place for reading, resting, holding tea parties, picnics, and DIY workshops. Naturally, kids wanted to keep the interior clean and comfy. That is how they learned to take off their muddy shoes and jackets before entering the playhouse and clean after themselves regularly.
What started at a small scale of an outdoor playhouse has soon enough developed into everyday routine and habits. Today Mark and Mary say that their kids became remarkably more neat, responsible, and helpful in the house as they have learned to see the real difference between mud, mess, and cleanness and distinguish a perfect time and place for each.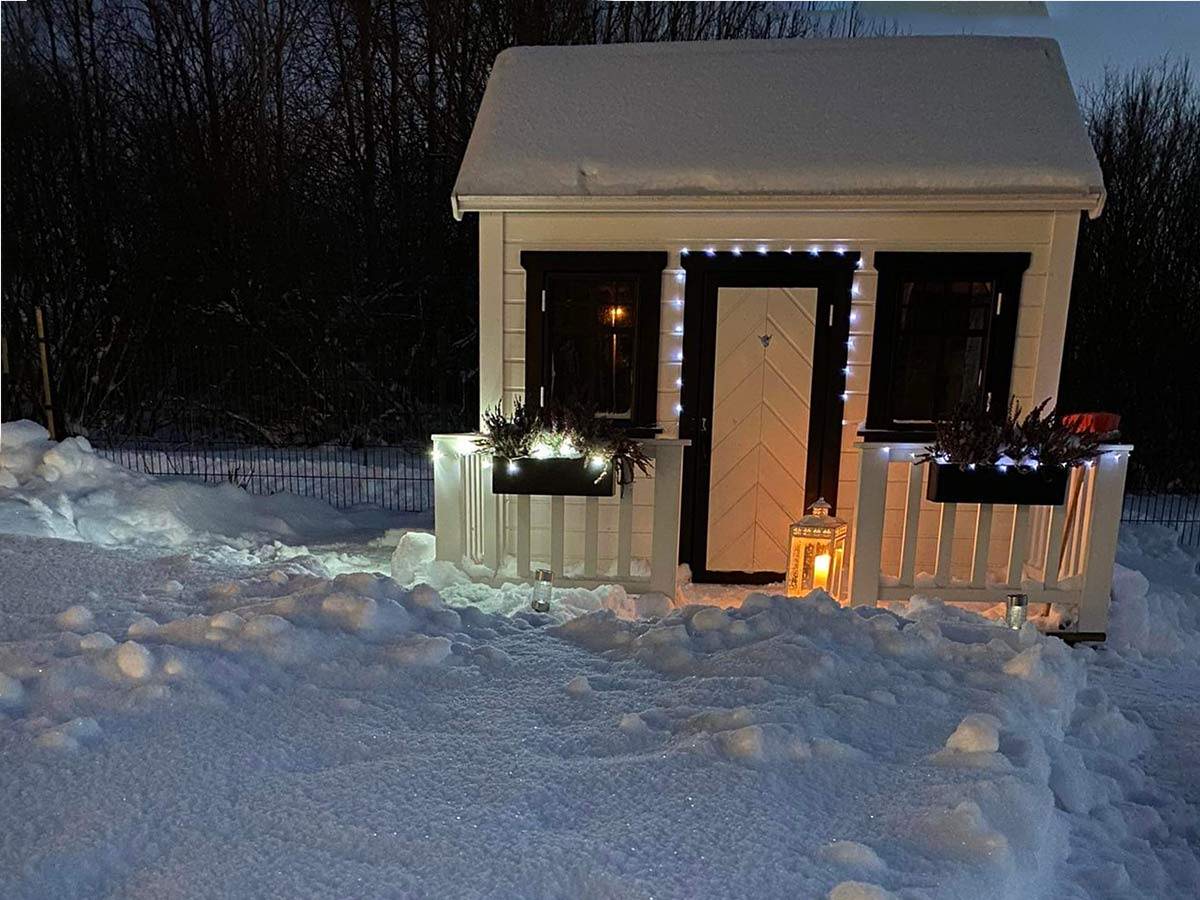 Mark and Megan's example is just one of numerous stories about people getting the most out of their wooden playhouses. Planning and customizing it together with kids, adding the mud kitchen and other details, decorating it together for holidays, these and many other parents get a chance to bond with their kids on a whole new level, help them learn and explore, get the happiest lifetime memories and build new family traditions.
"Encourage your child to have muddy, grassy or sandy feet by the end of each day, that's the childhood they deserve."
Written by WholeWoodPlayhouses
CHECK OUT OUR OUTDOOR PLAYHOUSES