Kids Playhouse Easter Makeover
Even the smallest outdoor playhouse can become a whole universe for your kids, a happy place where their imagination will thrive. And what can boost kids imagination and creativity better than an opportunity to do another makeover for their wooden playhouse?
And besides, Spring, the season of renovation, and Easter, its hallmark holiday, are right around the corner.
It is high time you and your kids rolled up your sleeves, grabbed some colorful paint, brushes, faux flowers, eggs, and bunny figurines, and gave your outdoor playhouse an epic Easter makeover!
In this article, we shall talk about the essential and original attributes of Easter decorations for your kids playhouse and explain how you can turn the renovation into a fun, exciting, and educational experience for the whole family.
Prepare Your Wooden Playhouse for the Easter Makeover

Right after kids take down the Christmas and St. Valentines decorations and before they start filling the outdoor playhouse with colorful eggs and stuffed bunnies, it is time for grownups to inspect the wooden playhouse thoroughly and assess the possible damage made by winter.
Extreme temperatures, blizzards as well as snowmelt won't pass unnoticed for any wooden playhouse, even if you have taken all the necessary measures and winterized it properly several months ago.
Now is the perfect time to inspect the walls and roof, find possible leakage, damage to the would, cracks, or peeling paint and fix all those blemishes.
Not only will it definitely make the playhouse ester makeover even more spectacular, but seasonal maintenance is essential for all outdoor playhouses. It makes them safe for the kids and helps to make sure that your wooden playhouse will serve your family for many years, preserving and creating the happiest childhood memories for generations.
Depending on the materials of your outdoor playhouse, the condition of painting, decorative elements as well as your local climate, you may only have to fill up a couple of cracks, clean or repaint the walls, or invite a professional who will do through staining, clean and protect the wood from the impact of elements and UV light.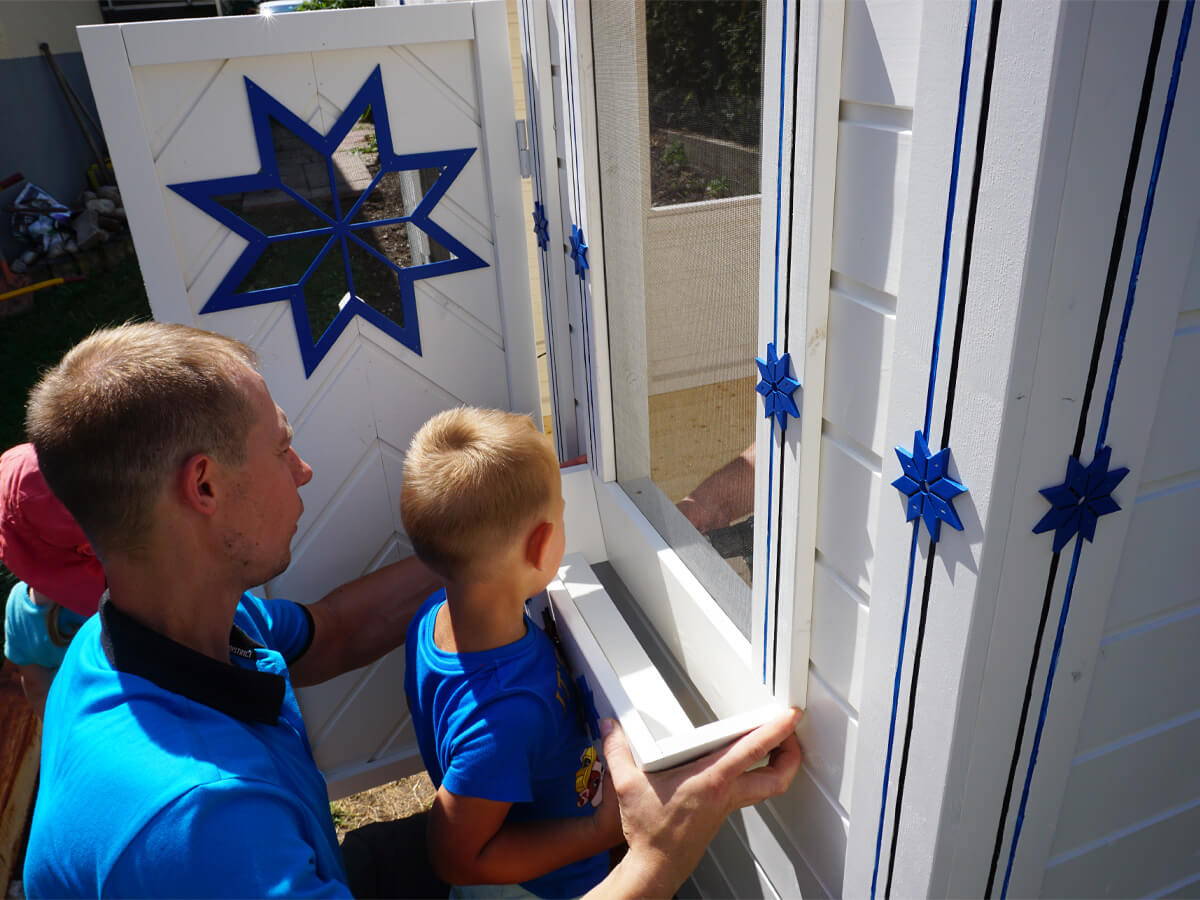 Start with the Easter Makeover Basics
When it comes to decorating your kids outdoor playhouse, the choice of colors, accessories, and decorations will always be up to you and can only be limited by your kids imagination and creativity.
However, when it comes to such hallmark themes as Easter decorations, there are several essential attributes and traditional elements that make the playhouse makeover easy and to the point.
It does not mean that your easter outdoor playhouse will be cliched and faceless. You can always play with colors and decorations to customize the Ester theme. But those essentials will let you catch the vibe easily and build your own original Outdoor playhouse easter makeover on the foundation of the evergreen classics and beloved traditions.
"Easter is one of my favorite holidays with the kids. They get to run loose, and we always have our family and loved ones all around us!"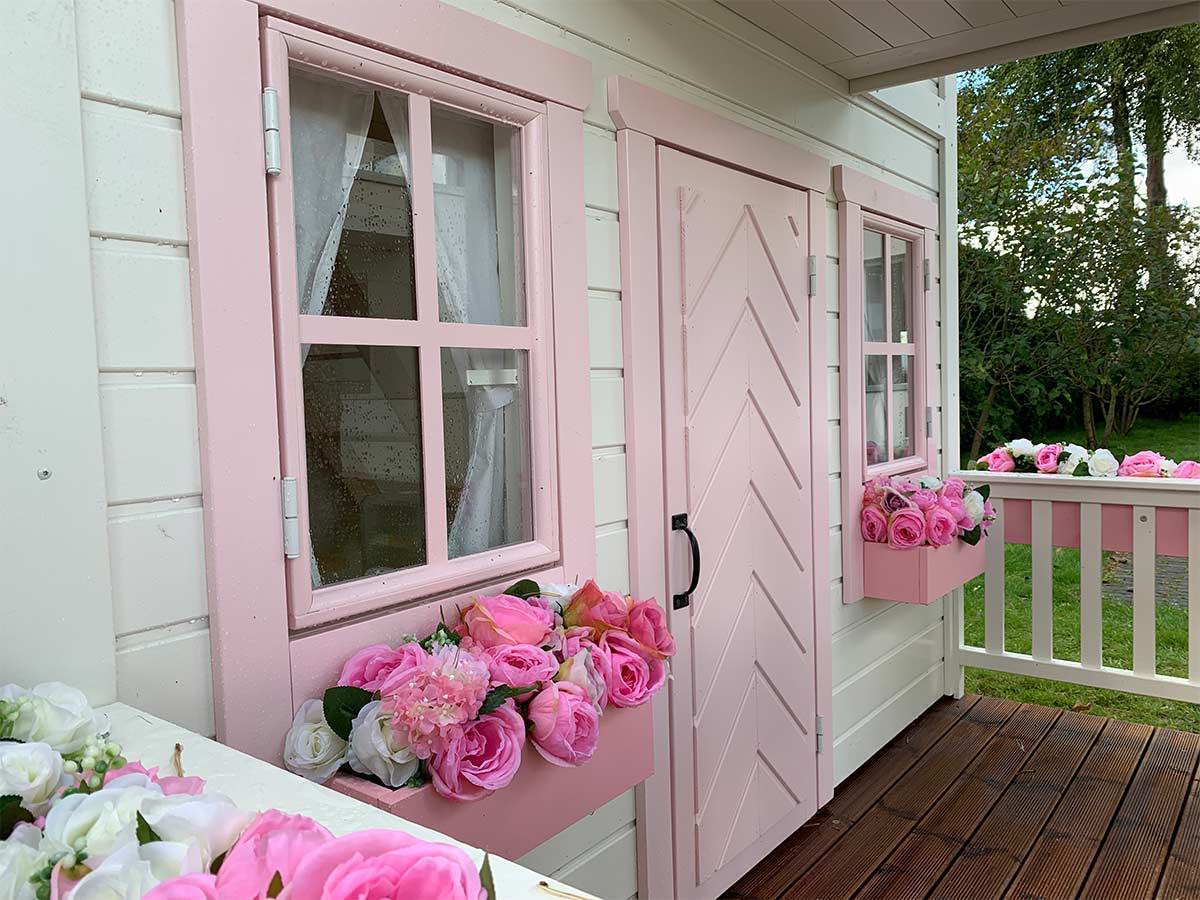 Pastel colors – Easter is usually associated with soft pastel colors. Fresh and gentle, they translate the atmosphere of renovation, joy, and new hopes brought by the Spring season. But did you know that every color has its special meaning? White is the color of purity and innocence; yellow symbolizes joy and sunshine, blue reflects the clear skies. Purple, however, has a very special meaning in Easter decorations. Often called "a toned-down black," pastel purple is traditionally used to symbolize the joy and liberation.
Eggs – they represent new life and rebirth in easter decorations. However, the tradition to color and exchange Easter eggs had a purely practical meaning back in the day. Since it is entirely forbidden to eat any food that comes from an animal during the 40-day Grate Lent that ends with Easter, dozens of eggs have just been collected throughout this period in households that held a chicken. On the one hand, an Easter egg is a righteously-deserved treat for someone who manages to hold the Lent, and at the same time, since there were so plenty of them by Easter in every house, they became the most available decorative accessory and crafty material.
CHECK OUT OUR OUTDOOR PLAYHOUSES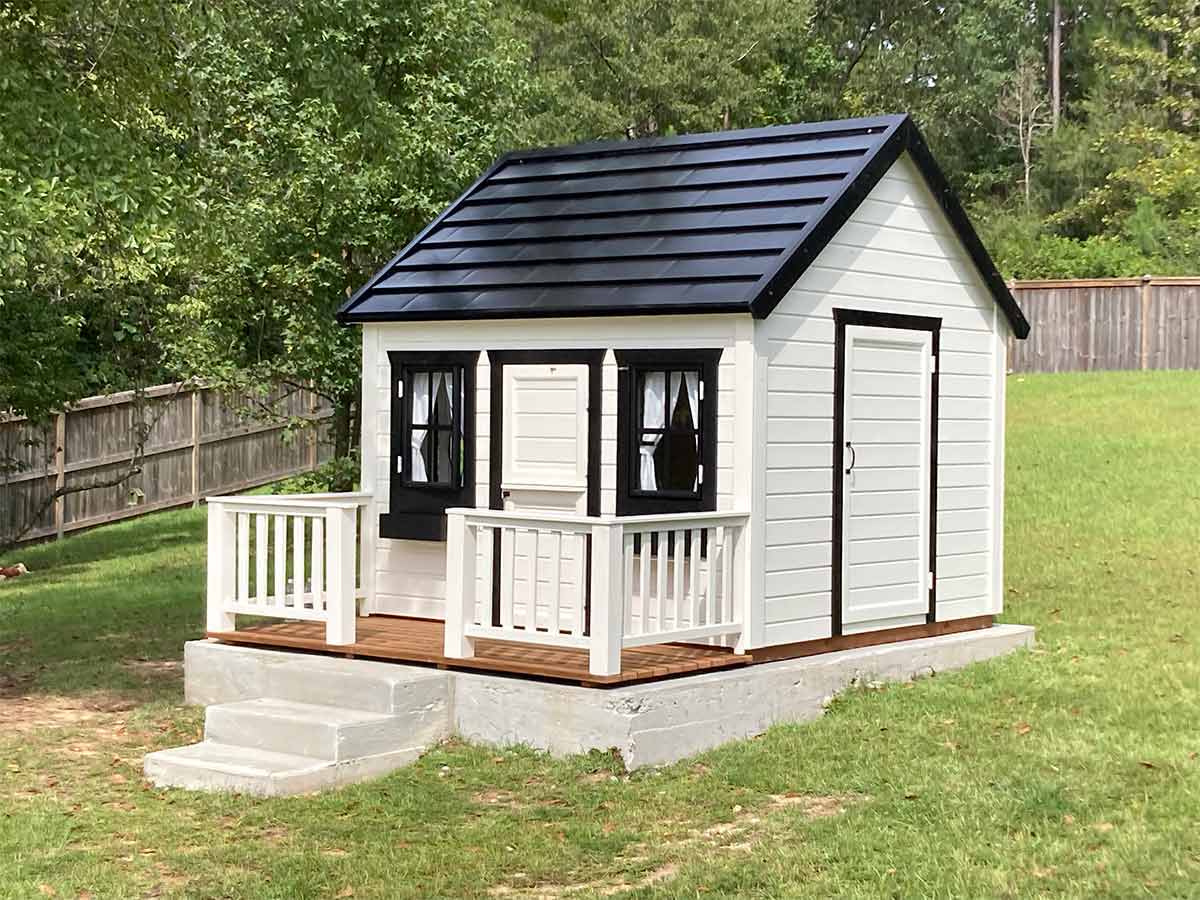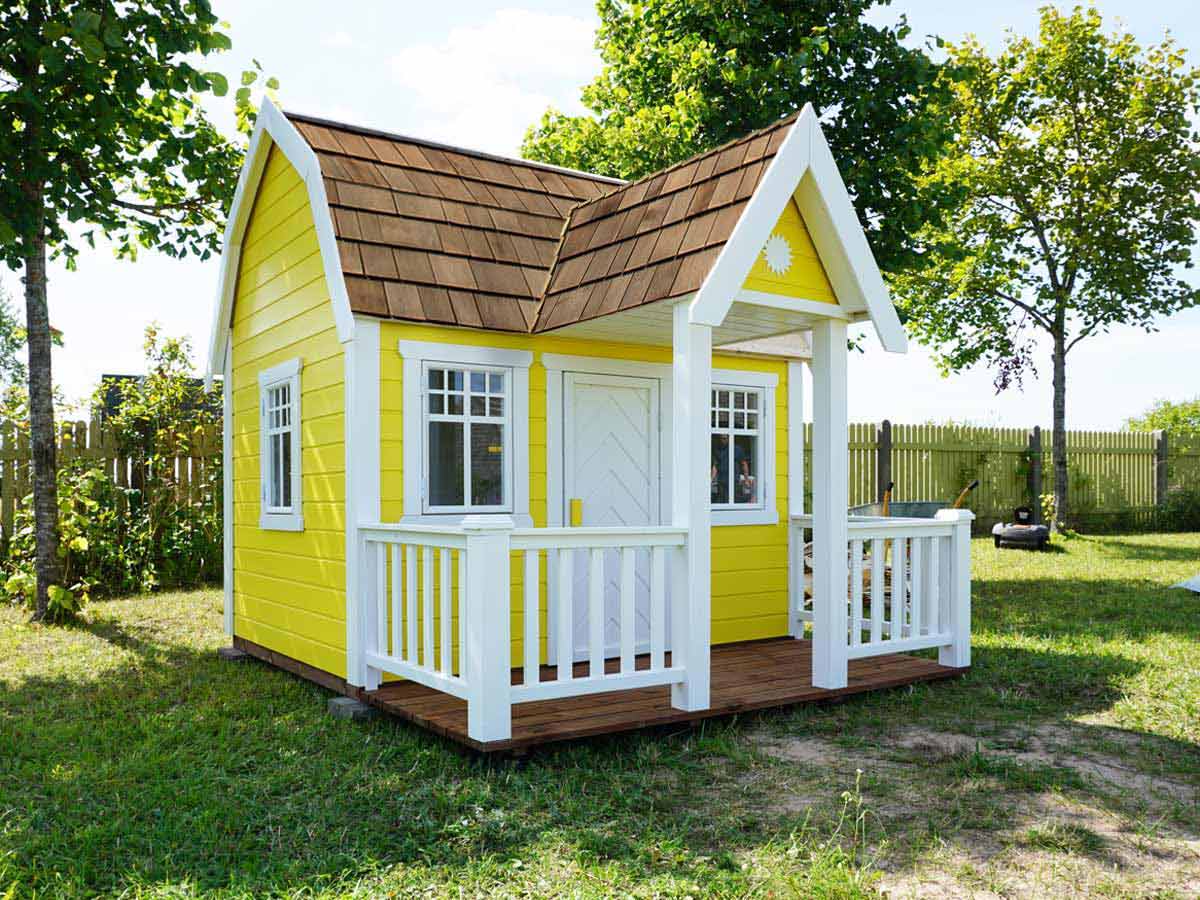 Easter bunny – it is the "youngest" Easter symbol that appeared around the beginning of the XIX century. Bunnies are known, and extremely fertile animals, and therefore they are also a perfect symbol of rebirth and new beginnings. However, the legend says that the special Easter bunnies lay colorful eggs once a year instead of having the regular litter of baby bunnies. Finding an Easter bunny egg will guarantee you a year of luck and happiness. That's where the beloved tradition of the Easter egg hunt comes from.
Now that we have gone through the "basics," let's talk about some original décor ideas that will help you do an epic Easter makeover for your wooden playhouse.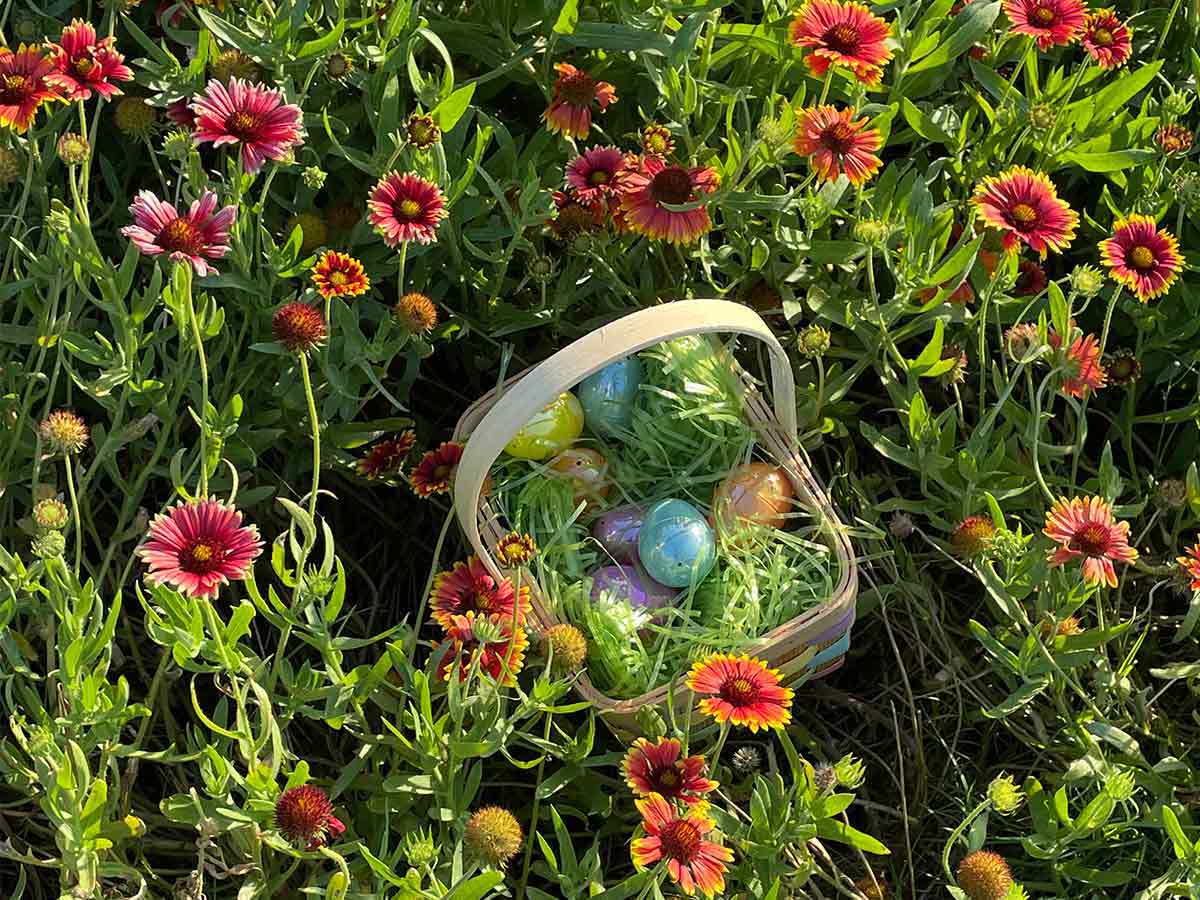 Throughout history, people have been perfecting the art of Easter egg decoration. You would be surprised how many art techniques and ultimate masterpieces have either been inspired or discovered while people tried to outperform each other decorating easter eggs.
Trying to color eggs in the most original ways, people discovered the coloring features of different plants, taking textile manufacture and fashion to the next level.
Artists have been competing with each other creating ultimate masterpieces and miniature paintings on eggs. And, of course, let's not forget the legendary Faberge eggs inspired by the Easter traditions.
Decorating Easter eggs can be a fun and educational activity for the whole family. You can decorate and paint them in different colors using edible dyes and glitters or hold ultimate chemical experiment coloring your eggs with boiling onion skin and herbs.
Kids will develop fine motor skills and creativity by painting each other's portraits of animals or flowers on eggs.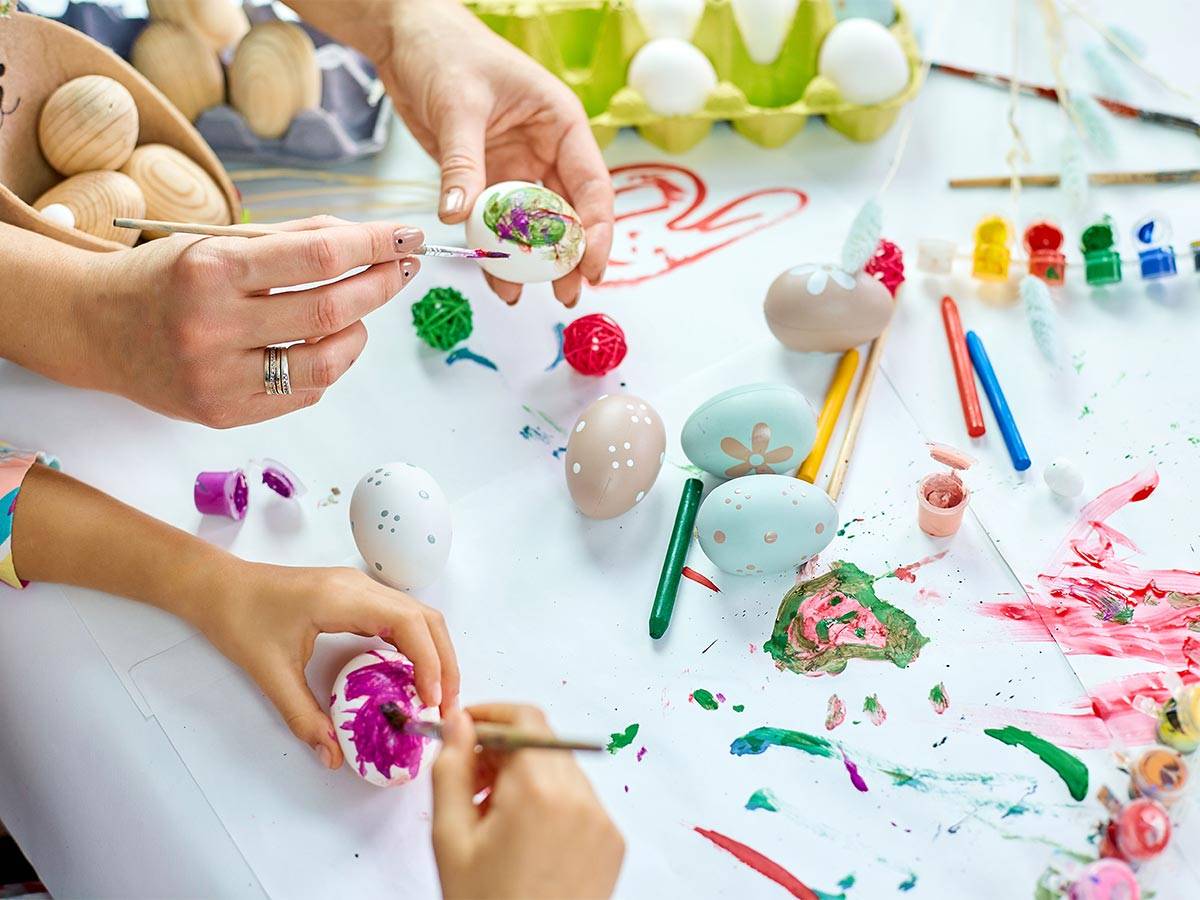 Blooming flowers are another symbol of Spring. If you are lucky to live in a warm climate, decorating your easter outdoor playhouse with flower boxes will be a great idea. Paint them into joyful pastel colors, add some stickers, and place them on the terrace and windows of your kids playhouse.
If Spring is lagging behind in your area, don't hesitate to use faux flowers. There are lots of stunning realistic garlands that you can find online or in local stores. Even if your backyard is still covered with snow. An outdoor playhouse decorated with easter flower boxes will become a stunning decoration and set the festive holiday mood.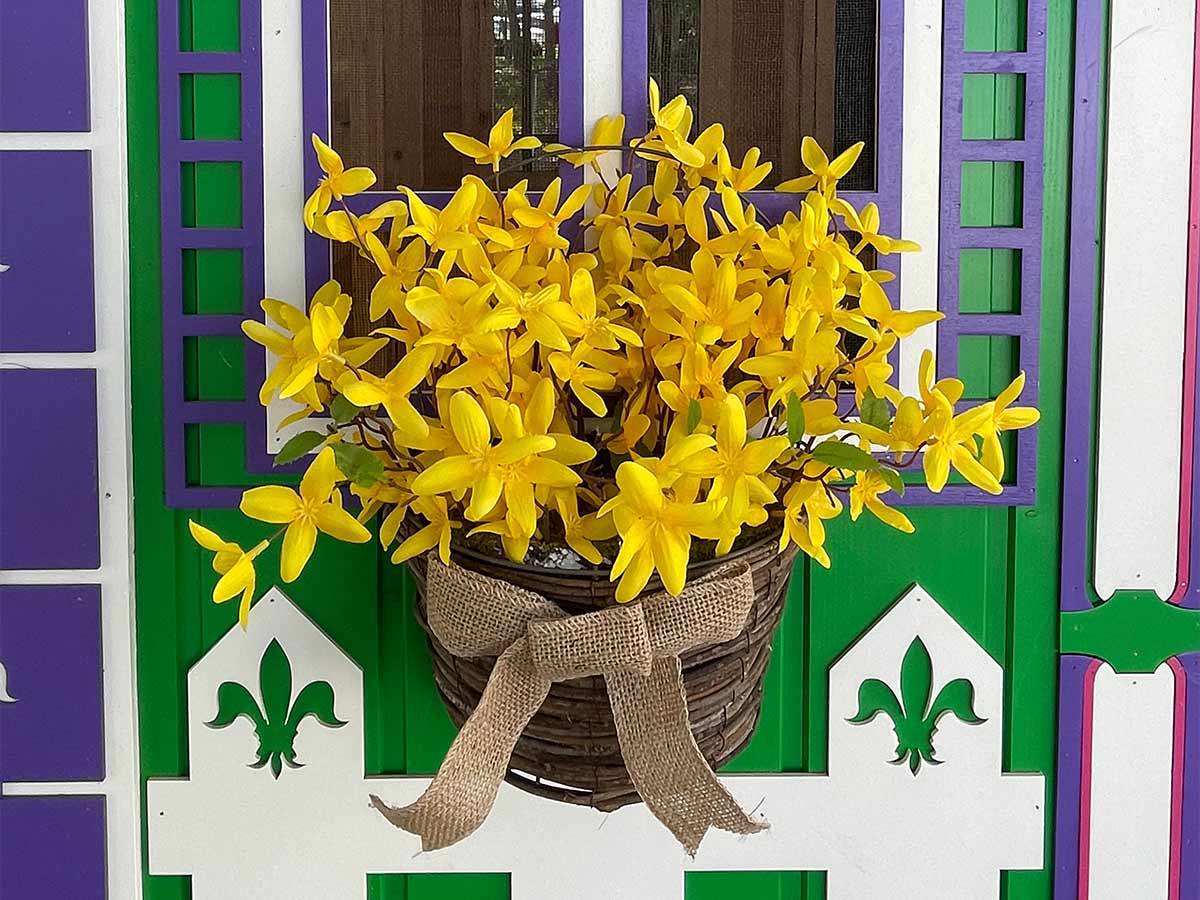 Decorate the Kids Playhouse with Balloons
Another great idea for an easter makeover of an outdoor playhouse is decorating it with balloons.
You can order or make ourself balloon arches and garlands, place them at the entrance of your wooden playhouse or decorate the interior.
Not only are balloon decorations inexpensive yet eye-catching, but ballons themselves will inspire fun outdoor active games, pulling your kids away from their screens and gadgets.
Easter Egg Wreaths and Ornaments

Today's easter decorations often echo the traditions of Christmas and other beloved holidays. Collect sprigs and small branches, add some colorful eggs, and you will get an original Easter wreath for the door of your Easter wooden playhouse.
Use colored eggs and faux flowers as ornaments for the trees and bushes that may have not yet waken up from their winter slumber.
Let the Easter Bunny be the Easter Santa, who will sneak into the kids playhouse and leave cute presents for them there.
The best part of having an outdoor playhouse is the fact that it will easily turn into the epicenter and headquarters for any celebration, event, or activity that will become part of your kids happiest childhood memories.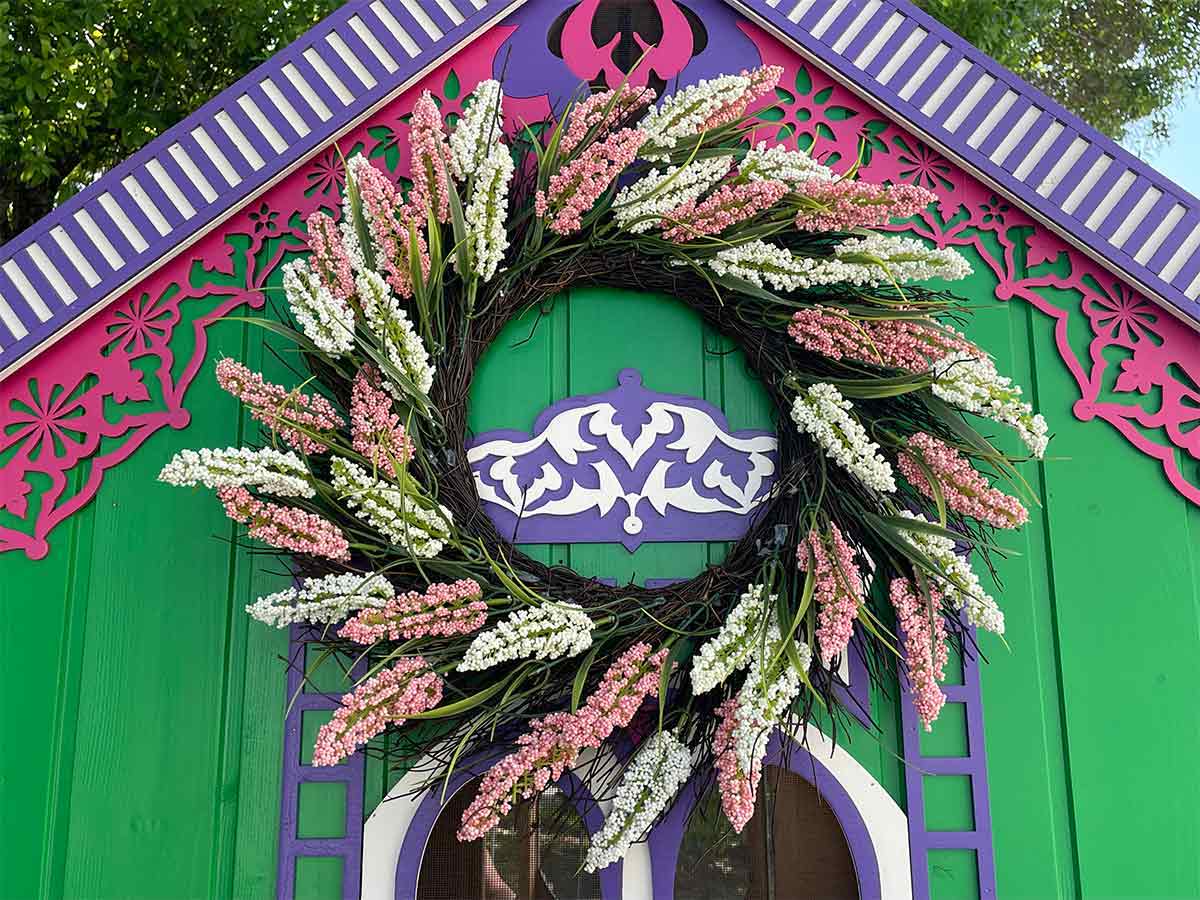 Preparing for Easter is the ultimate reason to clean, fix and renovate your kids playhouse, prepare it for the new season of outdoor fun and pull the whole family out of the house, providing an exciting creative, and crafty project for everyone.
While grownups get the chance to blow the dust off the toolbox, hit the craft and DIY shops, and teach kids something new, youngsters will have tons of fun picking colors for the decorations, looking for handicraft ideas, coloring eggs, and placing flowers and stuffed bunnies all over the playhouse.
Easter makeover is just one example from the endless list of fun activities with an outdoor playhouse. However, it might be a particularly bonding experience, a chance to learn about the family traditions and start new ones, a fresh start, and a new chapter for those who might have had a rough winter and are looking forward to new beginnings this Spring will bring.
"I still believe in Santa, the Easter Bunny, the Tooth Fairy and true love. Don't even try to tell me different."
Want to read more about Playhouses?
Written by WholeWoodPlayhouses
CHECK OUT OUR OUTDOOR PLAYHOUSES