Benefits of 2-Story Wooden Playhouse Princess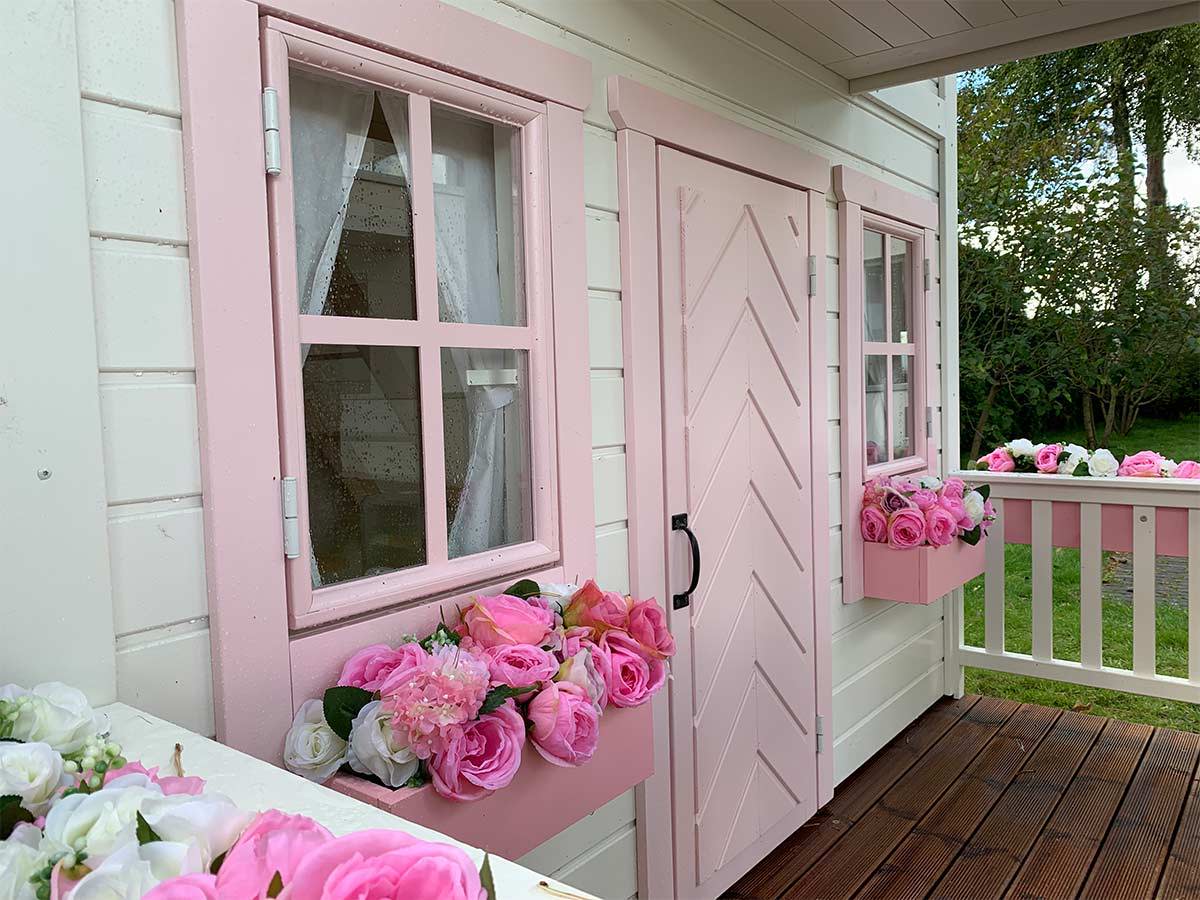 You have discussed in the family how to get the kids to play outside, which options would be the best. Playing outside or in a kids playhouse gives wings to their imagination, helps develop muscle and problem-solving skills, allows them to connect with nature, and encourages them to build their curiosity. After comparing various options, you have decided on an outdoor playhouse.
The decision to get an outdoor playhouse might have felt as a difficult one, but a big question still remains: which one? There is a vast selection of outdoor playhouses available, but most can be categorized under plastic playhouses, wooden playhouses and DIY playhouse kits. WholeWoodPlayhouses offers a variety of wooden playhouses that fit any taste, landscape, and age. A kids playhouse Princess is one option. Why prefer the Princess playhouse to other playhouses?
Every little princess deserves anything she can imagine and after talking to many princesses across the country, we have brought their wonderful dreams together in our Playhouse Princess.
Wooden Playhouse Princess is made of premium nordic spruce which ensures long-term durability of the playhouse in any climate. Our kids playhouses for your kids are produced in clean and dry conditions, increasing the durability of the wood. We have designed all of our outdoor playhouses to be the place for free play and joy, thus we take extra care by pressure treating our wooden floor panels and lacquering them so that your kids can run and jump around for as long as they have energy! Of course your child will love to play in a beautiful and exciting looking kids playhouse. We chose spruce for its texture, because it provides the perfect base for beautiful pink and white paints, the favorite colors of little princesses. The playhouse is also painted inside with natural water-based colors and ready for play and decorating.
To ensure the safety and the comfort of your kids in even the most energetic games, all the windows of the outdoor playhouse Princess are made of safety glass.
Our outdoor playhouse Princess is topped with modern black metal roof. Metal roofs are resistant to any weather, look beautiful and protect the little princesses from both rain and sun. Furthermore, the addition of a metal roof gives the Princess playhouse the look of a real house.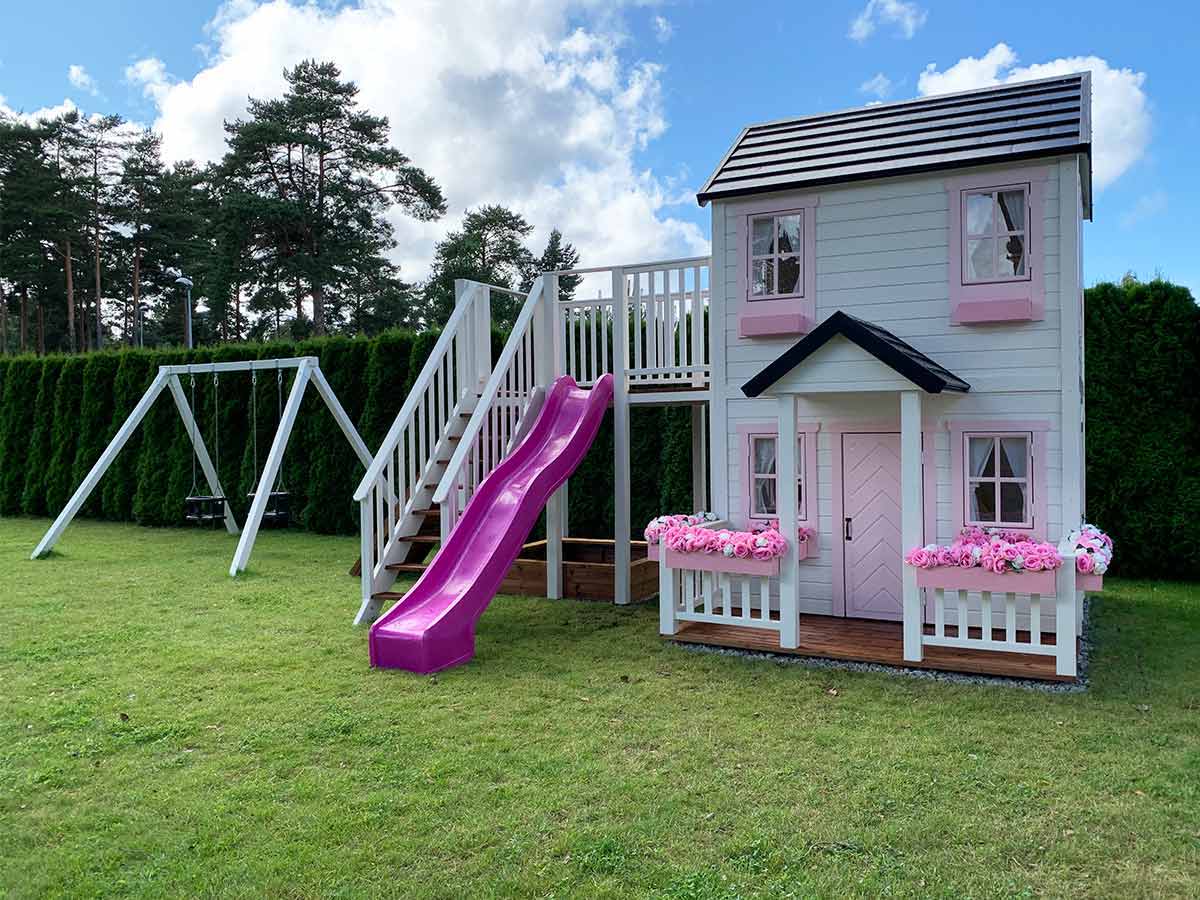 Most important, the handcrafted wooden Princess playhouse is made from high quality materials, beautifully designed and provides a safe and homey place for your child to play.
"Play is the highest expression of human development in childhood for it alone is the free expression of what is in a child's soul."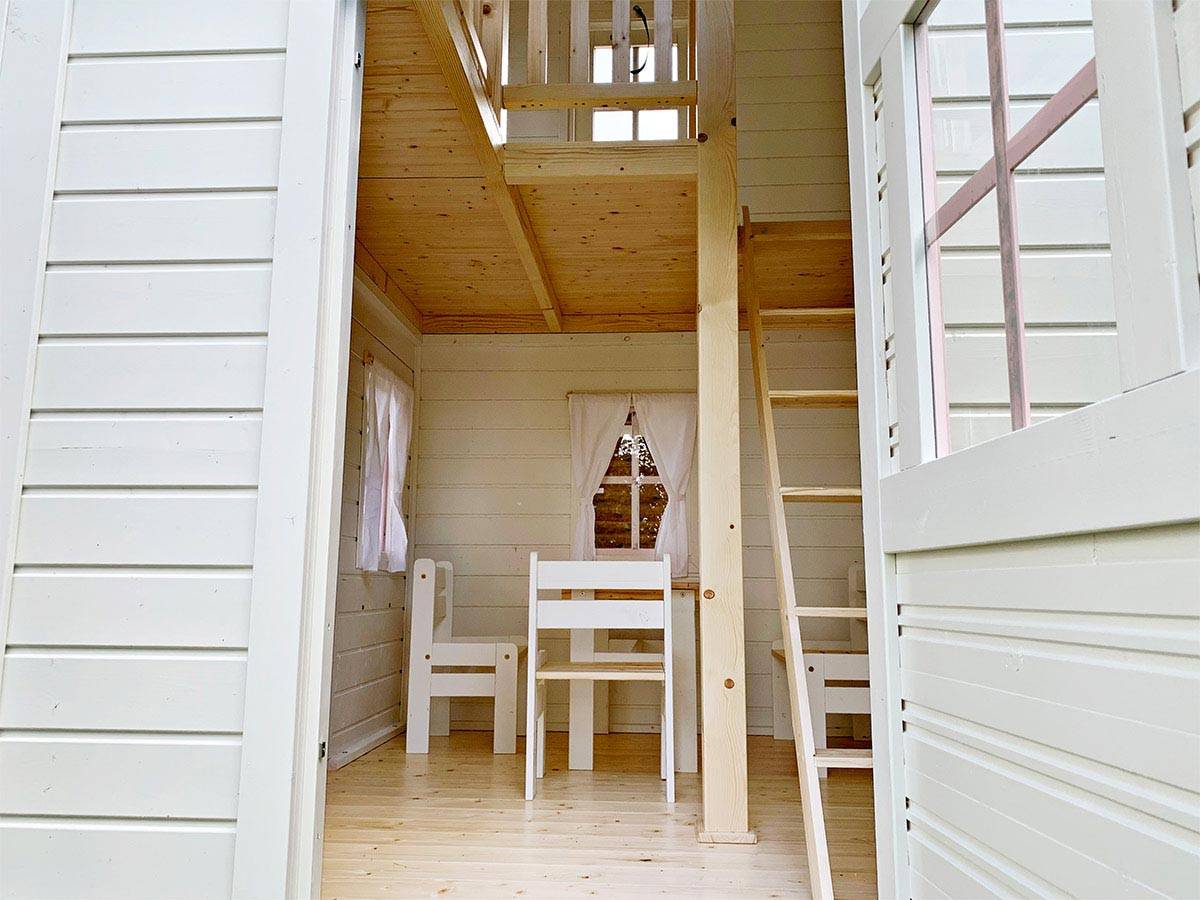 Playhouse Princess Features
Kids Furniture Set
Wooden playhouse Princess comes with a matching kids furniture set which includes a table, a bench and two chairs. The furniture set is painted white and pink colors to reflect the style of the playhouse Princess – providing the feeling of a real Princess Castle for your kids. As with all of our playhouses, we use only nature friendly colors on the furniture as well. The kids furniture fits perfectly into the playhouse as well as in front of it, giving your kids a place to sit, draw or play. Since the furniture can be easily moved, you little princess can use the furniture elsewhere in your house as well!
CHECK OUT OUR OUTDOOR PLAYHOUSES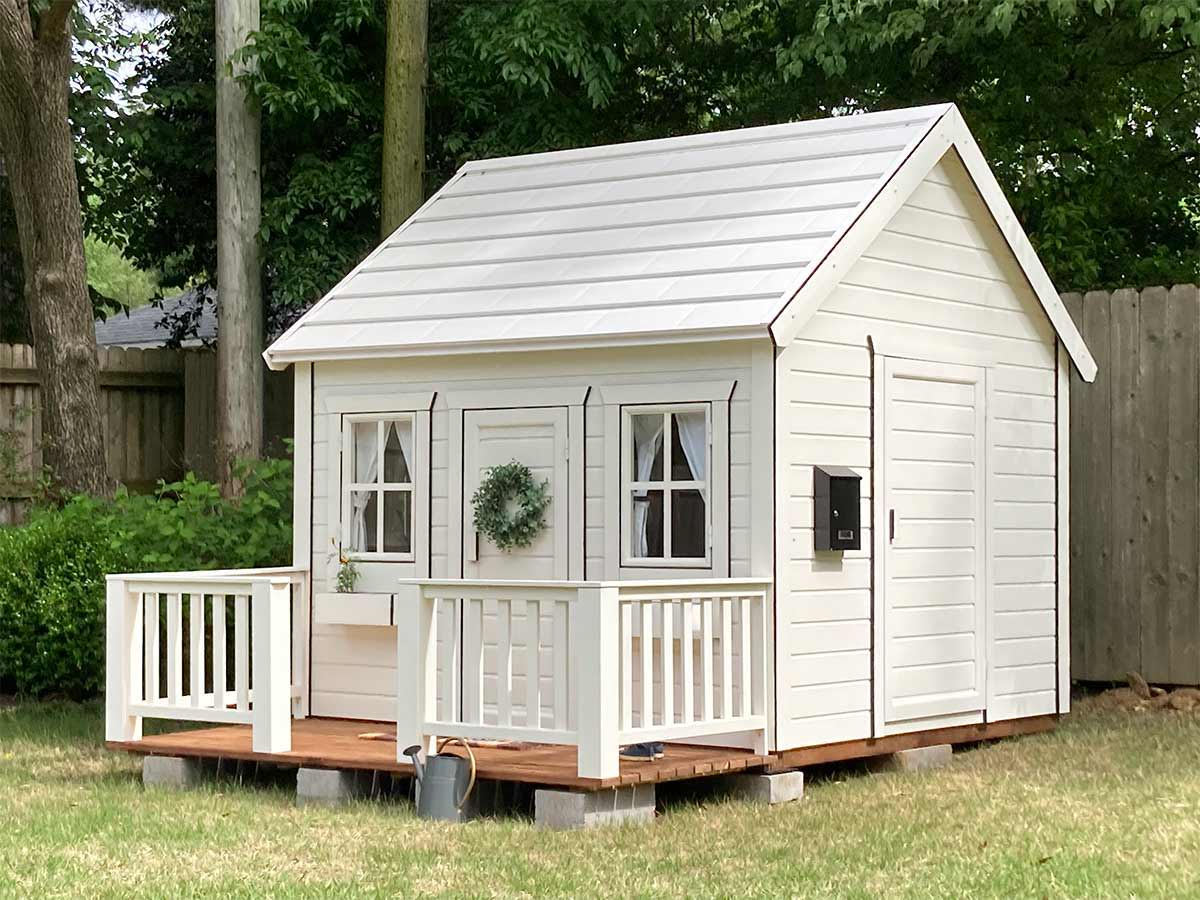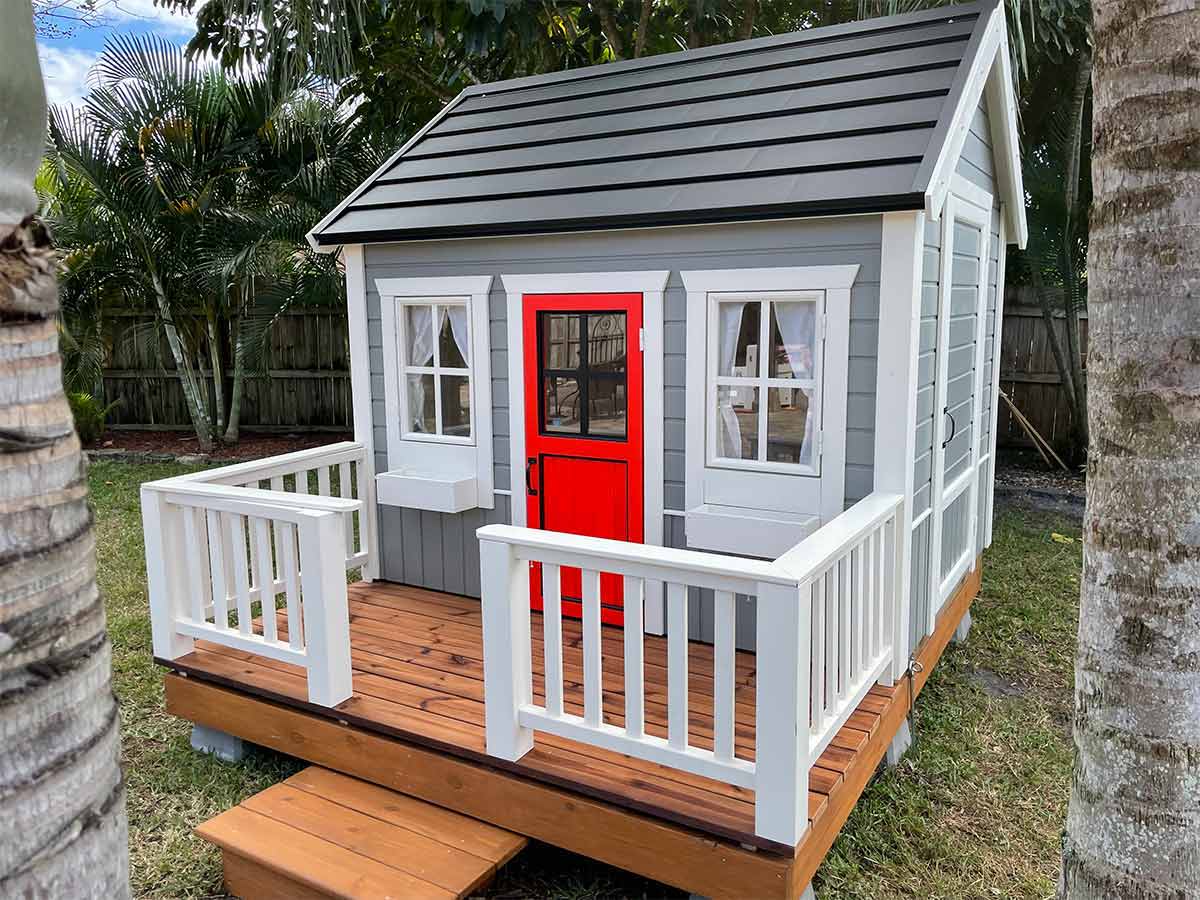 Safety Glass Windows and Curtains
As no princess wishes to be in the dark, we have added eight windows to let the sunshine into this grandiose wooden playhouse! 2-story playhouse Princess has five windows which can be opened and closed- four in front and one on the left side of the ground floor. The house also has three additional windows - one on the upper right side of the playhouse and two on the side door, which provide extra light and give the house a beautiful look. All of playhouse Princess windows are made of safety glass.
Just like in a real house, the playhouse Princess has curtains with wooden curtain rails. Of course, the princesses have white curtains with pink features to match the color of the castle.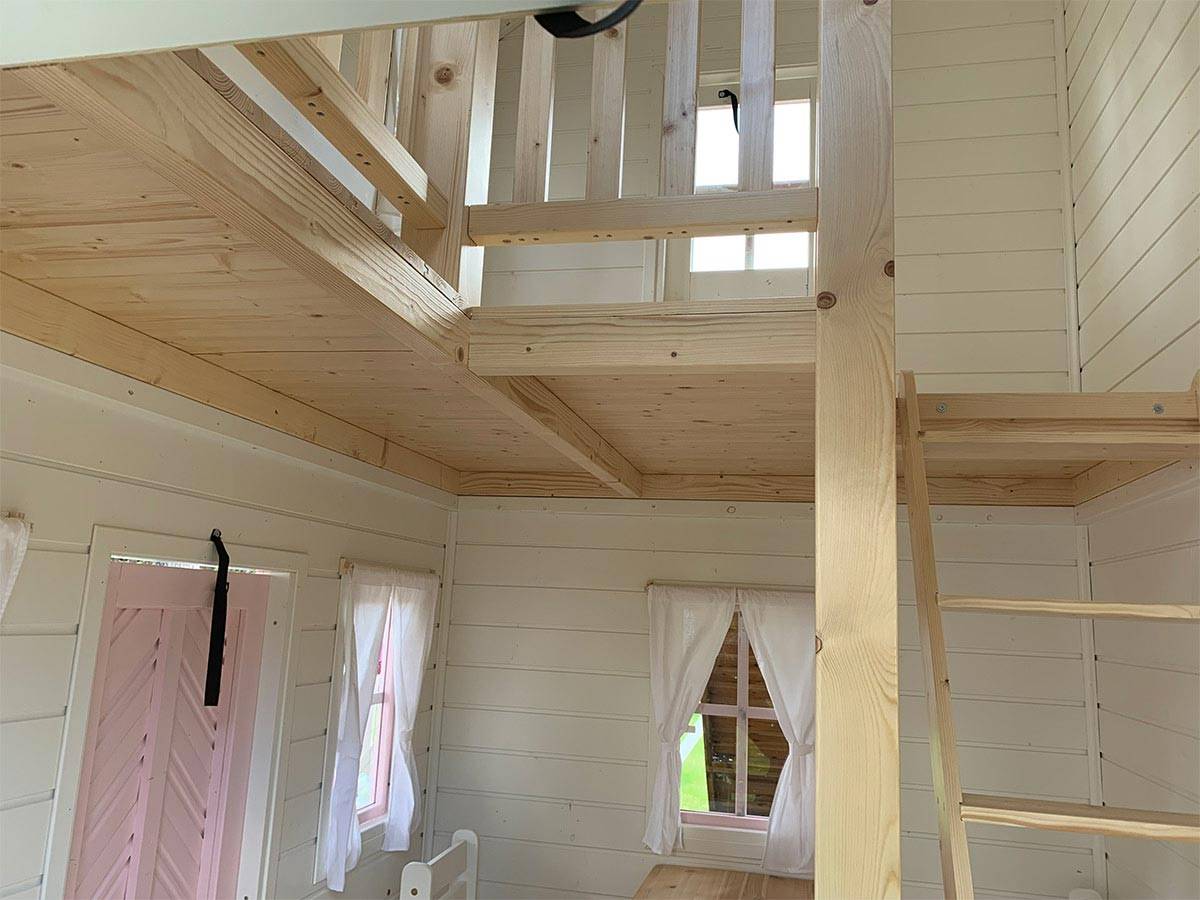 Wooden Doors
This outdoor playhouse has three wooden doors to invite the neighboring princesses to visit. There are two white doors with windows on the sides – one on ground level and the other on top floor for quick movement and a little peeking. Lastly, an adorable pink fishbone entry door completes the warm and welcoming feel of this play home.
CHECK OUT OUR DIY PLAYHOUSE KITS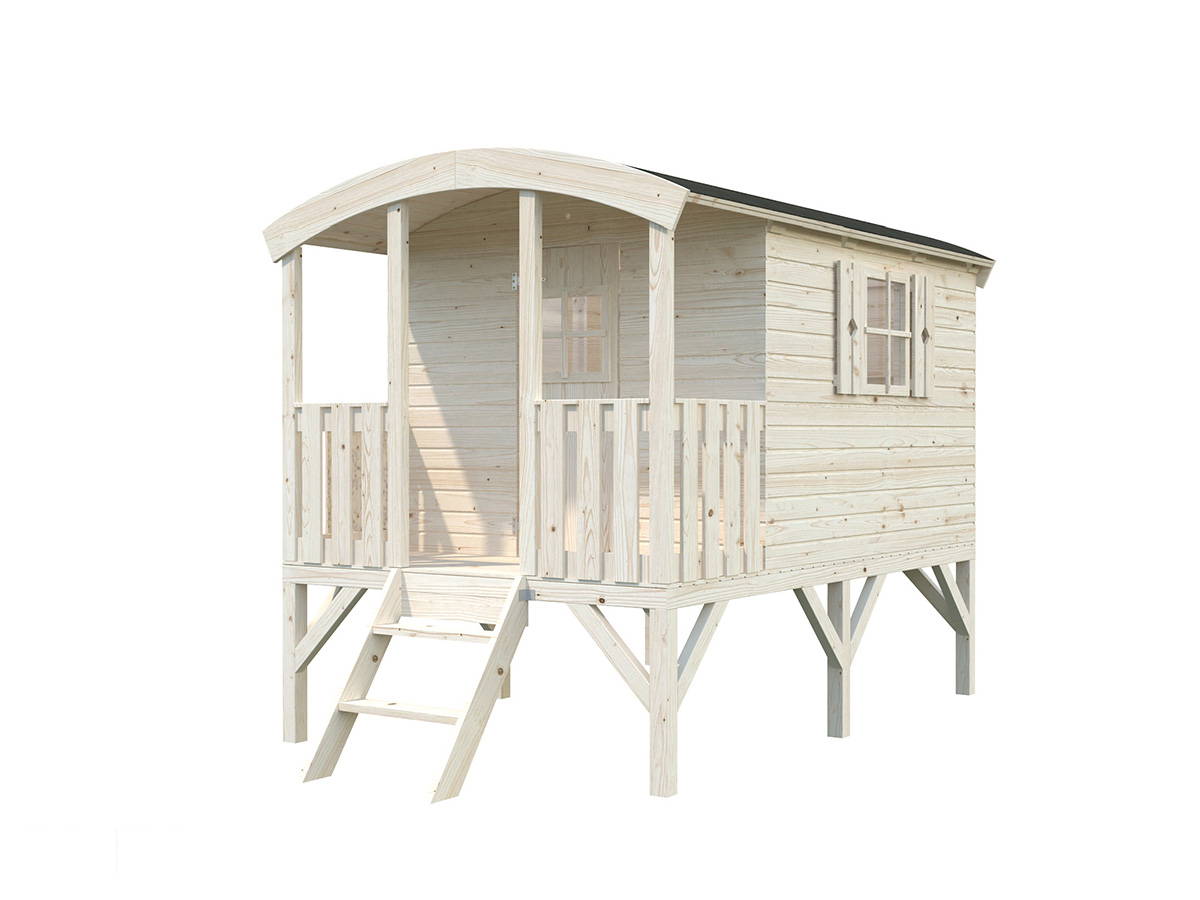 DIY Playhouse Kit Little Bungalow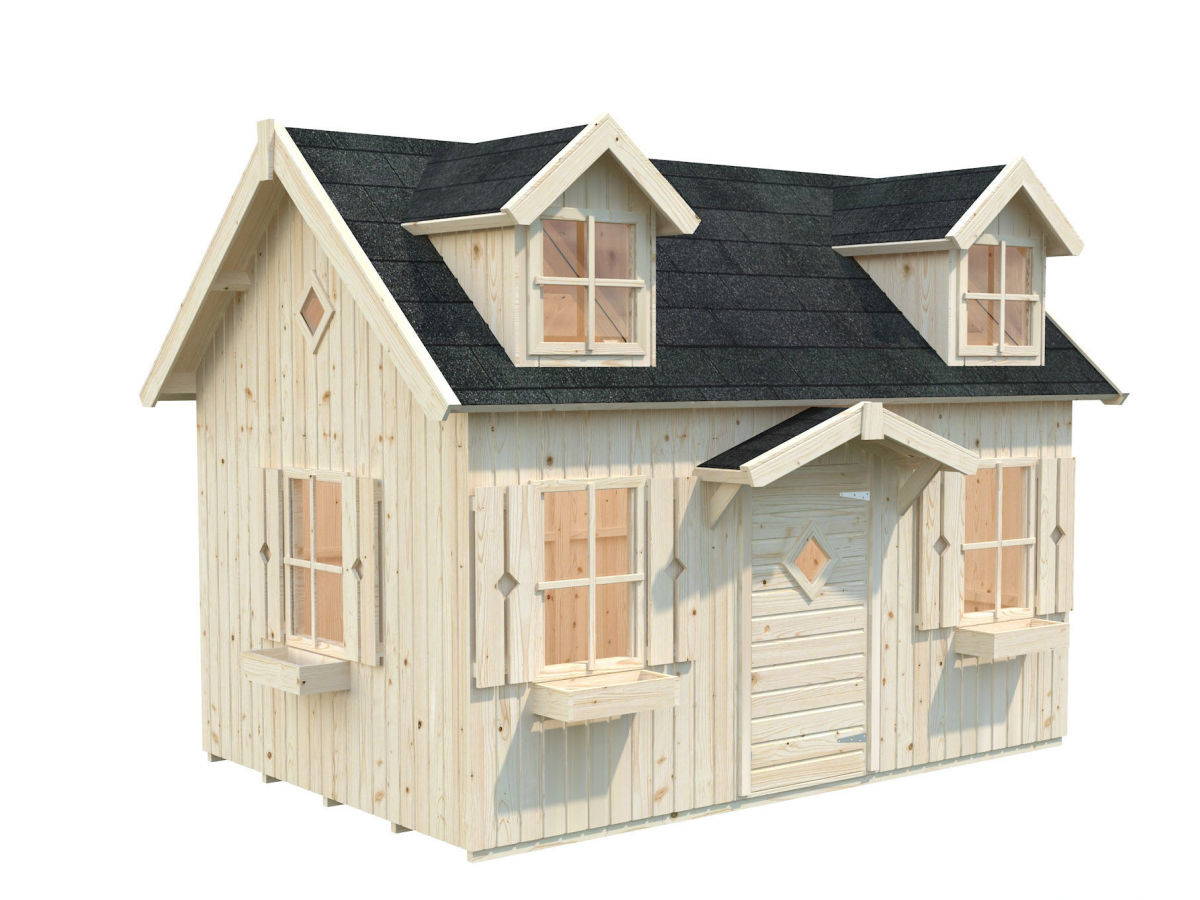 DIY Playhouse Kit Little Farmhouse
Wooden flower boxes
This kids playhouse has delicate white and pink colors along with numerous pink flower boxes. There are also flower boxes on the railing to create a gorgeous playhouse for your princess. The little princess can plant roses and strawberries in pink flower boxes or simply decorate with artificial flowers. Flower boxes can also become the perfect way to customize and decorate your kids playhouse Princess for different holidays.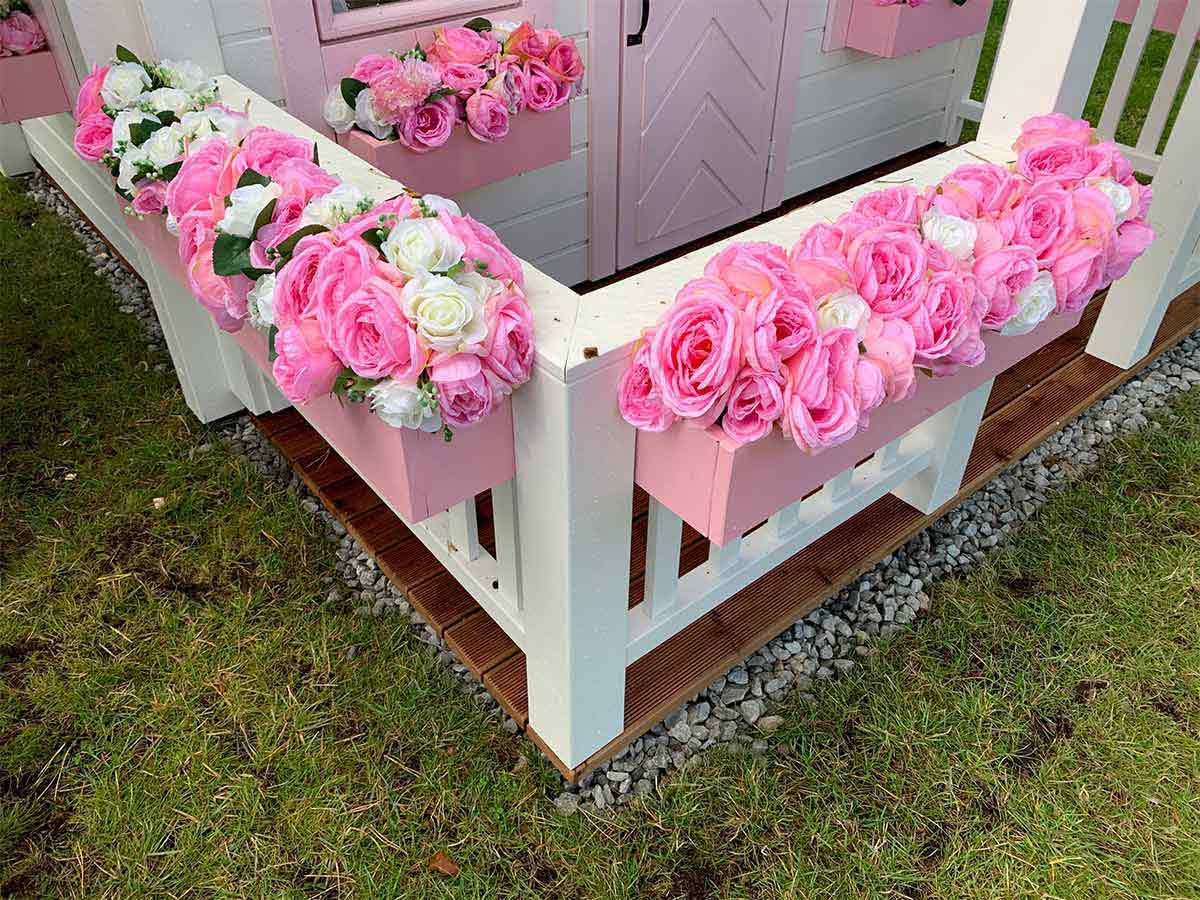 Balcony
We were told that a spacious balcony is a must for any kids playhouse worthy of a princess – thus we have added an adorable balcony to our outdoor playhouse Princess.
The wooden balcony with white railing completed with a hot pink slide, climbing wall and a sandbox below. This is like a little princess's own playground.
A balcony on the side can be accessed from the inside of the playhouse or by a climbing wall or wooden staircase from the outside. If the stairs to the balcony are too common a way of moving, then a climbing wall makes life more interesting. The most important feature is definitely a pink slide. Kids can spend hours at the playground sliding down and climbing up them. What could be better than your own slide? Furthermore, the climbing wall keeps little princesses active and healthy.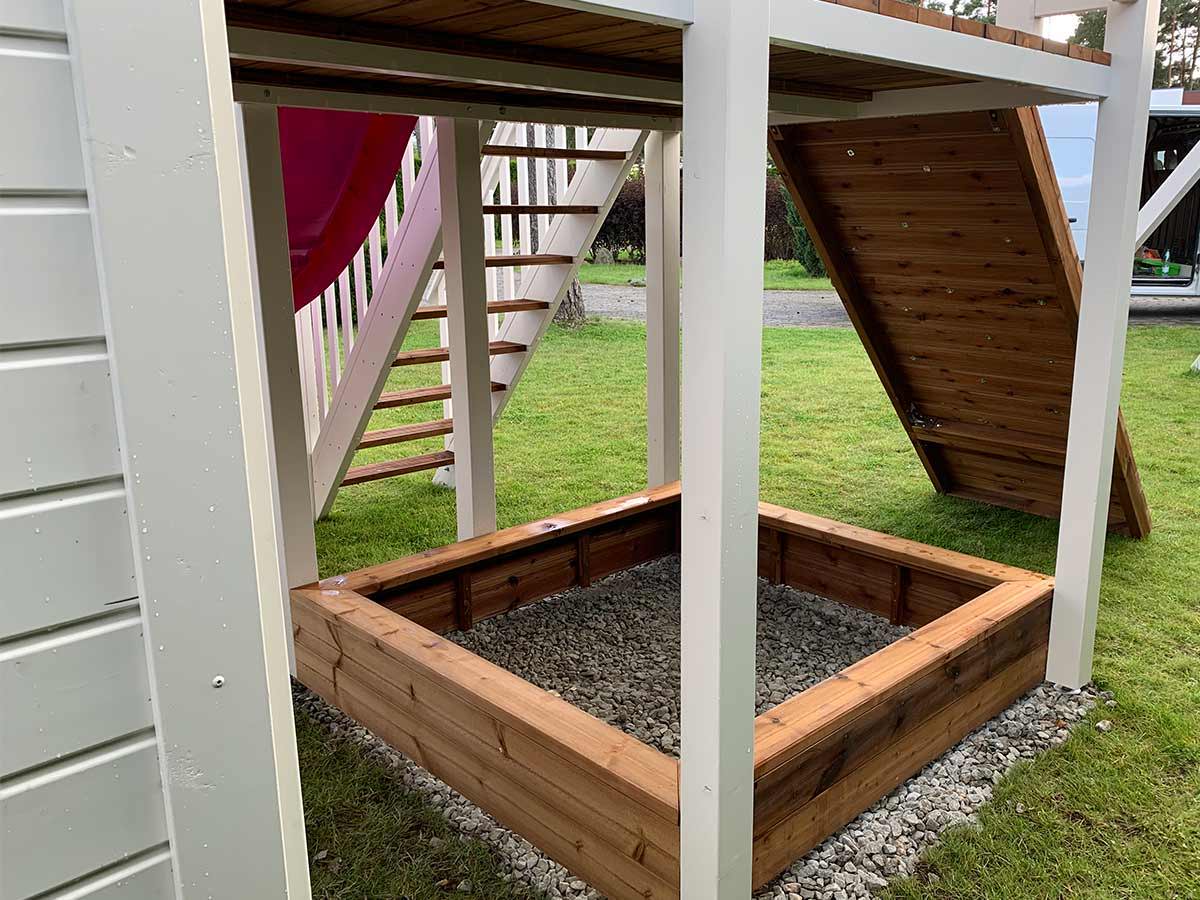 The kids playhouse Princess balcony comes with a sandbox beneath it, where kids can hide from pouring rain or the hot sun. A little sandbox can be filled with sand or turned into a storage place for toys according to your kids needs. The sandbox is very useful for preschool children because it develops motor skills, strengthens muscles and increases creativity.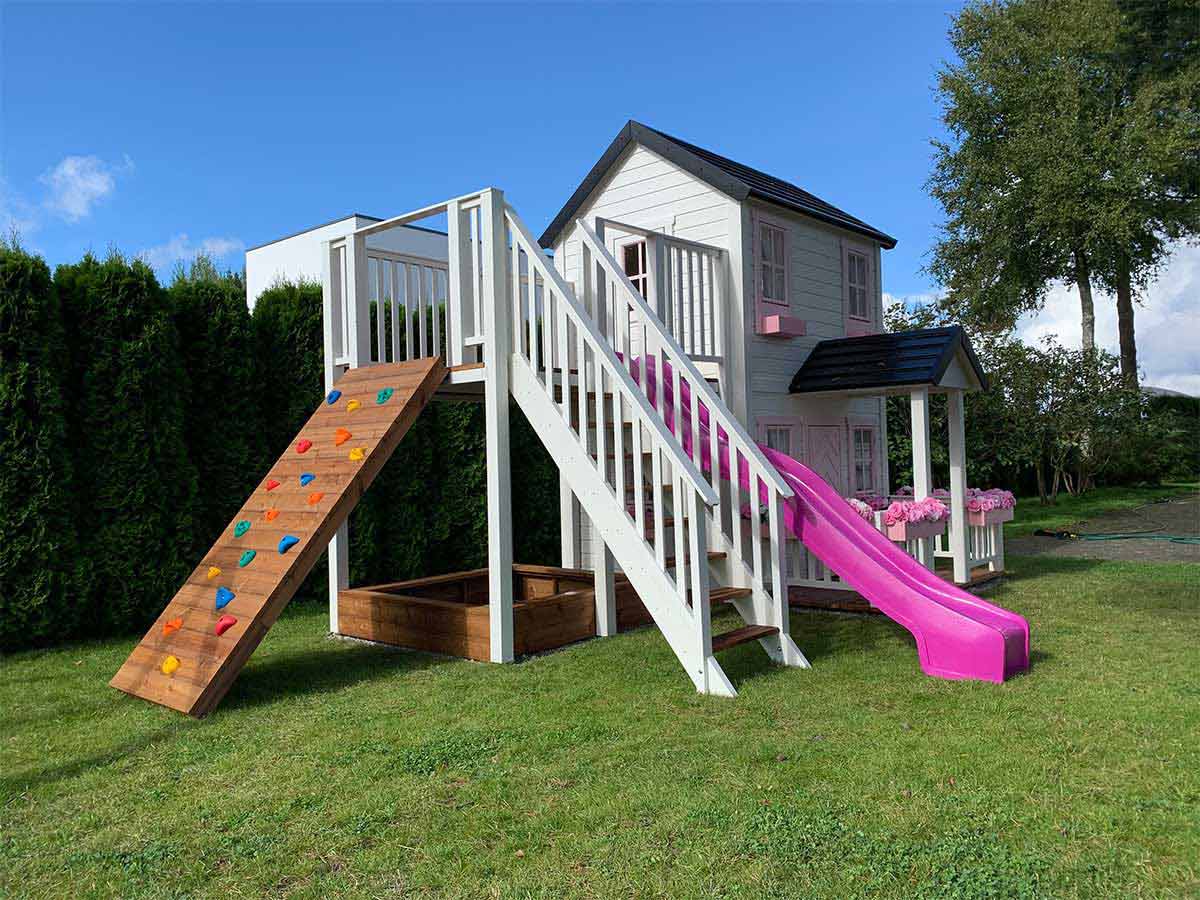 Wooden terrace
A true outdoor playhouse is only complete with a high quality wooden terrace! An outdoor playhouse Princess is accompanied with a pressure treated wooden terrace which is durable and beautiful, making it perfect for your kids to play on. This cozy terrace in front of playhouse with white railings and flower boxes, solid columns supporting a covered porch and an adorable herringbone entry door completes the warm and welcoming feel of this play home.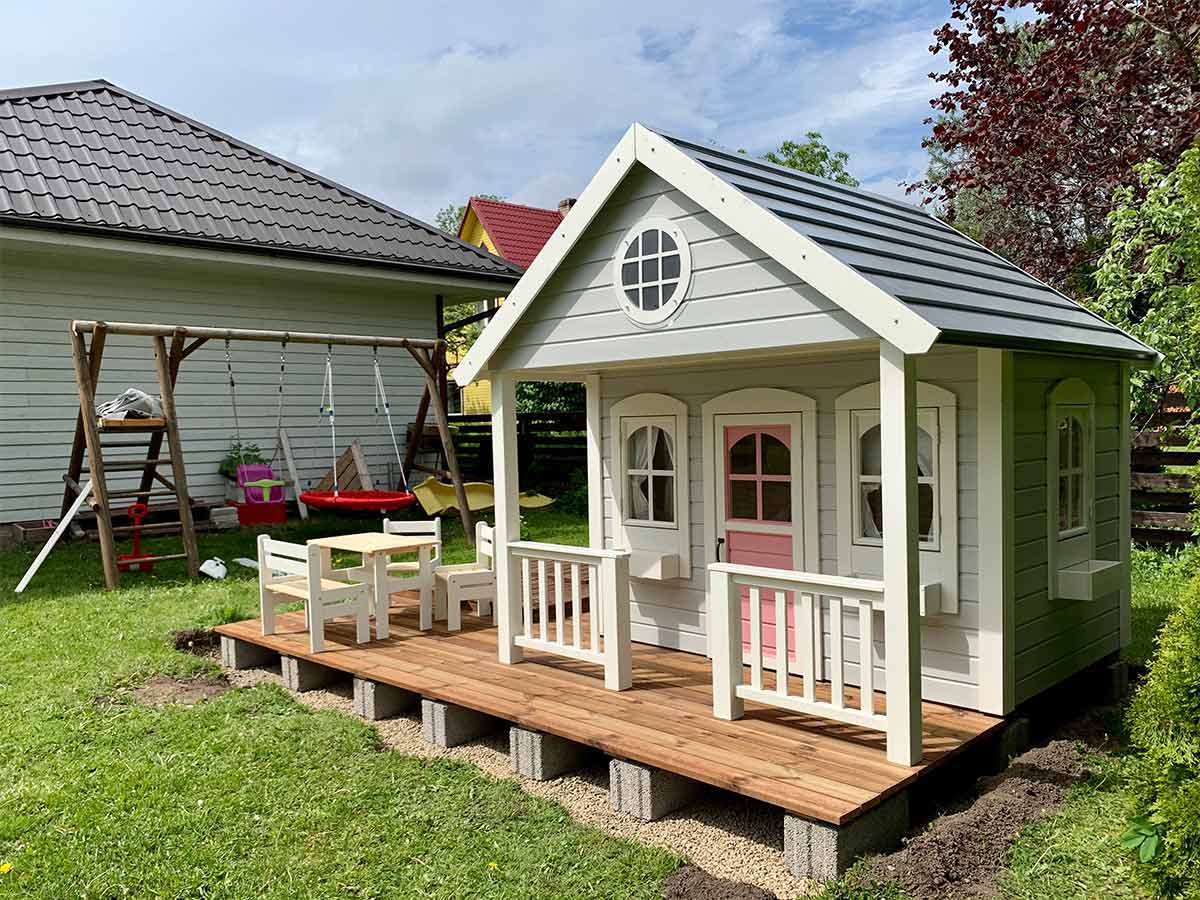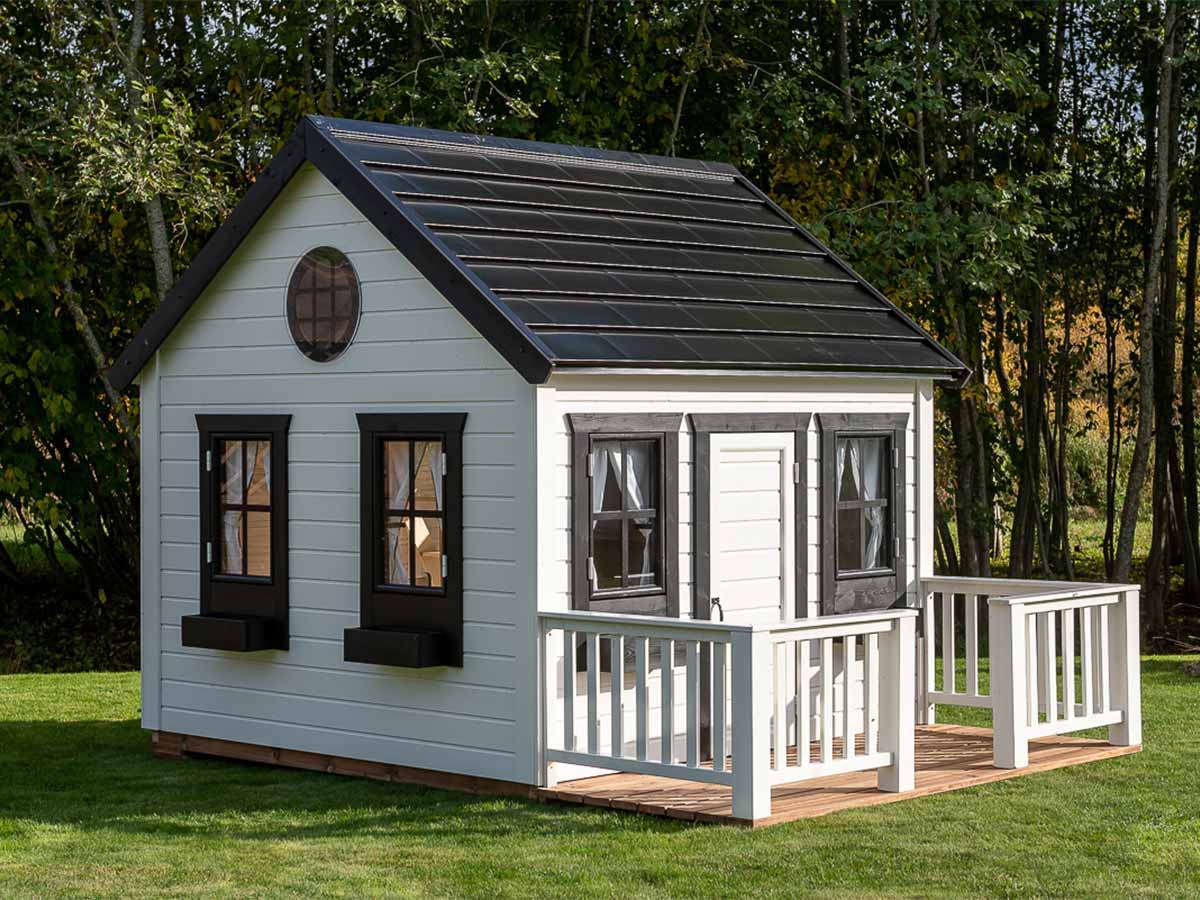 Is the Playhouse Princess Difficult to Assemble?
When you buy an outdoor playhouse with playground features, it will definitely make you think about the time it might take to assemble the outdoor playhouse. Do I have time for it, do I know how to do it, do I have the necessary tools for it?
The big advantage of our 2-story playhouse Princess is that it comes with delivery and full installation!
CHECK OUT OUR DIY PLAYHOUSE KITS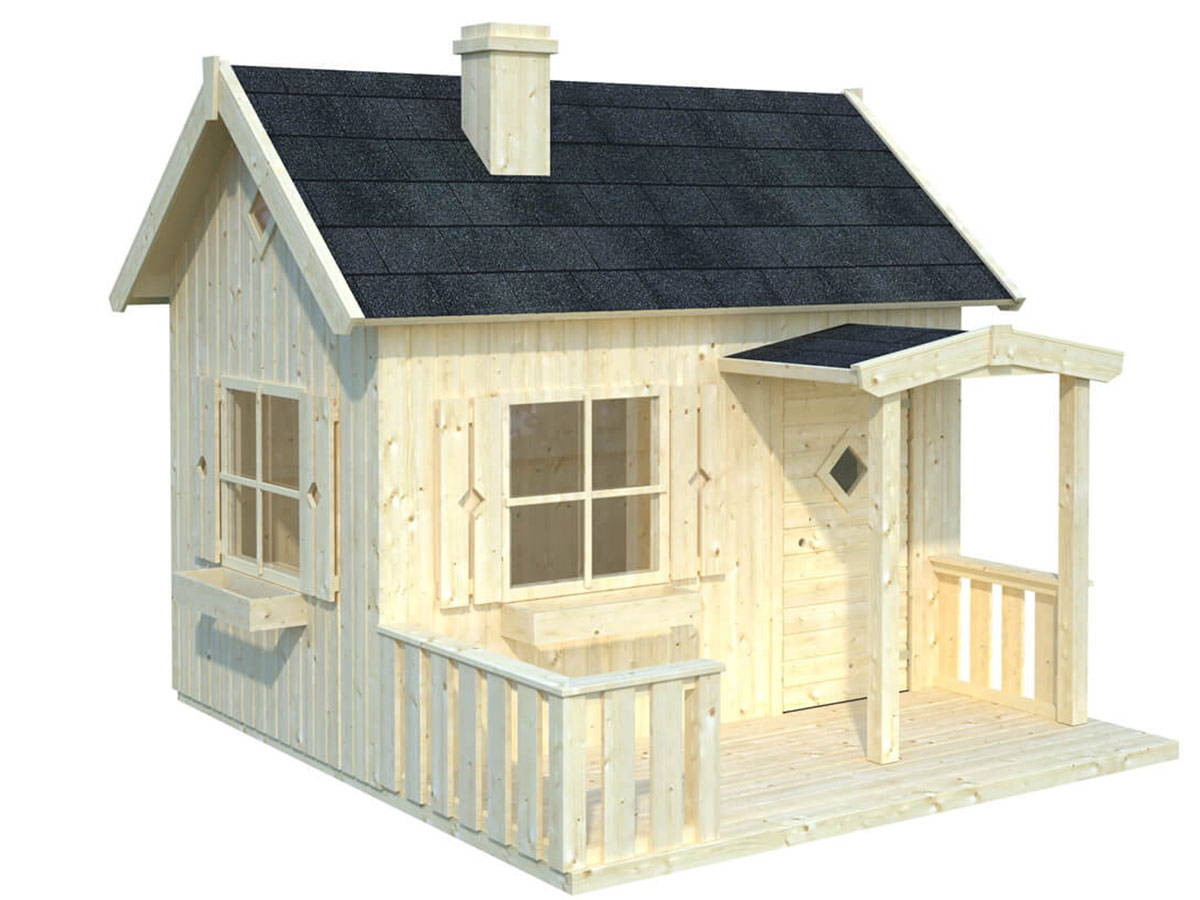 DIY Playhouse Kit Little Cottage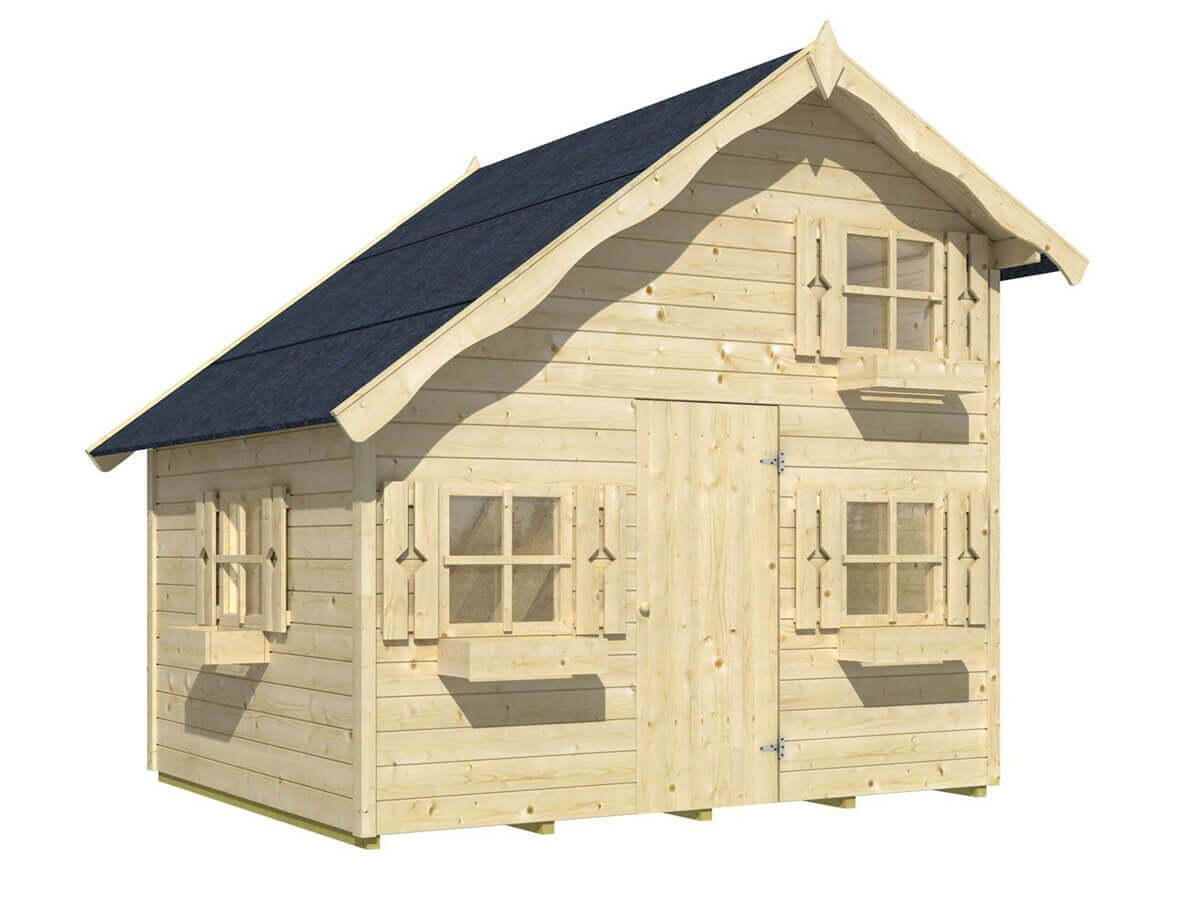 DIY Playhouse Kit Little Clubhouse
Whether you see an outdoor playhouse Princess as a thrilling toy for your kids, an educational opportunity, or a decoration for your backyard, it will be much more than you can imagine. This two-story playhouse is two-in-one: an outdoor playhouse and your own playground, which gives your kids the perfect place to play.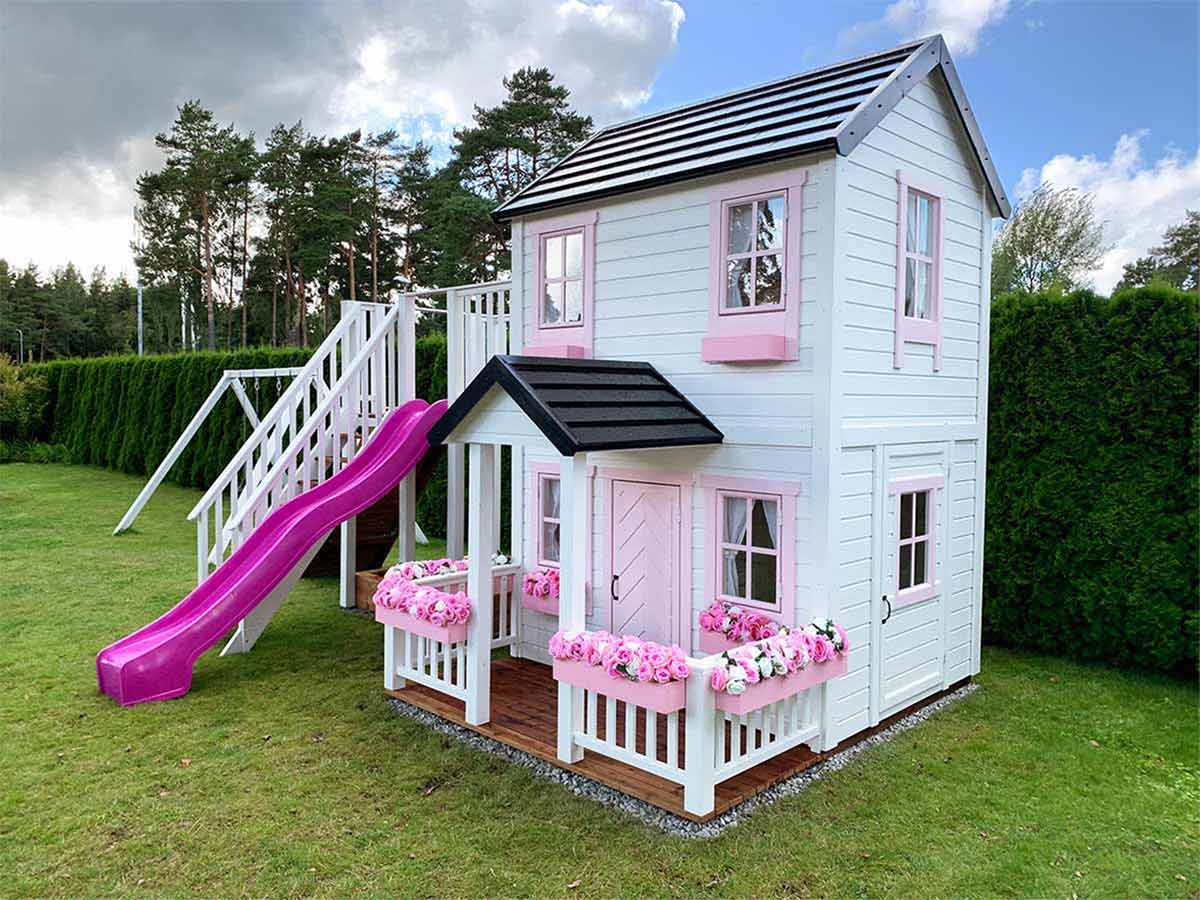 Playhouse Princess is a place for fun and learning, a place exploring the world of imagination, a place for peaceful quiet time, and great parties for family and friends.
The beautiful white and pink playhouse Princess will create a perfect place for your little princess and a stunning addition to your backyard which will keep you and your kids happy for years.
"Play builds the kind of free-and-easy, try-it-out, do-it-yourself character that our future needs."
Written by WholeWoodPlayhouses
CHECK OUT OUR WOODEN OUTDOOR PLAYHOUSES